Discover and Get Michigan Scholarships With Zero Fuss
Many top-ranked colleges are situated in Michigan—including the University of Michigan, Michigan State University, University of Detroit Mercy, Western Michigan University, and Michigan Technological University.
If you're enthusiastic about heading to one of these schools—or any other—you should know that scholarships in Michigan can help you with your expenses.
Gift aid is a preferable choice for financing your studies. With the variety of awards for Michigan students, there is no reason for you to get drowned in debts.
Our guide will help you with the tough part of getting a scholarship—knowing where to find them and applying for the right ones.
Types of Scholarships for Michigan Students
As a Michigan student, you can receive awards for education from a variety of sources:
Federal government
State of Michigan
University or college you enroll in
For- and non-profit organizations
Philanthropists
Companies
Your eligibility for college scholarship programs depends on the criteria that each funder sets. The field of interest, unique characteristics, hobbies, or beliefs can lead you to additional aid opportunities. Direct your attention to special categories you fall under—such as the ones listed below:
The Best Scholarships in Michigan
The gift aid possibilities are many, but you can start with revising the most popular ones and checking if you meet the requirements. During your search, you should consider these prominent scholarships:
| Scholarship Name | Who Can Apply | Award | Minimum GPA |
| --- | --- | --- | --- |
| Detroit Promise Scholarship | Detroit high school graduates who lived in Detroit during at least their junior and senior years and got accepted at one of the participating colleges | Full tuition cost | Depends on the school |
| SET Educational Fund Scholarship | Michigan residents with a history of community service | $6,500 | No requirements |
| The Gerber Foundation Merit Scholarship | Students who graduate from a high school in one of these school districts: | $2,600 | 2.0 |
| American Welding Society (AWS) William B. Howell Memorial Scholarship | Undergraduates pursuing a four-year degree in a welding program | $2,500 | 2.5 |
| Comerica Charitable Foundation Scholarship | Students majoring in accounting, business, and finance | $2,250 | 3.0 |
| Junior League of Saginaw Valley Scholarship | Female college freshmen, sophomores, and juniors | $1,000 | 2.5 |
| Yellow Dog Studio Memorial Scholarship | Great Lakes Bay Region high school seniors pursuing degrees in art and/or photography | Varies | 3.0 |
Where To Find Michigan Scholarships and Grants
There are hundreds of different scholarships you can receive as an in- or out-of-state student in Michigan. Discovering the ones you qualify for is a challenging endeavor. The sources you'll resort to also depend on your academic level. High school students can talk to their counselors, while graduates have the best chance of finding scholarships within their department.
You can begin with your research process by doing the following:
Talk to your high school counselor
Get in touch with financial advisors at schools you are interested in
Call or email your department at college for major-specific aid
Review the listed scholarships on universities' websites
Contact federal agencies
Ask representatives at your local foundations, church, charities, and other organizations related to your interests and beliefs
Talk to a financial aid advisor at your school
Want to skip the hassle and get the list of all aid options from a single place? Sign up for DoNotPay. Our app can surface scholarships you wouldn't even think of. We will comb through all awards that Michigan students can get and generate a tailored list.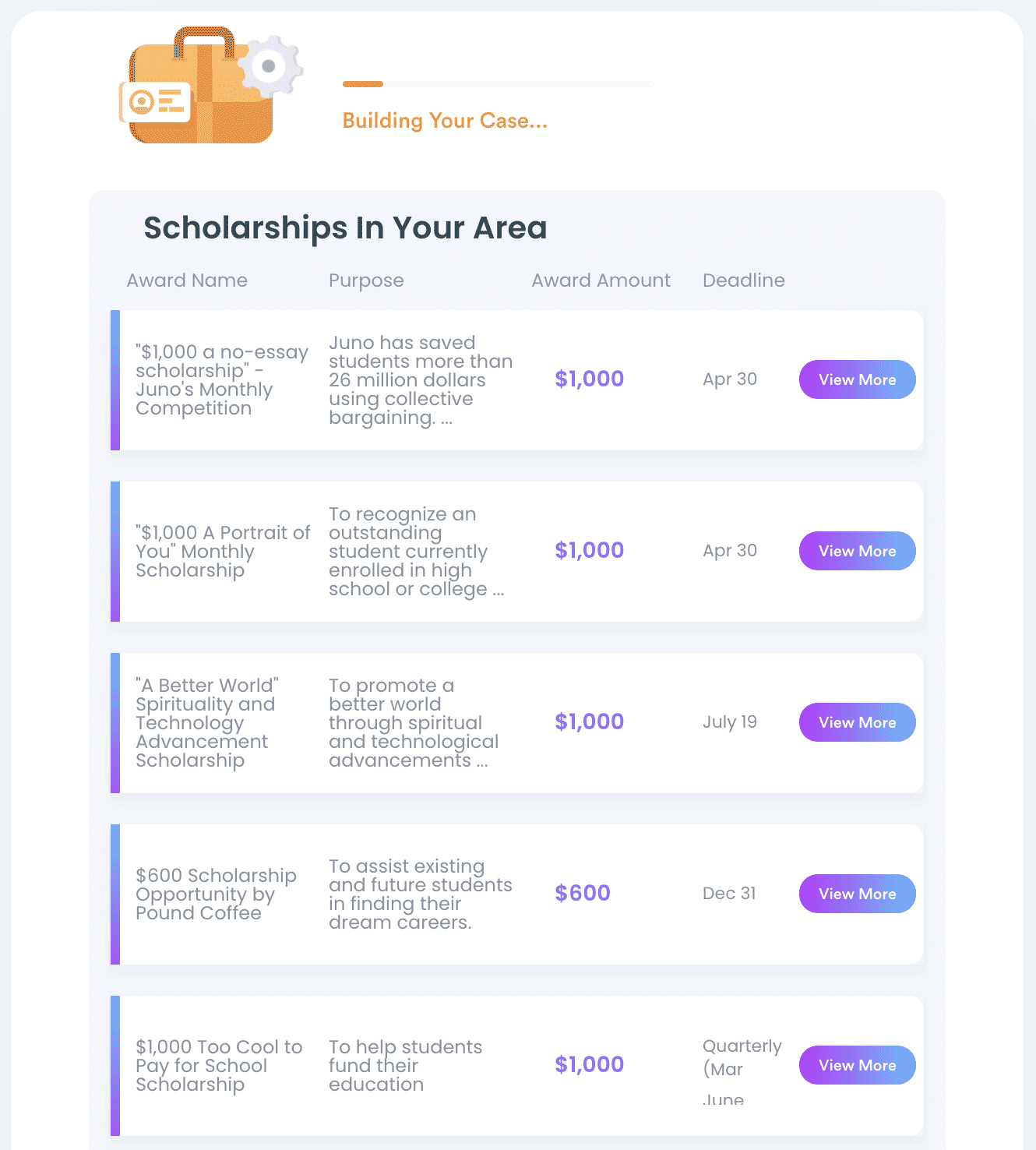 How To Apply for College Scholarships in Michigan
If you plan to apply for several programs, you will need to adjust your application to individual demands. Federal, state, college-specific, and private funders have different criteria and steps you need to take to get the aid.
In general, the procedure goes something like this:
Browse potential scholarships
Review their requirements
Prepare the paperwork you need for the application—such as:

High school transcripts or the ones for previous college work
Current resume
Federal income tax returns
Statement of career goals

Complete the Free Application for Federal Student Aid (FAFSA) form
Fill out your the College Scholarship Service Profile—for Hillsdale college only
Submit the form on the funder's website
Note that most applications come with a fee. The good news is that you can waive it in some cases. If you want to waive the Michigan State or University of Michigan application fee, DoNotPay can help you!
Looking for a Painless Way To Apply for Michigan Scholarships? Use DoNotPay
DoNotPay makes sure that you don't miss out on any potential award. Our app will analyze the entire gift aid database and filter the scholarships and grants that align with your qualifications. You will specify your grade level, preferred scholarship types, interests, and special qualifications—such as being a veteran, minority, woman in STEM, or golf player—and we'll surface the programs you are eligible for.
The following three simple steps will get you your custom-made list:
Go to Apply for Scholarships
Go through a quick questionnaire and help us learn about your eligibility requirements
If any no-essay scholarship grabs your attention, you can apply for it within the app. You only need to spare a few seconds and make a few clicks, and the request will be sent.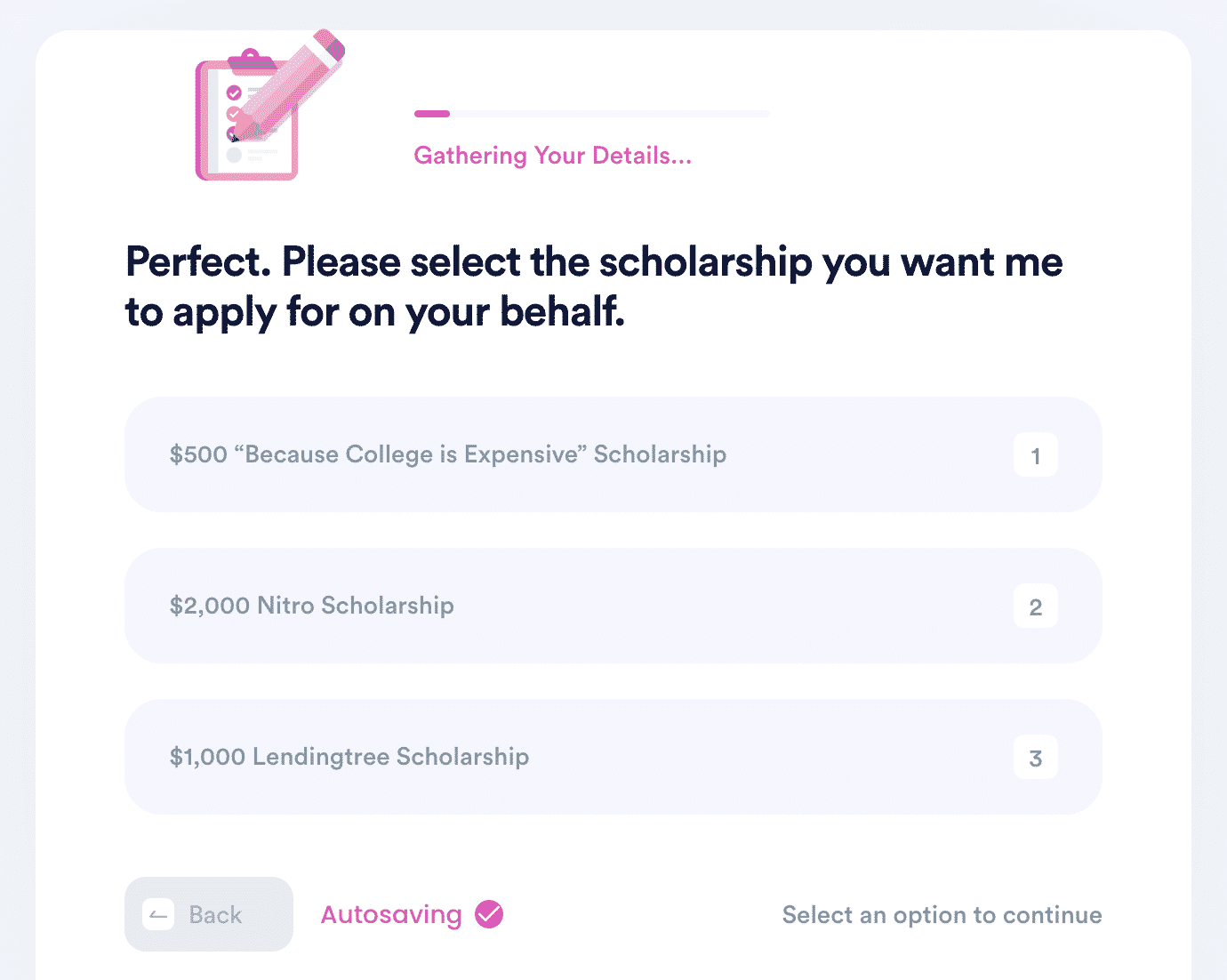 Administrative Issues? We Don't Know Them!
Forget about getting frustrated and overwhelmed by the administrative tasks waiting for you to complete them! With DoNotPay's numerous tools, you can easily resolve such tasks in a heartbeat! All you need to do is sign up for our app, and you'll be able to:
Use DoNotPay To Protect Yourself at All Times
Are pesky robocalls and email spammers working your last nerve? Don't despair—we are happy to help you get rid of them! In a few clicks, you can also stop text spam and avoid the incessant phone buzzing!
You can use our app to protect your privacy by creating burner phone numbers and virtual credit cards. That way, you don't have to disclose personal info when subscribing to online services.
In case you're looking for a way to keep yourself safe from stalkers or work discrimination, we'll help you report the case and walk you through the entire process!
Protecting your work from copyright violation and asking for violent crime compensation in your stead is also something DoNotPay can do!