Scholarships in Indiana Help You Minimize or Eliminate Student Loans
The steep college and university education expenses are a significant source of stress for many students in Indiana. The situation is worse for out-of-state students—they need to pay a higher tuition fee along with their boarding and basic living expenses.
Fellowships, grants, and scholarships in Indiana can help you pay for college and lower your dependency on student loans. Bear in mind that you may have a hard time finding suitable financial aid options and checking the eligibility requirements for each.
This article will guide you on how to streamline the search process and apply for the finest scholarships around you!
Do All Scholarships for Indiana Students Help You Pay for College Equally?
Indiana has multiple financial aid options for every level of education—but not all of them are full-ride scholarships. Most scholarships or grants in the state offer financial assistance between $250–$5,000.
Indiana Scholarships That Carry Substantial Rewards
We have compiled a list of scholarships in Indiana that carry huge monetary prizes and can significantly reduce students' financial difficulties. You can check them out in the table below:
Scholarship
Amount
Eligibility
Lilly Endowment Community Scholarship
Up to $45,000
Apply for this college scholarship if you:

Are residing in Porter County
Have been accepted by an accredited public or private college (not a community college)
Are an undergraduate starting college for the first time
Have appeared for the ACT and SAT exams
Are prepared to be interviewed by a committee of experts
Have acquired two letters of recommendation from your mentors

Equitable Excellence Scholarship
Up to $25,000
You can apply for the Equitable Excellence Scholarship if you:
Horatio Alger Association Scholarship
$10,000
It is a need-based scholarship that helps students who are struggling to overcome an obstacle, such as:

You need a GPA of 2.00 to qualify for this scholarship, and having a community service experience will boost your chances of winning

ESA Youth Scholarship
$7,500
This scholarship is available to students who:

Are 15–20 years of age
Have a parent employed with the local police, fire, or sheriff's department
Maintain a minimum 3.00 GPA

You need to write a 1000-word essay to compete for this scholarship
Don't Ignore Small Scholarships in Indiana!
Many students make the mistake of only applying for lucrative scholarships, but low-money-prize scholarships are helpful as well.
Students can make up for the low monetary prize by applying for multiple scholarships.
At any point in time, you can find numerous high school, college, or grad school scholarships in Indiana. The more scholarships you apply for, the better your chances to win one—and every win replenishes your college funds or helps you pay off your student loan. The best part is that winning scholarships will also look great on your portfolio for future jobs or doctoral studies!
How To Find the Best Indiana Grants and Scholarships
If you are actively looking for scholarships in Indiana, you should stay updated on all the latest financial aid announcements in your community. You can do this by looking into the following sources:
State and national merit scholarship websites
Scholarship records maintained by your school guidance counselor
Local ethnic or religious organizations—they offer financial support to their respective communities, like Hispanics, Filipinos, Indians, Africans, Asians, Muslims, Catholics, Christians, or Jews
Organizations that offer scholarships to specific groups of students—for example:
Apart from the above sources, you should also check if you are eligible for scholarships targeting women, veterans, transgender individuals, senior citizens, or adult learners.
Searching for Indiana Scholarships and Grants? Rely on DoNotPay for Help
If you feel overwhelmed by the legwork needed to keep tabs on scholarships, consider using DoNotPay's personalized scholarship finder.
Our app maintains a compact database of all scholarships in the U.S. All you need to do is answer our questionnaire—which will take about five minutes—and we will generate a list of all the scholarships relevant to you in an instant! Sign up for our services to access our latest scholarship updates!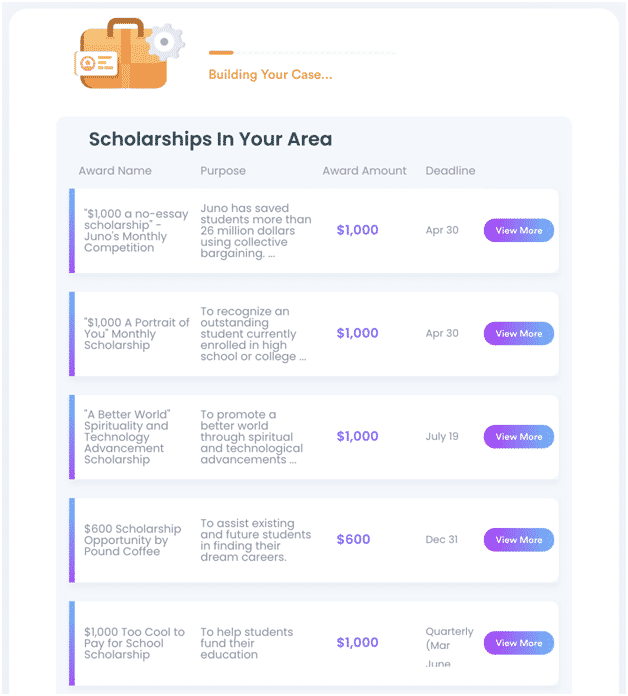 DoNotPay is not your average scholarship search engine—we can also help you apply for no-essay scholarships!
You can find a plethora of scholarships for Indiana residents that do not require writing an essay—these awards are purely based on your:
Demographic background
Economic status
DoNotPay can directly apply for such scholarships on your behalf, which will leave you with sufficient time to focus on winning scholarships that require completing competitive tasks.
How To Use DoNotPay's Scholarship Search and Application Features
Our scholarship support services are just a couple of taps away:
Open your DoNotPay account and click on Apply for Scholarships product
Complete the student questionnaire
Choose between View and Apply
If you select View, we will display a comprehensive list of scholarships that you qualify for (as per your questionnaire answers).
Our Apply feature filters the search result to show you a list of no-essay scholarships. You can select all the scholarships you like, and we will directly apply for those scholarships on your behalf. We will send you a confirmation email to help you keep track of all your current applications.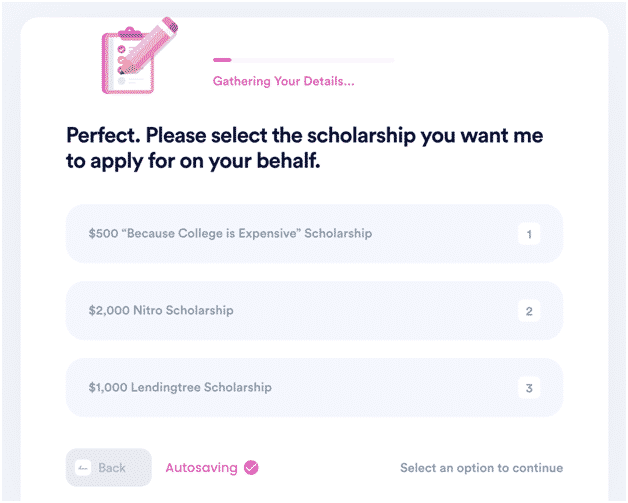 If you don't want to miss out on a single scholarship opportunity in Indiana, make sure to use DoNotPay's search and application tool every week!
Use DoNotPay To Deal With a Plethora of Bureaucratic Tasks!
Tired of dealing with bureaucracy? We understand the struggle, and that is why our app makes handling administrative tasks a breeze!
Regardless of whether you need to compose a legal document, such as a power of attorney or a child travel consent form, appeal property taxes or your parking tickets, file a financial aid appeal and a FOIA request, or get a document notarized, DoNotPay has got you covered!
In case you also need to submit anonymous HR complaints, our app will provide you with the easiest way to do so!
Go on a Stress-Free Shopping Spree With DoNotPay
Do you like to shop until you drop? With DoNotPay, you won't have to worry about dropping! We'll make sure you can:
If you need more money to continue your shopping spree, let our app help you find any unclaimed funds under your name and enter numerous giveaways and sweepstakes!