Looking for Scholarships in Georgia? DoNotPay Can Help!
Are you a student seeking higher education in Georgia and in need of financial aid? Finding scholarship opportunities can be difficult if you don't know where to start from. Regardless of whether you're a high school senior, graduate, or an international student—DoNotPay can find scholarships in Georgia according to your needs!
Learn where to start your search for Georgia scholarships and what the quickest way is to apply for as many as possible!
How To Find Scholarships in Georgia
There are several ways you can go about looking for scholarships for college students in Georgia, and these are:
A better option would be to ! Our app can compile a list of available scholarships in Georgia for you based on the information you provide, and it only takes a few moments!
What Are Some of the Best Grants and Scholarships in Georgia?
Georgia is home to hundreds of grants and scholarships that help both in- and out-of-state students afford their education. Some of the gift-aid options students in Georgia can apply for include:
The Zell Miller Scholarship—A merit-based award that offers students up to $2,174 per semester
The Greenhouse Scholars Program—A need-based award for low-income high school students in their senior year. The amount of aid this program offers can reach up to $20,000 per student
Woodrow Wilson Georgia Teaching Fellowship—Students pursuing graduate degrees leading to teaching certification in science, mathematics, and technology are eligible for this award. They can receive up to $30,000 and mentorships in their field of study
The Lettie Pate Whitehead Foundation Scholarship—10,000 Christian women receive this award every year. The foundation prioritizes applicants enrolled in medical and nursing programs
The APIASF/United Health Foundation Scholarship—Healthcare students of Asian or Pacific Islander ethnicity can receive up to $5,000 annually for three years
The Georgia Trust for Historic Preservation Scholarships—Public school students pursuing higher education in the fields of history, architecture, and archeology are eligible for this award
How To Apply for Georgia College Scholarships
To apply for Georgia College Scholarships, students usually have to submit the following paperwork:
| Scholarship Requirements For | Documentation |
| --- | --- |
| Most scholarships | Individual scholarship applications |
| Some scholarships | Your portfolio that, depending on your field of study, consists of: |
If you've never written a scholarship essay, you can check our article on that topic for guidelines and tips!
Apply for Scholarships in Georgia in a Flash With DoNotPay!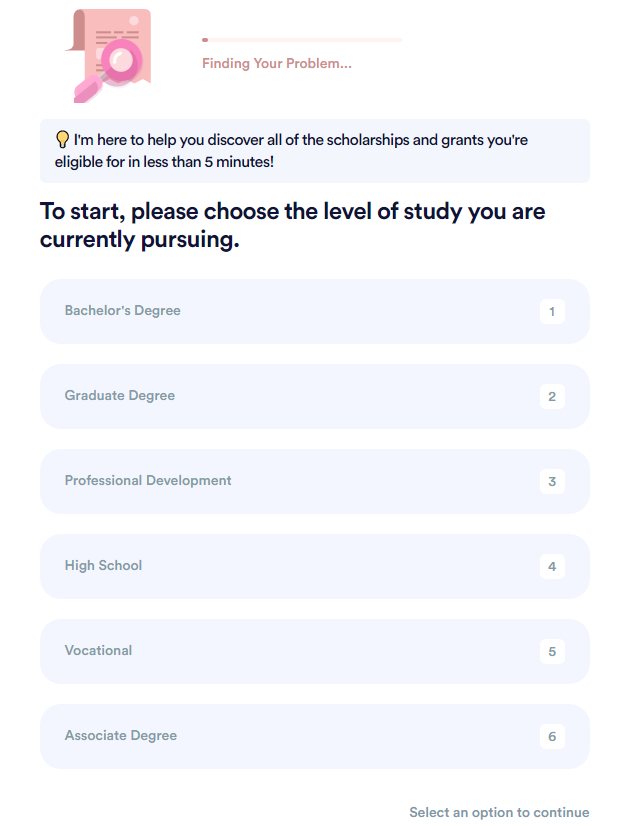 If you're looking for available scholarships at a specific school in Georgia, figuring out which ones you qualify for and applying for them is a breeze.
This is untrue if you're unsure about which school you want to enroll in or seeking external scholarship opportunities. The number of available scholarships might overwhelm you, but DoNotPay can help you filter them out using your preferences and qualifications! An additional benefit of our app is that you can automatically apply for all available no-essay scholarships and thus increase your chances of decreasing your educational costs!
To see it all in action:
Enter Apply for Scholarships in the search bar
Answer a few brief questions about your field and level of study, as well as your scholarship preferences
Once you complete all steps, you can:
Scroll through your custom list of available scholarships in Georgia
Learn about their requirements
Apply for the ones you choose
Compare awards with those from other scholarships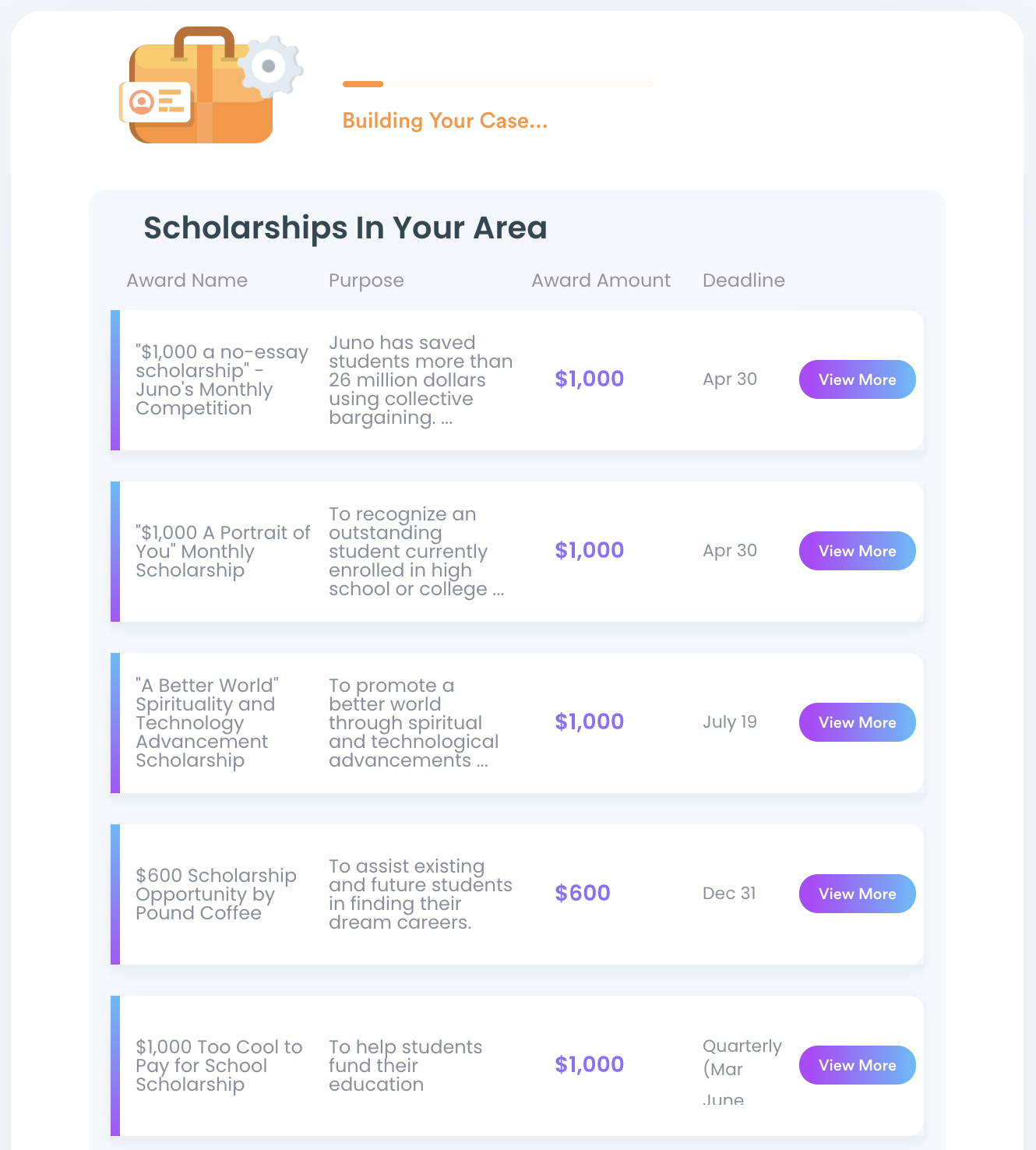 How Can I Earn Scholarships in Georgia?
Check the following table for ways to earn scholarships in Georgia:
Method/Resource
Description
Fellowships
Fellowships offer awards in exchange for a student's service, most often in their field of study
Research
STEM students can opt for research to earn academic credits, but another benefit is the work experience they can include in their resumes. If you want to polish your scholarship application, research is a solid option
Part-time work
Students who can afford to dedicate time to part-time work can benefit in terms of work experience. Sometimes, that additional work experience can seal the deal for scholarships as it's perceived as a student's initiative to pursue a career in a specific field
Clubs/extracurricular activities
Non-academic-related activities can often lead students to funding opportunities.

The most common awards for clubs and extracurricular activities include:
DoNotPay Offers Quick Solutions to Tedious Problems
Are you overwhelmed by your never-ending to-do list? We're happy to jump in with a perfect solution to deal with everyday tasks the easy way!
Once you subscribe to DoNotPay, you'll be able to schedule DMV appointments, lower your monthly bills, and contest parking tickets without breaking a sweat!
If you are looking for further assistance, our app will show you how to deal with the following tasks effortlessly:
Rely on DoNotPay's Legal Assistance Any Time!
If a company refuses to cooperate, use DoNotPay—the world's first robot lawyer—to sue it in small claims court! Getting the justice you deserve is only a few clicks away!
You can also use our app's various features to do the following:
Demand refunds

Reduce your property taxes