Scholarships for Veterans You Shouldn't Miss
By serving their countries, military service members take huge risks and make sacrifices along with their spouses, children, and relatives. The least the nation can do is offer a more affordable education by providing special financial aid for these people.
If you or your family member have served in the national military, you may be eligible for various grants and scholarships for veterans. Applying for them doesn't need to be rocket science—we can simplify it for you with some amazing tips from this guide! Learn all about different types of scholarships, application procedures, and other significant aspects covering this type of financial aid.
Where Can You Find Military Veteran Scholarships?
Veteran scholarships may come from various resources, including:
Federal government
State governments
Department of Veteran Affairs (VA)
Colleges and universities
Local and regional organizations
Besides looking for available scholarship programs on the official websites of these providers, you can use online search tools or google the preferred type of scholarship.
Note that this type of search can be exhausting due to thousands of unfiltered results. If you want to skip reading through all scholarship lists, you can sign up for DoNotPay and let us choose the ones you qualify for!
What Types of Scholarships for Military Veterans Are There?
Veteran-related scholarships can be divided into two main categories:
Military scholarships for veterans
Scholarships for veteran family members
The following table shows some of the most popular scholarships for veterans and their families within each type:
Recipients
Type
Popular Scholarships
Veterans
Regular veterans

AMVETS Scholarships
Freedom Alliance Scholarships
AFCEA War Veterans Scholarships
Veterans of Foreign Wars (VFW) Scholarships
Troops to Teachers Scholarships

Disabled veterans

Paralyzed Veterans of America (PVA) Scholarships
Disabled American Veterans (DAV) Scholarships

Veterans families
Veterans' children, grandchildren, and spouses

AFAS Merit Scholarships
American Legion Legacy Scholarships
Yellow Ribbon Program Scholarships
AWFDN Scholarships
Chief Petty Officer Scholarships
Marine Corps Scholarships
Wings Over America Foundation Scholarships
Women's Army Corps Veterans' Association Scholarship
Dolphin Scholarship Foundation Program
American Patriot Freedom Scholarships
Folds of Honor Higher Education Scholarships
Scholarships for Children and Spouses of Deceased or Disabled Veterans and Service Members
Besides veterans awards, many scholarship providers offer financial aid for other military student groups, including military spouses, military children, and military medical school scholarships.
How To Apply for Scholarships and Grants for Veterans and Their Families
The scholarship application requirements and procedures for veterans and their family members depend on the financial support provider. Each institution offering a specific type of scholarship proposes its rules, deadlines, and amount of financial aid you get with the award. It's possible—and recommendable—to apply for multiple veteran benefits to improve the chances of financing your education more easily.
To apply for most scholarships from this category, you need to:
Find the appropriate financial aid program
Check the application deadlines for the current year
Prepare:

Transcripts of your previous university coursework
Military service evidence and documentation showing that you are a veteran or veteran's family member/dependent, such as a DD Form 214
Proof of training materials you completed while serving in the military

Write a scholarship essay by following the writing prompts specified by the scholarship provider—It should describe you as a person, your career goals, and achievements
Ask your teacher, employer, or former commanding officer to write a recommendation letter for you
Create a resume you can include in your application
Submit the application form and all the required paperwork to the institution that offers the scholarship in question
You will have even better chances of getting the desired scholarship if you engage in community service or similar activities. This shows that you want to make a difference and improve other people's lives, which is a huge plus in this case.
Track All the Scholarships You Qualify for in the Blink of an Eye With DoNotPay
Would you like to skip endless searching through various institutions' websites when looking for available scholarships? Do lengthy and complicated application procedures make you go crazy? If the answer to these questions is yes, DoNotPay has got your back!
Our app can scan all active scholarships offered by various resources and find the ones you are eligible for. This way, you can avoid spending hours or even days googling and filtering a bunch of search results or checking multiple providers' eligibility criteria.
That's not even the best part—we can also apply you for any no-essay scholarship in just a few clicks. You can choose among hundreds of awards for women, high school freshmen and seniors, international students, and many more!
To take advantage of these perks, do the following:
Choose the Apply for Scholarships option
Select your level of study
Provide us with more information about:

Your grades
Your education
Special eligibility criteria you meet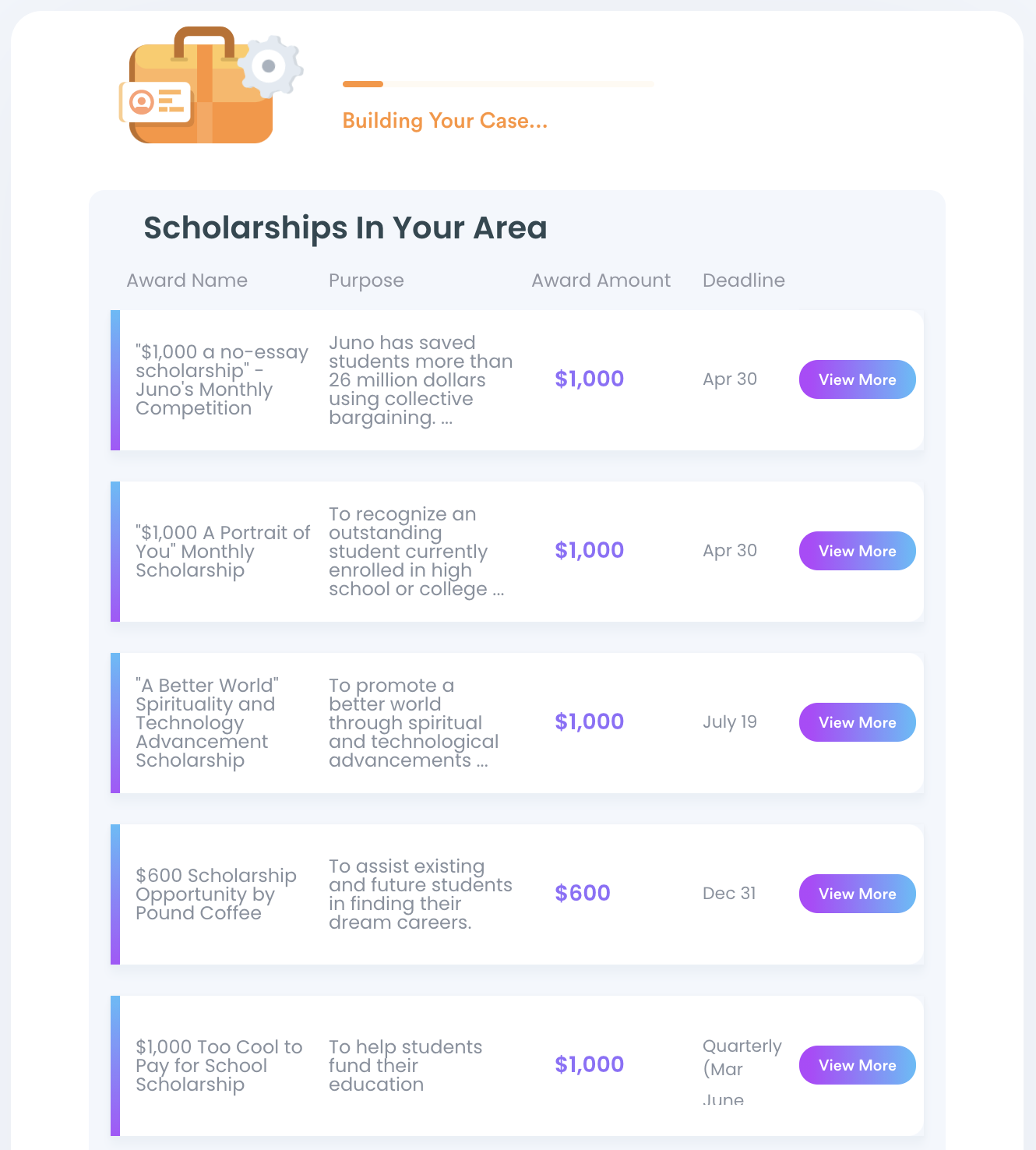 Stuck in a Bureaucratic Mess? DoNotPay Is Here To Help!
Since handling dull administrative tasks is a burden and no one likes doing them, DoNotPay developed a variety of neat features to ease many processes! With our nifty app, you can:
Deal With Companies Like a Pro
We all love shopping, but it's no secret that companies sometimes turn a fun experience into a nightmare, especially when they refuse to cooperate. DoNotPay is here to help you reach customer support without the hour-long wait and sue an uncooperative merchant in small claims court if necessary!
Need a refund? We can show you how to get your money back from any company in a snap!
Should you need to file an insurance or warranty claim and request gift card cash back or an item return, you can count on our app to assist you! DoNotPay can also show you how to discover any unclaimed funds under your name so that you can continue shopping like a pro.