Scholarships for Undocumented Students—Find and Apply for Them in Minutes!
If you are looking for a college education opportunity and still don't have your resident visa, don't despair. Several U.S. states have adopted a tuition equity bill that allows you as a non-resident to pay in-state tuition. There are also numerous scholarships for undocumented students available around the country.
The only problem you may encounter is not being able to find the scholarships that you are eligible for, as they are scattered all over the place. In this guide, you will learn how to get all the financial aid information that may be relevant for the future of your education.
The Issues Undocumented Students Face
When you are applying for a college, you will be considered an undocumented student if you have either of the following:
Deferred Action for Childhood Arrivals (DACA) status
No legal document that allows you to reside in the U.S.
According to federal law, if you are undocumented, you don't have any right to attend an institution of higher education in the U.S.
Several states have circumvented this law and adopted the DREAM Act (The Development, Relief, and Education for Alien Minors Act). This piece of legislation allows immigrant children to pay in-state instead of out-of-state student tuition fees.
There states are:
The only requirement that you have to fulfill is that you have attended high school in the States for the last three years.
Certain scholarships also cover the later education levels, such as:
In case your state hasn't adopted the DREAM Act, there is a chance that individual colleges and schools will allow you to apply for scholarships that are merit-based. These institutions often don't require any info about your immigrant status, only your high school diploma and proof of your excellence in a certain field.
Types of Undocumented Student Scholarships
You can find different types of funding for students. The three most common groups are:
State or school scholarships
NGO and nonprofit organization scholarships
Scholarships by big companies
It can be difficult to go through all these sources. None of the online directories contain a complete list, and you can get confused about where to look for scholarships that fit your profile.
DoNotPay can help you with this issue. Our app collects your basic education history data and provides you with a list of the scholarships for which you are eligible. Sign up for DoNotPay and save a lot of time for your studies.
State and School Scholarships for Undocumented Students
Scholarships based on the DREAM Act follow the principle of not asking about students' citizenship status.
These scholarships are awarded mostly based on the students' high-school education and sometimes DACA status. If the student is a high school senior who has finished the last three school years in a U.S. school, they are eligible for these scholarships. If a student is aiming at a school's scholarship, they should keep in mind that these awards are often merit-based. They would need high grades but would also have to attach a letter of recommendation with the application.
You can find these scholarships on government websites, such as California Student Aid Commission's DREAM Act website or the school sites like NYU.
Undocumented Student Scholarships by Non-Governmental and Nonprofit Organizations
Various organizations in the non-governmental and nonprofit sector have scholarships created for the underrepresented groups of aspiring students, such as:
Organizations like New Venture Fund (through its TheDream.Us project) and MALDEF (Mexican American Legal Defense and Educational Fund) focus solely on helping ambitious first-generation immigrant students reach their education goals.
MALDEF, for example, offers a resource page with numerous different scholarships that you should be eligible for.
They also have their own law school scholarship. This aid is awarded to students who show commitment to service in the Latinx community and want to improve the rights and social position of the community members. The application for this scholarship must include an essay in which you explain your motivation and post-graduation plans.
Big Company Scholarships for Immigrants
Many big corporations set up or contribute to foundations that support minorities, including the underrepresented student groups. Scholarships like these are awarded regardless of the students' immigrant status, so even undocumented students can apply.
One of these scholarships is awarded by PepsiCo and Cesar Chavez Foundation. This specific scholarship is merit- and community service-based and requires an essay as a part of the application.
Scholarships for Immigrants Are a Click Away Through DoNotPay
Besides performing a personalized scholarship search based on your education data, DoNotPay also handles your applications to all no-essay scholarships for which you are eligible.
All you need to do is click a few times and give us the approval to send your application in your name using the data you've provided us for a scholarship search.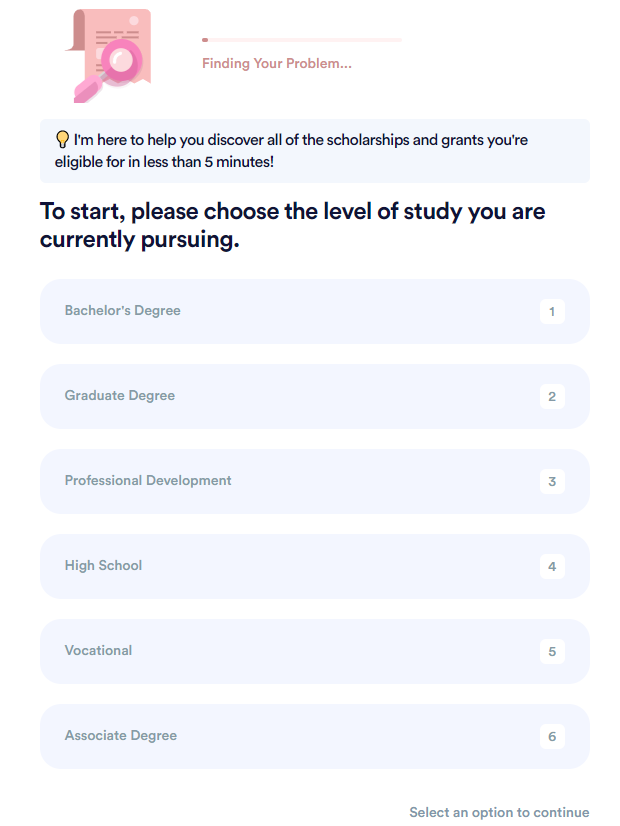 Here's the whole search and application process:
Log into DoNotPay and choose the Apply for Scholarships feature
Choose the level of your studies and answer several other questions
Give us your current school name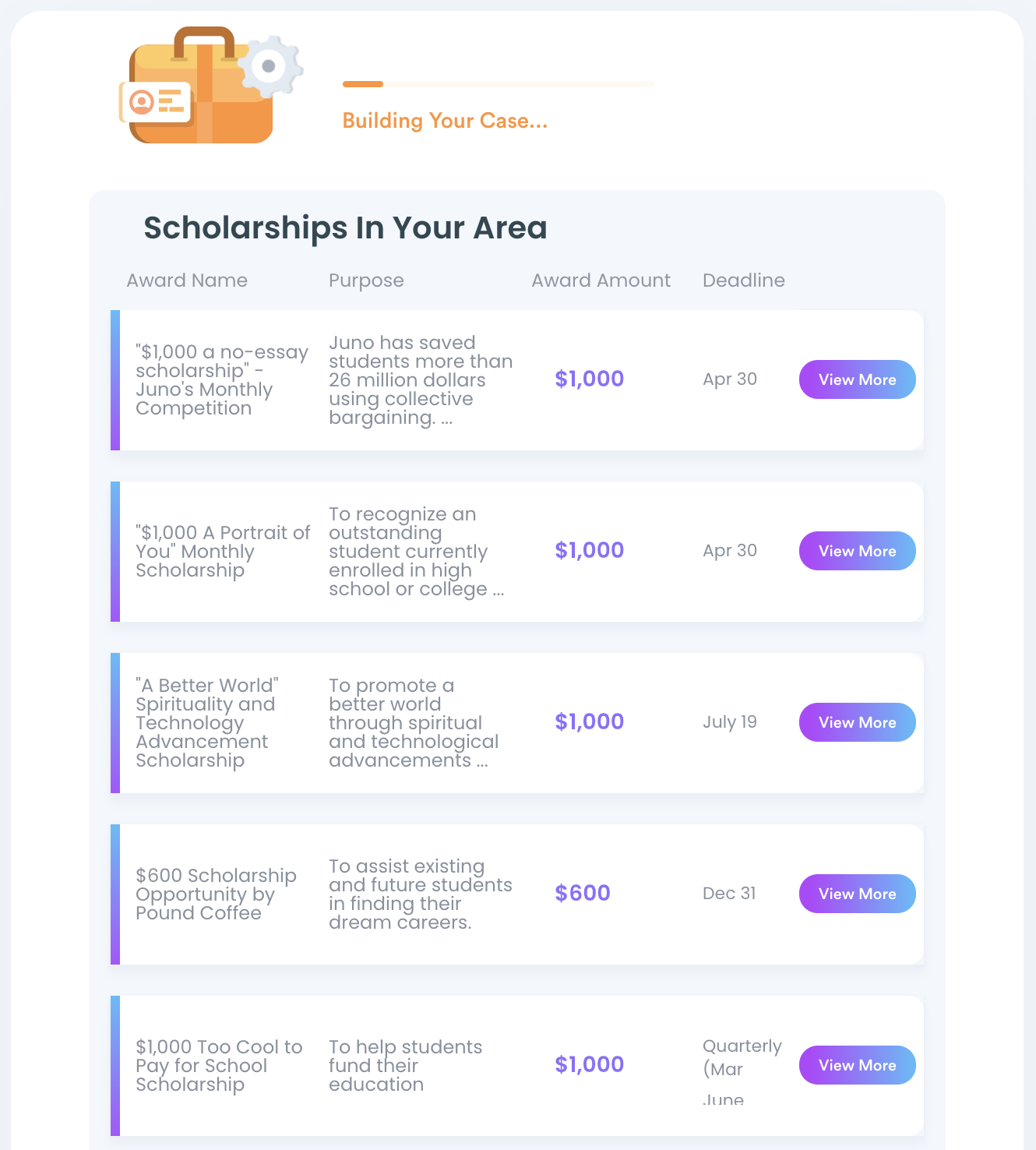 We have access to all active scholarships in the U.S. If you rely on DoNotPay, you'll never miss a scholarship or student grant opportunity again. You'll also save loads of time not only on research but also on the whole application process.
Administrative Issues? We Don't Know Them!
Forget about getting frustrated and overwhelmed by the administrative tasks waiting for you to complete them! With DoNotPay's numerous tools, you can easily resolve such tasks in a heartbeat! All you need to do is sign up for our app, and you'll be able to:
Use DoNotPay To Protect Yourself at All Times
Are pesky robocalls and email spammers working your last nerve? Don't despair—we are happy to help you get rid of them! In a few clicks, you can also stop text spam and avoid the incessant phone buzzing!
You can use our app to protect your privacy by creating burner phone numbers and virtual credit cards. That way, you don't have to disclose personal info when subscribing to online services.
In case you're looking for a way to keep yourself safe from stalkers or work discrimination, we'll help you report the case and walk you through the entire process!
Protecting your work from copyright violation and asking for violent crime compensation in your stead is also something DoNotPay can do!