The Easiest Way to Find Scholarships for Undergraduates
Undergraduates get financial aid packages that combine loans, grants, and scholarships. Students in the U.S. graduate with an average debt of $39,351, which is an immense burden when you are trying to start a career. The way to avoid this is to apply for scholarships for undergraduates.
What can present a big challenge for students in pursuit of scholarships is diversity. You can easily get confused about which scholarships you can get and how to find them.
Don't let this stop you from making your education journey easier. Use our guide to learn all there is to know about scholarships for undergraduates—including which scholarship types exist and how you can apply for them.
Scholarships for Undergraduates—The Essentials
As an undergraduate student, you have the opportunity to receive a college scholarship. You can apply for undergraduate scholarships at any postsecondary program level. International and transfer students can also get this type of aid. When you attain a bachelor's degree and enroll in graduate studies, you are only eligible for graduate scholarships.
The reason there are so many scholarships is that they come from both public and private institutions—such as:
Federal government
State governments
Universities and colleges
Local communities
For-profit organizations
Non-profit organizations
Philanthropists
Foundations
Companies
Scholarships for Undergraduates You Should Take Advantage Of
To secure financial aid, you need to expand your search and consider various types of scholarships. You can be eligible for numerous types of aid, but you need to identify specific groups you belong to.
Use the table below to revise different categories for undergraduate scholarships:
| Undergraduate Scholarships Based On: | Scholarships For: |
| --- | --- |
| Level of education | |
| University or college | |
| Field of study | |
| Sports | |
| Interests and hobbies | |
| Inclusivity | |
| Ethnicity | |
| Religion | |
| Unique life situation | |
Search for Undergraduate Scholarships No One Applies For
Improve your chances of getting a scholarship by targeting the less popular ones. It will be easier to get financial support if there are fewer students to compete with.
You need to think outside the box and browse aid geared towards unusual skills, interests, and characteristics. Some of the scholarships that not many students hear of are:
Vegetarian Resource Group Scholarship
Doodle 4 Google Scholarship
Tall Clubs International Foundation Scholarship
Stuck at Prom Scholarship
Create-a-Greeting-Card Scholarship
Michael Moody Fitness Scholarship
American Fence Association Scholarships
The Best Way To Look for Scholarships for Undergraduates
Knowing how many types of scholarships exist can make you feel overwhelmed. Where can you find all those scholarships? The key is to approach the research methodologically. Here are a few tips for organized and effective search:
Identify the programs you are eligible for and that are open for application
Focus the search on your unique situation
Get in touch with financial aid offices at schools you are interested in
Contact the financial aid office staff at your university or college
Search the web
Are you looking for a simpler alternative? Open a DoNotPay account, and you won't need to waste time on lengthy research. Based on the info you give us about your level of education, academic focus, interests, and similar, our app will curate a list of available grants and scholarships.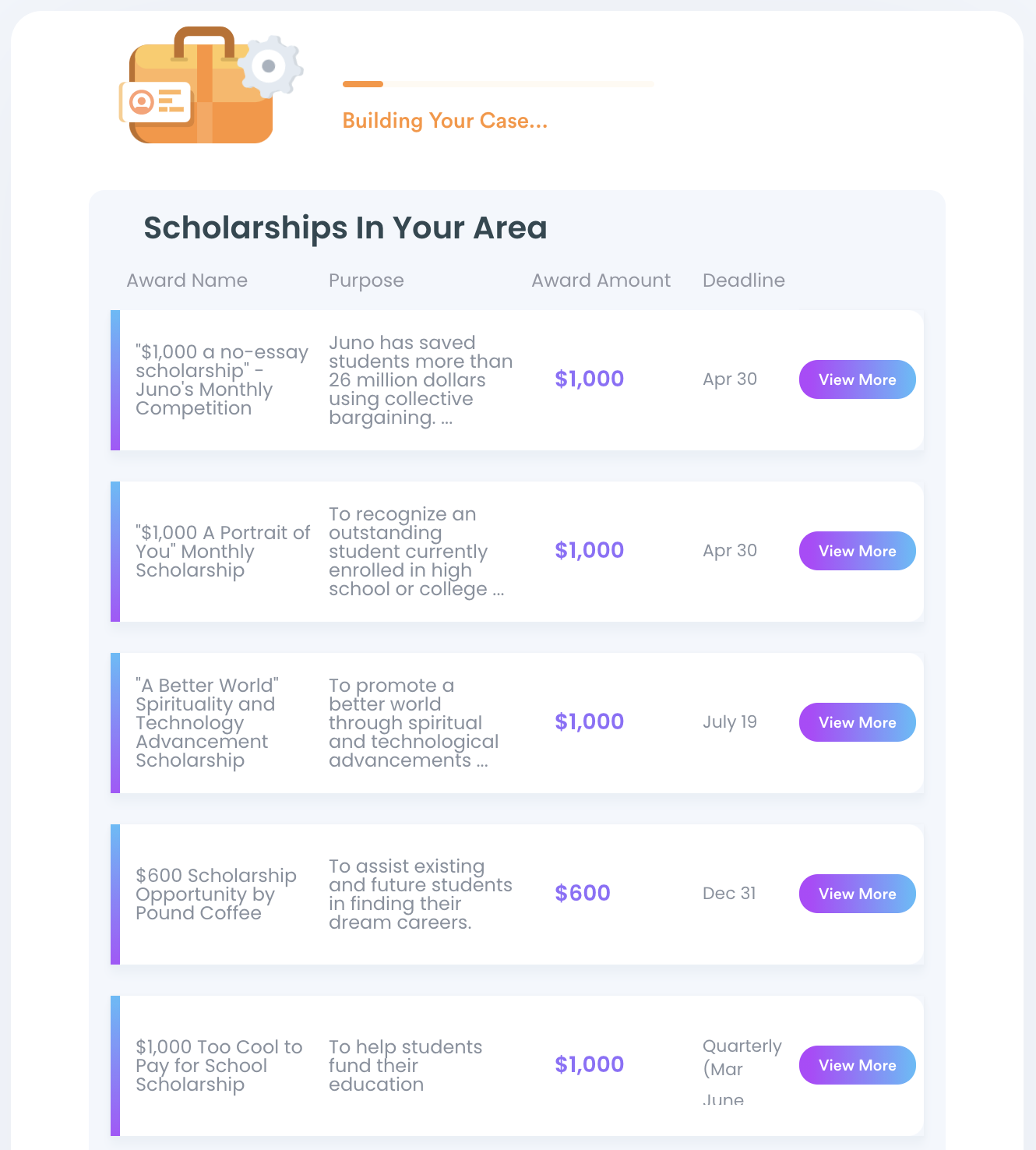 How Do You Apply for Scholarships for Undergraduates?
You need to follow the application instructions for every individual scholarship. That also refers to deadlines and eligibility requirements—which also differ from one scholarship to another. Note that some of them are open to high school seniors, so you can apply before you even graduate.
The common steps you need to take for the majority of undergraduate scholarships are:
Fill out the Free Application for Federal Student Aid (FAFSA) form
Complete the College Scholarship Service (CSS) profile
Submit the documents to the Institutional Documentation Service (IDOC)
Write a scholarship essay
Collect letters of recommendation
Supply any additional paperwork
DoNotPay Gives You a Personalized List of Scholarships in a Jiffy
Your scholarship research journey can be done in less than three minutes if you sign up for DoNotPay. Our AI-powered app will help you increase your chances of getting financial aid by generating a full list of tailored scholarships. We can customize the list according to your characteristics—whether you are interested in scholarships for women, male nurses, or filmmaking students.
You can also automate the application process for no-essay scholarships with DoNotPay. Yours is only to:
Go to your DoNotPay account
Select the Apply for Scholarships feature
Provide us with basic information about your academic situation and interests
Revise and apply for scholarships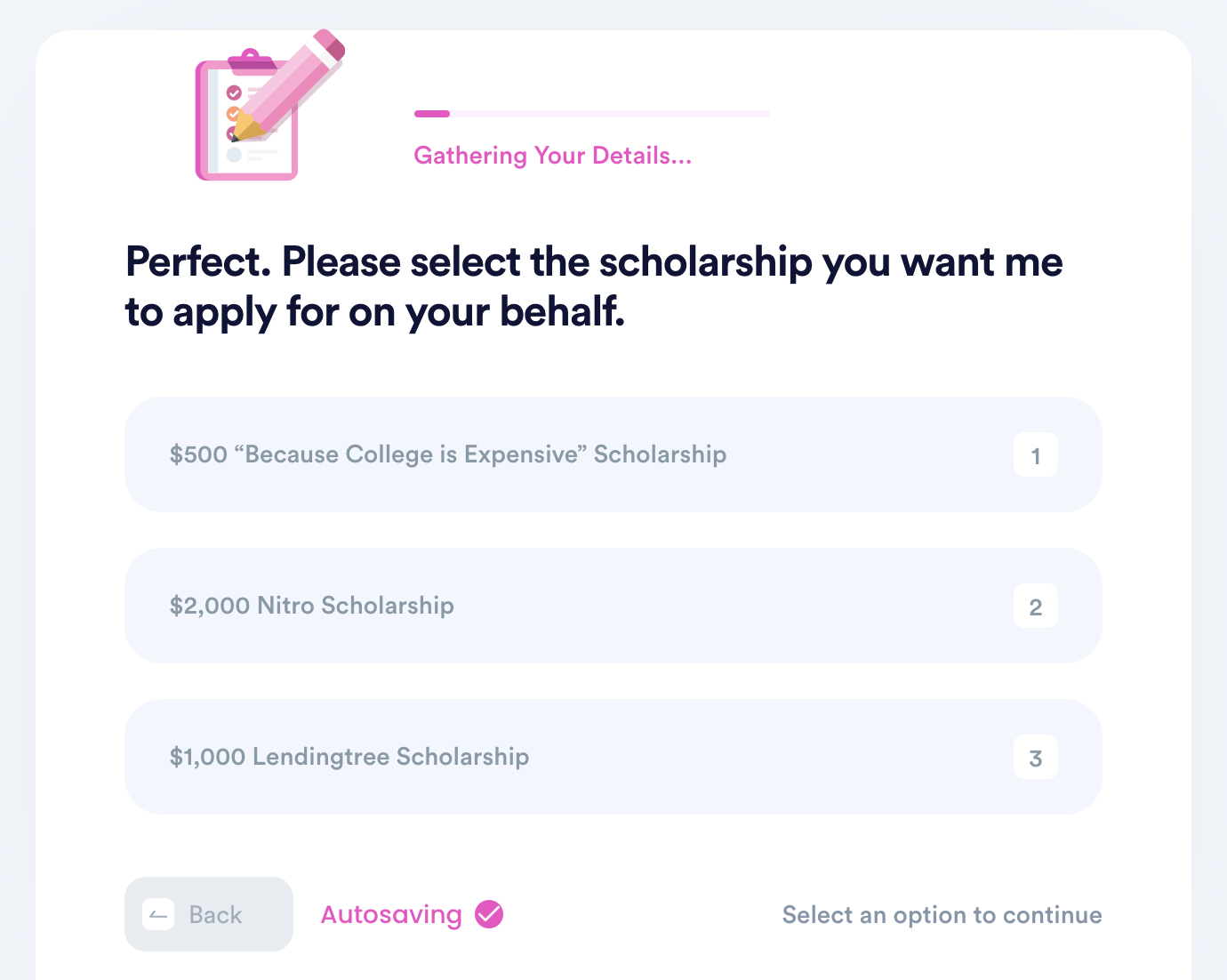 Administrative Issues? We Don't Know Them!
Forget about getting frustrated and overwhelmed by the administrative tasks waiting for you to complete them! With DoNotPay's numerous tools, you can easily resolve such tasks in a heartbeat! All you need to do is sign up for our app, and you'll be able to:
Use DoNotPay To Protect Yourself at All Times
Are pesky robocalls and email spammers working your last nerve? Don't despair—we are happy to help you get rid of them! In a few clicks, you can also stop text spam and avoid the incessant phone buzzing!
You can use our app to protect your privacy by creating burner phone numbers and virtual credit cards. That way, you don't have to disclose personal info when subscribing to online services.
In case you're looking for a way to keep yourself safe from stalkers or work discrimination, we'll help you report the case and walk you through the entire process!
Protecting your work from copyright violation and asking for violent crime compensation in your stead is also something DoNotPay can do!