Are There Any Scholarships for Transfer Students? A Complete Guide With Answers
Students who want to move to a different school have a variety of options when it comes to finding scholarships. Almost every college in the United States has special scholarships that transfer students can apply for, along with a few that are open to students of all categories. Some schools even provide full-ride scholarships for transfer students! This financial aid type, though, is scattered all over the place and can be difficult to filter through.
A common problem that most aspiring transfer students face is that they focus only on specific schools. This can cause them to miss out on scholarship options at different schools that may have been better for them. You can easily remedy this issue by signing up for DoNotPay and getting access to a full list of scholarships that are a perfect fit for you!
Transfer Student Scholarship Requirements
It may seem that transfer students have a more difficult time finding and applying for scholarships than first-time applicants since most schools have different policies and application processes.
Contrary to popular belief, there are scholarships available to transfer students of all kinds, from high school seniors to graduate students—international students included. There are also special scholarship opportunities for women, veterans, and minorities!
Transfer students may be eligible for scholarships based on need, merit, academic achievements, and extracurricular activities.
To be considered a transfer student, an applicant must meet one of the following conditions:
Complete a stipulated number of credit hours at a four-year college
Intent to move from community college to a four-year college
It's important to remember that the number of credit hours counted varies from school to school, and not all credits completed are always accepted.
Merit Scholarships for Transfer Students—More Common Than You Think
Merit scholarships are given to students who have extraordinary academic achievements—usually with a GPA that is 3.5 or higher. If you have stellar grades, this short list of scholarships—including the college-specific ones—might interest you:
Lebanon Valley College
Lycoming College Transfer Student Scholarship
Transfer Achievement Scholarship—University of Kentucky
Frederick Douglass Scholarship—University of Maryland
Transfer Academic Scholarship—Florida International University
Loyola University Chicago Transfer Merit Scholarship
Mississippi State University Compass Scholarship
Presidential Transfer Scholarship—University of Miami
Pathway Award—Wayne State University
The awards can be as small as $1,000 or cover full tuition and can be based on your GPA report paired with essays and letters of recommendation.
This list of scholarships that are available to academically gifted transfer students is far from complete, but DoNotPay can help you find them all.
What Kind of Scholarships Are Available to Students Transferring From Community Colleges?
Universities tend to be more expensive than community colleges. Scholarships for community college transfer students enable you to move to a four-year school more easily, especially if you are looking to graduate debt-free.
If you are thinking of transferring from community college, the following list might have a scholarship that fits your needs:
| Scholarship | Award Amount |
| --- | --- |
| Pearson Scholarship for Higher Education | $5,000 |
| Jack Kent Cooke Foundation Undergraduate Transfer Scholarship | Varies |
| Community College Excellence Scholarship—University of Alabama | Full tuition (for up to two years) |
| TACTYC Transfer Accounting Student Scholarship | $2,000 |
There are numerous other transfer scholarships for community college students. If you need more help with finding scholarships, use DoNotPay for the best results.
Other Scholarship Options for Transfer Students
Transferring students can also look into scholarships that cater to students with special circumstances or those who have an impressive record of extracurricular activities. Here are a few that may fit your needs:
Scholarships for Military Children Program
Hites Transfer Scholarship
Hispanic Scholarship Fund
Herbert Lehman Education Fund Scholarship
Guistwhite Scholarship
Tau Sigma Honor Society Scholarship
How To Apply for a Scholarship as a Transfer Student
Each school has a different application process when it comes to applying for scholarships. If you have a list of schools you are considering, the best course of action would be to head over to the official website, look up the scholarships you are eligible for, and follow the steps provided.
If you're applying for external scholarships, many of which are school-specific, you might need to submit multiple applications.
Most programs require writing scholarship essays and/or submitting a FAFSA, so make sure to thoroughly check the full list of requirements before submitting your application.
Not Sure Which Scholarships Are for You? Let DoNotPay Help!
Scholarships for transferring college students can be difficult to find—especially a scholarship that's perfect for you! DoNotPay can help by showing you a full tailor-made list of scholarships based on your information!
Here are the steps you need to follow:
Sign up for DoNotPay and search for the Apply for Scholarships product
Choose your current level of study and the type of program you want to pursue
Input the name of the university you're planning to attend
Answer a few questions about yourself
After this, you can either choose to apply for no-essay scholarships automatically or see a full list of scholarships that are available to you!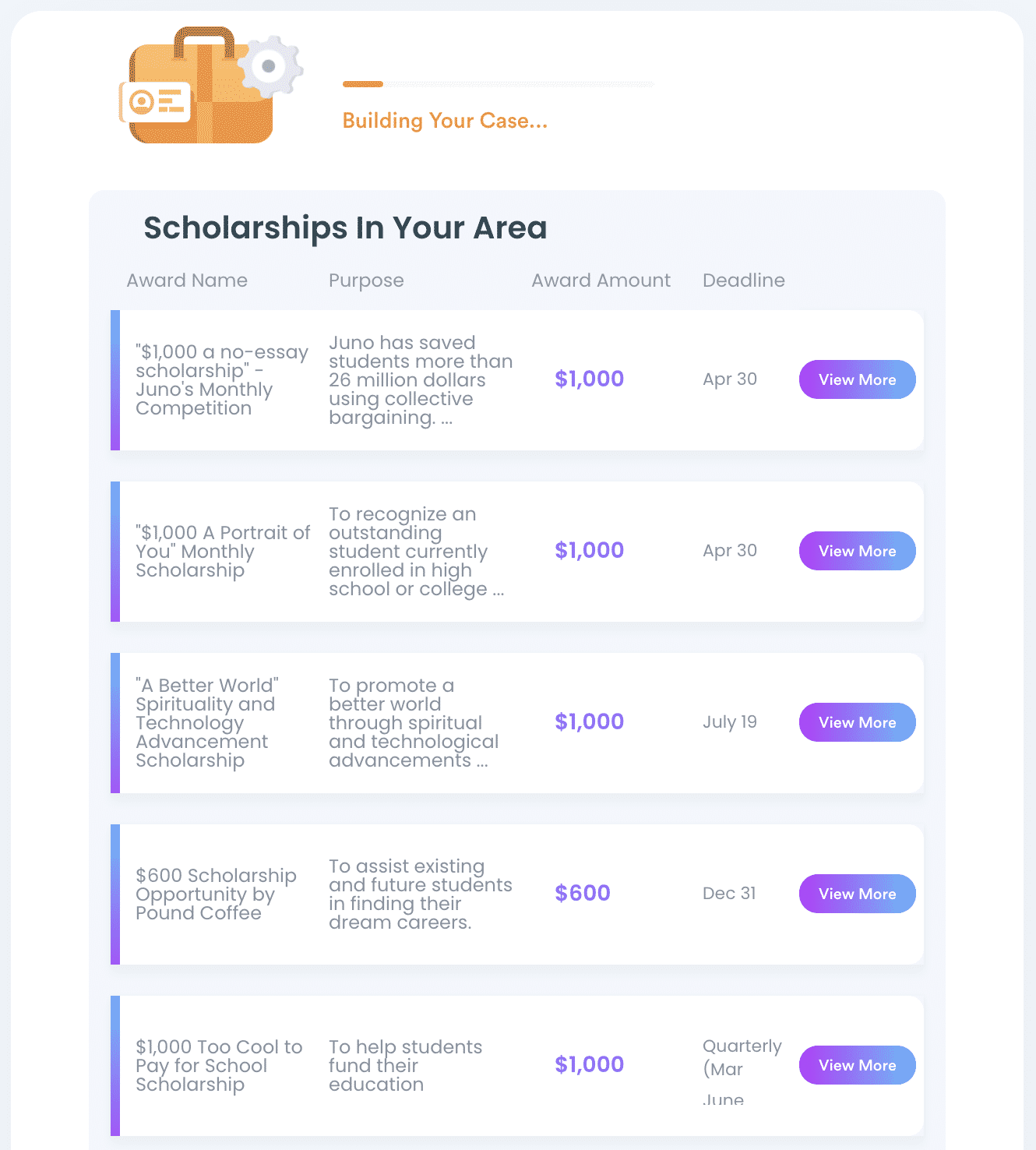 Is Bureaucracy Getting on Your Nerves? We Have a Solution!
We all know that dealing with bureaucracy isn't pleasant, and it often leads to overwhelming frustration. The good news is that DoNotPay has found a workaround! You can now do the following by using our app:
Let DoNotPay Make Your Legal Troubles Disappear!
Drafting contracts and other legal documents isn't a task you should handle on your own. Don't want to spend a fortune on lawyers? That is why DoNotPay—the world's first robot lawyer—is here to take the lead and help you out! Check out the list below to see some of the legal documents that our app can draft for you:
We don't stop there! Cut through the red tape and let DoNotPay assist you in taking anyone to small claims court, getting your documents notarized, submitting anonymous HR complaints, or requesting crime victims' compensation.