Save Up for College With Scholarships for Sophomores in High School
High school sophomores no longer have to deal with the transitioning challenges of their freshman year, nor do they feel the pressure of getting accepted into colleges as juniors and seniors do. This laid-back vibe makes the 10th-grade year an ideal time to relax and evaluate future career choices through suitable scholarships.
Scholarships for sophomores in high school aim to help 10th-graders with matters like:
Discovering their passions and talents
Realizing which career they want to pursue
Saving up adequate funds to finance a college degree
This article will give you an in-depth insight into the available scholarships and grants for sophomores in the U.S.
How To Find a Comprehensive Scholarship List for High School Sophomores
Most high school sophomores never look for scholarships, thinking they are solely meant for college undergraduates or graduate and doctoral students. In reality, hundreds of sophomore scholarships are announced across the U.S. every year.
If you are confused about which scholarships you qualify for, do the following:
Ask your teachers and school counselors—School authorities often maintain a list of scholarships offered in the state, but they may not have enough data on national or out-of-state scholarships
Search the internet—Students who are serious about applying for scholarships spend hours every week conducting scholarship searches on the internet. This is, however, a huge waste of time and energy as most search results contain:

Irrelevant or outdated info
Numerous advertisements for student loans

Use DoNotPay—If you want a comprehensive list of scholarships tailor-made for you, DoNotPay's reliable Apply for Scholarships tool is what you need! Our app asks you to fill out a student questionnaire with details like your grades, level of study, hobbies, residency state, etc. We use the data you provide to extract all U.S. scholarships you qualify for. Our scholarship database is regularly updated, so you'll never be bombarded with outdated, misleading results. Sign up today to get a relevant list of scholarships you're eligible for in under five minutes!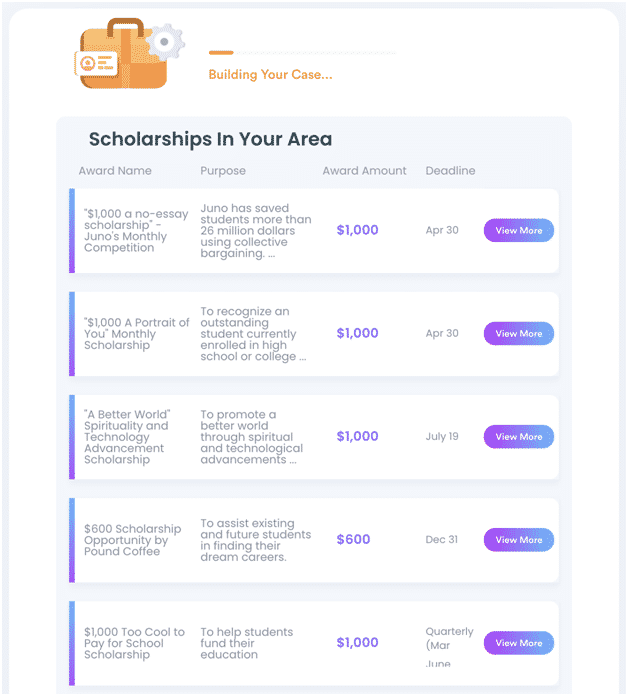 Scholarships for High School Sophomores—What To Look For
While scholarships for high school seniors focus more on prepping you up for college, sophomore scholarships have considerably lower stakes. Most scholarships for 10th-graders offer low monetary prizes—between $500 and $3,000—and are also open to other high school students, irrespective of the grade they're in.
Currently, you can find the following scholarship opportunities for high school sophomores:
Competitive essay- or task-based scholarships
Need-based grants or scholarships
Task or Essay Scholarships for High School Sophomores
The majority of scholarships for sophomore high school students require you to:
Write an essay on a given topic
Execute a competitive task on a given topic—like completing a video project, writing a story, etc.
Take a look at the examples of such scholarships:
The National Student Poets Program awards scholarships to young poets who submit an original creation along with a personal statement
The Jazz at the Ballroom Jazz Scholarship is awarded to three prodigious high school jazz musicians each year
The Ocean Awareness Student Contest offers $50–$1,500 cash awards to students who create stunning visual art for environmental awareness
The Association for Women in Mathematics conducts high school essay contests on topics related to contemporary women mathematicians and statisticians
The Cancer Unwrapped Teen Writing Contest offers $1,000 to inspirational essay submissions from students who've survived cancer
The Breanden Beneschott Fire Memes Scholarship awards $1,000 to students who come up with brilliant meme ideas
Participating in these scholarships will help you explore your talents, find new interests, and expand your skills. They may even help you zero in on a college major!
High School Sophomore Scholarships Based on Need
Many high school sophomores drop out because they cannot pay for school. This may be because they:
Poverty-stricken sophomores can find several local scholarships in their state that can help them cover day-to-day living expenses during high school.
Athletic Scholarship Options for 10th-Graders
Whether you're good at a particular sport or aspire to play sports in college, you should start applying for athletic scholarships in your sophomore year. Many public and private schools offer scholarships for sports recognized by national collegiate sports institutions—for example, soccer, fencing, volleyball, track, golf, gymnastics, cheerleading, etc. Remember that sports scholarships can also help you secure a spot in your favorite college after graduating!
Minority Scholarship Opportunities in Sophomore Year
Every U.S. state has several minority scholarships earmarked for all high school students, including sophomores. At present, you can find such scholarships based on the following criteria:
| Demographic Criteria | Details |
| --- | --- |
| Ethnicity and religious backgrounds | These scholarships are awarded to students based on their ethnic and religious roots, like Hispanics, Indians, Filipinos, Africans, Asians, Muslims, Catholics, Christians, or Jews |
| Disability | Many non-profit organizations offer scholarships to sophomores who: |
| Residency status | If you're not a U.S. citizen or a permanent resident, you can look for sophomore scholarships that cater to students with alien status—for example, international students, transfer students, legal immigrants, undocumented students, etc. |
| Disadvantaged youth | Many human rights groups offer scholarships to underprivileged or underrepresented youth in high schools, for example: |
Are There Any Available College Scholarships for High School Sophomores?
You won't find many college scholarships as a high school sophomore, but any scholarship you win during high school will benefit your college application. Scholarship award certificates and reference letters make a killer combo that elevates your chances of scoring a full-ride college scholarship!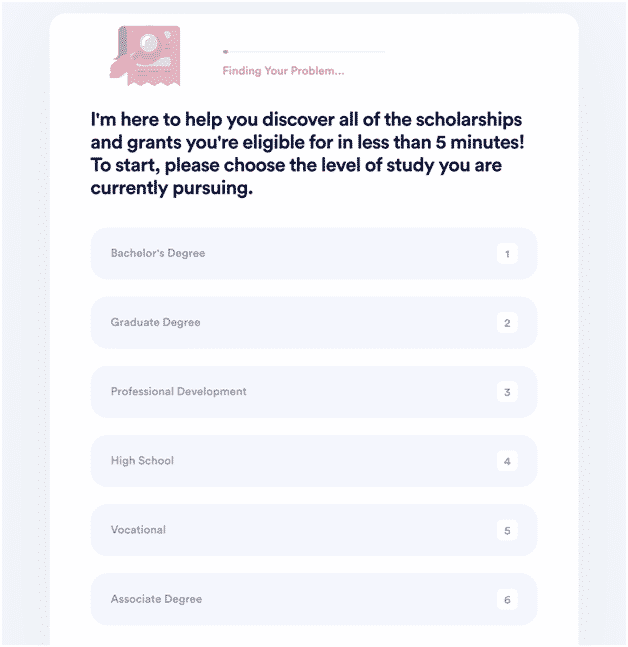 Make the Most of Your Sophomore Year—Use DoNotPay To Apply for Hand-Picked Scholarships
DoNotPay does more than list scholarships for you—we also help you apply for no-essay scholarships directly through the app.
Our app's Apply for Scholarships feature lets you browse through a list of no-essay scholarships you qualify for (these scholarships are awarded based on merit, need, or your demographic classification). You need to tap on the ones you like, and we will use your questionnaire data to apply you for them. If you use our app to apply for the maximum number of scholarships, it will only be a matter of time before you start scoring tangible wins!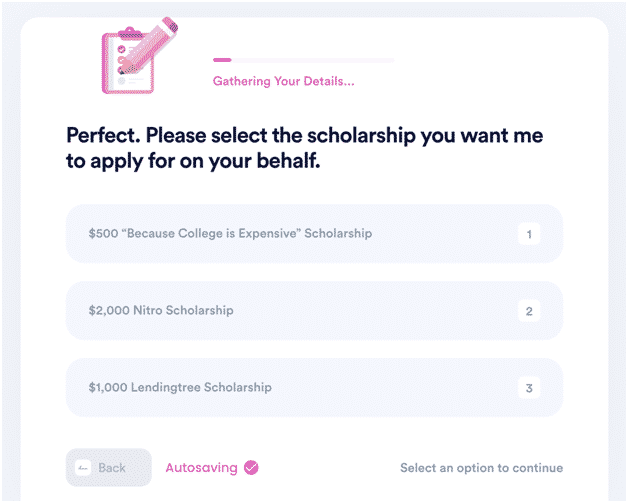 Follow these steps to use our assorted scholarship search and application tool:
Find our Apply for Scholarships product
Fill out the questionnaire
Tell us if you want to search or apply for scholarships
Repeat these steps every week to stay up to date with the latest scholarship announcements.
Use DoNotPay To Deal With a Plethora of Bureaucratic Tasks!
Tired of dealing with bureaucracy? We understand the struggle, and that is why our app makes handling administrative tasks a breeze!
Regardless of whether you need to compose a legal document, such as a power of attorney or a child travel consent form, appeal property taxes or your parking tickets, file a financial aid appeal and a FOIA request, or get a document notarized, DoNotPay has got you covered!
In case you also need to submit anonymous HR complaints, our app will provide you with the easiest way to do so!
Go on a Stress-Free Shopping Spree With DoNotPay
Do you like to shop until you drop? With DoNotPay, you won't have to worry about dropping! We'll make sure you can:
If you need more money to continue your shopping spree, let our app help you find any unclaimed funds under your name and enter numerous giveaways and sweepstakes!