Get Your Creative Juices Flowing With Scholarships for Poetry
Some would say that being a poet, or any other kind of artist, doesn't pay off. The truth is that whether you approach poetry as a hobby or want to publish your pieces someday, you can get scholarships and grants for it. The question is—where can you find scholarships for poetry?
DoNotPay provides resources to aid you in your search and tips on how to submit a flawless scholarship application!
Who Qualifies for Scholarships for Poetry?
Students who qualify for scholarships for poetry can be:
While students typically only need to submit their portfolio to apply for scholarships for poetry, they sometimes need to meet additional requirements—including:
Maintaining a particular grade point average (GPA)
Submitting:
What You Should Know Before Looking for Scholarships for Poetry
Before you start exploring scholarships for poets, you should keep the following in mind:
All scholarships require you to submit a different number of poems or poetry pages. The more poems you have prepared, the better
Many scholarships for art and creative writing apply to poets, as well
Some scholarships allow you to submit visual poetry only
Many students mistake poetry contests for scholarships—while both involve people using their poetry to win a prize, they have a distinctive set of differences
What Is the Difference Between Poetry Scholarships and Contests?
Students can only use scholarships for educational purposes, whereas poetry contest prizes can be used for anything—including educational and living expenses. Another difference is that poetry contests often charge a not-so-cheap participation fee.
Many students still opt for poetry contests as they have the liberty to use their prize however they want.
Where To Find Scholarships for Poets
Since there aren't many scholarships for poets, finding them can be a challenge. The following resources can help you find some:
Your school's English or financial aid department
Local and school-based poetry and literary clubs
Organizations dedicated to helping student poets find their voice, such as:

Poetry Out Loud
The Poetry Coalition
Alliance for Young Artists & Writers

Local organizations and private donors
Do you lack the time necessary to research scholarships for poets? DoNotPay offers a shortcut! Sign up and answer a few questions to get a list of all available opportunities!
Poetry Scholarships You Should Check Out
Take a look at the following table for details on the few poetry scholarships available:
Scholarship
Eligibility
Prize
The Amy Lowell Poetry Travelling Scholarship
Poets willing to spend a year outside of North America
$59,000
Learn Between the Lines Scholarship Slam
Students from eighth grade to grad school planning to go to college
$1,000
Just Poetry Scholarship
High school students

Two scholarships worth $500
One scholarship in the amount of $100

1800wheelchair.com Scholarship
High school students in their junior year or older
$500
The Ruth Lilly and Dorothy Sargent Rosenberg Poetry Fellowships
21–31-year-olds
Five fellowships of $25,800
The Best Poetry Contests for Students
The following table provides information about some of the most rewarding poetry contests for students:
Contest
Requirements
Prize
The Narrative Prize
Writers of any age or background—including minorities, international students, and legal immigrants—can apply
$5,000
Scholastic Portfolio Awards
Applicants must:

Be graduating high school seniors
Submit six writings and a personal statement

16 prizes of $10,000
30 prizes of $1,000

The Pablo Neruda Prize for Poetry

$20 entry fee
Three to ten pages of poetry

One $2,000 prize
One $1,000 prize

Leonard L. Milberg '53 High School Poetry Prize
Applicants must be 11th-grade students

One $500 prize
One $250 prize
One $100 prize
DoNotPay Finds All Scholarships You Qualify For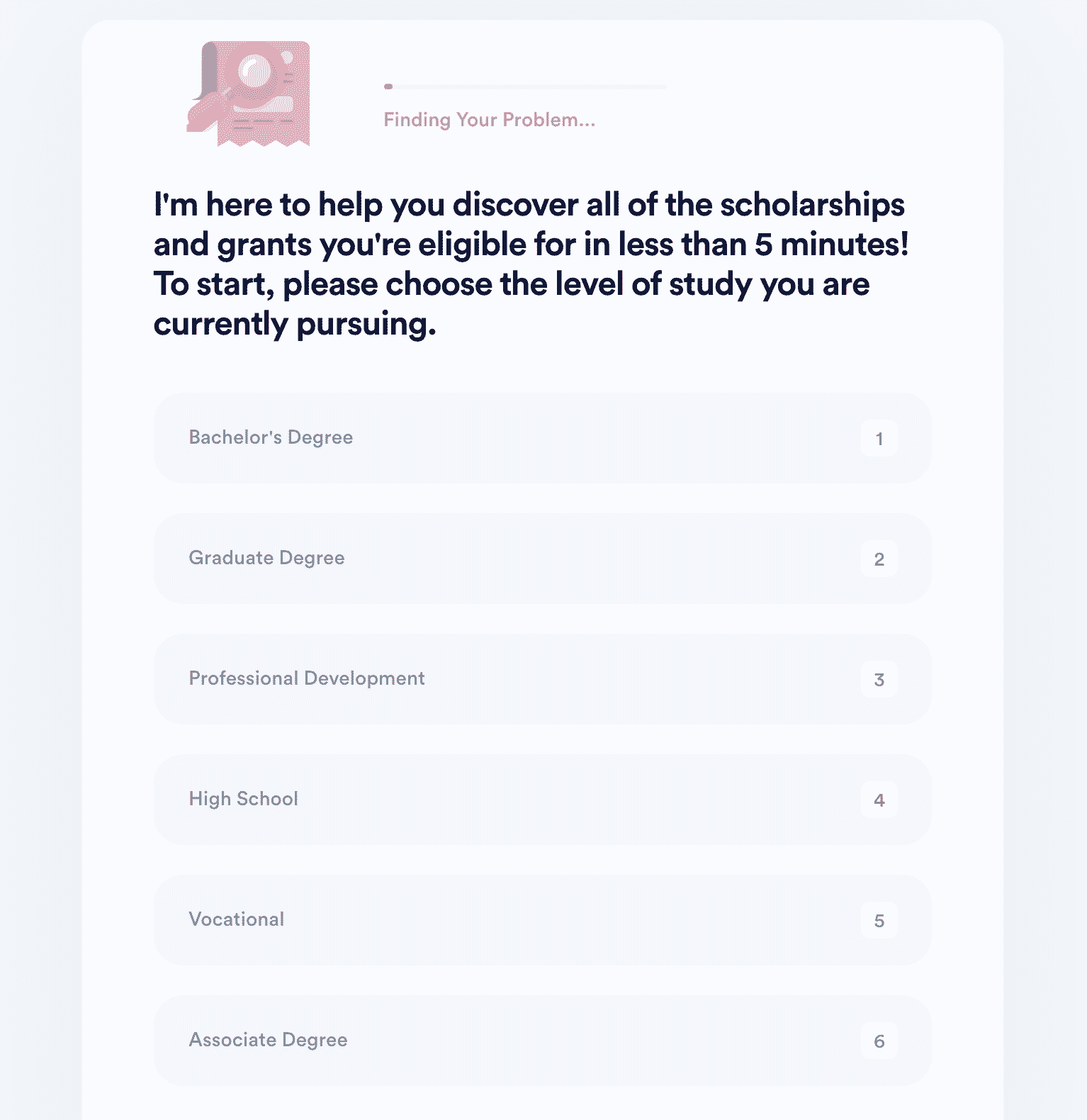 Since there aren't many scholarships for poetry you can apply for, you shouldn't rely solely on them to get the financial aid you're seeking. You can increase your chances by looking for other scholarship opportunities based on your:
Level of study
Field of study
Academic merit
Hobbies and skills
Involvement in sports
Ethnic roots
Religious affiliation
Our app can help you find all scholarships you're eligible for in a matter of minutes! To maximize your chances of getting that extra money, follow these steps:
Search for Apply for Scholarships
You can also use our product to apply for no-essay scholarships! All you need to do is browse through the provided list and choose the ones you find appealing. We will apply for the selected scholarships on your behalf!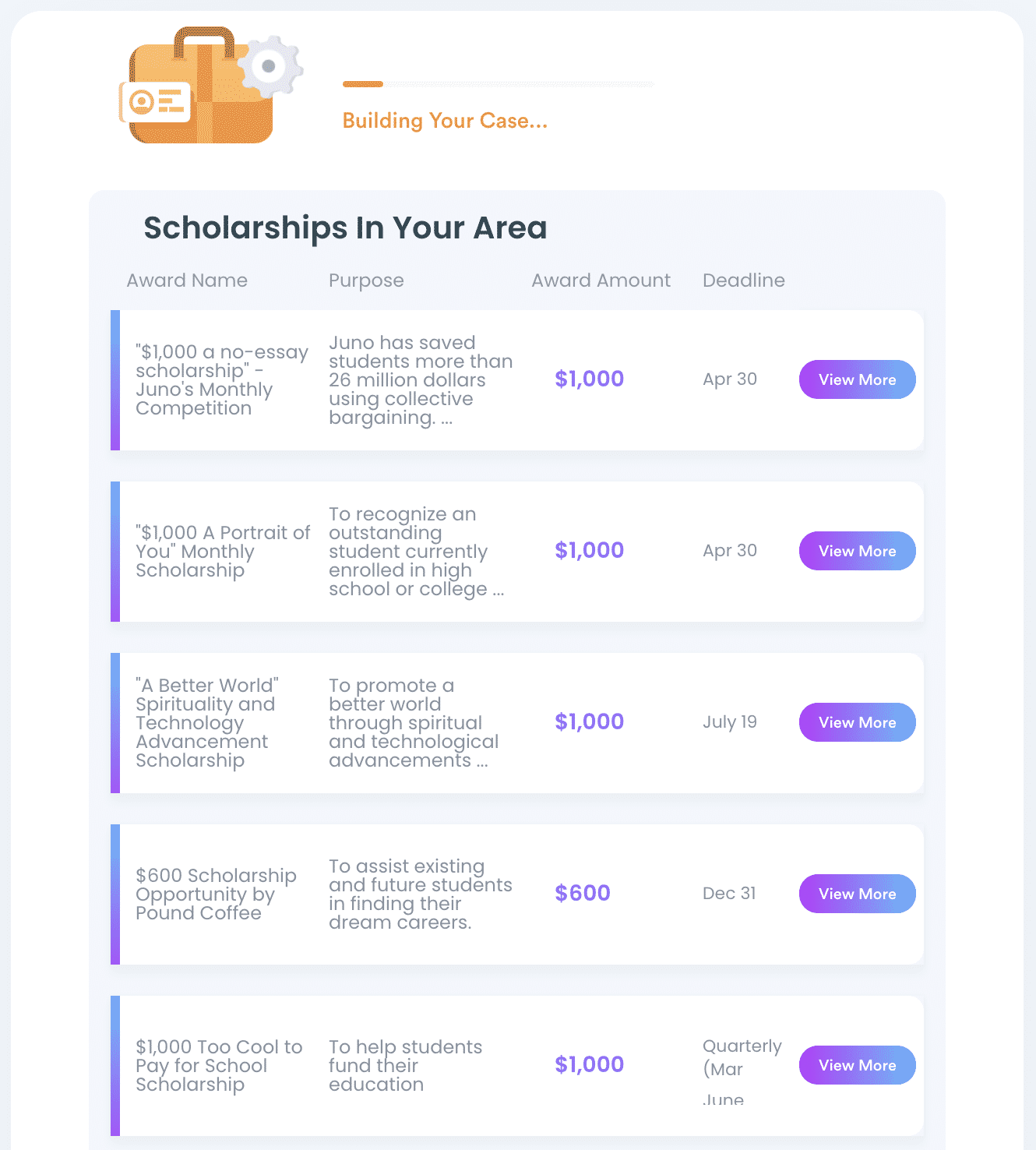 What's Next?
Once you complete the task at hand, you don't have to stop there—we offer a myriad of products that can relieve you of the stress that comes with dealing with admin and legal hurdles.
DoNotPay can assist you in drawing up a divorce settlement agreement, child travel consent form, power of attorney, and other legal documents, contacting government representatives, getting tourist visas, fighting workplace discrimination, getting a burner number, appealing banned accounts, getting access to public records, scheduling a DMV appointment, and much more.
Tackle Any Energy-Draining Task With DoNotPay
With DoNotPay by your side, you don't have to worry about how you'll cover your utility bills at the end of the month—we'll provide swift assistance as soon as you sign up!
Wondering what else our app is capable of? Check out how we can: