Scholarships for Native Americans—Let Your Roots Lead You to Success
Many Native American students are underprivileged and receive insufficient education during childhood, which makes it hard for them to get accepted into colleges. To make matters worse, most Native American households operate in survival mode with an annual income of less than $5,000. That barely leaves them enough to afford a decent degree.
Scholarships for Native Americans aim to help the oppressed students from this community find a solid footing in mainstream education. If you are a student with tribal ancestry, this article will help you make the most of the available scholarship or grant options in the U.S.
Scholarships for Native Americans Descendants—Subtypes
From dealing with classroom prejudice to enduring racial insensitivity, Native American students face serious setbacks at every stage of education. Considering their current challenges, you'll find five categories of Native American scholarships and grants dedicated to the following subgroups:
Current and incoming college students
Grad school learners
Vocational trainees
Scholarships for Native American High School Students
Among all diversity groups in America, Native American students have the highest dropout and lowest graduation rates in high school. This is why you will find many scholarships for high school freshmen, sophomores, juniors, and seniors that provide both financial assistance and tutorial help to beneficiaries.
Here are some examples:
The Catching The Dream Program caters to Native American high school seniors who want to pursue a career in fields like math, science, and computer science
The College Horizons Program preps tribal highschoolers for college admissions
Native American College Scholarships
You will find dozens of college scholarships earmarked for Native American undergraduates. They can be either partial or full-ride scholarships, but you must enroll in full-time bachelor's programs at college to qualify. Some scholarships may also include additional internships to help you be job-ready after earning your degree.
Here are some examples of college scholarships open to Native American students:
The Cherokee Nation College Resource Scholarship exclusively help students from the Cherokee Indian tribe
The Fontana Transport Inc. Scholars Program supports first-generation college aspirants from tribal or underrepresented communities
Native American Scholarships for Grad School
Indigenous community members find fewer exclusive grad school scholarships compared to college baccalaureate ones.
If you are a Native American pursuing postgraduate or doctoral studies, look for minority scholarships offered for your field of study—like business studies, political science, nursing, medicine, veterinary studies, psychology, architecture, education, or environmental science.
Vocational and Skill Development Scholarships for Native Americans
The Native American Vocational and Technical Education Program (NAVTEP) provides scholarships for students—dropout or otherwise—who want to pursue a vocational course with a recognized institution.
Here are some of the course options available to you:
The availability of vocational scholarships depends on Tribal Economic Development Plans and may be controlled by your local tribal council.
Scholarships for Being a Native American Woman
Native American women are a double minority who are grossly underrepresented in higher education scenarios. Only a handful of scholarships are available to indigenous female learners. Here are a few examples:
The American Indian Heritage Foundation offers up to $30,000 to meritorious women enrolled in a nationally known college or university
The Kathryn M. Buder scholarships are available only to Native American women who major in social work
Where To Find Scholarships for American Indians
If you're looking for scholarships meant for American Indian groups, pay attention to the student financial aid announcements made by relevant organizations—like:
U.S. Bureau of Indian Affairs
American Indian College Fund
Indian Health Service (IHS)—IHS only supports students pursuing a career in engineering, health and pharmaceutical sciences, and accounting
American Indian Higher Education Consortium (AIHEC)
Daughters of the American Revolution (DAR)
Indian Resource Development (IRD)
You should also keep an eye out for non-profit or student organizations that sponsor scholarships for Native Americans across various states and public or private schools.
If you're tense about missing out on scholarship announcements, DoNotPay can help you out! Our scholarship search tool gives you an all-encompassing list of scholarships that you qualify for. All you need to do is enter your student details into our app—for example, your grades, ethnic or racial background, veteran record, U.S. residency status, and hobbies.
Our app will extract all scholarships that match your student profile in a flash! To get a tailor-made scholarship list, sign up for our services today!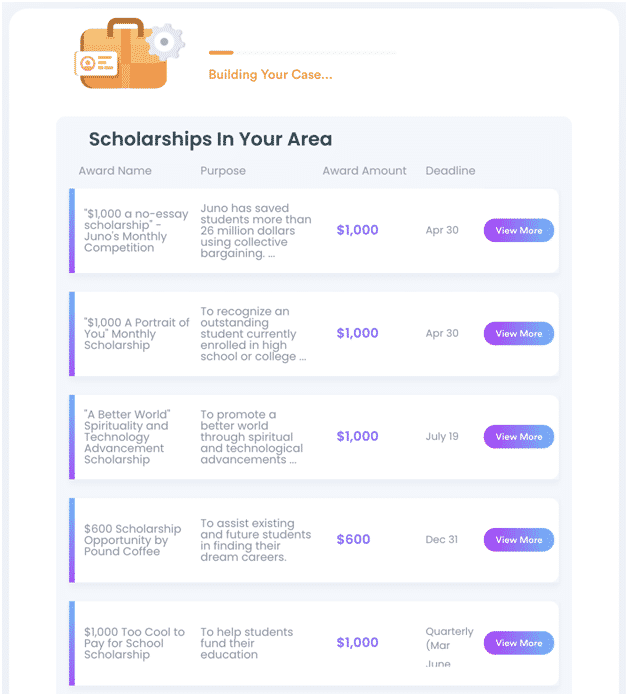 Know the Native American Scholarship Requirements
You need to fulfill one or more of the following eligibility requirements for most Native American scholarships:
Show a certificate proving you have the minimum level of tribal ancestry
Verify your previous education through transcripts
Have qualifying GPA in relevant academic fields
Prove financial need through income certificates
Collect adequate recommendation letters from mentors
What Percentage of Native American Do You Have To Be To Qualify for Scholarships?
Documentation supporting your Native American ancestry can alone qualify or disqualify you for a scholarship. The kind of paperwork you need depends on whether you have the ancestry records of your immediate family.
This table will help you understand the ancestry documentation required:
Situation
Documents
You have your family's ancestry records

Birth certificates of parents or grandparents as per tribal records
Your family's tribal enrollment proof or ID card issued by a federally identified tribe

You don't have your family's records

Old census documents that contain the name of any of your Native American ancestors, no matter how far back
Certificate of Degree of Indian Blood issued by Bureau of Indian Affairs
Most Native American scholarships require you to prove only one-quarter of Indian ancestry.
Use DoNotPay To Apply for Certain Native American Scholarships
Hunting down scholarships and applying for each of them individually can be a chore. If the thought of applying for scholarships exhausts you, use DoNotPay to streamline the task. Our app's built-in scholarship application feature lets you apply for all no-essay scholarships in the blink of an eye.
We curate a list of all no-essay scholarships for you and let you browse through them. You can select the ones you like, and we'll apply for them instantly in your stead.
As most Native American scholarships don't require you to write an essay, you can save time by applying for them through our app!
To use our scholarship search and application product, do this:
Log in to DoNotPay and search for Scholarships
Answer our student questionnaire
Choose between our search and apply features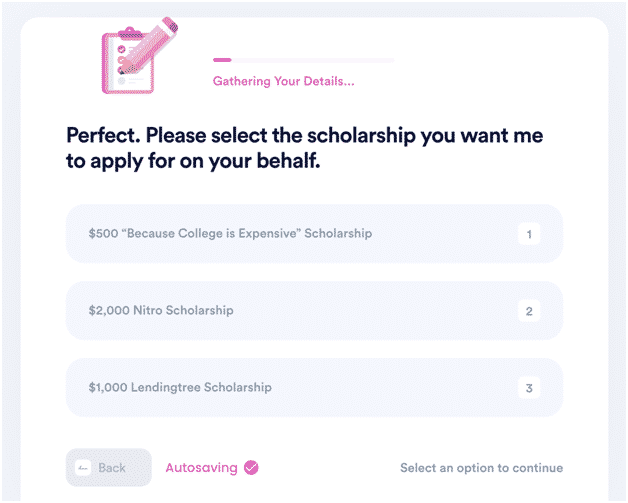 DoNotPay's assorted scholarship search and apply product is not limited to Native American scholarships. We can also help you check out scholarships for other demographic groups that you fit in, like legal immigrants, senior citizens, mothers, women over 40, disabled students, and students with anxiety, autism, or a learning disability.
Use DoNotPay To Deal With a Plethora of Bureaucratic Tasks!
Tired of dealing with bureaucracy? We understand the struggle, and that is why our app makes handling administrative tasks a breeze!
Regardless of whether you need to compose a legal document, such as a power of attorney or a child travel consent form, appeal property taxes or your parking tickets, file a financial aid appeal and a FOIA request, or get a document notarized, DoNotPay has got you covered!
In case you also need to submit anonymous HR complaints, our app will provide you with the easiest way to do so!
Go on a Stress-Free Shopping Spree With DoNotPay
Do you like to shop until you drop? With DoNotPay, you won't have to worry about dropping! We'll make sure you can:
If you need more money to continue your shopping spree, let our app help you find any unclaimed funds under your name and enter numerous giveaways and sweepstakes!