Scholarships for Military Children—Use Your Legacy To Fulfill Dreams
Many military families in the U.S. live close to the poverty line and struggle to put food on the table. No wonder students with a military connection face higher stress levels in education than their civilian peers.
Many organizations and schools offer generous grants and scholarships for military children and dependents to:
Honor the sacrifices made by their families
Make top U.S. universities and colleges affordable for them
Help them graduate debt-free
This article will help you take stock of all financial aid options available to military children and evaluate which ones are the best!
Scholarships for Military Kids and Military Dependents—Key Points
If you're looking for scholarships that exclusively support military families, you'll find them in three subcategories:
Scholarships for military kids and grandkids
Military dependent scholarships
Military Children and Grandchildren Scholarships
From kindergarten to high school graduation, an average military child has to change schools around nine times. To help these kids manage these frequent and tiring transitions, many organizations run scholarship programs that specifically cater to the needs of military children and grandchildren in middle school, high school, college, or graduate school.
Refer to this table for examples of such scholarships:
Scholarship
Details
AMVETS Scholarship

This scholarship is open to children and grandchildren of:

Retired service members
Active-duty personnel
Guards and reserves

It carries a $1,000 annual prize for high school seniors who are accepted by an approved college
The award is renewable for four years

Chief Petty Officer Scholarship Fund

This scholarship is exclusively meant for children of all Chief Petty Officers (whether on-duty or retired)
The aspirants don't have to be officers' biological children—the scholarship selection council also considers adopted or stepchildren

Society of Daughters of United States Army Scholarship Program

This is a merit-based scholarship awarded to daughters and granddaughters of all service members, past or present
It is awarded after evaluating a candidate's:
This scholarship has a tight application window—between March 15th and 30th every year
It's a nationality-blind scholarship, so you can apply for it as an international student or a legal immigrant
Scholarship Options for Military Dependents
A military-dependent scholarship covers a wider base than the children's. As per current guidelines, individuals that can potentially qualify as military dependents include:
Children (some scholarships may exclude adult or independent children)
Siblings
Cousins
Nieces and nephews
Here are a few scholarships open to military dependents:
Scholarship
Details
The Military Family Scholarship
Military dependents pursuing an undergraduate, postgraduate, or doctoral degree can apply for this scholarship as long as they:

Have a GPA of 3.0 or higher
Write an authentic essay about their experiences as a family member of someone in the military

This scholarship offers a monetary prize of $5,000

Hope For the Warriors
These scholarships are awarded to military dependents pursuing a bachelors' or masters' degree in fields like:
Army Women's Foundation Scholarship

This scholarship is open to female veterans and their family members
The monetary prize offered is $1,000—$2,500 strictly to be used towards course expenses for any university, four-year college, accredited vocational school, or community college
To qualify for this scholarship, you may need to submit:
Scholarships for Children and Dependents of Deceased or Disabled Service Members
Various military scholarships focus on helping the families of fallen service members or those retired for medical reasons. Check out some examples:
Military Order of the Purple Heart Scholarship is awarded to the immediate family member of a soldier who died in the line of duty
Delaware Educational Benefits for Children of Deceased Veterans scholarships are awarded to children of military service personnel who:

Are deceased
Have been declared missing during a military operation
Were held prisoners by a hostile force during a war

Illinois AMVETS Sad Sacks Nursing Scholarship is offered to nursing aspirants with a deceased or disabled parent who was a member of the military
Freedom Alliance Scholarship Fund scholarship is offered to dependent children of the land, marine, or aviation corps officers who were killed or permanently disabled during service (disability status should be 100%)
Scholarships for Military Children—How To Find the Right Program
At present, there are over a million military children and dependent students in the country, most of them competing for various financial aid opportunities. Finding and applying for the right scholarships is no child's play.
To keep track of all current military scholarships, you should check out the following sources:
State and federal aid websites
News bulletins and social media of organizations that offer support to military families (there are hundreds of them in the U.S.)
Schools and universities providing special military-centric scholarships
Community groups that offer minority scholarships to military kids based on their religious or ethnic background
If you're searching the internet for these scholarships, it may not be a productive use of your time. You'll be flooded with irrelevant results and may end up wasting hours sifting through varying eligibility criteria for each scholarship.
If you want to get accurate search results within five minutes, turn to DoNotPay's Apply for Scholarships tool. Our app can check your eligibility for all active scholarships in the country. Sign up and get a generated list of all the latest scholarships that you qualify for!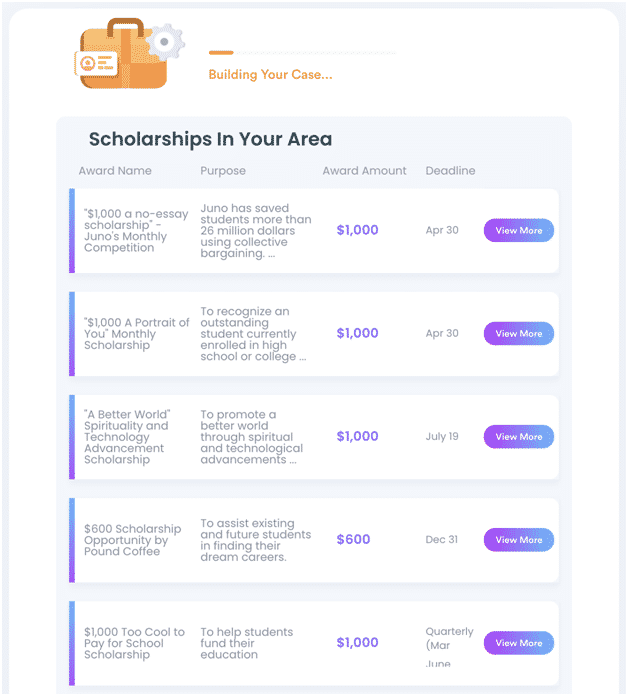 There's More—DoNotPay Simplifies the Scholarship Application Process in a Flash!
Most students qualify for dozens of scholarships but never apply for them due to the tedious application procedure. DoNotPay solves this issue by letting you apply for all no-essay scholarships directly through the app!
Our Apply for Scholarships product creates a list of all no-essay scholarships that are a perfect fit for your student profile. You can browse and tap on your favorite ones, and we'll apply for them in your stead!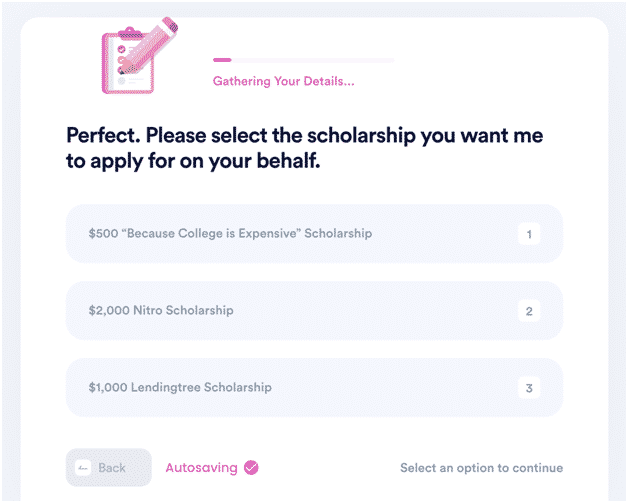 To use our unparalleled scholarship search and application services, do this:
Open your DoNotPay account and search for Scholarships
Click on our product and fill out the questionnaire
Tell us if you'd like to search or apply for scholarships
Using DoNotPay's scholarship application regularly will ensure you're considered for every new no-essay scholarship you're eligible for!
What's Next?
Once you complete the task at hand, you don't have to stop there—we offer a myriad of products that can relieve you of the stress that comes with dealing with admin and legal hurdles.
DoNotPay can assist you in drawing up a divorce settlement agreement, child travel consent form, power of attorney, and other legal documents, contacting government representatives, getting tourist visas, fighting workplace discrimination, getting a burner number, appealing banned accounts, getting access to public records, scheduling a DMV appointment, and much more.
Tackle Any Energy-Draining Task With DoNotPay
With DoNotPay by your side, you don't have to worry about how you'll cover your utility bills at the end of the month—we'll provide swift assistance as soon as you sign up!
Wondering what else our app is capable of? Check out how we can: