Scholarships for Hispanics You Need To Check Out
Affording college as a Hispanic student can be challenging, especially if you're an undocumented student, but it isn't impossible. Various donors offer scholarships if you demonstrate financial need or earn exemplary academic achievements. Searching for scholarships for Hispanics and keeping track of all the requirements and paperwork you need can be confusing, though.
If you're a Hispanic student looking for financial aid for any education level, you've found the right guide! DoNotPay provides valuable information on where to find scholarships for Hispanics and how to apply for them!
The Basics of Scholarships for Hispanics
Schools and organizations can determine eligibility for scholarships based on various criteria. The common trait of all scholarships for Hispanics, though, is that a student needs to be of Hispanic or Latino heritage.
Organizations also offer scholarships for Hispanic students who meet other special qualifications as well, such as:
Being:
Pursuing a degree in:
Participating in:

Extracurricular activities
Students looking for scholarships for Hispanics can resort to various scholarship search tools, state agencies for financial aid for students, non-profit organizations supporting Latino and Hispanic students, and more. Another way Hispanic students can find out about scholarships they qualify for is by contacting the financial aid consultant at their school.
You can also subscribe to DoNotPay to receive a custom list of scholarships you qualify for! After that, you can choose whether you find it more convenient to apply for scholarships yourself or let our app handle all applications for the no-essay ones.
How To Apply for Scholarships for Hispanics
To apply for scholarships for Hispanic students, you might need the following documentation:
Proof of citizenship or legal residency
Completed application for the specific scholarship you're applying for
School ID or college transcript
ACT/SAT scores
Letters of recommendation from mentors and professors
No-essay scholarships for Hispanics require only your basic information, such as your full name, the name of the state you reside in, etc.
DoNotPay Finds Scholarships for Hispanics in a Flash!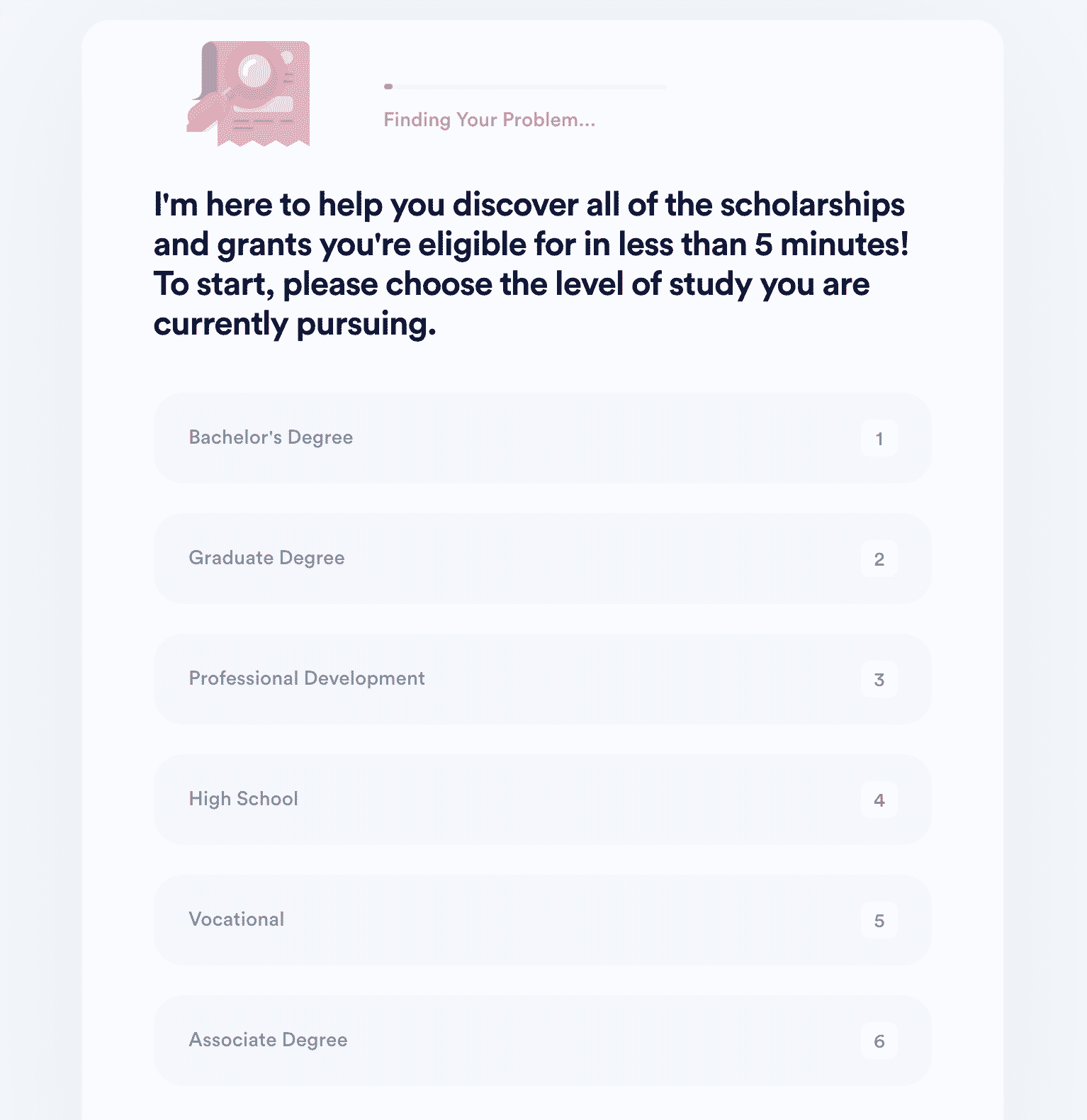 Whether you're a high school junior, senior, undergraduate student, graduate student, or any other level of study in between, DoNotPay can find numerous scholarships that can help you afford your education.
By using our app, you are:
Streamlining the scholarship application process by automating the applications for no-essay ones
Making sure you never miss any opportunity since DoNotPay refreshes and updates your list of scholarships
Gaining insight about different kinds of scholarships, their requirements, and award amounts
Ensuring you receive a list of scholarships for your level of study right away
Scholarships for Hispanics are a few clicks away if you:
Search for Apply for Scholarships
Answer a few short questions about your field of study, level of study, and any special qualifications, such as your veteran status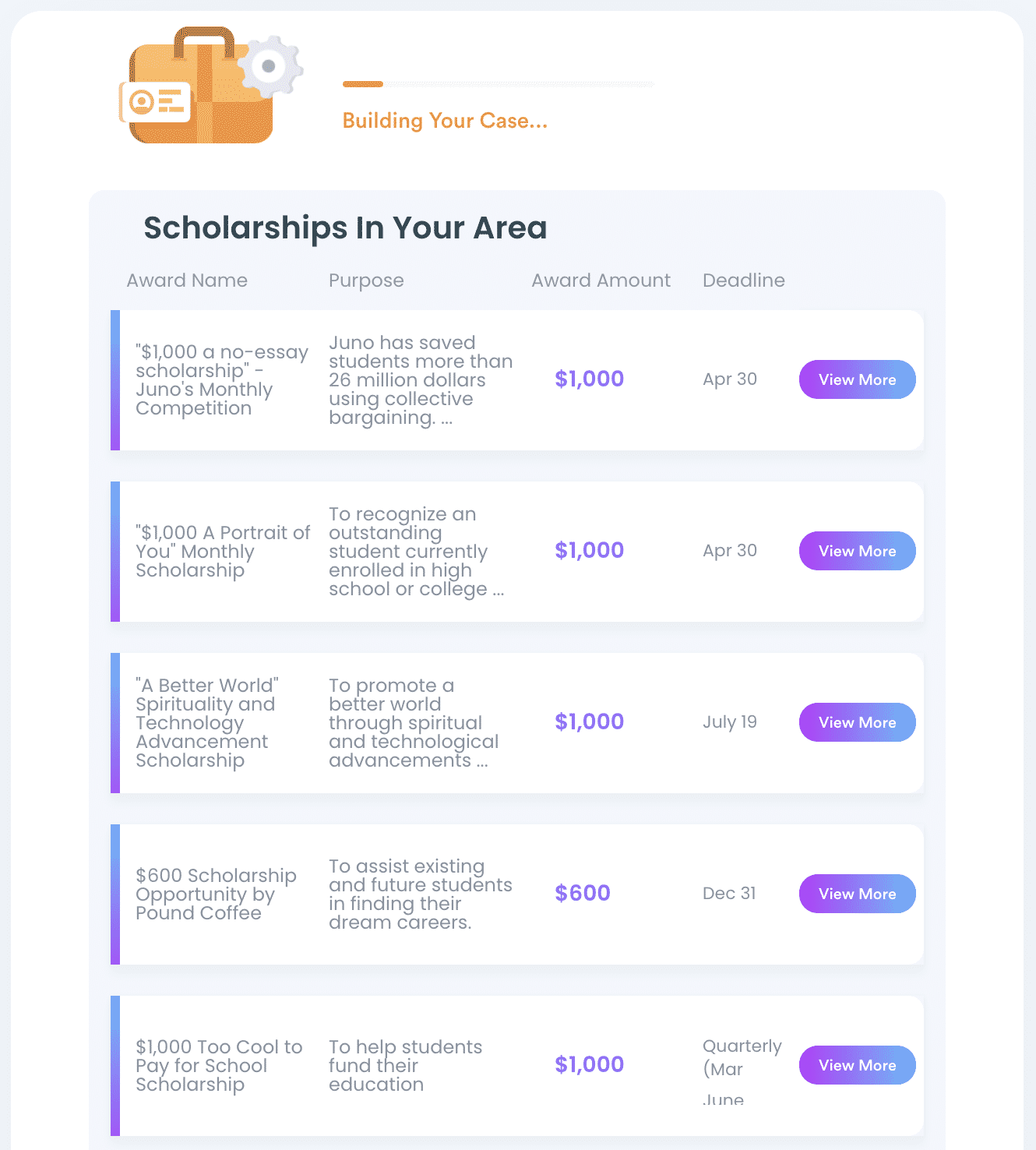 Why Are Scholarships for Hispanics Important?
More than half of Hispanics who attend college are the first ones in their families to do so in hopes of improving their family's financial situation and affording a better life. Paying for college can be extremely difficult for Hispanics, especially undocumented students who also face the fear of deportation.
Lacking the financial means to continue their education, many Hispanic students opt for a community college. Another reason could be the fact that the Deferred Action for Childhood Arrivals (DACA) enables undocumented students to stay in the United States for only two years.
Many foundations and private donors offer scholarships and grants to motivate Hispanic students to pursue higher education. Thanks to that effort, dropout rates for Hispanic students decreased, and many more enroll in college each year.
Scholarships for Hispanics—Which Ones To Apply For?
With all of the opportunities for Hispanics available, it can be difficult to discern which ones you are eligible for. That's why we hand-picked some scholarships and categorized them by different eligibility requirements. Check the table below to find some of the best scholarships for Hispanics:
Recipient Category
Awards
General scholarships for Hispanics

The HSF Scholarship
Hispanic Scholarship Consortium Scholarship Program
PepsiCo Cesar Chavez Latino Scholarship
Thursday Network "I EMPOWER Scholarship"
La Unidad Latina Foundation Scholarship

Scholarships for Hispanic women

100 Hispanic Women's Young Latinas Leadership Institute
CSF Fiesta Queen Scholarship and Pageant

Scholarships for Mexicans
New Mexico Hispanic Women's Council Scholarships
Full ride scholarships for Hispanics
The GE/LNESC Scholarship
Hispanic engineering scholarships

The HENAAC Scholars Program
The NAVSEA Scholars Program
Society of Hispanic Professional Engineers Scholarships
Latinos in Technology Scholarship

Scholarships for Hispanics in healthcare
The Albert W. Dent Graduate Student Scholarship
Scholarships for first-generation Hispanic students
HACU IES Abroad Scholarship
DoNotPay Helps You Run Errands Without Leaving the Comfort of Your Home!
If you're on a tight schedule and you can't afford to spend hours running errands, DoNotPay steps in with a perfect solution! You can skip going to the post office to request an item return or visiting a notary public to get your documents notarized—Our app will help you get it all done without going anywhere!
Visiting your local Walmart to have your passport photo taken is unnecessary since DoNotPay can help you get it at home!
Consult the list below to see what other tasks you can complete using our app:
Unsubscribe From Unwanted Services at Any Time
Companies tend to keep charging their clients monthly subscription fees automatically if they don't end their subscriptions. Stop wasting money on forgotten memberships—DoNotPay will show you how to terminate your subscription in a few clicks!
You can also learn how to sign up for a free trial without getting charged, create a burner phone number or a virtual credit card hassle-free!