Getting Scholarships for High School Students Made Simple
High school is a pivotal part of your life. Early preparations—such as looking and applying for college scholarships—can play a crucial role in securing funding for your dream college and ultimately help your parents save significant amounts of money.
This guide breaks down the steps you need to take to get scholarships for high school students so you can enroll in your freshman year of college prepared!
Who Qualifies for High School Scholarships?
Most scholarships for high school students target juniors or seniors, but you can find awards for freshmen and sophomores as well. With numerous scholarships and grants at their disposal, high school students can easily get confused about which ones they qualify for. An easy way to check your eligibility is to find the requirements of the award you want to apply for.
To qualify for high school scholarships, you might have to:
Have a grade-point average (GPA) and SAT and ACT scores that are above an established limit
Participate in extracurricular activities
Submit:

A resume
Middle or high school transcripts
Individual scholarship applications

Demonstrate financial need
Create an educational plan
Be a:
How To Get Scholarships for College in High School
Here's how you can secure scholarships before starting college:
Start searching for scholarships early—you should start thinking about your future career path and working on getting scholarships in your freshman year
Maintain academic progress
Double-check the application requirements for each scholarship you plan on competing for
Prepare the required paperwork
Pay attention to the application deadlines
Get involved in extracurricular activities, such as:

School clubs
Volunteering
Political and social activism

Get a part-time job during school breaks and holidays so you can add valuable work experience to your resume
Prepare yourself for the interview you'll have if you pass the first evaluation phase
To maximize your chances of getting scholarships while you're in high school, consider applying for no-essay scholarships. The application process for no-essay awards usually consists of a form you need to complete—no essays required.
Applying for no-essay scholarships takes up too much of your time and effort, but DoNotPay can help! Sign up and let our app apply for no-essay scholarships on your behalf automatically! With DoNotPay, you'll use your time more efficiently and increase your chances of getting the financial aid you need.
Types of Scholarships for High School Students
With so many high school scholarships available, you may find yourself confused about where to start your search. Luckily, there are many different scholarships to choose from, each catering to different student categories.
To understand the different types of scholarships for high school students, check the table below:
Award Issuer
Field of Study
Renewability
Candidate Selection Criteria

Federal agencies
Schools
Private donors

One-time
Renewable for one or two years

Financial need
Academic merit
Both financial need and academic merit
College Scholarships for High School Students You Should Check Out
Check the table below to learn about some of the most generous scholarship opportunities for high school students of different categories:
Category
Scholarships and Awards
Scholarships for high school freshmen, sophomores, and juniors

Christian Connector Scholarship—$2,500
JFK Profile in Courage Essay Contest—$10,000
Vegetarian Resource Group Scholarships—$10,000
National Constitution Bee—$25,000
Diller Teen Tikkun Olam Awards—$36,000
Doodle for Google Competition—$30,000
Poetry Out Loud Scholarship Contest—$20,000
VFW Voice of Democracy Competition—$30,000

Scholarships for high school graduates

Cameron Impact Scholarship—$20,000 to $50,000 per year
Elks Most Valuable Student Scholarship—up to $50,000

Scholarships for schools
Universities and colleges typically offer plenty of institutional scholarships to incoming students. To learn about the opportunities, consult the financial aid department of the school you want to apply to
High school scholarships for international students

Surfshark Privacy and Security Scholarship—$2,000
Come Study USA (CSU) Scholarships—$2,500
Find Scholarships for High School Students in Minutes With DoNotPay!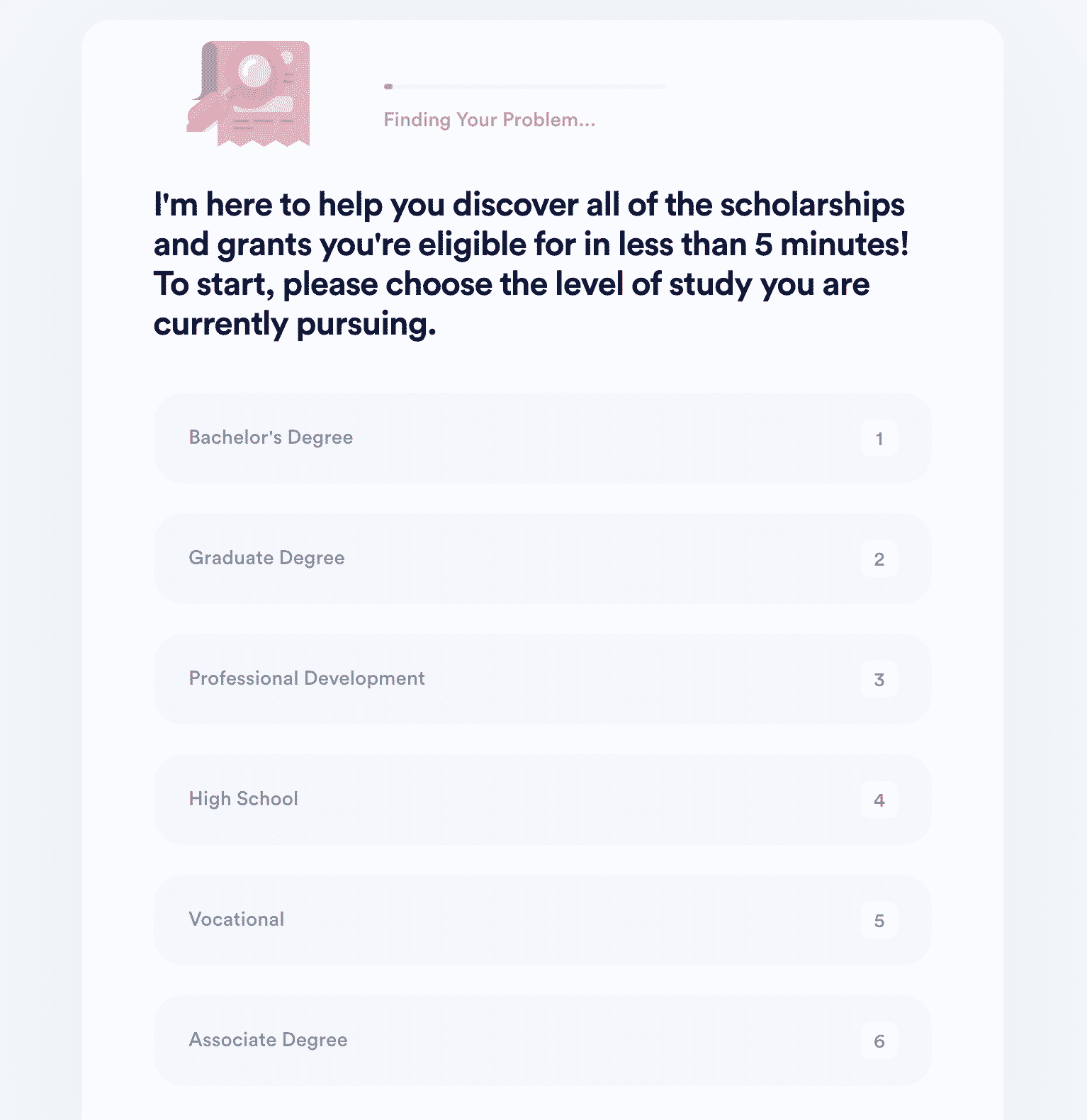 Now that you know all you need to apply for scholarships for high school students successfully, it's time to find those you qualify for. The issue with looking for scholarships is that the resources are scattered. To get the information you need, you would have to knock on many doors, including:
Federal and state agencies
Colleges and universities you're considering
Private foundations and organizations
Online search tools often offer incomplete application requirements. There is a better alternative to each of these methods, though!
DoNotPay can help you find scholarships you're eligible for in a matter of minutes and from the comfort of your home! Not only does our app assist you with high school scholarships, but you can count on it to help you even in your graduate and doctoral studies.
To get started:
Search for the Apply for Scholarships feature
Answer a few short questions about your qualifications, such as your field and level of study
After completing all steps, you can browse through a custom-generated list of scholarships with clearly stated awards and application deadlines.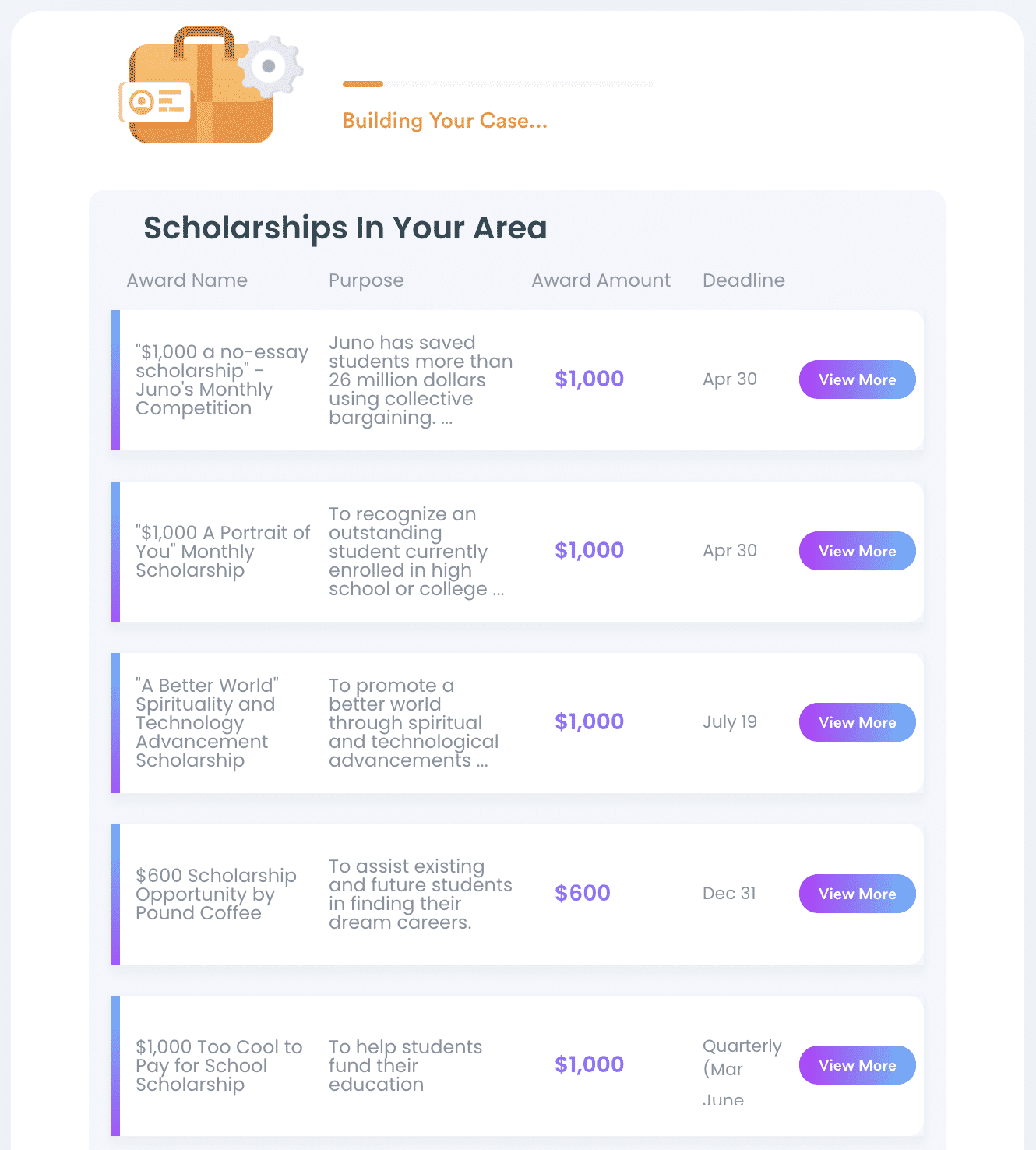 DoNotPay Helps You Run Errands Without Leaving the Comfort of Your Home!
If you're on a tight schedule and you can't afford to spend hours running errands, DoNotPay steps in with a perfect solution! You can skip going to the post office to request an item return or visiting a notary public to get your documents notarized—Our app will help you get it all done without going anywhere!
Visiting your local Walmart to have your passport photo taken is unnecessary since DoNotPay can help you get it at home!
Consult the list below to see what other tasks you can complete using our app:
Unsubscribe From Unwanted Services at Any Time
Companies tend to keep charging their clients monthly subscription fees automatically if they don't end their subscriptions. Stop wasting money on forgotten memberships—DoNotPay will show you how to terminate your subscription in a few clicks!
You can also learn how to sign up for a free trial without getting charged, create a burner phone number or a virtual credit card hassle-free!