Scholarships for High School Seniors—How To Explore the Latest Options
The high school senior year puts you at the threshold of a brand new adventure, making it the best time for you to evaluate career opportunities that complement your goals. Bagging top-notch scholarships before graduation will not only recharge your education funds but also glorify your college application.
The problem with applying for scholarships is that you have to keep track of too many options without any guarantee of success. Keeping this in mind, we have laid down a framework to help you evaluate the available senior year scholarships and grants that benefit you the most!
Top Scholarship Programs for High School Seniors—Here's What You Should Know
Since high school seniors are at the cusp of college or university education, the type of scholarships offered to them fall under two categories:
Non-renewable scholarships
Long-term college-centric scholarships
These scholarships are mostly awarded based on merit, although some focus solely on selecting students from low-income families.
Non-Renewable Scholarships for High School Seniors
Non-renewable scholarships fall under financial aid issued on a one-year or one-time basis. You can usually apply for them in your junior year—and sometimes even in your sophomore year—if you want the benefits to pay out during your senior year in high school.
You can find several non-renewable scholarships offered by your immediate community, public or private schools, and government or non-profit organizations. Participation often implies writing a scholarship essay or finishing some other competitive project. If you are selected for one, you will most likely be disqualified from applying for the same program again.
Long-term College Scholarships for High School Seniors
Unlike non-renewable scholarships, full-ride or full-tuition scholarships can support your entire college education. You need to apply for them as a high school senior while meeting a host of other eligibility requirements—such as:
Long-term scholarships cover everything from tuition fees to boarding expenses, so they're your best bet to walk out of college debt-free.
Remember that less than one percent of students win full-ride scholarships, and they may be revoked if you fail to maintain a standard performance level.
Look Beyond Merit- and Need-Based Scholarships for High School Seniors
Many high school seniors never apply for scholarships because of the common misconception that scholarships are either merit- or need-based.
The truth is that you can apply for a multitude of scholarships based on your identity, race, medical condition, and economic background. Check out this table to explore some of the common non-merit scholarship options available in the U.S.:
| Identity | Ethnicity and Religion | Medical Condition |
| --- | --- | --- |
| | | |
You should also know that students who volunteer for community service or social work are more likely to win long-term scholarships.
How To Find the Biggest Available Scholarships for High School Seniors
The inability to afford a high school education is one of the major driving factors behind the tremendous dropout rate in the U.S. A recent study revealed that one student drops out of high school every 26 seconds—this adds up to 1.2 million students in the country every year!
Despite the ready availability of scholarships, the bitter reality is that students fail to spot the right ones at the right time.
To find lucrative scholarships at the high school level, you should:
Make it a habit to scour the internet for scholarship announcements relevant to you
Browse through the news bulletins published on the websites of popular local and national scholarship programs
Talk to your school counselor to learn about scholarships that complement your personal goals or talents
Check whether your parents' employers run a scholarship scheme for the staff members' children
Tips for Productive Scholarship Searches for High School Seniors
Here are some tips to help you make the most of the time you spend looking for scholarships:
Note down the deadlines for the scholarships you want to apply for
Assess whether you meet the eligibility requirements with respect to grades, income group, or major. That is especially important for scholarships that require you to complete a competitive task—it's pointless to waste time on any task if you don't qualify in the first place
Analyze the previous awardees to check if you have what it takes for a particular scholarship
Ask your teachers to guide you to crafting personalized resumes and cover letters
Keep track of all your applications and stay updated on the results for each
If you feel searching for scholarships is impacting your daily productivity, DoNotPay's AI-enabled personalized scholarship search tool can help you out! Sign up for our app to get an updated and consolidated list of all relevant scholarships in under five minutes!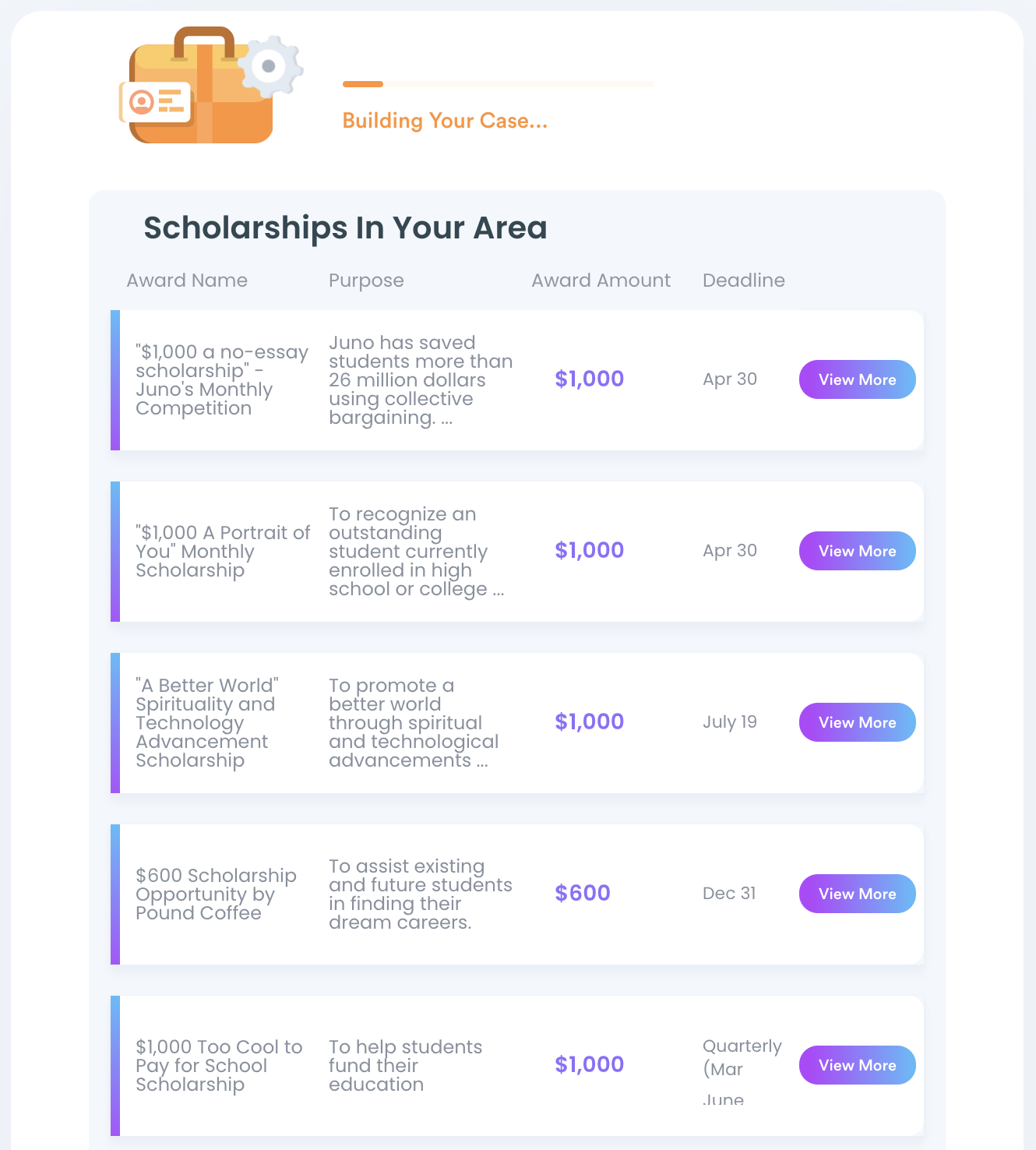 Use DoNotPay To Search and Apply for Authentic Scholarships With No Risks
High school is the time to nurture one's dreams and aspirations, but many students spend their senior year stressing over the impending costs of a college education. While student loans pull you through college, paying them off for over a decade is an outright soul-sucking ordeal.
DoNotPay's scholarship assistance feature will enable you to access a variety of authentic scholarships throughout your educational journey. Our app helps you by:
Finding all scholarship options you qualify for based on your student data
Applying you for no-essay scholarships automatically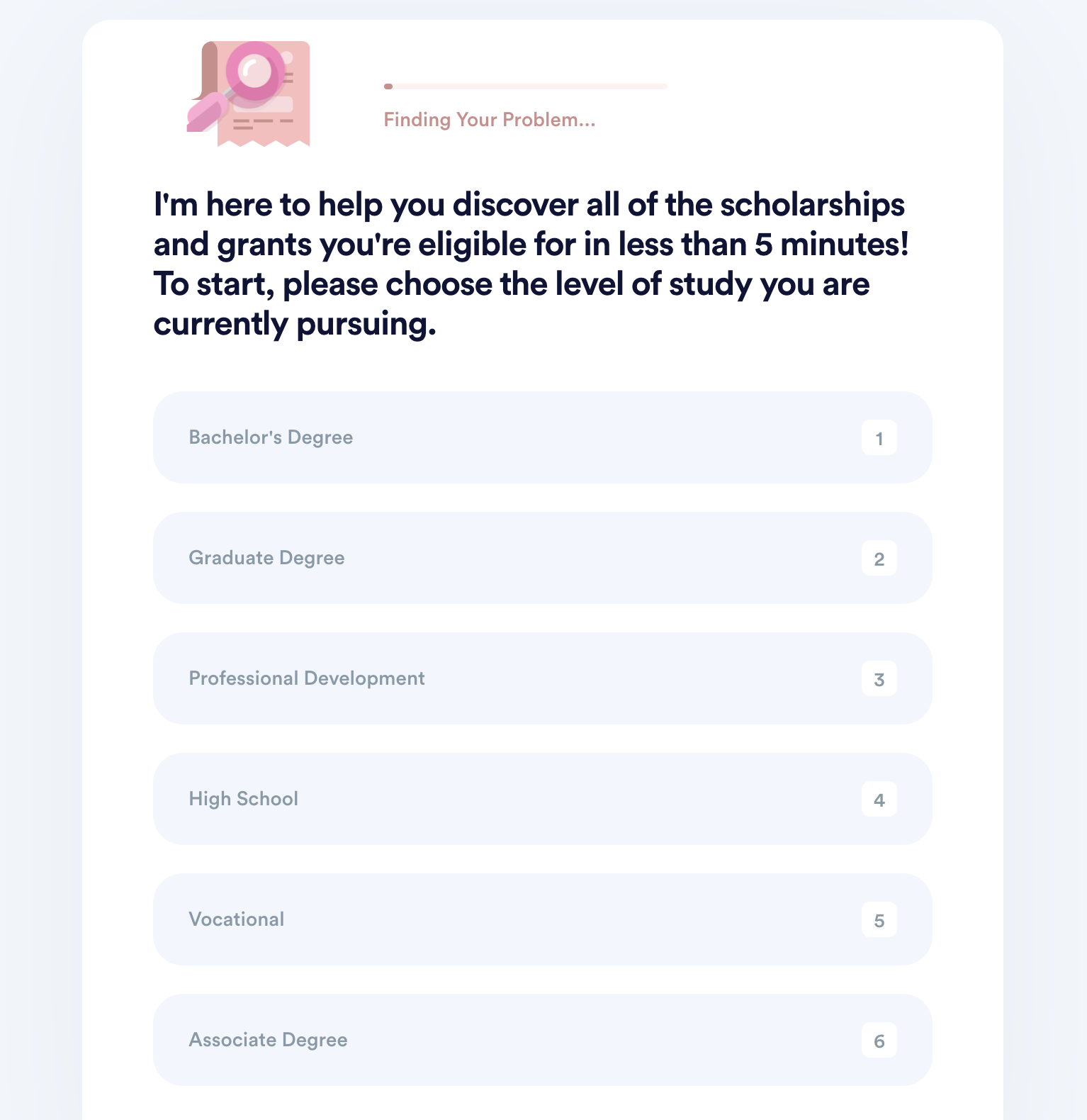 Here's how you use our handy product:
Log in to DoNotPay and click on Apply for Scholarships
Interact with our chatbot to enter your details (like education level, grades, background, academic inclination, and non-academic interests)
Choose whether you want to view the list of suitable scholarships or want us to apply for no-essay ones in your stead automatically
Our app will simultaneously match you with all scholarships for which you're an eligible candidate. In case you want us to apply for you, we will send you a confirmation email to help you keep tabs on your application portfolio.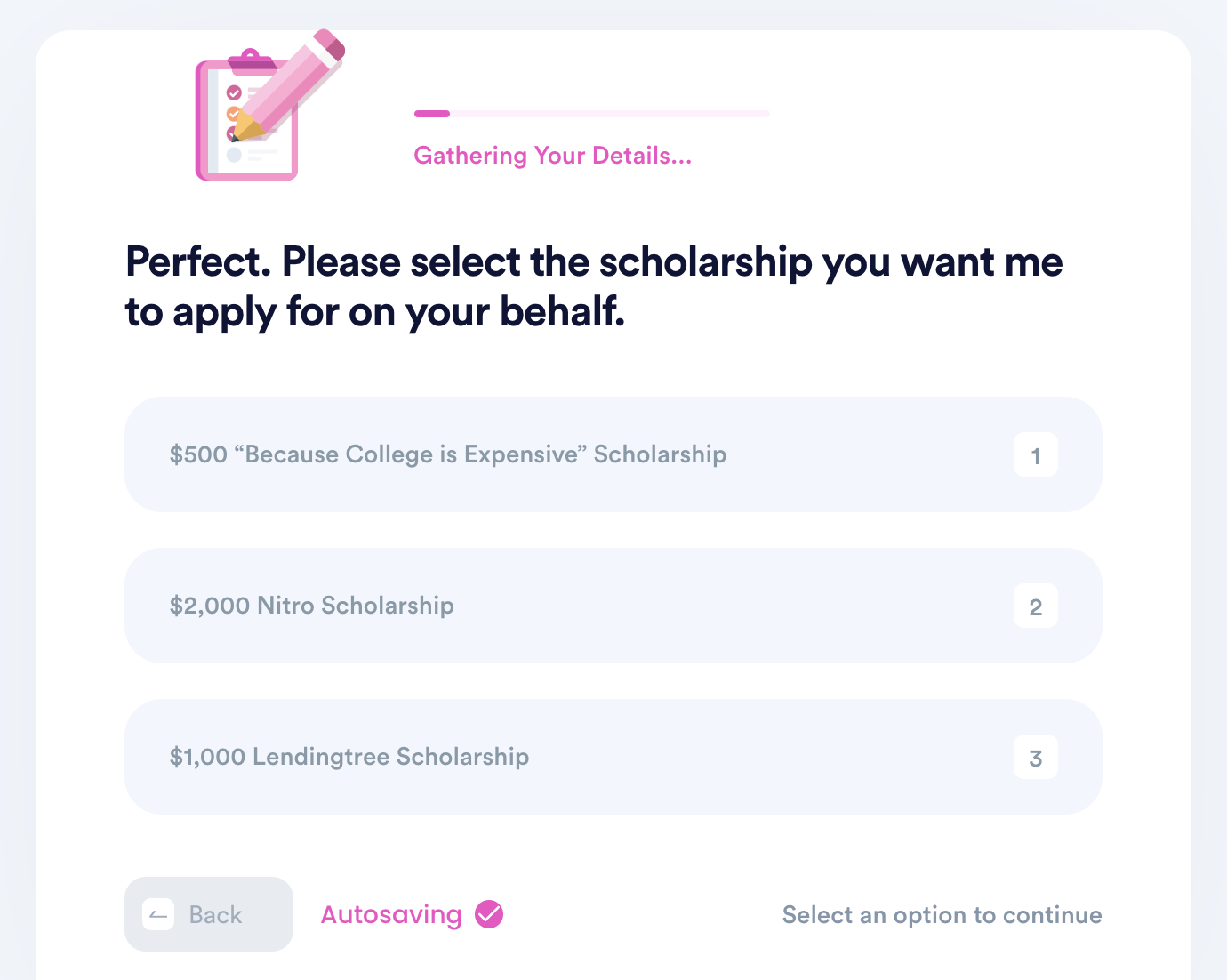 Use our service on a regular basis to stay updated on all new scholarships available in your area. Before you know it, opportunities will be knocking at your door—without any catch!
Scholarship Applications for High School Seniors—Be Wary of Red Flags
Many gullible high school seniors get scammed each year in hopes of scoring a scholarship. Here's what you can do to stay safe:
Keep your eyes open for illegitimate scholarships that ask you for exorbitant application or processing fees
Don't respond to the scholarship emails that you never applied for
Never share your bank account, credit card details, or any other highly sensitive information during the application process
Stay away from claims of "guaranteed" or "high acceptance rate" scholarships—it's a major warning sign of a scam
Think twice before you enroll in a suspicious seminar for free scholarships as they are often indirect pitches for student loans
Save Time With DoNotPay
DoNotPay is not done helping you! We offer you assistance in completing a variety of tasks quickly and efficiently, such as:
Canceling Subscriptions Has Never Been Easier!
If you keep getting charged a monthly subscription fee even though you no longer want to use a certain service, don't let your money go to waste! Some companies tend to renew your subscription automatically, but that doesn't mean you have to put up with it—use our app to terminate your membership or subscription in a few clicks!
Do you want to sign up for free trials and create a virtual credit card or a burner phone number to protect your sensitive info? Once you subscribe to DoNotPay, we will walk you through the process of doing all of the above in no time!
You can also count on our assistance if you need to get rid of spam or robocalls.