Best Guide to Scholarships for Graduate Students in Social Work
College education is expensive, but the cost should not be a factor when you decide on whether you want to pursue a master's degree in social work. There is a lot of financial aid offered by governments, professional associations, schools, and private endowments you can use to fund your education. Knowing where to find scholarships for graduate students in social work will help you conquer the challenges posed by the high college tuition fees. The easiest way you can find opportunities is using DoNotPay—our app helps you find all the scholarships you are eligible for in under five minutes.
Types of Scholarships for Graduate Students in Social Work
Here are some of the types of scholarships for social work students:
Major-specific scholarships
Religious community scholarships
Minority groups scholarships
University and colleges scholarships
Major-Specific Scholarships
Most scholarships for social workers are dedicated to the different sub-disciplines of the field. The following examples will give you an overview of the graduate school scholarships available for specific areas of service in social work:
| Scholarship | Amount | Description |
| --- | --- | --- |
| Verne LaMarr Lyons Memorial Scholarship | N/A | Awarded to students who show dedication to serving African Americans who are dealing with mental and physical health issues. Applicants should be members of the National Association of Social Workers (NASW) |
| Dr. Alma S. Adams Scholarship | $5,000 | Available to students in the social work field who show commitment to helping reduce the use of tobacco in various communities |
| American School Health Association Scholarship | $1,000 | Awarded to social work majors focusing on the health needs of children |
| Consuelo W. Gosnell Memorial Scholarship | $2,000 | Open to members of the National Association of Social Workers (NASW) who are dedicated to serving the Native American, Alaskan, and Hispanic American communities |
| James F. Reville Scholarship | $3,000 | The award is offered to students majoring in intellectual and developmental disabilities or related specialties at a recognized New York State school |
| Ima Hogg Scholarships | $5,000 | Awarded to students who plan to provide mental health services to underrepresented communities in Texas |
| Jonathan Weingold Scholarship | $3,000 | Awarded to social work students who specialize in intellectual and developmental disabilities |
Religious Community Scholarships
Various religious groups and specific congregations—Catholics, Muslims, and Christians, for example—provide college funding for community service and social work majors. The Jewish Community Centers of North America Graduate Scholarship, for instance, offers a $10,000 award to Jewish students pursuing master's degrees in various majors, including social work.
Minority Groups Scholarships
Social work students can find scholarships offered to minorities like ethnic groups. Below are examples of scholarships for minority social work graduate students:
Hispanic Scholarship Fund (HSF)—Awarded to students who are U.S. citizens or legal permanent residents and have a Hispanic heritage
The National Italian American Foundation (NIAF)—The award ranges from $2,500 to $12,000 and is awarded to Italian American students who have a good academic standing
Agnes Jones Jackson Scholarship—The $2,000 award is offered to members of the National Association for the Advancement of Colored People (NAACP)
American Indian Graduate Center (AIGC) Graduate fellowships—Awarded to students who are American Indian or Native Alaskan
The Kosciuszko Foundation scholarship—Offers a $1,000–$7,000 graduate school award to U.S. citizens of Polish background
Office of Navajo Nation Scholarship and Financial Assistance (ONNSFA)—Awarded to Navajo graduate school students. The award amount ranges from $2,500 to $5,000
Latino Social Work Coalition Scholarship Program—This is a need-based scholarship for Latinx students residing in the New York metropolitan area and who are enrolled in the Silver School
University and Colleges Scholarships
Some programs are available to students attending a particular school. For instance, Boston college offers the Andrus Foundation Graduate Scholarships and Fellowships in Gerontology worth between $7,000 and $15,000.
How To Find Scholarships for Graduate Students in Social Work
You can use the following strategies when searching for scholarships for social work students:
Check with different advocacy groups, associations for social workers, and other organizations dedicated to specific social services, for instance:

New York State Association for Retarded Children
The National Association of Social Workers
Council on Social Work Education

Search for opportunities offered to members of your religious community
Consult the financial aid department at your school
Get in touch with your state's department of higher education
Look for general associations related to your student profile, like veterans, international students, legal immigrants, transgender students, high school seniors, etc. For instance, the American Association of University Women (AAUW) offers numerous funding opportunities for women
Would you like to discover all the scholarships and grants you are eligible for in less than five minutes? End your search now by signing up for DoNotPay.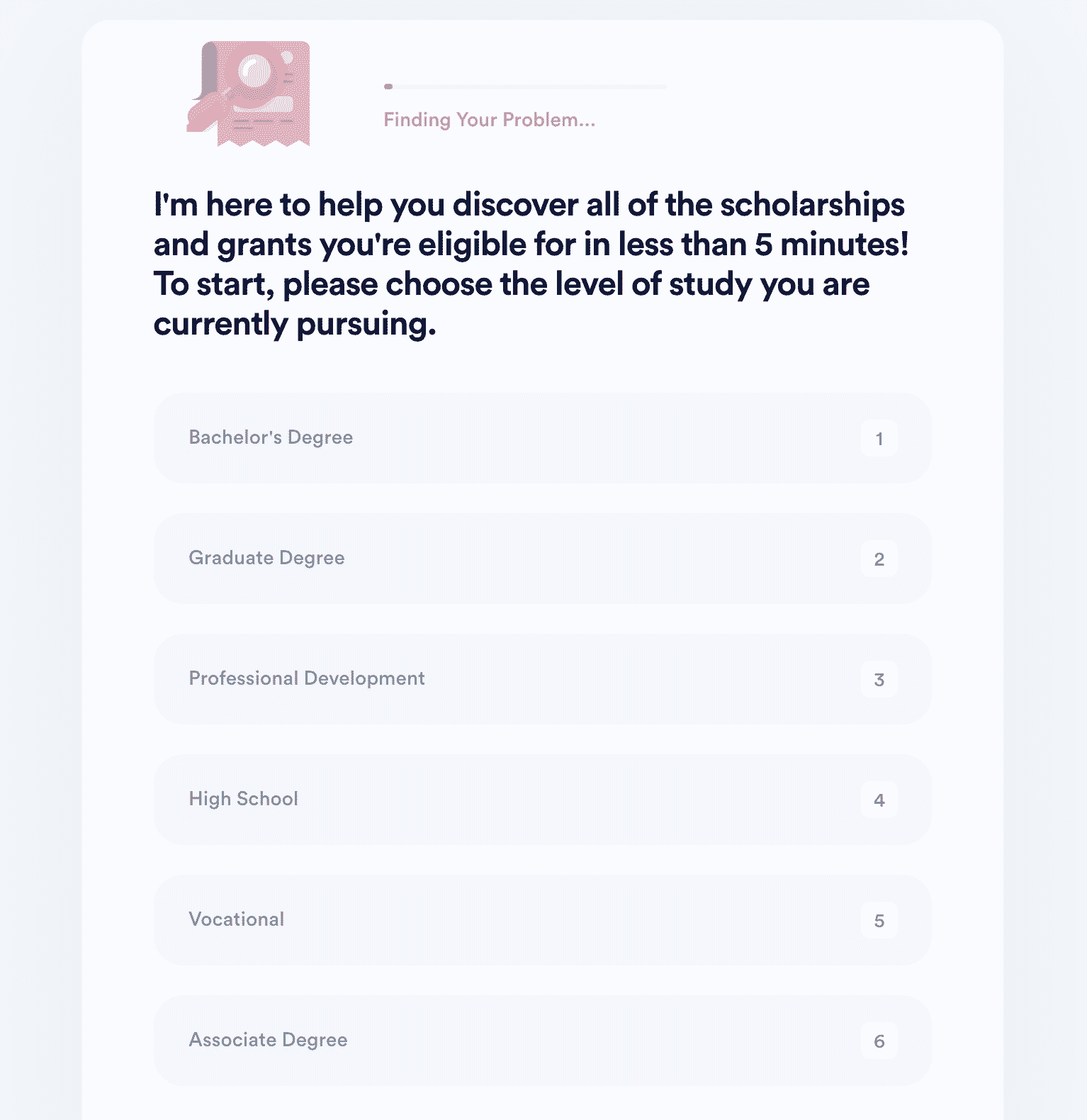 How To Apply for Scholarships for a Social Work Major
The application processes are unique to each program—but most may require applicants to submit the following:
Find and Apply for Scholarships Using DoNotPay
Students who secure a full-ride scholarship or multiple scholarships are not just lucky—they know the tools and strategies to use when finding scholarships. Every year, countless financial aid options remain unclaimed, and we can help you access them. With DoNotPay, you get a complete list of all the scholarships and grants that you qualify for. All you need to do is:
Find the Apply for Scholarships product
Answer the questionnaire
When you submit your details, you will get your list in no time. If you want to speed up the process further, select the no-essay scholarships you want DoNotPay to apply for on your behalf.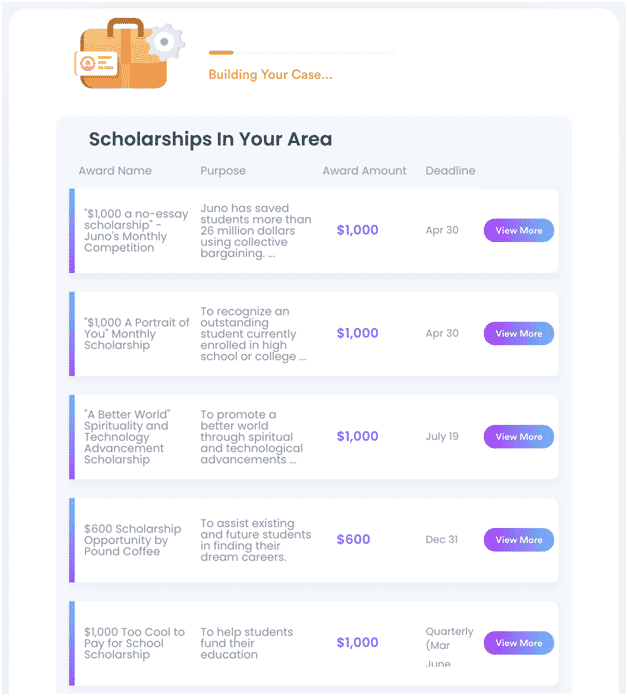 Resolve Any Other Issue You Have Swiftly With Our Assistance
The world's first robot lawyer is capable of tackling any legal or administrative task in your stead. We can draw up any legal document for you—including a power of attorney, child travel consent form, and divorce settlement agreement, to name just a few—help you sue any company or individual in small claims court, send a letter of warning to your noisy neighbors, help you reduce your property taxes and utility bills, and a lot more.
Sign up now if you want to stop email and text spam, claim any insurance or warranty, appeal parking tickets, schedule a DMV appointment in a flash, mail anything worry-free, find your missing assets, create passport photos, or contact embassies and consulates effortlessly.
Let DoNotPay Guide You Through Any Obstacle
Are you tired of corporations not taking their customers seriously? So are we, and that's why our nifty product will assist you in suing any company or individual in small claims court!
If you don't want to have any online service take advantage of you, you can sign up for any free trial completely risk-free with our virtual credit card's help, cancel any membership on time, and demand a refund or chargeback in a split second. DoNotPay can also draw up an airtight return request and send it to a company of your choice instantly.