The Best Scholarships for Disabled Students
You're not sure how to score scholarships for disabled students? Don't give up on your search! Numerous scholarships fit your needs—you only need to know where to find them.
Still, scholarship websites and directories are all over the place. You'll likely waste time digging around the internet only to find some options you are eligible for.
DoNotPay has some advice on how to reduce the time you spend doing your research, and we cut down the application process as well.
Scholarships for the Disabled Students Explained
Scholarships for students with disabilities come from many different sources, so all students with disabilities should be able to find the financial aid suitable for their specific needs.
The best way to get info about federal and state general financial aid for disabled students is via the school's financial aid office or school counselor.
Different types of financial aid you can find are:
Different Disability Scholarships Available
Check out a few scholarships with a specific focus:
AAHD Scholarship Program
ABC Law Centers Cerebral Palsy Scholarship
Autism Delaware Scholarship
AAHD Scholarship Program
American Association on Health and Disability (AAHD) offers this general disability scholarship to anyone with a documented disability. To be eligible for this aid, you must be a full-time attendee of either one of the following education levels:
ABC Law Centers Cerebral Palsy Scholarship
American Baby & Child (ABC) Law Centers have created this scholarship for students with cerebral palsy who are attending undergraduate or graduate studies in any state. The applicants need to have a minimum 3.0 GPA to be eligible. A complete application must also include an essay or a creative project describing the influence that cerebral palsy has had on their life.
Autism Delaware Scholarship
Autism Delaware offers several local scholarships for different people affected by autism, and these are:
How To Find a Scholarship for People With Disabilities
When searching for a disabled student scholarship, it is important not to have a one-sided approach. Check websites and notice boards of more than one school or organization.
An even easier option would be to sign up for DoNotPay and let our Apply for Scholarships tool search all available scholarships that fit your background, education, and ambitions. In a few minutes and several clicks, you can have a full list of scholarships tailored for students like you and apply for any that you find interesting.
Here is a handy overview of all the paths you can take towards your future scholarship:
Search Different Scholarships
Details
Scholarships offered by federal, state, and local organizations that are disabled advocates
Check the websites of organizations and centers, such as:
Other aids focused on minorities and underrepresented students
Remember that you also have many other options. Check for scholarships that may support you, such as:
Scholarships for different education levels
You should also search for active financial aid offers for students of your academic level:
Merit-based scholarships (as opposed to need-based ones)
Don't forget your many talents and apply for any merit-based scholarship that you feel you deserve, such as:

You may need a letter of recommendation from one of your teachers to apply for these scholarships, so start searching on time
Apply for Scholarships for People With Disabilities in Three Simple Steps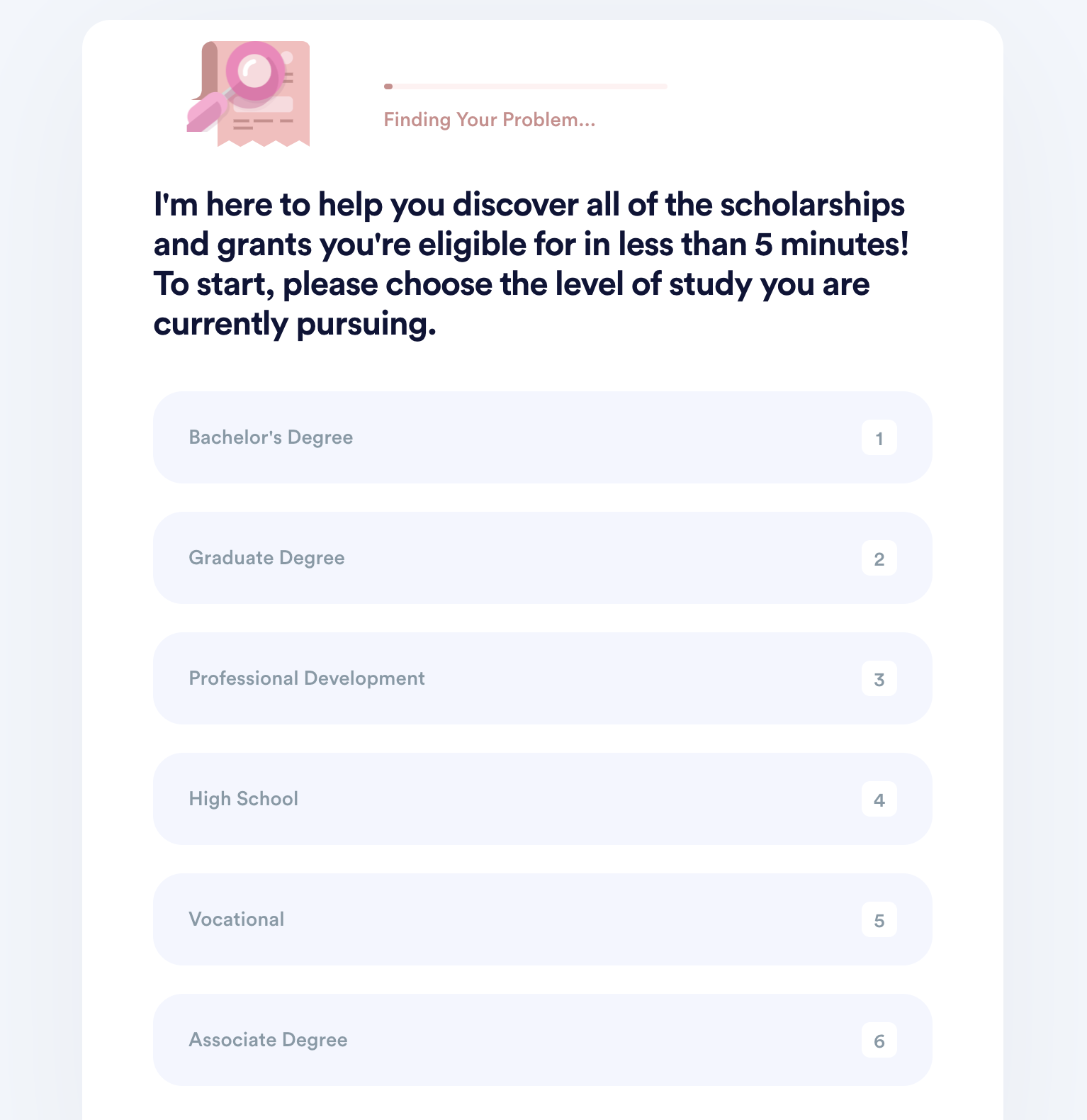 DoNotPay's Apply for Scholarships tool conducts customized research based on your education details and plans. We use the info you give us about yourself to provide you with a complete and detailed list of all scholarships currently available for your student profile. If you like any of them, you can apply in a few steps via our app.
Take a look at the major upsides of our search tool:
Here's the whole search process after you subscribe to DoNotPay and go to Apply for Scholarships feature:
State what is the level of placement that you are searching for
Let us know the basics about your interests, plans, and previous education
Type in the name of the school that you are currently attending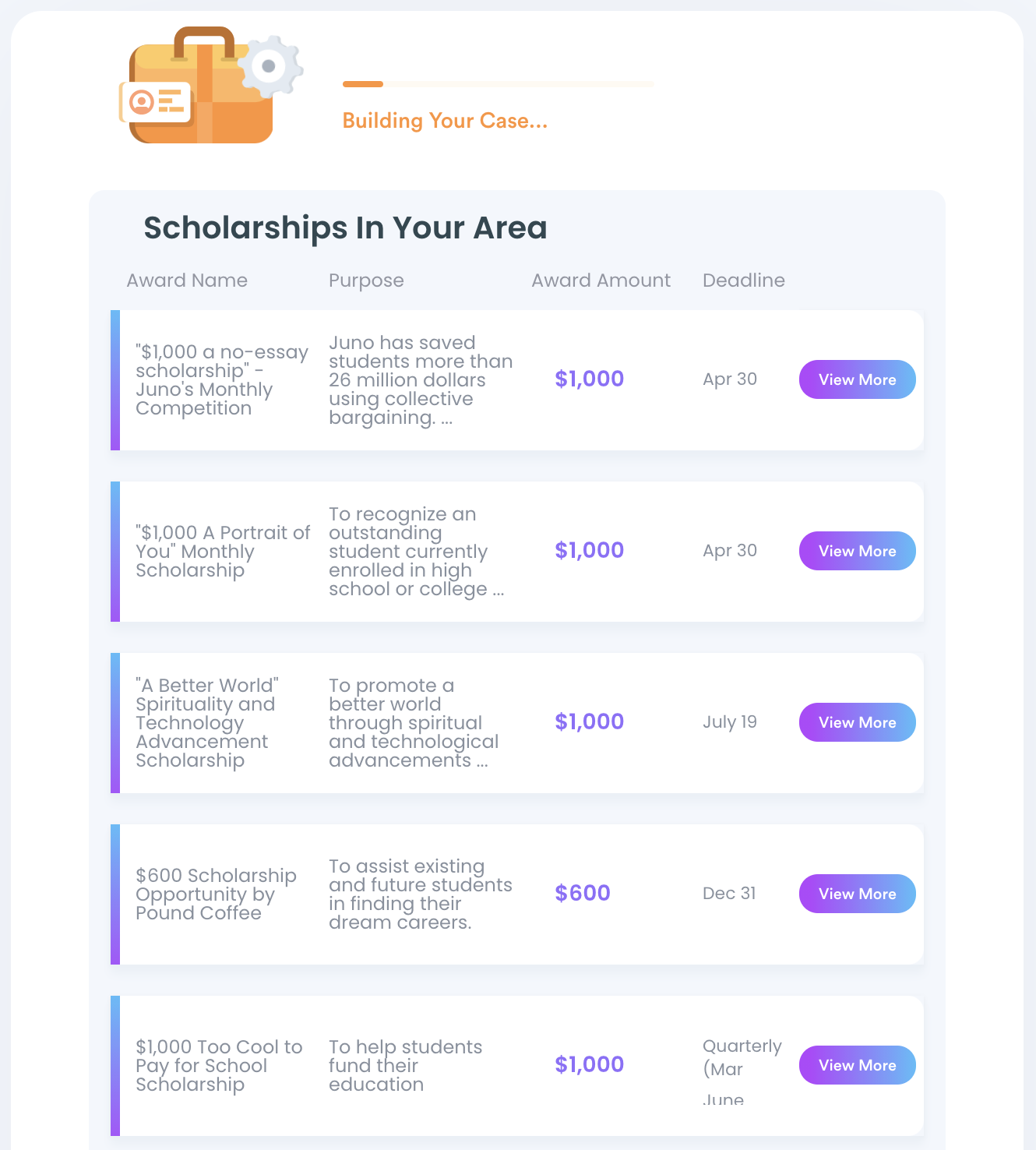 Once we have all your answers, our system will do a thorough search and list out all available scholarships that might interest you. You can choose to only view the list, or you can also apply automatically for the no-essay scholarships in one click.
Other types of financial aid that will be included in the results you get from DoNotPay will be:
Managing Everyday Tasks With DoNotPay Is a Breeze
Completing mundane tasks doesn't have to be a nightmare! With our help, you can relax and finish them in a few taps! All you need to do is register for DoNotPay and let us help you with:
Have Your Documents Drafted and Notarized With Our Help!
If you need to draft a legal document, such as a divorce settlement agreement, power of attorney, or a child consent form, hiring a lawyer to assist you is probably the first thing that comes to mind. What if we told you that spending hundreds of dollars on legal services is unnecessary? Not only can DoNotPay draft contracts and agreements in a few minutes, but it is also your most affordable and effortless option!
The benefits our app provides don't stop there! After we generate your document, we'll connect you with a remote notary and show you how to get it notarized online without leaving the comfort of your home! You can even fax the document online and skip dealing with outdated fax machines.