Finding Scholarships for Criminal Justice Majors Made Simple
If you want to work in the fields of law, criminology, law enforcement, or crime scene investigation, a degree in criminal justice is a must. You might change your mind about your dream profession after you discover the substantial tuition fee, reaching over $70,000 in some schools. Fortunately, many types of financial aid—like scholarships and grants—exist to help you reduce those numbers.
Discover where to find and how to apply for scholarships for criminal justice majors in this comprehensive guide!
Scholarships for Criminal Justice Students—Where To Find Them
You can contact the benefactors of scholarships for criminal justice to inquire about the available funding opportunities. The benefactors are often recruiting institutions in the criminal justice field, such as:
Law offices
Police unions
Government groups
Community organizations
You can contact the following criminal justice organizations and institutions to inquire about scholarships:
Academy of Criminal Justice Sciences (ACJS)
International Community Corrections Association (ICCA)
American Society of Criminology (ASC)
National Criminal Justice Association (NCJA)
Justice Research and Statistics Association (JRSA)
National Black Police Association (NBPA)
American Correctional Association (ACA)
International Association of Women Police (IAWP)
Southern Criminal Justice Association (SCJA)
American Academy of Forensic Science (AAFS)
Another option is to contact the financial aid department of the school you are in or plan on attending. Most colleges and universities design and distribute scholarships that match the study programs they offer.
Scholarship search engines are often used to find scholarships, but they typically display outdated information and provide advertisement space for fraudulent scholarships.
You don't need to knock on dozens of doors to find the scholarships you're looking for. If you want to receive an accurate and up-to-date list of scholarships tailored to your qualifications, sign up for DoNotPay!
Requirements for Scholarships for Criminal Justice Majors
From high school seniors to doctoral degree aspirants, all students pursuing higher education in the criminal justice field can qualify for scholarships.
The priority for financial awards is typically given to students who:
How To Apply for Scholarships for Criminal Justice Students
The application process varies for individual scholarships. The documentation necessary to apply for scholarships for criminal justice majors is typically the same and includes:
College or high school transcripts
Resume
College Scholarship Service (CSS) Profile
Individual scholarship applications
Proof of residence and heritage (if you're a minority, international, or out-of-state student)
What Are Some of the Best Scholarships for Criminal Justice Majors?
The table below contains details on various categories of scholarships for criminal justice majors:
Category
Scholarships
Award
Scholarships for criminal justice students
George H. Nofer Scholarship
$5,000
Robert Shuker Scholarship Fund
$15,000
National Organization Of Black Law Enforcement Executives National Scholarship
$2,000
Life's Choices Foundation Graduate Scholarship
$3,500
Law enforcement scholarships
Red, White & Blue Military and Law Enforcement Scholarship
$2,500
California Law Enforcement Personnel Dependents Grant Program (LEPD)
$12,192
First Responders Children's Foundation—Vincent Bennett, Jr. Memorial Scholarship
$20,000
Matthews and Swift Educational Trust Scholarships
$25,000
Criminal justice scholarships in Texas
Marshall Littleton Memorial Scholarship
$1,000 per year ($500 for the fall and spring terms)
David Flores Memorial Scholarship
Paul and Lois Blaney Memorial Endowed Criminal Justice Scholarship
Kevin Shimek Memorial Endowed Criminal Justice Scholarship
Criminal justice scholarships for minorities
Hispanic American Police Command Officers Association Scholarship
$2,500
Ruth Peterson Fellowship For Racial And Ethnic Diversity
$6,000
Bois Forte Band of Chippewa Scholarship Program
$5,000
Sho Sato Memorial Scholarship
Up to $5,000
DoNotPay Finds Scholarships for Criminal Justice Students in an Instant!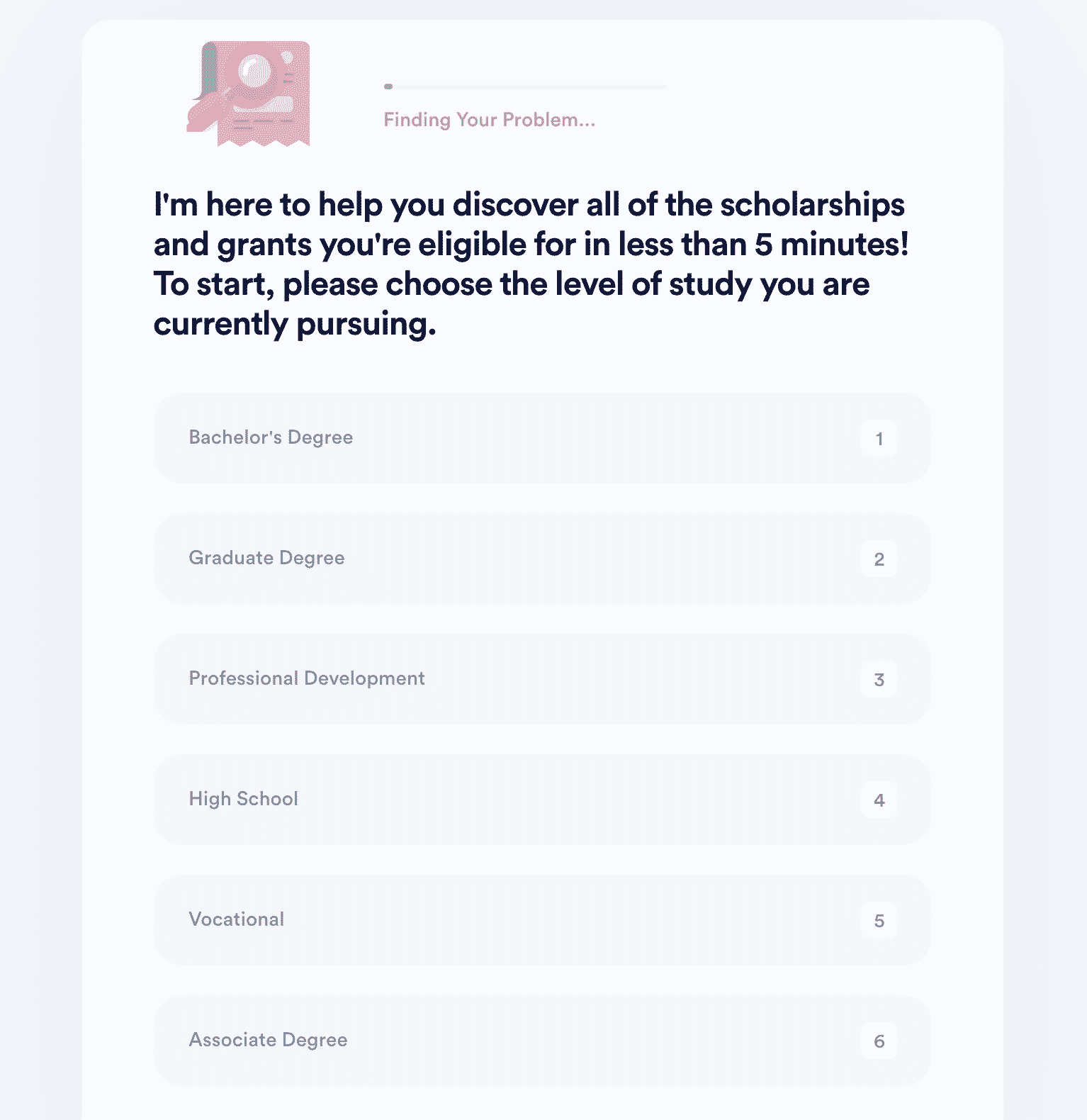 Did you enroll in a criminal justice program and find it hard to make ends meet? Are you attending this type of program in a graduate school and need some extra financial assistance? Our app can help you look for various general and field-specific scholarships that can help you achieve your academic goals! You don't have to worry about being overwhelmed with scholarships you don't qualify for because you will receive a list tailored to your qualifications!
Follow these steps to start looking for opportunities:
Navigate to the Apply for Scholarships product
Answer some short questions about your:

Field of study
Level of study
Special qualifications
State of residence
If you're interested in applying for no-essay scholarships, you know how exhausting it can be to complete all those identical application forms. That's why we automated the process to help you increase your chances of winning some additional college money. We will use the answers you provide to apply for as many no-essay scholarships as you want in your stead!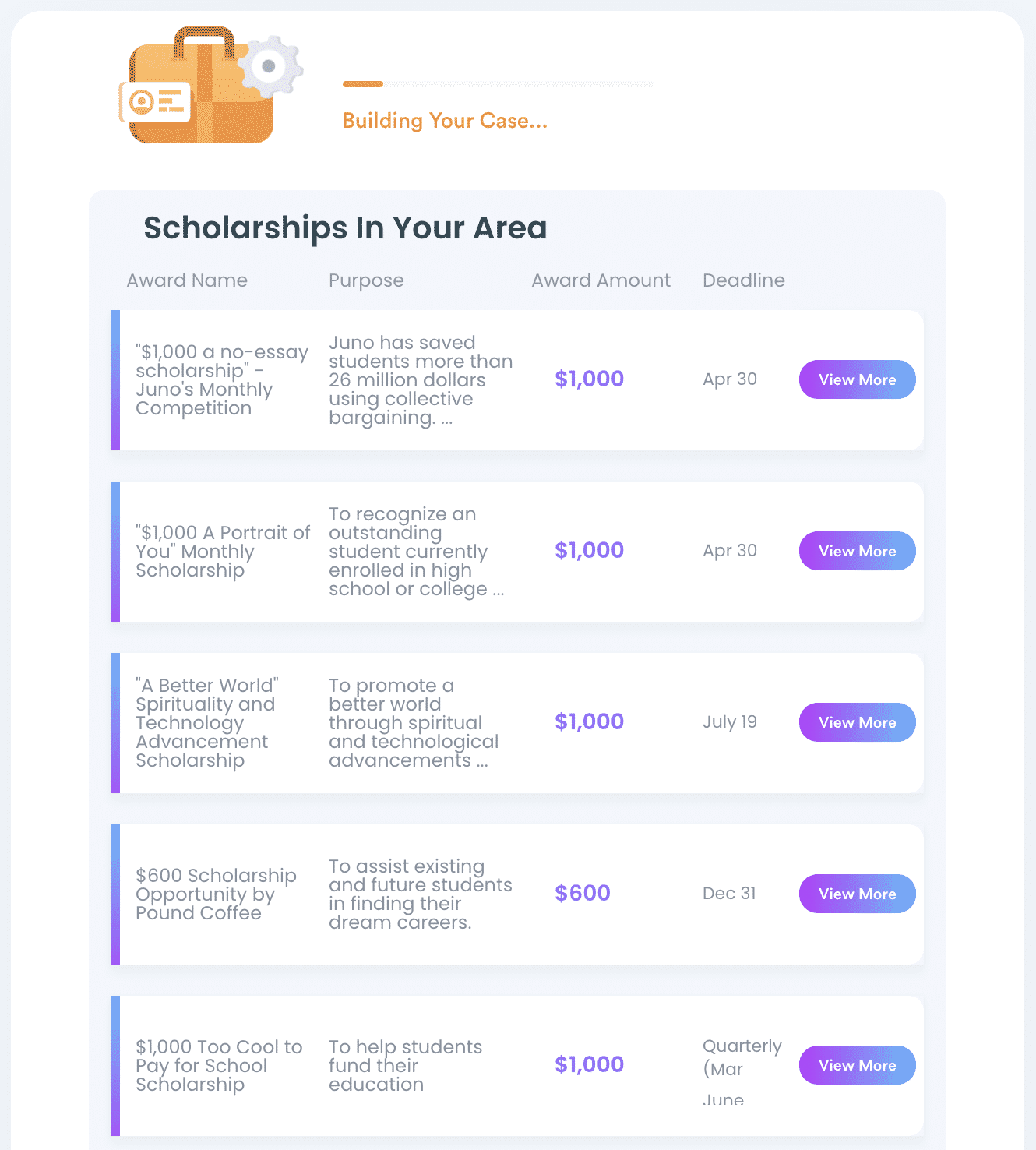 DoNotPay Helps You Run Errands Without Leaving the Comfort of Your Home!
If you're on a tight schedule and you can't afford to spend hours running errands, DoNotPay steps in with a perfect solution! You can skip going to the post office to request an item return or visiting a notary public to get your documents notarized—Our app will help you get it all done without going anywhere!
Visiting your local Walmart to have your passport photo taken is unnecessary since DoNotPay can help you get it at home!
Consult the list below to see what other tasks you can complete using our app:
Unsubscribe From Unwanted Services at Any Time
Companies tend to keep charging their clients monthly subscription fees automatically if they don't end their subscriptions. Stop wasting money on forgotten memberships—DoNotPay will show you how to terminate your subscription in a few clicks!
You can also learn how to sign up for a free trial without getting charged, create a burner phone number or a virtual credit card hassle-free!