Scholarships for College Sophomores—Here's Everything You Need To Know
Your college freshman year is a huge transition after your high school senior year, and that can leave you overwhelmed. If you missed out on financial aid opportunities last year, becoming a college sophomore is an ideal time for you to apply for all kinds of scholarships and grants.
Scholarships for college sophomores can not only boost your finances but also help you repay outstanding student loans before graduation. In fact, your future grad school applications will look way better with scholarships stacked under your belt—all you need to do is start searching and applying for the best options today!
Why Are College Sophomore Scholarships So Critical?
Students look for scholarships in their second year of college primarily for the following reasons:
How To Find Scholarships for College Juniors, Seniors, or Sophomores
The scatteredness of available options is a nagging issue with finding scholarships. Most students are only aware of the federal or state types of financial aid offered and never explore other scholarship sources, such as:
Private schools and universities
Non-profit organizations
Foundations run by companies
Individual donors
Community sponsorships for:
If you are worried about missing out on important scholarship announcements, trust DoNotPay's reliable scholarship finder tool to back you up.
Our app works as a handy database of all active scholarships in the U.S. We analyze your student portfolio data to instantly generate a list of scholarships that you qualify for. Create your DoNotPay account now and gain access to your personalized list within five minutes!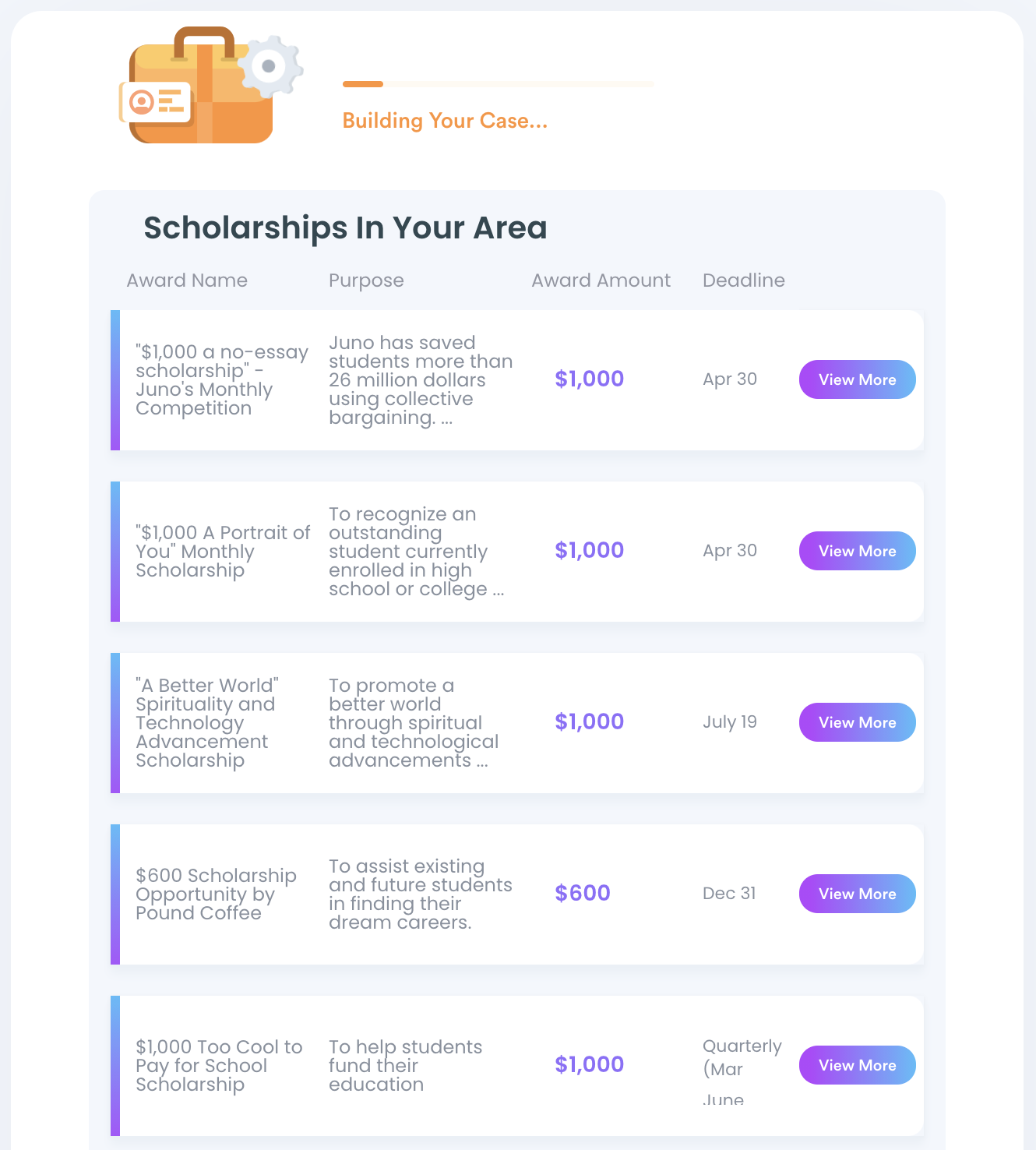 Scholarship for Students Already in College—When To Apply
Many students never apply for scholarships after starting college because they feel that ship has sailed. In reality, you can apply for various merit- and non-merit-based scholarships or grants throughout college. You may not qualify for full-ride scholarships, but you can still win hefty sums to help you cover the remaining college expenses!
The timing to apply depends on whether you are applying for renewable or non-renewable scholarships. This table will help you understand the difference between the two:
| Issue | Renewable Scholarships | Non-Renewable Scholarships |
| --- | --- | --- |
| Payment type | Are issued as a recurring amount annually till the final year of college | Are paid as a one-time fixed amount only |
| Application deadline | Have uniform application deadlines each year | Have changing deadlines |
| Recurring status | Are announced every year | May or may not be issued every year |
| Performance requirement | Can be canceled if you don't meet the performance requirements in a particular year | Have no criteria for future academic performance |
If you are aiming for substantial financial assistance, keep an eye out for open renewable scholarships throughout the year. As for non-renewable scholarships, apply for as many as you can to increase your chances of winning.
Scholarships for Current College Students—Handy Tips
Scoring small and huge scholarships throughout your college years can help you live a debt-free life after graduating. These tips will help you adopt an efficient application ritual:
Use DoNotPay To Get Your Hands on Scholarships While in College
Your busy college life may leave you with little time or energy to hunt down and apply for scholarships. Keeping your struggles in mind, DoNotPay's scholarship finder works in two ways—we:
Give you the latest list of available scholarships that match your qualifications
Help you apply for no-essay scholarships directly through the app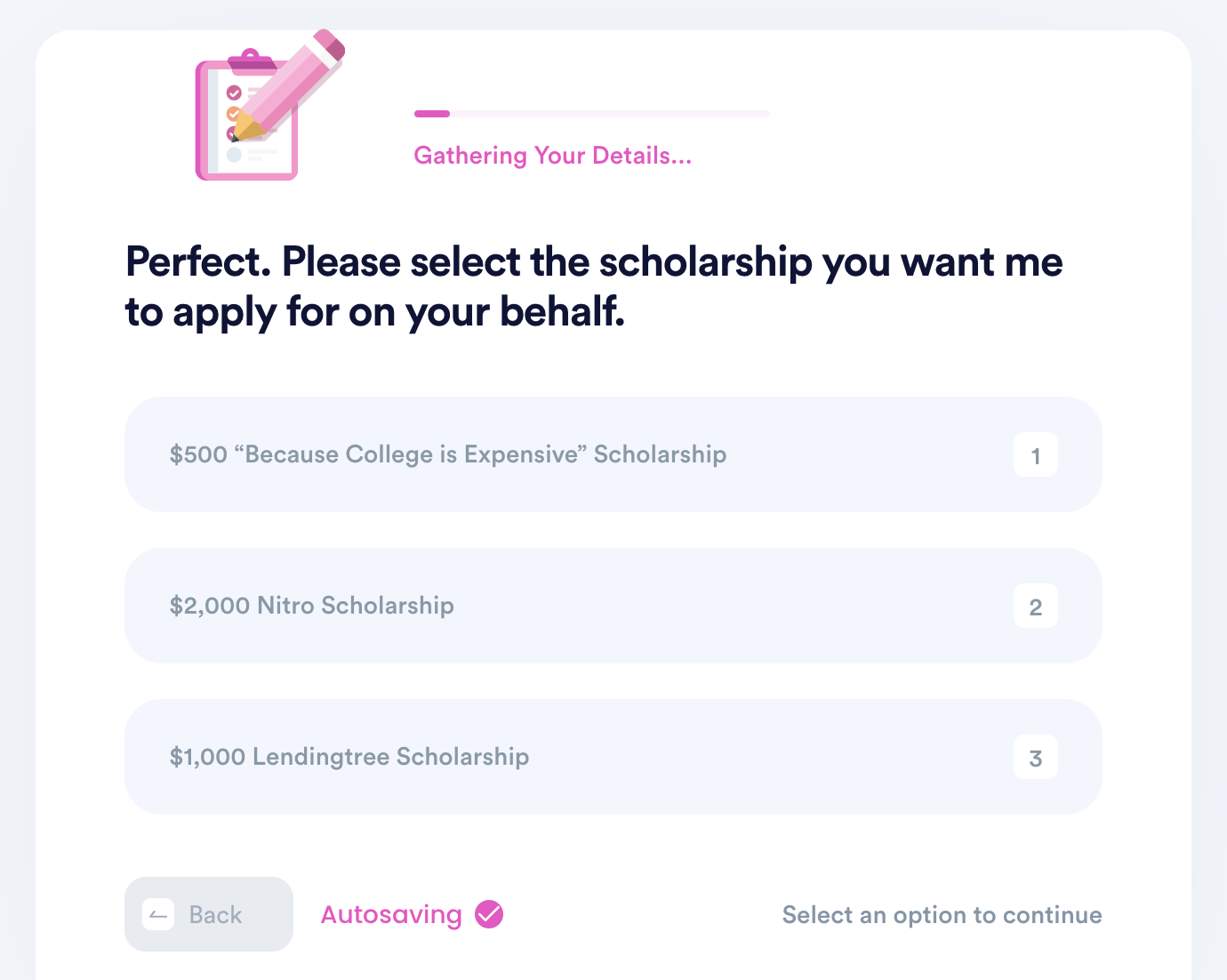 Here is how you access our services:
Open DoNotPay and search for our Apply for Scholarships product
Fill out the questionnaire to enter your student details
Select if your want to view or apply for scholarships
If you choose to view, you will get an all-encompassing list of scholarships that you're an eligible candidate for.
Our Apply option will let you choose all the no-essay scholarships you like, after which we will use your questionnaire answers to apply for your selected scholarships automatically. You will get an email confirmation from us once we send the application.
If you run a DoNotPay scholarship search every week, there's no way you'll ever miss an opportunity knocking at your door!
Use DoNotPay To Deal With a Plethora of Bureaucratic Tasks!
Tired of dealing with bureaucracy? We understand the struggle, and that is why our app makes handling administrative tasks a breeze!
Regardless of whether you need to compose a legal document, such as a power of attorney or a child travel consent form, appeal property taxes or your parking tickets, file a financial aid appeal and a FOIA request, or get a document notarized, DoNotPay has got you covered!
In case you also need to submit anonymous HR complaints, our app will provide you with the easiest way to do so!
Go on a Stress-Free Shopping Spree With DoNotPay
Do you like to shop until you drop? With DoNotPay, you won't have to worry about dropping! We'll make sure you can:
If you need more money to continue your shopping spree, let our app help you find any unclaimed funds under your name and enter numerous giveaways and sweepstakes!