A Complete Guide to Finding Scholarships for College Freshmen
Affording higher education in the United States is no easy task. Fortunately, students can apply for financial aid to reduce their educational expenses. Freshmen have the most opportunities to receive additional educational funding, most of it being in scholarships.
To help them enroll in their first year of college worry-free, DoNotPay unveils the best ways to find and apply for scholarships for college freshmen!
What Are Scholarships for College Freshmen?
To secure funds for their freshman year in college, high school students should start looking for scholarships at the end of their junior year or the beginning of their senior year.
Scholarships are one of the two types of financial aid students don't have to repay, the other being grants. Scholarships are funded by various benefactors such as schools, local businesses, federal agencies, civic organizations, etc. Their purpose is to encourage prospective college students to pursue higher education.
Eligibility for scholarships for college freshmen is based on various criteria, such as:
Academic merit
Extracurricular merit
Ethnicity
Religion

Students of other religious affiliation
Some schools even offer scholarships for international students participating in a study abroad program. International students should check with their host school's financial aid consultants to inquire about available scholarships.
How To Apply for Scholarships for Freshmen in College
The application process for most scholarships for freshmen in college requires submitting the following documentation:
Some might require you to submit additional paperwork, including:
You can also opt for no-essay scholarships, whose application process often requires only your basic personal information.
Applying for scholarships while preparing for your high school finals can be challenging. That's why DoNotPay offers a way for you to maximize your chances of receiving scholarships, while also leaving more time for you to work towards your graduation!
Subscribe to DoNotPay to receive a list of hand-picked scholarships for college freshmen and apply for no-essay ones automatically in a matter of minutes!
Where To Look for Scholarships for a College Freshman
Check out the following table to learn more about finding scholarships for incoming freshmen:
Where To Search for Scholarships
Details
Ethnic, political, and activist organizations

Women looking to study in a man-dominated field can find associations and scholarships to support their studies
Many groups are committed to helping legal immigrants and undocumented students earn their degree

Your or your parents' employers
Companies sometimes offer financial aid to employees or their children
Online scholarship search tools
You can find scholarships for college freshmen using online tools, but they usually lead to official websites of the scholarships and don't enable you to submit applications quickly
The school you're applying to
Incoming freshmen often qualify for institutional scholarships at the school they're applying to
How To Increase Your Chances of Getting Scholarships for College Freshmen
You can increase your chance of getting scholarships as soon as you start your freshman year in high school:
Becoming a member of school clubs—You can learn new skills and gain valuable knowledge which can help you compete for skill-specific scholarships, such as arts, music, and writing, later on
Working part-time—Part-time jobs enable you to add valuable work experience to your resume and make you seem more hard-working
Playing sports—Schools often offer scholarships and grants to athletically brilliant students to recruit them for their teams
Serving in the U.S. Army—Prospective students who are veterans or are currently serving in the U.S. Army can receive scholarships from the United States Department of Veterans Affairs as a way to thank them for their contribution to the country
Find Scholarships for College Freshmen in a Snap With DoNotPay!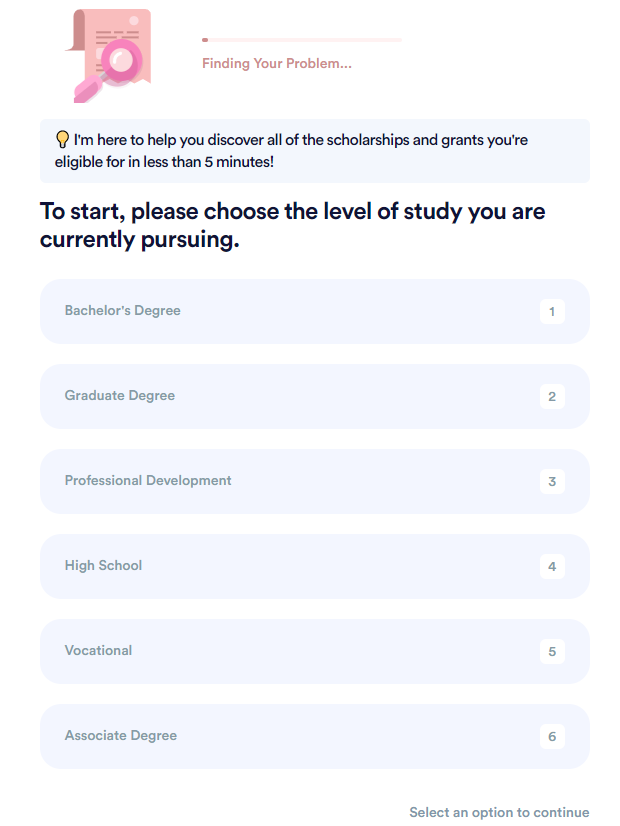 With DoNotPay, you can ensure you don't miss any scholarship that could help you reduce your tuition costs. To streamline your search and application process for scholarships, our app will:
Generate a list of scholarships according to your qualifications
List the award amount of each scholarship so you can compare them
Allow you to learn more about each scholarship's requirements once you select them
Apply you for no-essay scholarships automatically to save you time
To make your freshman year of college as affordable as possible:
Search for Apply for Scholarships
Answer a few short questions about your education level and scholarships you'd like the app to list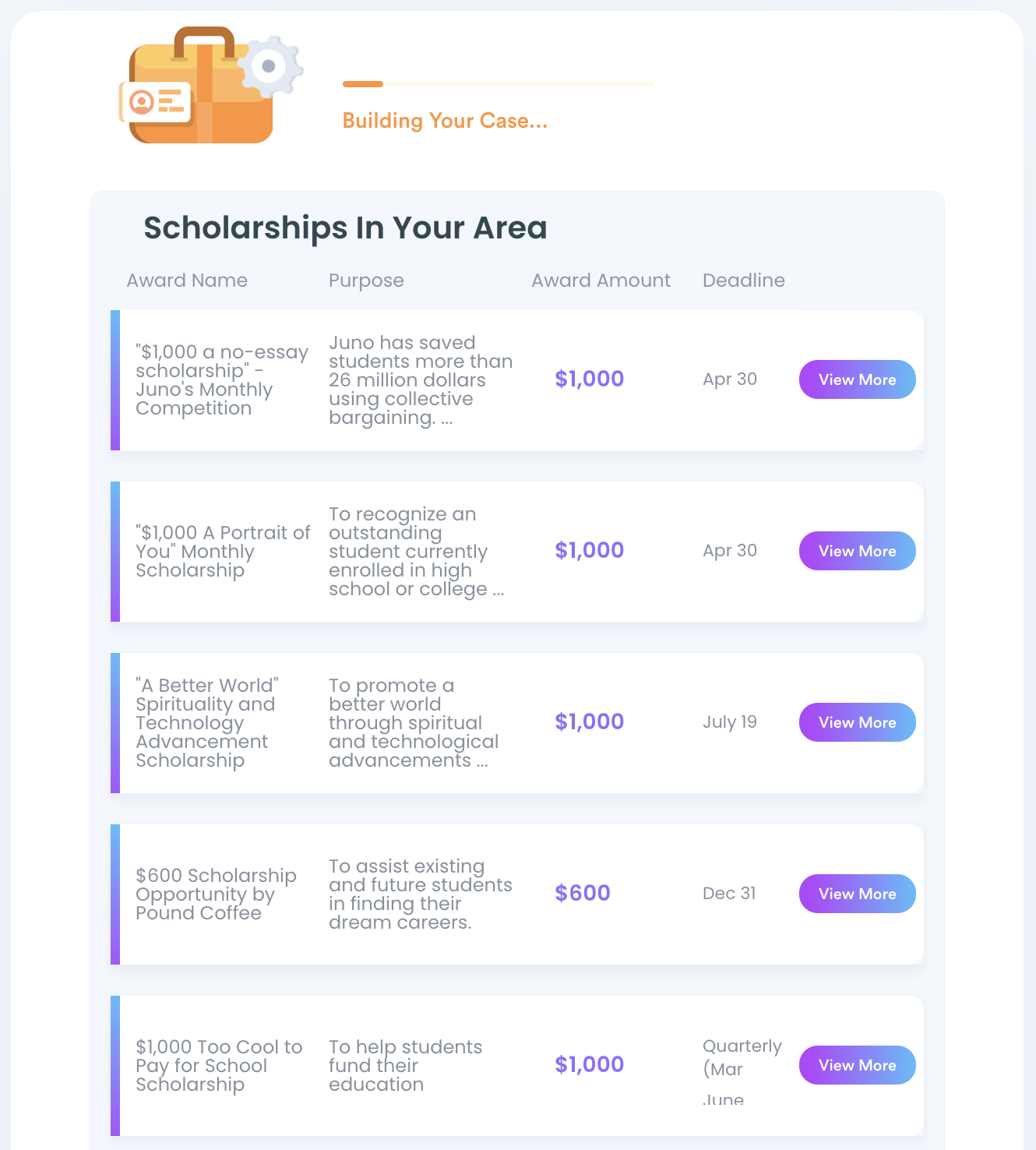 Grants and Scholarships a College Freshman Should Apply For
Now that you're familiar with how scholarships for college freshmen work, take a look at the table below for some great opportunities:
Scholarship
Description
Federal Pell Grant
Offers up to $6,495 to college students demonstrating financial need
The Adobe Design Circles Scholarship
Awards $25,000 per academic year for tuition and fees to students pursuing a degree in:

Product design
Experience design
Digital design

Recipients also get a chance to participate in workshops and receive mentorship and other benefits

The Horatio Alger Career & Technical Scholarship Program
Offers up to $2,500 to students enrolled in a career or technical program for up to two years
The Army Women's Foundation Community College Legacy Scholarship
Awards up to $1,000 to women who are veterans or are currently serving in the U.S. Army. To receive the award, they have to be pursuing a:
DoNotPay Helps You Run Errands Without Leaving the Comfort of Your Home!
If you're on a tight schedule and you can't afford to spend hours running errands, DoNotPay steps in with a perfect solution! You can skip going to the post office to request an item return or visiting a notary public to get your documents notarized—Our app will help you get it all done without going anywhere!
Visiting your local Walmart to have your passport photo taken is unnecessary since DoNotPay can help you get it at home!
Consult the list below to see what other tasks you can complete using our app:
Unsubscribe From Unwanted Services at Any Time
Companies tend to keep charging their clients monthly subscription fees automatically if they don't end their subscriptions. Stop wasting money on forgotten memberships—DoNotPay will show you how to terminate your subscription in a few clicks!
You can also learn how to sign up for a free trial without getting charged, create a burner phone number or a virtual credit card hassle-free!