A Simple Guide to Scholarships for Business Major Students
Business schools attract students because their graduates have more options when it comes to future employment prospects. Business majors gain knowledge in a variety of fields, including:
Marketing
Economics
Finance
Project management
International business
Current and prospective college or graduate students can apply for loans, scholarships, and grants. While loans require repayment, scholarships and grants do not.
If attending a business school is your dream, don't let sky-high tuition make you change your mind. Read this comprehensive guide prepared by DoNotPay and find out everything you need to know about scholarships for business major students.
Where To Look for Scholarships for Business Majors
You can find scholarships for business students through:
Business entities (corporations, banks, and investment firms)
Professional organizations, such as the Association to Advance Collegiate Schools of Business and the American Institute of Certified Public Accountants
Universities and colleges
Private foundations
Government agencies
Most scholarships are listed online, but you should still call the company or organization you're interested in and check directly with them what your options are.
Scholarship lists on different websites are often incomplete, which can be pretty frustrating. An online search will take hours of your time because you'll have to check the requirements for every single business scholarship you bump into.
What if there was a faster and easier way to find scholarships? Sign up for DoNotPay and get a list of the best scholarships you qualify for in minutes!
Am I Eligible for a Business Scholarship?
Your eligibility for a business school scholarship depends on the criteria assigned by different schools, organizations, corporations, and foundations. Scholarships typically serve outstanding students who meet certain requirements.
You might also be eligible for certain business school scholarships based on factors such as gender, ethnicity, race, a record of community service, veteran status, work experience, association with minority groups, and so on.
Special scholarships have also been established for student-athletes, low-income, part-time, international, and disabled students.
What Are the Best Scholarships for Business Students in the U.S.?
Some scholarships for business majors are open only to accepted or enrolled students, while others target high school seniors and community college transfer students.
Take a look at the table below to check out some of the best scholarships for business majors in the U.S.
| Scholarships | Award Amount | Who Can Apply? |
| --- | --- | --- |
| Ritchie-Jennings Memorial Scholarship Program | Up to $10,000 | Students pursuing a degree in accounting, finance, business administration, or criminal justice. They must be enrolled full-time in a four-year college or university degree program |
| ALPFA Scholarship Program | Up to $10,000 | Students pursuing degrees in accounting, finance, or other business-related fields. They must be Hispanic, U.S. citizens, and have a GPA of at least 3.0 |
| Employment BOOST Business and STEM College Scholarship | $1,000 | U.S. undergraduate and graduate students with a GPA of 3.6 or higher. They must be majoring in a field related to science, business, technology, mathematics, or engineering |
| NAFA Corporate Aviation Business Scholarship | Up to $5,000 | Applicants attending accredited educational institutions offering course work in economics, business, accounting, marketing, or finance, with a focus on aviation |
| Business Leaders Scholarship Award | $1,500 | Undergraduate, graduate, and doctoral students pursuing a degree in the field of business |
| MU30's Scholarships for Women in Finance | $1,500 | Female or applicants identifying themselves as female. They must be enrolled at an accredited business school |
| Minorities in Government Finance Scholarship | $9,000 | Outstanding undergraduate and graduate students who belong to a minority group. They must pursue a degree in business administration, governmental accounting, public administration, economics, finance, or political science |
How To Apply for Business Student Scholarships
While many scholarship programs allow students to apply for scholarships online, others require paper applications that have to be submitted through your high school or college. To successfully apply for a scholarship, you should pay attention to the instructions provided by the scholarship provider, including:
Application deadlines
Qualifications
Possible restrictions
Most business student scholarships will require you to submit:
An official transcript of your grades
GPA scores
A resume
Evidence of community service
Thousands of applicants usually apply for generous business scholarships. So, if you want to increase your chances of winning, consider the following tips:
Emphasize your business experience and list academic and life achievements on your resume
Write an excellent essay—it will help you stand out the most among other applicants
Make sure your application is free of typos and grammatical errors
DoNotPay Can Help You Find the Best Scholarships
If the whole process of searching for scholarships seems too difficult and time-consuming, opt for our service.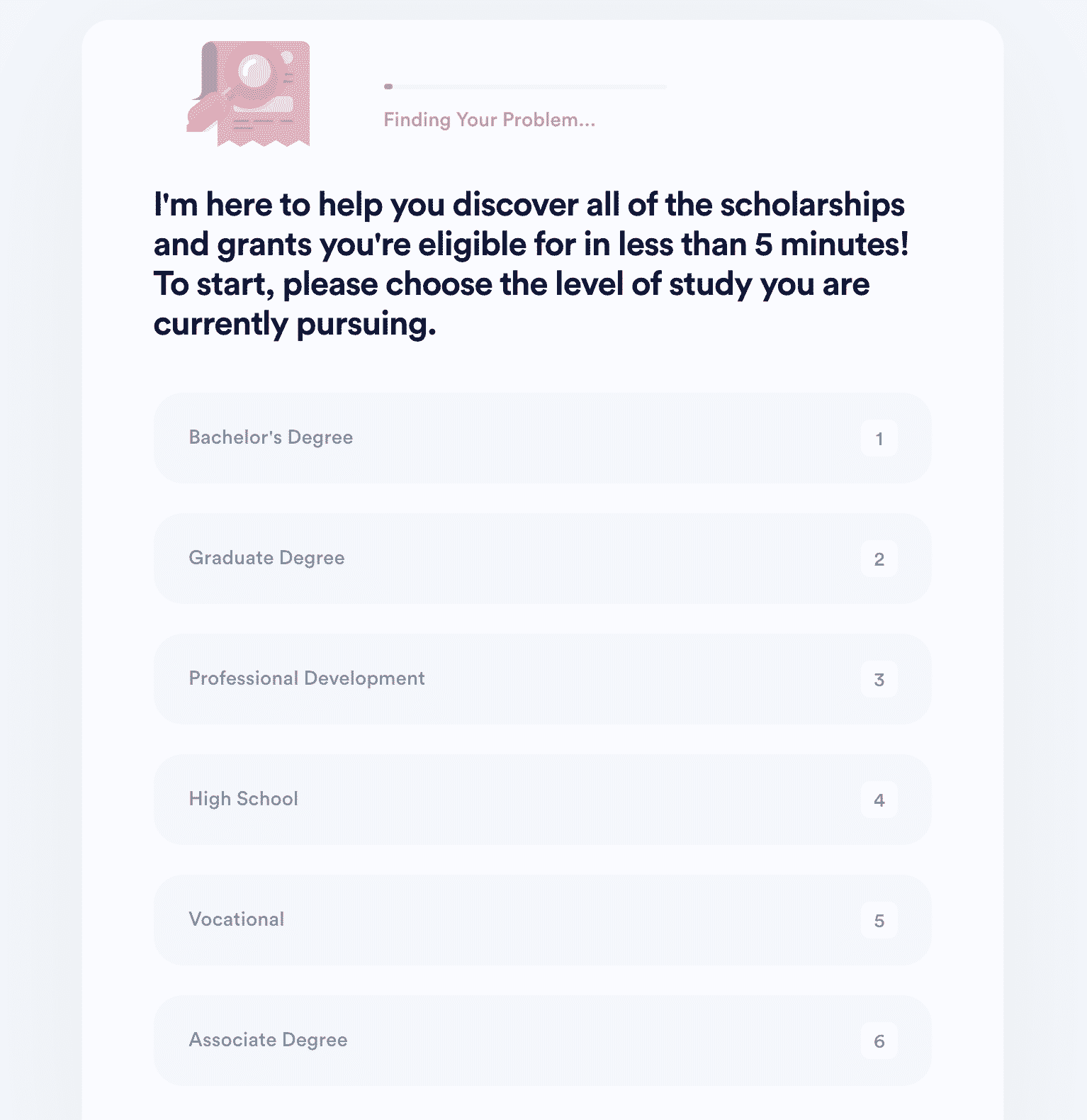 All you need to do is:
Find the Apply for Scholarships product
Provide us with information about your residency, education, grades, career goals, and special qualifications (if applicable)
We will generate a list of all scholarships you qualify for in minutes. You can even apply for no-essay scholarships through our app!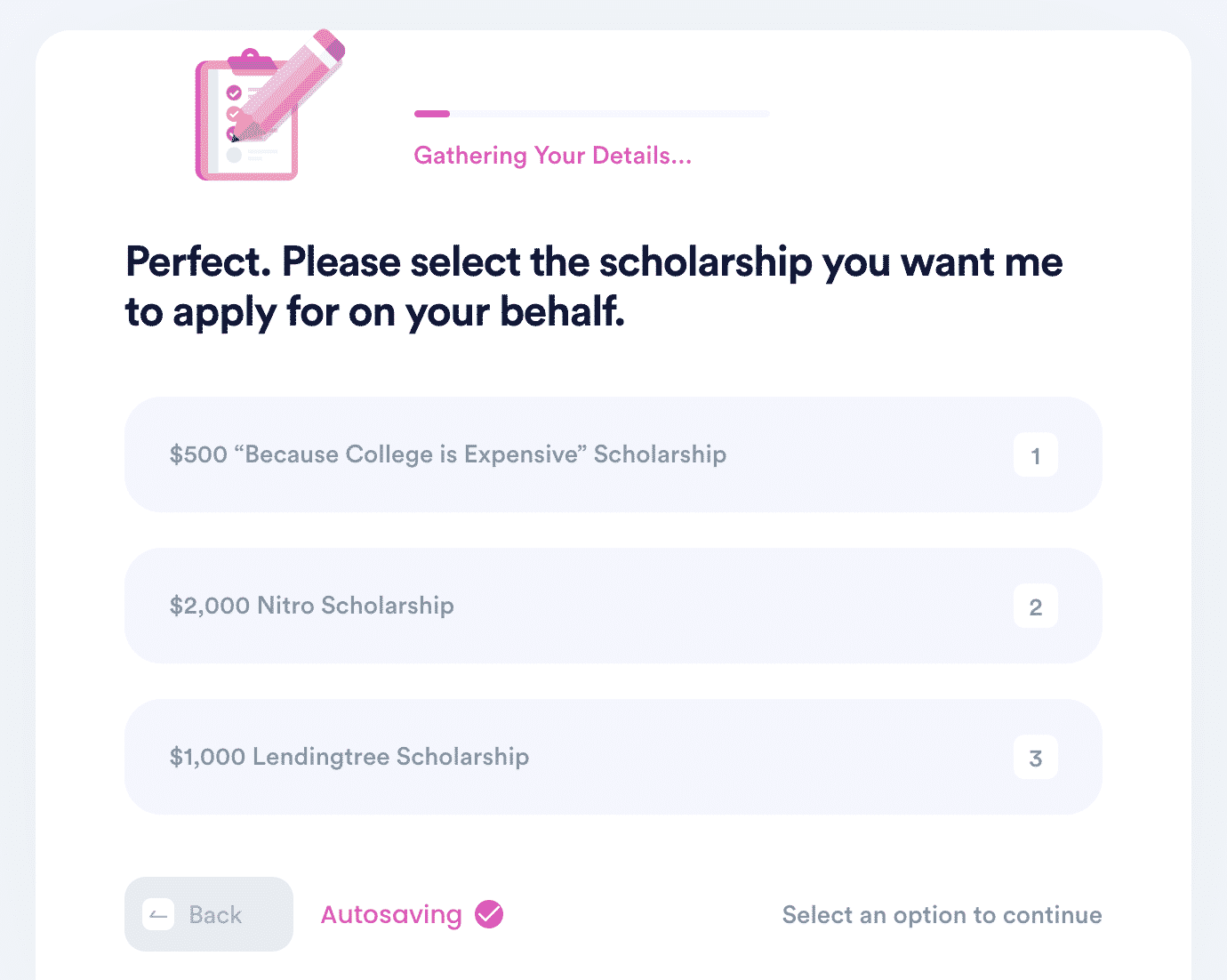 Use DoNotPay To Deal With a Plethora of Bureaucratic Tasks!
Tired of dealing with bureaucracy? We understand the struggle, and that is why our app makes handling administrative tasks a breeze!
Regardless of whether you need to compose a legal document, such as a power of attorney or a child travel consent form, appeal property taxes or your parking tickets, file a financial aid appeal and a FOIA request, or get a document notarized, DoNotPay has got you covered!
In case you also need to submit anonymous HR complaints, our app will provide you with the easiest way to do so!
Go on a Stress-Free Shopping Spree With DoNotPay
Do you like to shop until you drop? With DoNotPay, you won't have to worry about dropping! We'll make sure you can:
If you need more money to continue your shopping spree, let our app help you find any unclaimed funds under your name and enter numerous giveaways and sweepstakes!