Apply for a Scholarship in Oklahoma and Graduate Debt-Free!
Getting a scholarship in Oklahoma can help you graduate from a great school without leaving a huge dent in your pocket. There are various grants and scholarship options that aspiring students can secure. Since they aren't all posted in one place, it can take days to find the ones that suit you the best.
If you want to save time and find the best scholarships, use DoNotPay to get a customized list of scholarships in a few clicks!
Which Scholarships in Oklahoma Can You Apply For?
There are numerous scholarships in Oklahoma available to students of all levels. There are scholarships for high school seniors, college students (freshmen, sophomores, and juniors) as well as graduate students.
Scholarships in Oklahoma are awarded based on:
Merit
Financial need
Oklahoma Scholarships for Meritorious Students
If you have excellent grades, there are a variety of scholarship options available to you since most scholarships are merit-based and require applicants to have a high GPA. The following opportunities are available to students with great academic records:
Nolan Moore Memorial Education Foundation Scholarship
AOTF Oklahoma Scholarship
Oklahoma Tuition Aid Grant (OTAG)
Future Teachers Scholarship
Regional University Baccalaureate Scholarship
Farmers Mutual Hail Insurance Company of Iowa Scholarship
Future Teachers Scholarship
George and Donna Nigh Public Service Scholarship
NIADA Foundation Regional Scholarships
Oklahoma Independent Living Act Tuition Waivers
Oklahoma State Regents Academic Scholars Program
Osage Nation Higher Education Scholarship
Oklahoma State Scholarship Programs
Oklahoma's Promise
Teacher Shortage Employment Incentive Program
Non-Merit Scholarships in Oklahoma
Not all scholarships are merit-based. Numerous scholarships in Oklahoma are awarded to women, veterans, members of the military, and sorority members. These are a few such opportunities:
Ines Abbott McCrary Scholarship
Tractor Supply Company Scholarship
Oklahoma National Guard Tuition Waiver Program
Oklahoma Tuition Equalization Grant Program (OTEG)
U.S. Army Loan Repayment Program
PMI Tulsa Chapter Scholarship
George and Donna Nigh Public Service Scholarship
Scholars for Excellence in Child Care
U.S. Army Loan Repayment Program
Women of the South Primary Provider Scholarship
Oklahoma Scholarships for International Students
Studying in the USA can be difficult for international students—especially those from under-developed and developing countries—due to the expensive tuition fees and high costs of living. Fortunately, institutions in Oklahoma offer multiple scholarship opportunities for international students. Here are a few you can explore:
Scholarship
Description
Amount
Eligibility
International Achievement Freshman Scholarship
A four-year partial tuition waiver
$40,000

Standardized test score—a minimum of 13.60 on SAT
English test score—at least 8.5 in IELTS or 115–120 in TOEFL

International Transfer Achievement Scholarship
A two-year partial tuition waiver
$5,000
A minimum GPA of 3.25 and at least 24 transferable credit hours
International Alumni Legacy Scholarship
A four-year partial tuition waiver
$20,000
Available to children or grandchildren of OSU alumni
International Transfer Alumni Legacy Scholarship
A three-year partial tuition waiver.
$15,000
Available to children or grandchildren of OSU alumni
University Scholar
Varies
Varies

Must be incoming freshmen at OBU
At least a 32 ACT or 1420 SAT
A minimum high school GPA of 3.75

International Diversity Scholarship
Annual awards
$7,000

Available to OBU students with an I-20 visa
Diversity Scholarships in Oklahoma
There are plenty of scholarship opportunities available to minority and first-generation college students in the state of Oklahoma. Students who qualify under the diversity quota can apply to:
ACS Scholars Program
Alexander Hamilton Scholars
Blacks at Microsoft Scholarships
Denny's Hungry for Education
EDUMED
Gates Millennium Scholarship
Generation Google Scholarship
TheDream.US Scholarships
Hispanic Scholarship Fund
Horatio Alger Association
Immigrants Rising Scholarship Fund
The Princeton Prize in Race Relations
InspirASIAN Scholarship Program
Jackie Robinson Foundation Scholarship
League of United Latin American Citizens
Paul & Daisy Soros Fellowship
The National Scholarship
Regions Riding Forward Black History Scholarship
Ron Brown Scholar Program
Shawn Carter Scholarship
The Actuarial Foundation
How To Apply for Scholarships in Oklahoma
Scholarship requirements differ based on the kind of opportunity you are applying for. Some schools require you to write multiple essays, while others have easier application processes. You can also expect to find one or more of the following documents in the requirement lists:
Report card and/or official test scores
Tired of Scrolling Through Scholarship Websites? Use DoNotPay To Simplify Your Search!
Finding and applying for a scholarship is not easy—especially if you have to sift through website after website until you find one you are looking for. You can skip the hassle entirely and use our app to get a sorted list of scholarships!
Here's what you should do:
Find the Apply for Scholarships product
Provide information about your current and intended levels of education
Type in a few details about yourself
You can even choose to apply for all no-essay scholarships instantly through our app!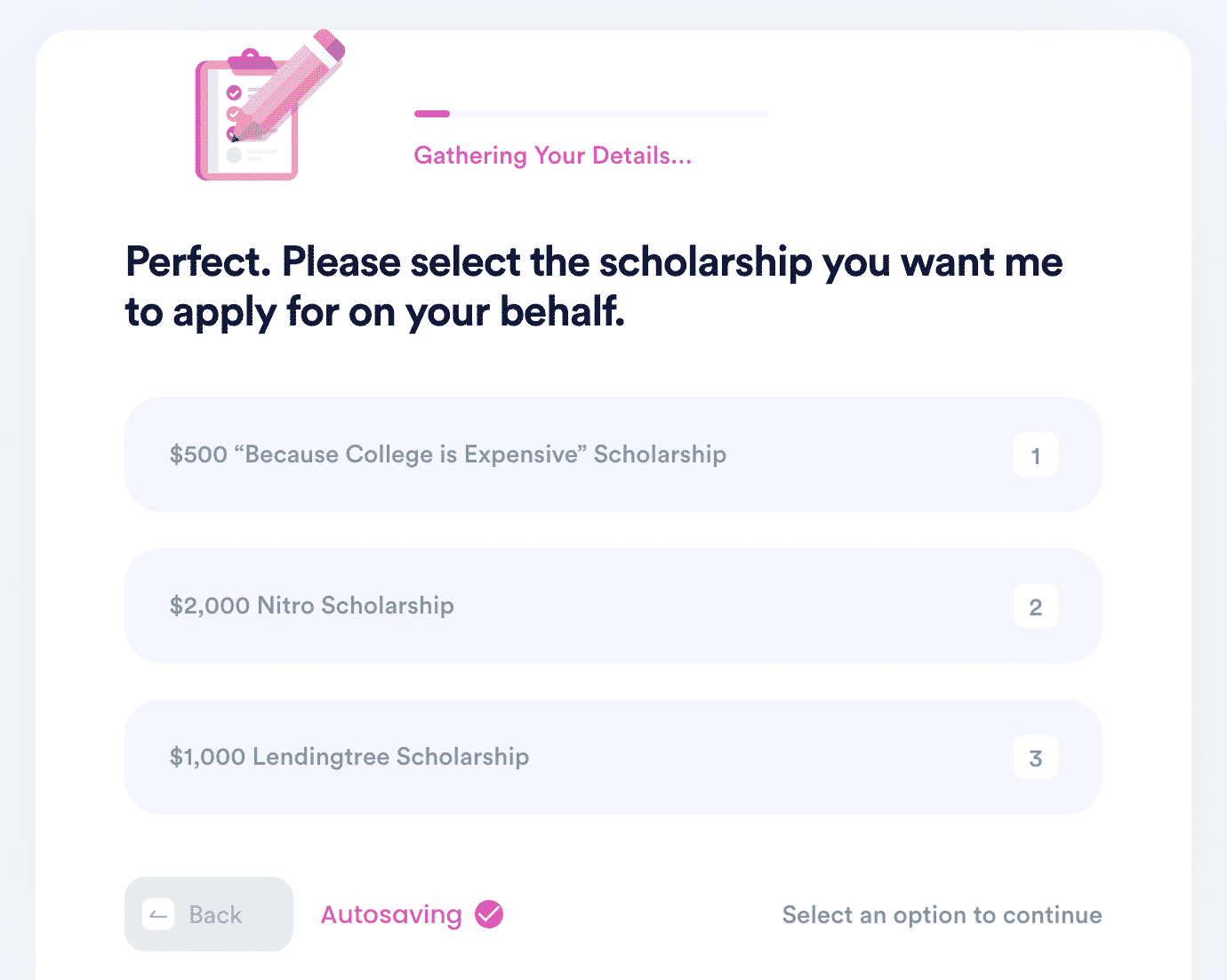 Don't Stop There—Check Out DoNotPay's Product Range
DoNotPay has many tricks up its sleeve—no matter the admin or legal issue at hand, our AI-enabled app can power through it in a split second. Look into our product range to find out how you can:
What Else Do You Need? DoNotPay Will Provide!
If you want to cancel a subscription before your free trial expires so that you don't get charged, you can count on our virtual credit card to do it in your stead! We can also make sure that you get what's rightfully yours—be it a refund, insurance, warranty, unclaimed money, flight refund, raffle ticket, or gift card cash back.
You no longer have to go through legal or administrative hurdles on your own—as soon as you sign up for DoNotPay, you'll get access to our app's assistance and will be able to use it to fight injustice.