Find a Scholarship in Iowa With DoNotPay's Hawkeye
Tuition fees in the United States are expensive, which is why many students spend years after finishing college indebted to banks.
To make the educational process more affordable, many universities, companies, organizations, and institutions offer some type of scholarship in Iowa. The problem is—finding available scholarships and grants isn't easy.
Don't spend hours trying to find financial aid programs you qualify for. Sign up for DoNotPay and get a list of all scholarships you're eligible for, and use our app to apply for various programs within minutes.
What Type of Scholarship in Iowa Can You Get?
Iowa scholarships can be divided into two categories, based on:
Your level of study:

Organizations behind the scholarship:

State scholarships
Private scholarships
Need-based federal aid
State Scholarships in Iowa
Many state institutions and government organizations offer scholarships to students in Iowa. Some of these programs are designed only for students of certain colleges or high schools—such as the Iowa State University and the University of Iowa—but they are usually available statewide.
While some scholarship providers accept applications from transfer students who are residents of different states, others require their applicants to be Iowa residents. Instead of providing students with funds, these organizations get in contact with schools to cover all the expenses.
Check out the table below to get more information on some of the state scholarships:
Scholarship Name
Requirements
Application Deadline
Award
Future Ready Iowa Last-Dollar Scholarship
August 1
Fully-paid tuition
Iowa National Guard Service Scholarship

Iowa resident
Member of an Air National Guard or Iowa army unit
Completed National Guard training

December 1 for the spring semester, July 1 for the fall semester
$9,274
Kibbie Grant

Iowa resident
Enrolled at an Iowa community college
Enrolled in one of the selected programs
Proven financial need

July 1
Fully-paid tuition fees for two years
All Iowa Opportunity Scholarship

Iowa resident
Enrolled at an eligible Iowa college or university
Graduated from an eligible Iowa high school
Expected Family Contribution (EFC) not higher than $9,288
Priority is given to:

Students from Iowa's foster care system
Participants in federal TRIO programs
Participants in the GEAR UP Grant program
Children of deceased public safety workers

March 1
$4,532
Private Scholarships in Iowa
Scholarships that don't come from government and state institutions are private scholarships—they are given out by various companies and non-government organizations. These programs are usually more rewarding than the state ones, but it's more difficult to secure them.
When reviewing applications, private scholarship programs take into account the following:
Most scholarships are aimed at a specific group, such as:
Students of a particular faith
Need-Based Federal Aid Programs in Iowa
Federal institutions offer financial aid programs based on students' financial needs. In general, people opt for need-based aid when they're in a difficult financial position and have failed to secure scholarships based on academic merit.
To apply for a need-based scholarship in Iowa, you need to fill out either the Free Application for Federal Student Aid (FAFSA) form or the Iowa Financial Aid Application (IFAA) form—some scholarships require both.
The latter has a four-step application process you need to complete, as follows:
Choose the year and the level of study you're applying for
Select your current level of education and the school from which you got the diploma
Choose up to three schools or colleges where you wish to enroll
When the website shows you which financial aid programs you qualify for, submit the application for further instructions
Bear in mind that some of these programs offer non-repayable awards, while others act as student loans. Make sure to do your research before you apply to avoid any future debt.
Where You Can Search for a Scholarship in Iowa
The greatest obstacle to obtaining financial aid is the research process that precedes applying. It's difficult to learn about all scholarship possibilities by relying solely on Google. Instead, you should begin your search elsewhere. Here are some good starting points:
Your school's financial aid office—Most schools in Iowa have dedicated financial aid officers who can help you out with your search. They will review your academic performance and point out some scholarships you may be eligible for
Scholarship websites—If you've already found a program that interests you, you can visit its website to find more information about the specifics
DoNotPay—If you use our app to search for scholarships, you will receive a personalized list of all programs you're eligible for in a few moments, which is the most convenient solution

The Application Process for Iowa Scholarships
There's no unified approach to applying—each program comes with its set of rules. Some application processes are as simple as filling out short forms, while others require you to hand in extensive paperwork.
There are some general rules that are true for all scholarships. When you decide to apply for an award, you need to:
Respect the set deadline
Make sure you're eligible
Fill out the FAFSA or IFAA forms
Prepare all the necessary documents, such as:
How To Secure a Scholarship in Iowa With DoNotPay's Help
Many students give up on getting financial aid because of the research that has to go into it. You can spend an excessive amount of time looking up different scholarships, and you still won't know about all of them.
DoNotPay can help with that! You can use our app to create custom searches based on your level of study, preferences, and academic performance, and we will give you a list of all the available scholarships.
You only need to complete the following four steps:
Use your browser to sign up for DoNotPay
Choose our Apply for Scholarships feature
Answer a few questions
Select what kind of scholarship you'd like to apply for
By using the information you give us, we'll match you with scholarships you're eligible for and provide all the necessary details about them. If you wish to apply for a no-essay scholarship, you can do so immediately within the app—we'll complete the application process on your behalf.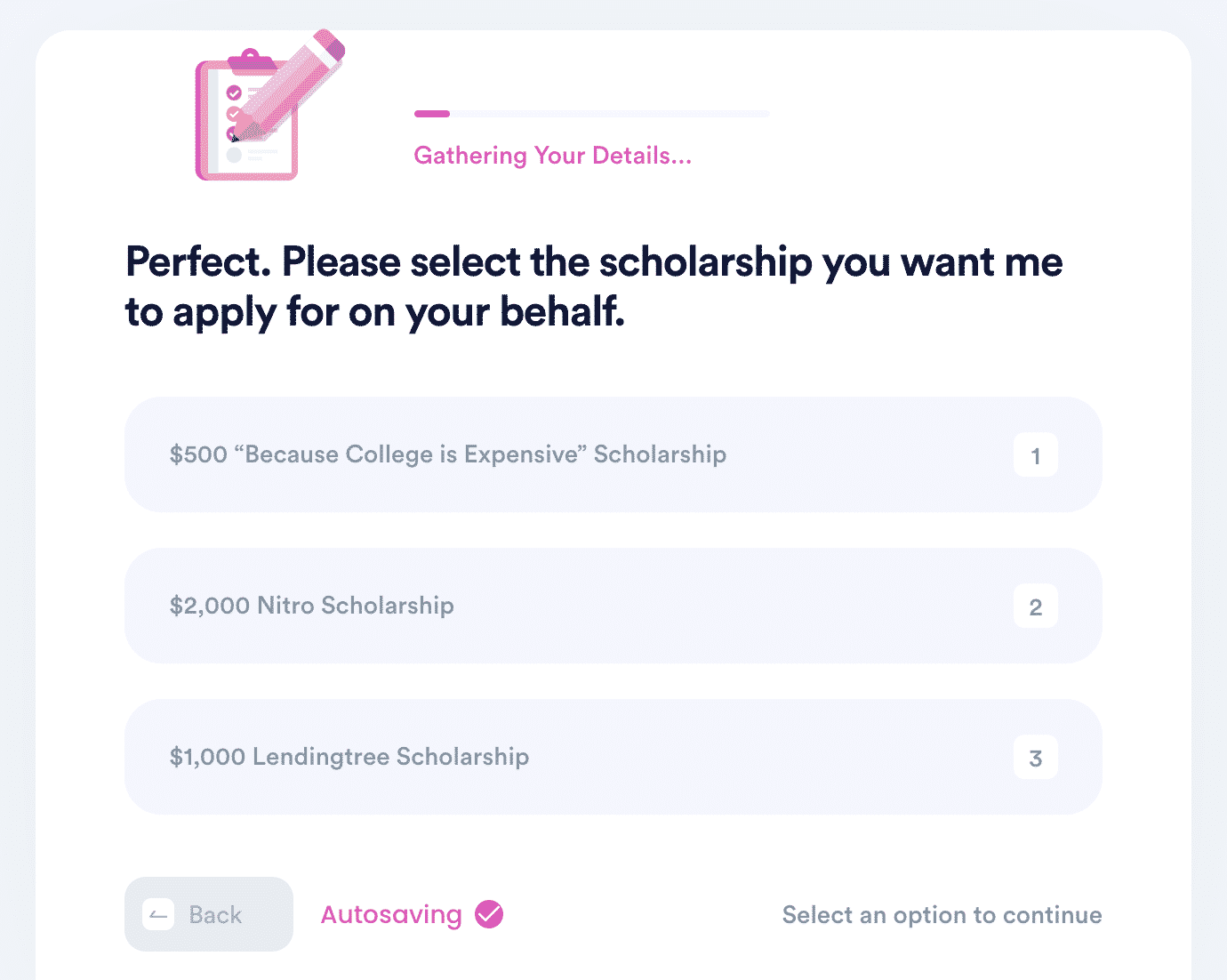 Managing Everyday Tasks With DoNotPay Is a Breeze
Completing mundane tasks doesn't have to be a nightmare! With our help, you can relax and finish them in a few taps! All you need to do is register for DoNotPay and let us help you with:
Have Your Documents Drafted and Notarized With Our Help!
If you need to draft a legal document, such as a divorce settlement agreement, power of attorney, or a child consent form, hiring a lawyer to assist you is probably the first thing that comes to mind. What if we told you that spending hundreds of dollars on legal services is unnecessary? Not only can DoNotPay draft contracts and agreements in a few minutes, but it is also your most affordable and effortless option!
The benefits our app provides don't stop there! After we generate your document, we'll connect you with a remote notary and show you how to get it notarized online without leaving the comfort of your home! You can even fax the document online and skip dealing with outdated fax machines.