How to Find Scholarships In Illinois the Easy Way
Thousands of starry-eyed students enroll in IL schools for various degree programs, but the rising tuition costs and living expenses derail their dreams and leave them overburdened with student loans. Luckily, winning scholarships and grants is a great way to offset education expenses.
If you've been looking for a scholarship in Illinois, you may find it difficult to figure out which one to apply for. In this student-friendly guide, you'll learn all about:
Accessing a list of attainable Illinois scholarships fitted to your student profile
Using a shortcut to applying for no-essay scholarships
A Bird's-Eye View of the Available Scholarships in Illinois
Depending on which level of education you're pursuing, you can find dedicated scholarships for Illinois students in:
A regular four-year college or a two-year community college
Technical or vocational school
Scholarships for High School Seniors in Illinois—And Other High Schoolers
Seniors in high school can find more lucrative scholarship opportunities in Illinois as compared to freshmen, sophomores, and juniors.
As most high school seniors are prepping up for college admissions, they can find relevant academic scholarships for the major they want to study—for example:
The Friends of Volo Bog Environmental Studies scholarships offer $1,000 scholarships to seniors interested in a career that involves preserving the nature
The Peters Foundation Scholarship offers $10,000–$20,000 to seniors who plan to enroll in a Christan college for a degree in education, sustainable engineering, or forestry
Scholarships or grants for the rest of the high school students are usually issued to:
Support financial need—High school students struggling with finances can turn to their immediate community for financial assistance scholarships. An example is the Chicago Coalition for the Homeless Scholarship for students rendered homeless anytime during high school
Promote athletic ability—Many IL public and private schools award scholarships to high schoolers who excel in sports like baseball, football, volleyball, cheerleading, track, golf, etc. A good example is the Buster Lindsay Memorial Scholarship
Encourage creative talents—Dozens of Illinois high schools offer a monetary prize to students for writing an essay or completing a competitive task that demonstrates their creative ability in art, music, writing, poetry, and videography
Scholarships for College Students in Illinois
Illinois is home to prominent educational institutions, like the University of Chicago, Illinois State University, and Northwestern University. Refer to this table to understand the type of college scholarships available in Illinois:
Scholarship Type
Details
Scholarships for Illinois residents
The majority of Illinois college scholarships are targeted to help local residents. Here are some examples:

The Illinois Hospital Research & Educational Foundation Scholarship is offered to freshmen students studying for a baccalaureate degree in:
The Chicago Community Services Block Grant (CSBG) Scholarship Program is only available for undergraduate students who live in or have moved to Chicago

Scholarships for out-of-state students
Out-of-state students in IL face higher tuition fees and boarding expenses. Most universities in the state offer scholarships dedicated to:

Examples:

Illinois minority scholarships
Illinois has abundant scholarship options for minority groups in colleges. Examples:
Illinois Scholarships and Grants for Advanced Learners
If you're pursuing a master's or a doctoral degree, you should look for scholarships offered by:
The university you're enrolled in or employed at
Organizations that promote research in your field of study
Any institution that supports professional studies
Here are a few examples:
Vocational or Technical School Scholarships in Illinois
While there aren't many vocational school scholarships in Illinois, you can still find some that support your educational expenses—like the ones below:
Don't Waste Time Being Confused—Use DoNotPay To Spot the Right IL Scholarships
Despite the convenient opportunities in Illinois, most students never even apply for financial aid! They typically have busy schedules, which leave them with little time to search for scholarships. To make matters worse, the state's scholarships are scattered all over the internet, and students fail to identify which ones are suitable for them.
Another issue with the available scholarships is the changing eligibility requirements and deadlines. Students are already busy dealing with their curriculum and extracurriculars, so keeping track of individual scholarships can be confusing and exhausting.
If you're on the verge of giving up on scholarships, let DoNotPay help you out! Our scholarship finder tool does the eligibility-checking for you and provides you with a list of all scholarships that you qualify for in under five minutes.
To use our app's Apply for Scholarships product, you need to enter your student details via a quick questionnaire. We will use the info you provide to give you a relevant list of all U.S. scholarships that fit your student profile. to view your personalized list today!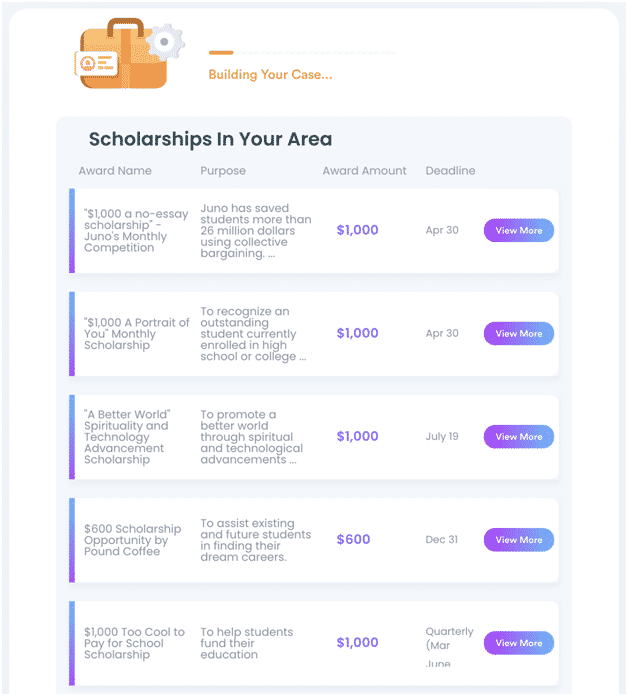 There's More—DoNotPay Can Also Help You Apply for Certain Scholarships!
DoNotPay also lets you apply for no-essay scholarships in a matter of seconds!
We will generate a list of all active no-essay scholarships—all you need to do is browse through them and select the ones that appeal to you. We use your student data to apply for them on your behalf!
If you use our Apply for Scholarship tool every week, you will be considered for the maximum number of scholarships, which will give you an edge over your peers!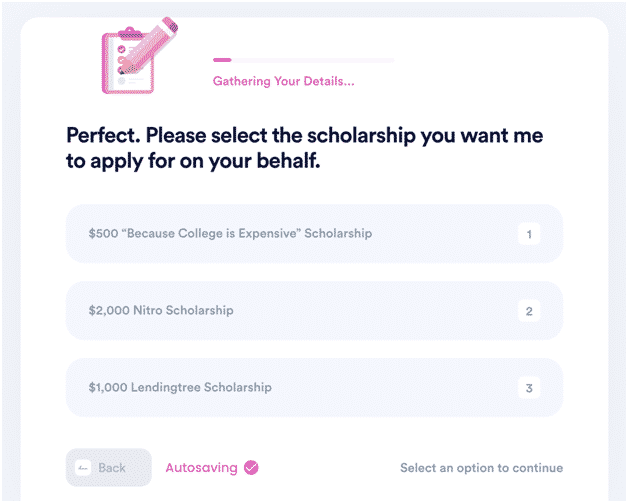 To use our scholarship search and application product, and do this:
Search for Scholarships
Fill out the questionnaire
Choose between our Search and Apply options
Trust that DoNotPay will always be a reliable sidekick in your quest for scholarships!
Save Time With DoNotPay
DoNotPay is not done helping you! We offer you assistance in completing a variety of tasks quickly and efficiently, such as:
Canceling Subscriptions Has Never Been Easier!
If you keep getting charged a monthly subscription fee even though you no longer want to use a certain service, don't let your money go to waste! Some companies tend to renew your subscription automatically, but that doesn't mean you have to put up with it—use our app to terminate your membership or subscription in a few clicks!
Do you want to sign up for free trials and create a virtual credit card or a burner phone number to protect your sensitive info? Once you subscribe to DoNotPay, we will walk you through the process of doing all of the above in no time!
You can also count on our assistance if you need to get rid of spam or robocalls.