Find the Best Scholarship for Juniors in College Without Breaking a Sweat
You've already dealt with high school seniors, college freshmen, and college sophomore scholarship applications, and you need to do it all over again. Each academic year comes with new struggles to gather the money for your education. No need to stress—DoNotPay will speed up this year's research with a simple guide to the best scholarship for juniors in college.
If you want to minimize the amount of financial aid you need to repay, find all potential scholarships for college juniors. Learn how to find various scholarship options to boost your chances of getting the support you need.
What Type of Junior Scholarships for College Can You Get?
College scholarships are usually associated with students with excellent academic achievements or sports results—but there's more to them. Besides the typical federal, state, and school-specific aid, you can get funds for your junior year based on the unique categories you belong to.
The classification can be based on interests, hobbies, beliefs, or other specific situations. With that in mind, you can organize your search according to the different categories—such as the ones listed in the table below:
| Category | Scholarship Types |
| --- | --- |
| Underrepresented demographic | |
| Ethnicity | |
| Field of study | |
| Hobbies and interests | |
| Religion | |
| Unique circumstances | |
Prepare for the Following Year—Learn About Scholarship for Seniors in College
The scholarships for college juniors will cover your third year of studies, but what about the next one? You still have one more year to go before you get a degree, and you need to pay for it. While you are assessing your junior year options, you might as well take a look at potential college senior scholarships:
Fund Your Future No Essay Scholarship
ScholarshipPoints Scholarship Program
Student Loan Hero Smart Money Giveaway
Nitro College Scholarship
Cappex Easy College Money Scholarship
Be Bold Scholarship
Speaking of the future, you can also get information about graduate scholarships if you want to go for a master's or doctoral degree.
How To Track Down Junior College Scholarships
Are you curious about where to find these scholarships? You'll need to resort to sources of information, such as:
Federal agencies
The financial aid office at your school
Private or public organizations related to your interests
Internet
A faster option would be to use the DoNotPay app. Forget about collecting bits of information from dozens of sources—our app has it all in one place. You can get a full list of available scholarships and grants for college juniors tailored to your preferences in a few minutes. The list will also contain all information you need—such as the requirements, the amount of the award, and the deadline for application.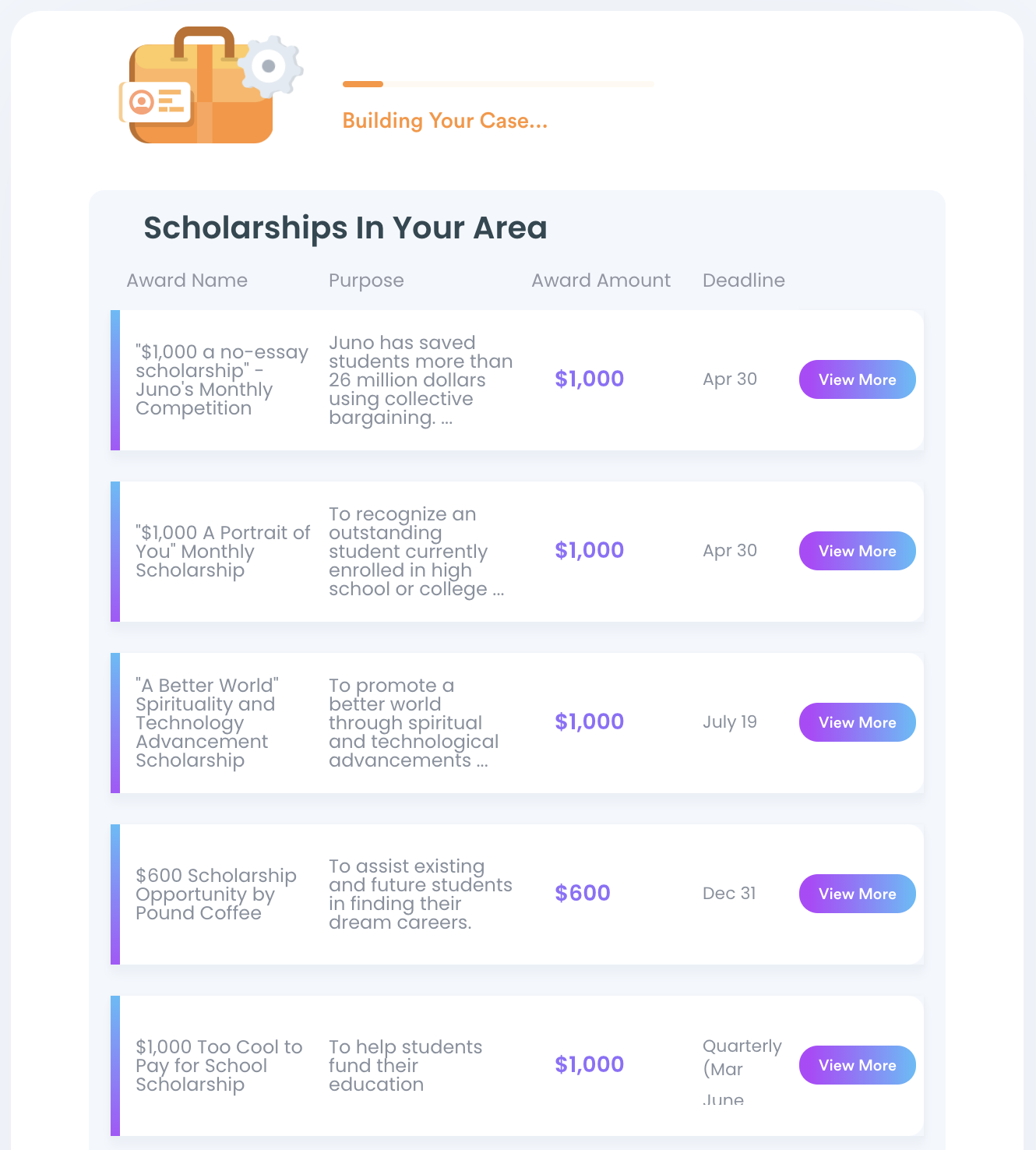 How To Apply for Junior College Scholarships
If you've applied for scholarships in the past, you might know the drill. Even with application experience, keeping track of various requirements and deadlines can be overwhelming. Let these tips be your guide to a stress-free application:
Check the requirements for every scholarship you are interested in
Call or email scholarship provides if you have any doubts
Start collecting the necessary paperwork in advance
Keep an eye on different deadlines
Ask for letters of recommendation as soon as possible
Write scholarship essays on time
Are you struggling with scholarship essays? These guides might help you craft stellar ones:
When it comes to application forms, students usually need to complete the following:
Free Application for Federal Student Aid (FAFSA) form
College Scholarship Service (CSS) Profile
The form on the scholarship issuer's website
Fast and Effortless Scholarship Applications Are DoNotPay's Special Skill

Are you used to hectic applications? DoNotPay will turn that around—our nifty app will help you apply with ease.
We will consider every characteristic you mention to expand your options and discover new funding opportunities. If you are eligible for some unique scholarships—such as aid for women, minorities, or international students—we'll let you know.
Witness DoNotPay's speed and efficiency by doing this:
Pick the Apply for Scholarships tool
Answer some brief questions about your field and level of study, interests, scholarship preferences, and similar
Found some no-essay scholarships you wish to apply for? We can do it on your behalf, so you'll have fewer applications to deal with.
Administrative Issues? We Don't Know Them!
Forget about getting frustrated and overwhelmed by the administrative tasks waiting for you to complete them! With DoNotPay's numerous tools, you can easily resolve such tasks in a heartbeat! All you need to do is sign up for our app, and you'll be able to:
Use DoNotPay To Protect Yourself at All Times
Are pesky robocalls and email spammers working your last nerve? Don't despair—we are happy to help you get rid of them! In a few clicks, you can also stop text spam and avoid the incessant phone buzzing!
You can use our app to protect your privacy by creating burner phone numbers and virtual credit cards. That way, you don't have to disclose personal info when subscribing to online services.
In case you're looking for a way to keep yourself safe from stalkers or work discrimination, we'll help you report the case and walk you through the entire process!
Protecting your work from copyright violation and asking for violent crime compensation in your stead is also something DoNotPay can do!