The Ultimate Guide to Finding a Scholarship for Creative Writing
Scholarships and grants can help you offset your schooling expenses while avoiding student loan debt, yet finding the right scholarship is challenging as they are scattered all over.
If you know where to look, you are a step closer to securing the right one. This guide will show you how to find a scholarship for creative writing in a few clicks.
The Best Scholarships for Creative Writing
Most scholarships for writers are awarded by writing departments of various institutions. You are guaranteed to find scholarships for creative writing for every academic level—high school, college, and graduate school. To help you with your search, we have compiled the lists of the best writing scholarships for:
High school seniors
College students
Specific types of creative writing
Creative Writing Scholarships for High School Students
Here are some of the best scholarships for young writers:
Optimist International Essay Contest—A $2,500 college award for students who aren't enrolled at any post-secondary institution
Profile in Courage Essay Contests—The $10,000 contest is open to students in grades 9–12
Leyla Beban Young Authors Scholarship—The program caters to young writers who haven't graduated from 12th grade but want to be published
Bobette Bibo Gugliotta Scholarship—The program awards graduating high school seniors or those currently enrolled in a post-secondary institution in California's San Mateo or Santa Clara counties a $1,000 scholarship
Herb Alpert Scholarship for Young Artists—The award is tailored to California graduating seniors with a financial need and artistic talent
Brady and Patrick Gallagher Memorial Scholarship—This is a need-based program that awards $3,000 to high school seniors in Kalamazoo public schools who are enrolled at a post-secondary institution with a great interest in arts
Creative Writing Scholarships for College Students
These are some of the best creative writing scholarships for college students:
Go on Girl! Aspiring Writer Scholarship—Black women enrolling in historically black colleges or universities with a major in creative writing or a related field are eligible for this award
CW Scholarship—This award is offered by the University of Louisville to its undergraduate and graduate school students who have enrolled in a creative writing course
James R. Buescher Scholarship—This scholarship is awarded to Pennsylvania residents enrolled in creative writing or other literary majors
Dr. Julianne Malveaux Scholarship—A $1,000 award for African American women pursuing a creative writing or related major
Helen McCloy Mystery Writing Scholarships—Creative writing students in college who can demonstrate a financial need are eligible for this scholarship
Helen Steiner Rice Scholarship—This $1,000 award is meant for Ohio's residents who are pursuing a creative writing or any other related major
The Ursinus College Creative Writing Award—To be considered for the award, students should submit a creative writing portfolio with a maximum of 10 pages. The winner gets a $40,000 scholarship renewable every academic year at Ursinus College
Specific Types of Creative Writing
Although most scholarships are open to various forms of writing, some are tailored to specific categories, such as:
Writing Category
Scholarships
Poetry

Amy Lowell Poetry Travelling Scholarship
William Morgan Poetry Award
Patricia Cornwell Creative Writing Scholarship

Songwriting

Jerome Foundation Many Voices Fellowships
John Lennon Scholarships
How To Find Scholarships for Creative Writing
There are various approaches you can take to find scholarships for writers. Here are our recommendations for a more effective search process:
Start your search process before the academic year the scholarship is for to ensure you don't miss application cycles
Check with your school's writing department or the university's financial aid office
Contact your high school guidance counselor for high school seniors
Search the internet
If you want to save time and find all scholarships for writers that you are eligible for, use DoNotPay. All you have to do is subscribe to DoNotPay and provide your education details. You will only need a few minutes. No more scouring one page after another—get all the best scholarships in one place.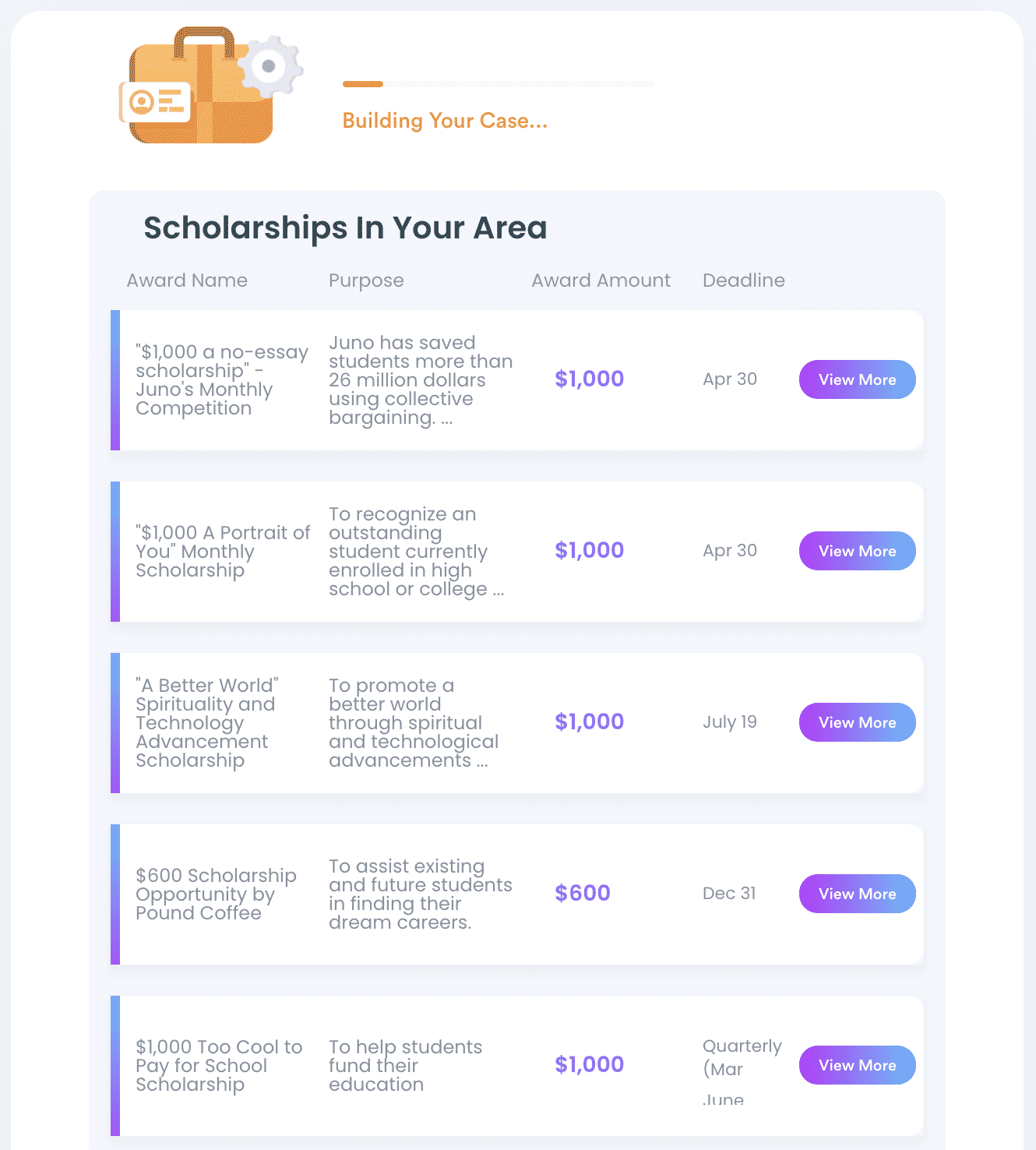 How To Apply for Scholarships for Creative Writing
Every scholarship program has its own application procedure. You should confirm the directions on the scholarship's official web page and follow the instructions closely. Most scholarships for writers will require you to complete an online form and submit the following:
Make sure to prepare all the necessary paperwork early and apply for scholarships on time. For best results, tailor your application to align with the scholarship's mission or ideal candidate profile.
Find and Apply for Scholarships With DoNotPay
Instead of combining different methods to search for scholarships, automate the process with DoNotPay. You won't have to confirm your eligibility for each program again and again. Our app will do that for you and give you a list of scholarships you can apply for instantly.
To experience the revolutionary way of searching for scholarships, follow these steps:
Go to Apply for Scholarships
Answer a few questions related to your education level and interests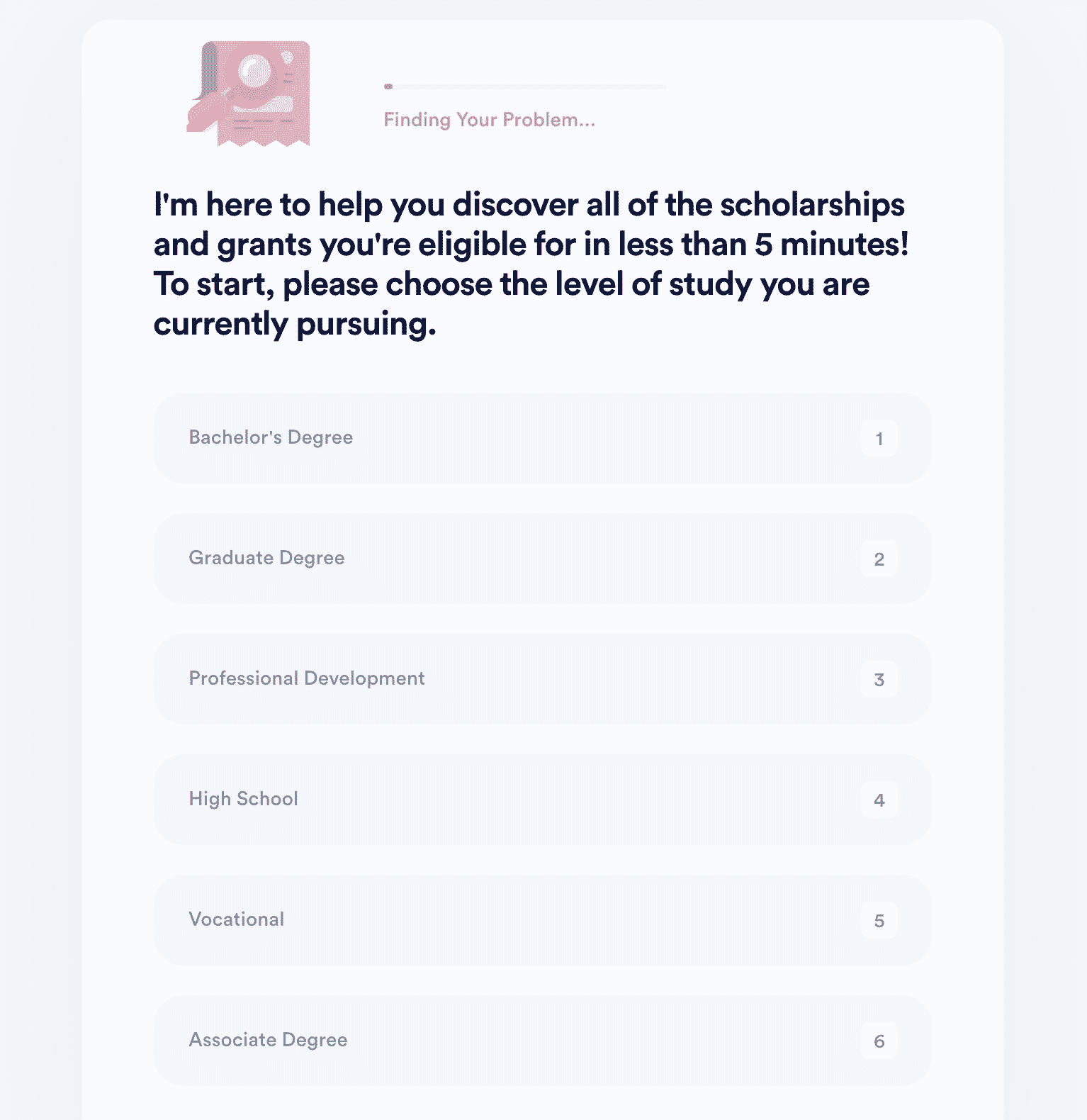 You can automate the process further by allowing DoNotPay to send your applications for no-essay scholarships. Anyone can find scholarships with DoNotPay—international students, veterans, disabled students, moms, or any other applicants!
Explore DoNotPay's Product Range
Are you looking for additional assistance from our app? We're happy to inform you that DoNotPay provides you with a number of useful tools that you can use to complete mundane tasks in the blink of an eye! Sign up for our app and let us help you get:
DoNotPay Resolves Your Financial Issues in a Few Taps
You don't have to struggle to figure out how to resolve financial problems yourself when you have our app at your disposal. In only a few clicks, you'll be able to discover any unclaimed money under your name, submit insurance and warranty claims, or request compensation for delayed flights.
But that is not all! Lowering your utility bills, appealing parking tickets, or canceling memberships and subscriptions is also something you can do in no time and with minimum effort if you use DoNotPay! Work smarter, not harder!