It Adds Up—How To Get a Scholarship for Accounting Majors
The most expensive college in the United States is the University of Chicago, whose students need to pay a tuition fee of $81,531 per year. Other universities are not lagging behind—50 other colleges go above the $74,000 mark. This should give you an idea of why so many students struggle to get a degree without some sort of financial aid.
In this article, we'll focus on obtaining a scholarship for accounting majors by showing you how:
Scholarships and grants for accountants work
DoNotPay can help you get free money for your education
Scholarships for Accounting Majors
Scholarship providers offer financial aid to accounting students based on two factors:
Merit
Need
Merit-Based Scholarships for Accounting Majors
Merit-based scholarships go to students who have a high level of academic performance and a list of personal achievements. To be eligible for merit programs, students need to fulfill some—or all—of the following requirements:
Scholarships for accounting majors can differ based on the level of study students need to be at to be eligible. Various programs cater to:
High school seniors who are looking to enroll in accounting
College students (undergraduates, graduates, and doctoral degree students)
Another distinction between programs lies in the source of the scholarship. Providers can be federal and state governments, companies and private funds, and accounting-oriented organizations, such as the Association of International Certified Professional Accountants (AICPA) and the Accounting & Financial Women's Alliance (AFWA).
Take a look at this table for more info about some scholarships for accounting students:
Scholarship Name
Eligibility Requirements
Award Amount
AICPA Scholarship Award for Minority Accounting Students

Minimum GPA of 3.0
Members of one of the following minorities:

African Americans
Pacific Islanders

$3,000–$5,000
EFWA Scholarship

Strong academic standing
Priority is given to those in financial need

$1,000–$4,000
AICPA/Robert Half Student Scholarship Award

Minimum GPA of 3.0
Full-time accounting students

$10,000
Scholarship Program for Accounting Students by AIS Technolabs
$5,000
AICPA Foundation Two-Year Transfer Scholarship

Transfer students from two-year universities
Planning to pursue a certified professional accountant (CPA) license but not currently CPAs
Minimum GPA of 3.0
Full-time undergraduate or graduate students
AICPA Student Affiliate members
U.S. citizens or permanent residents

$5,000
Need-Based Scholarships for Accounting Majors
Need-based grants are aimed at accounting students who haven't achieved academic excellence but need financial support to finish their education. Usually, these grants are nonrepayable, but some act as loans and require being repaid.
To prove they are in need of financial aid, students need to fill out the Free Application for Federal Student Aid (FAFSA) form or the College Scholarship Service (CSS) profile. This way, they can show their financial status by documenting their family income and tax returns.
Some need-based grants don't focus on tuition fees—instead, they cover other education-related expenses. For instance, the Vets Covered for the CPA Exam by the Department of Veterans Affairs offers up to $2,000 to reimburse veterans taking a CPA exam that comes with an application fee.
Finding the Right Scholarship for Accounting Majors
Scholarships for accounting students are not mutually exclusive, meaning that you can apply and secure a plethora of different awards and add them up to pay as little on your own as possible. The difficulty with getting various scholarships is finding them.
The research process is time-consuming, and it can take you months to find all the necessary information on the Internet. Don't give up—here are a few tips to speed up your research:
Visit your school's website—Most universities have a financial page segment on their website where you can find information about school-specific programs
Go to your school's financial aid office—Financial aid officers can help you in your pursuit by looking at your financial status and academic performance and giving you examples of scholarships you're eligible for
Take a look at accounting organizations—Organizations like AICPA and AFWA offer awards to accounting majors so you can check with them as well
DoNotPay—Our app lets you skip the entire research process. All you need to do is invest five minutes of your time, and we'll give you a personalized list of all scholarships you can apply for
How To Apply for a Scholarship for Accounting Majors
Application processes are not consistent—each program has its own set of rules and requirements and a different application process. In general, you can stick to the following guidelines to make sure your application gets accepted:
Check whether you're eligible
Respect set deadlines
Prepare all the necessary documents in advance
The Optimal Way To Get a Scholarship for Accounting Majors—Use DoNotPay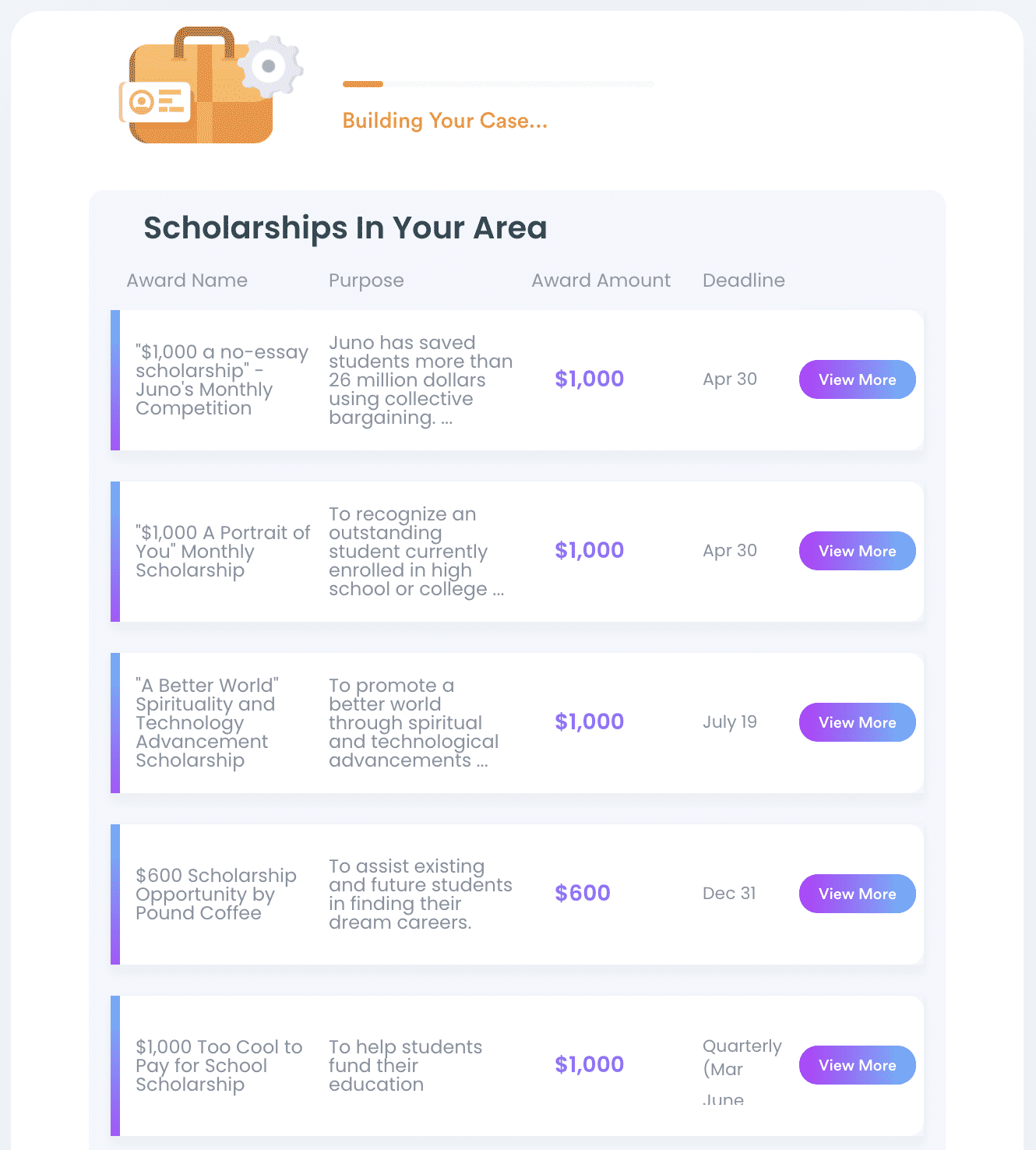 Spending weeks and months staring at your PC looking for scholarships is no longer the necessary evil. With DoNotPay, you can complete the whole research process and apply in less than five minutes. All you need to do is:
Use your browser to sign up for DoNotPay
Navigate to the Apply for Scholarships product
Answer a few questions about your academic achievements and financial status
Choose the type of scholarship that interests you
Our app will generate a list of scholarships you're eligible for, coupled with all the necessary information about them. If there are no-essay scholarships on the list, you can apply for them automatically by instructing us to complete the process on your behalf.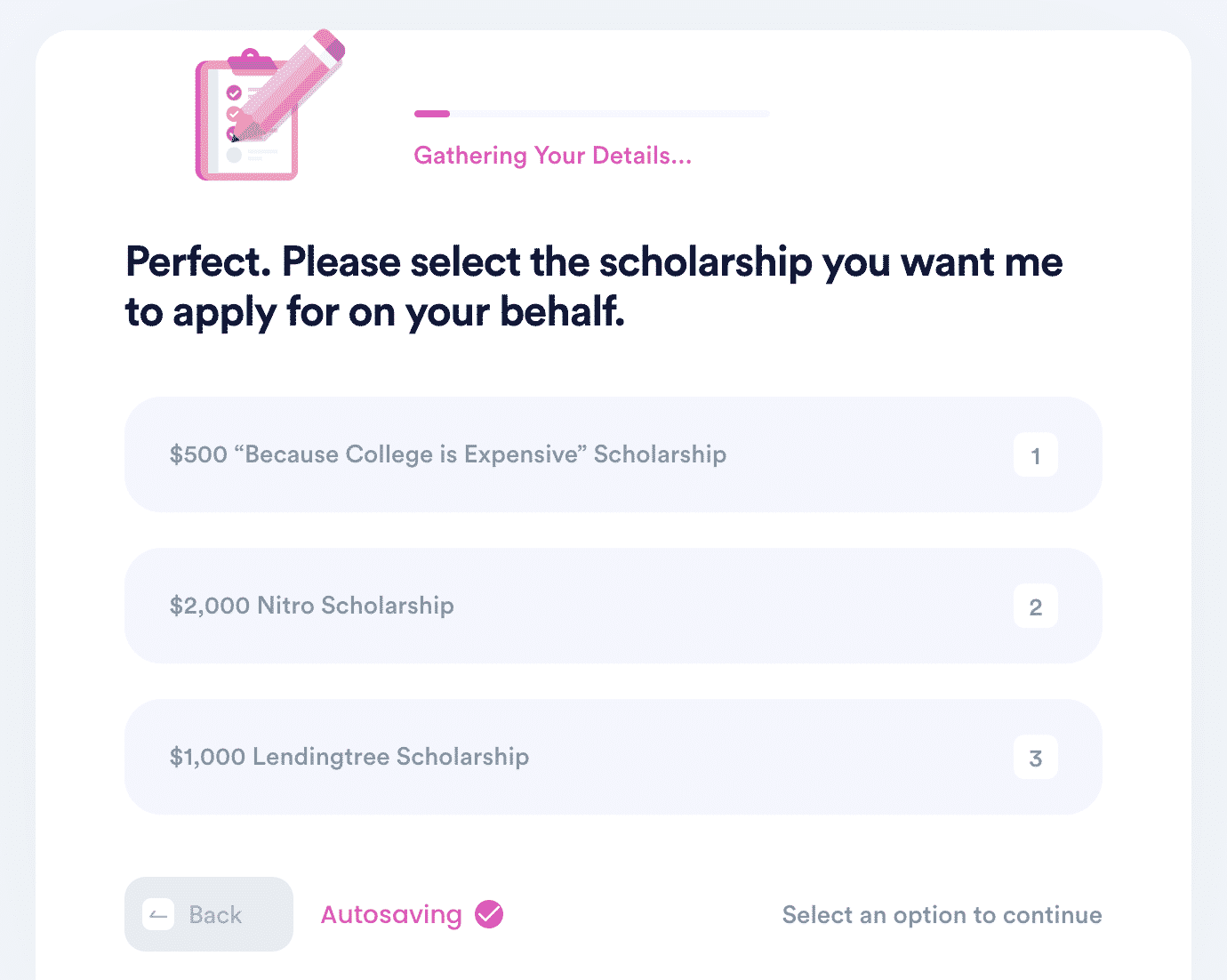 DoNotPay Turns Any Tiring Task Into a Piece of Cake
Are you tired of dealing with bureaucratic or legal matters on your own? You no longer have to—as soon as you subscribe to DoNotPay, we'll take any exhausting task off your plate.
Our app is capable of drawing up legal documents—including marital settlement agreements, child travel consent forms, powers of attorney, defamation demand letters, and affidavits to homeschool—getting them notarized remotely, filing complaints against companies, suing any individual or corporation in small claims court, sending FOIA requests, and so much more.
The World's First Robot Lawyer Offers So Much More
DoNotPay's capabilities don't end there—we can also: