Scholarship Essay—All Burning Questions Answered
When applying for a scholarship, it's hard to distinguish yourself from other applicants as most students have similar qualifications. For this reason, the quality of your scholarship essay and recommendation letter is a deciding factor for getting the necessary financial aid. Not only does it help you stand out from the crowd, but it can also help you win more money and reduce your educational expenses.
This article will provide you with the best practices for writing a top-level scholarship essay. We will explain why you need it and what it should contain, and we will also give you some excellent tips on finding scholarships you are eligible for with DoNotPay!
What Is the Purpose of a Scholarship Application Essay?
Writing a scholarship application essay is a solid way to:
Personalize your application and make it unique
List all the reasons for being a perfect candidate for the scholarship in question
Give the people who award financial aid insight into your education- or work-related accomplishments and career goals
Show the scholarship committee who you really are and emphasize the personal traits and characteristics you are proud of
When Should You Start Writing an Essay for a Scholarship?
Composing a quality scholarship essay requires a lot of effort and creativity. Give yourself enough time to brainstorm, come up with a perfect tone of voice, and decide how you want to present yourself in the essay.
For this reason, it's recommendable to start making outlines and jotting down ideas at least two weeks before submitting a scholarship application. You should always keep up with the current application deadlines to avoid late requests since they can decrease your chances of getting the necessary financial support.
What Kind of Research Should You Run To Prepare for Scholarship Essay Writing?
Here's the best way to prepare for creating a great scholarship application essay:
Get more info about the company providing the scholarship in question—By understanding what the mission of the scholarship provider is, you will know how to approach the writing task and what to highlight in your essay
Inform yourself about the desired scholarship—Scholarship and grant providers usually have specific sets of criteria you must meet for a particular aid type. Study the rules and regulations they propose and check if your qualifications match their requirements
Find the specific writing instructions if available—Most colleges have their own writing rules. Search through the institution's official website and check if there are any technical or other requirements you must meet when composing an essay
Search for the essays of previous scholarship winners—Some institutions publish winning essays, or at least a few fragments, as examples. They can serve as a great writing model for you. By reading the previous winners' essays, you may notice some good points you can use in your piece of writing
Find an appropriate scholarship essay template—Even though online samples and templates can sometimes be generic and incomplete, they can help you compose some parts of your essay
How To Write a Winning Scholarship Essay—Practical Advice
The table below presents the best tips on writing your essay successfully:
| Step | Explanation |
| --- | --- |
| Take care of technical requirements and the format of the essay | Read all the prompts carefully before you start writing. Check for mistakes one more time once you finish the entire essay. Ensure you don't exceed the proposed word count as this may decrease your chances of getting the desired scholarship |
| Don't forget grammar and spell check | Mistakes happen to everyone, but grammatical and spelling errors may ruin the provider's first impression of you and distract them from the purpose of your essay. Upon finishing the essay, examine it thoroughly a few times to exclude inconsistencies in writing |
| Create a solid structure | The best way to ensure a good essay structure is to create an outline first. Start with a strong and catchy introduction, and organize your thoughts in a simple way so that the reader can follow them without difficulties |
| Stick to the topics you are passionate about | Find the way to connect the topics that inspire you with the mission of the scholarship provider and the purpose of the award you are pursuing |
| Avoid irrelevant parts | Write about important parts of your life and relevant experiences that have something to do with the purpose of your essay |
| Don't be afraid to get personal | Showing emotions is the best way to connect with the people who will review your application. This will help them observe you as a person instead of looking at you as another number on the list. Use anecdotes and real-life stories to enrich your expression, but don't exaggerate |
Get a Full List of Scholarships You Qualify for in a Jiffy With DoNotPay
Are you having a hard time looking for the appropriate scholarships you can apply for? If the answer is yes—you are not the only one. Students usually find it difficult to keep up with all available options since there are many. By using DoNotPay, you can find exactly what you are looking for in a heartbeat and forget about these issues!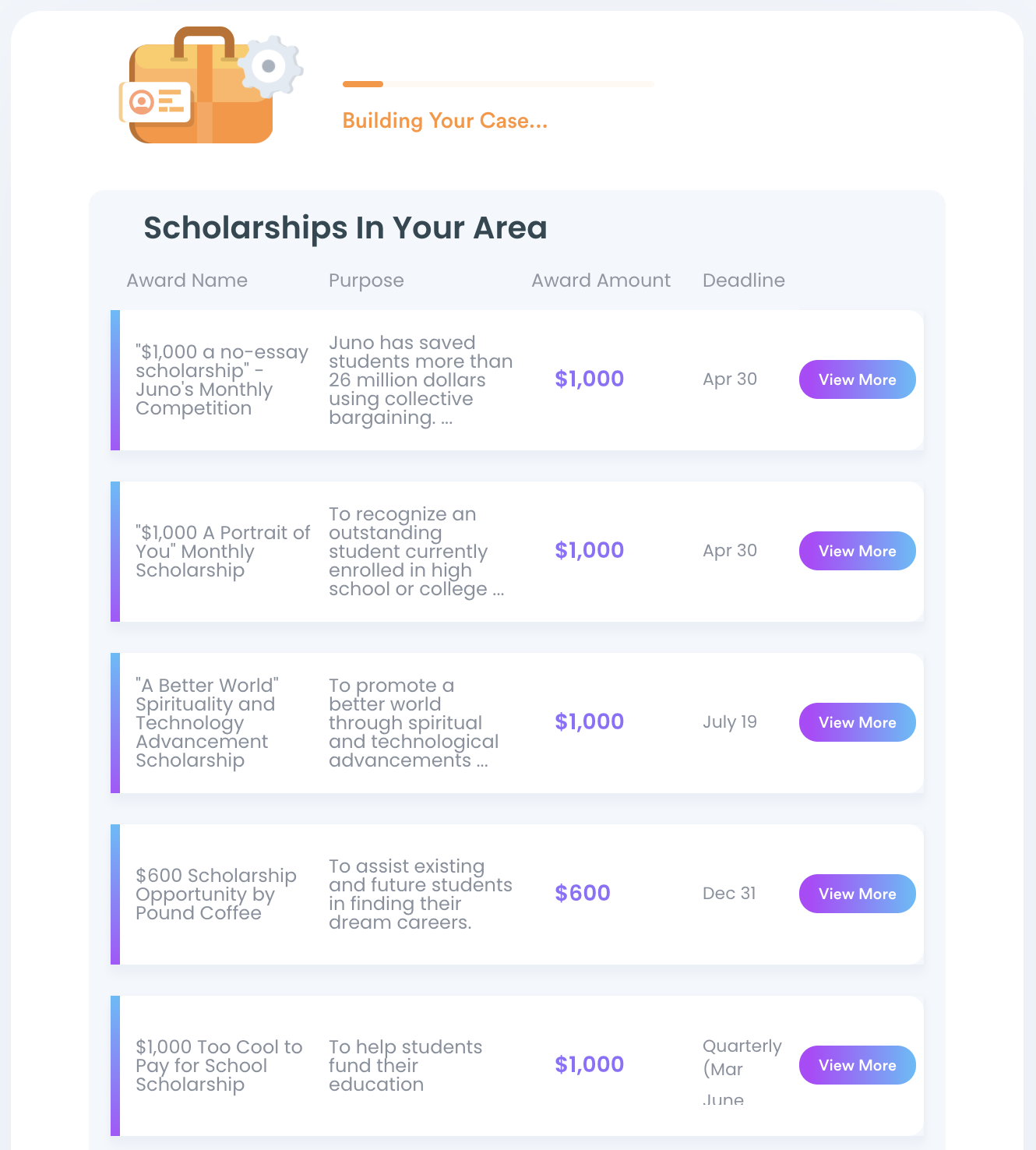 All you should do is respond to a few questions from our chatbot. By scanning your answers, we will compile a list of the scholarships you are eligible for and help you apply automatically for the no-essay ones. Another option is to select any desired financial aid program and apply on your own. The available awards include numerous:
How To Apply for Scholarships Using DoNotPay
Here are the prompts you should follow:
Navigate to the Apply for Scholarship feature
Tell us more about your level of study, educational interests, and special qualifications
Once you complete these simple steps and apply for the desired scholarship, we will send a confirmation email to your inbox.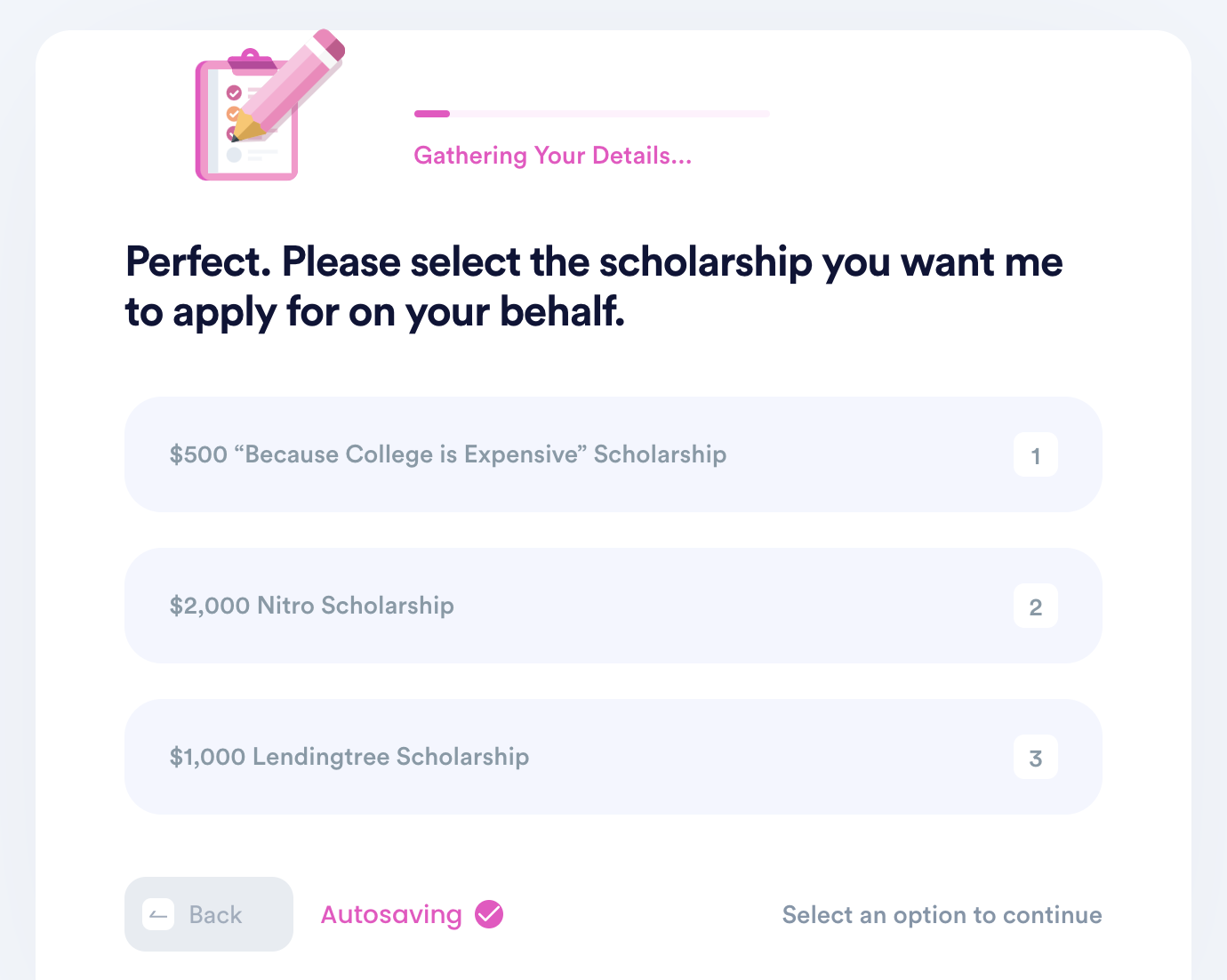 There Is No Shortage of Tasks DoNotPay Helps You With
If you find finishing administrative tasks tedious, you can rely on our app to assist you through the entire process and make it a smooth-sailing experience. Check out the table below to find out what DoNotPay can help you do:
| Deal With Companies By | Get Rid of Pesky Spammers By | Get Help With Your Studies By |
| --- | --- | --- |
| | | |
Buried in Paperwork? Not for Long!
Is creating legal documents giving you a migraine? Not everyone is acquainted with the law and legal jargon, which is necessary when writing documents, such as:
Luckily, DoNotPay can draft your legal documents in minutes! Why waste hours doing it yourself or hire a lawyer when you can have our app do it in no time?
Creating anonymous HR complaints and demand letters for your inconsiderate neighbors is also something our app does best!