Skip Filling Out a Scholarship Apply Form With DoNotPay's Help
Tuition fees in the United States reach new heights every year. It's becoming impossible for students of any level of study to keep up with financial demands without getting financial aid from third parties. Thankfully, many organizations and institutions offer scholarships and grants so that students can continue with their education.
Getting a scholarship is no easy ride. To secure one, you need to know:
When applying for scholarships, students need to fill out various forms and documents to show why they deserve to be chosen. In this article, we'll talk about the scholarship apply form—discover what it consists of and whether you need to bother filling it out. We'll also show you how DoNotPay can make your life easier when it comes to finding and applying for scholarships.
Applying for a Scholarship—How Do You Do It?
How the application process will go depends on the program you're applying for. Scholarships have different requirements, and those dictate what you will need to do when you apply. Most programs ask for similar documents, such as:
Transcripts
Scholarship application forms
Scholarship Apply Form—What Is It?
Every scholarship application process consists of an application form. Organizations behind the program use the form to gather general information about you and your academic experience.
Here are some details you'll probably have to provide in every scholarship application form:
Your name
Date of birth
Scholarship category
State of domicile
Mobile number
Email address
Bank account details
Identification details
Application for Scholarship Sample
Filling out a scholarship application form can be time-consuming and may require details that you don't know by heart. That's why it's important to go through the form before you start filling out general information.
Application forms vary depending on whether you're applying for high school or college financial aid. Check out the table below to see the differences:
College Scholarship Application Template
High School Scholarship Application Template

Full name
Birthdate
Mobile number
Email
Home address
Gender
Are you a U.S. citizen?
Ethnic origin
Race
Veteran status
Career objective
Major area of study
Interests in other fields of study
Name of high school attended
Year graduated
Ranking in graduation class
High school GPA
Academic awards or honors
Organizations you're a member of
ACT score
E-signature

Full name
Student ID
Birthdate
Mobile number
Email
Home address
Gender
Are you a U.S. citizen?
Ethnic origin
Race
Name of the University to which you wish to apply/have applied
Overall average grades
School activities
Community activities
E-signature
Requirements for Getting a Scholarship
Before you even get to a scholarship application form, you need to know whether you're eligible for a certain scholarship or not.
If you wish to secure a merit-based scholarship, you will need to show an adequate level of academic excellence—these programs usually demand a minimum GPA of 3.0 and corresponding ACT or SAT scores.
Another aspect college scholarships are particularly interested in are extracurricular activities. For many programs, you will need to demonstrate volunteer work, community service, or a track record of working on projects that were not class-related.
If you don't have a high GPA, you can apply for need-based scholarships, but you will need to prove that your family doesn't have enough income to support your studies. Need-based programs offer either nonrepayable grants or loans you have to repay later.
Different scholarships focus on different levels and fields of study, as well as different demographic groups. Check out this table to find out more:
Scholarship Focus
Examples
Level of study
Field of study
Student group

Students of faith, including:
Minorities, including:
Where You Can Find a Scholarship
The hardest part of obtaining a scholarship is finding one you qualify for. You need to invest weeks or months of your time into researching various scholarships and their requirements—that's the number one reason why so many students give up.
If you're new to the scholarship-chasing game, here are a few pointers to where you can start your search:
Your school's financial aid office—The majority of schools in the United States have a financial aid office students can turn to for help with finding out about financial aid options and how the application process goes
Schools' and universities' websites—If you're in high school or college, you can visit your school's website to learn about opportunities dedicated to the institution you're enrolled at
Scholarship websites—Already found a program you're interested in? Most scholarships have websites where you can find all the necessary information about eligibility, award amount, and the process of applying
DoNotPay—Our app allows you to skip the research and find all scholarships in one place. When you sign up, you can get a list of all scholarships you're eligible for in under five minutes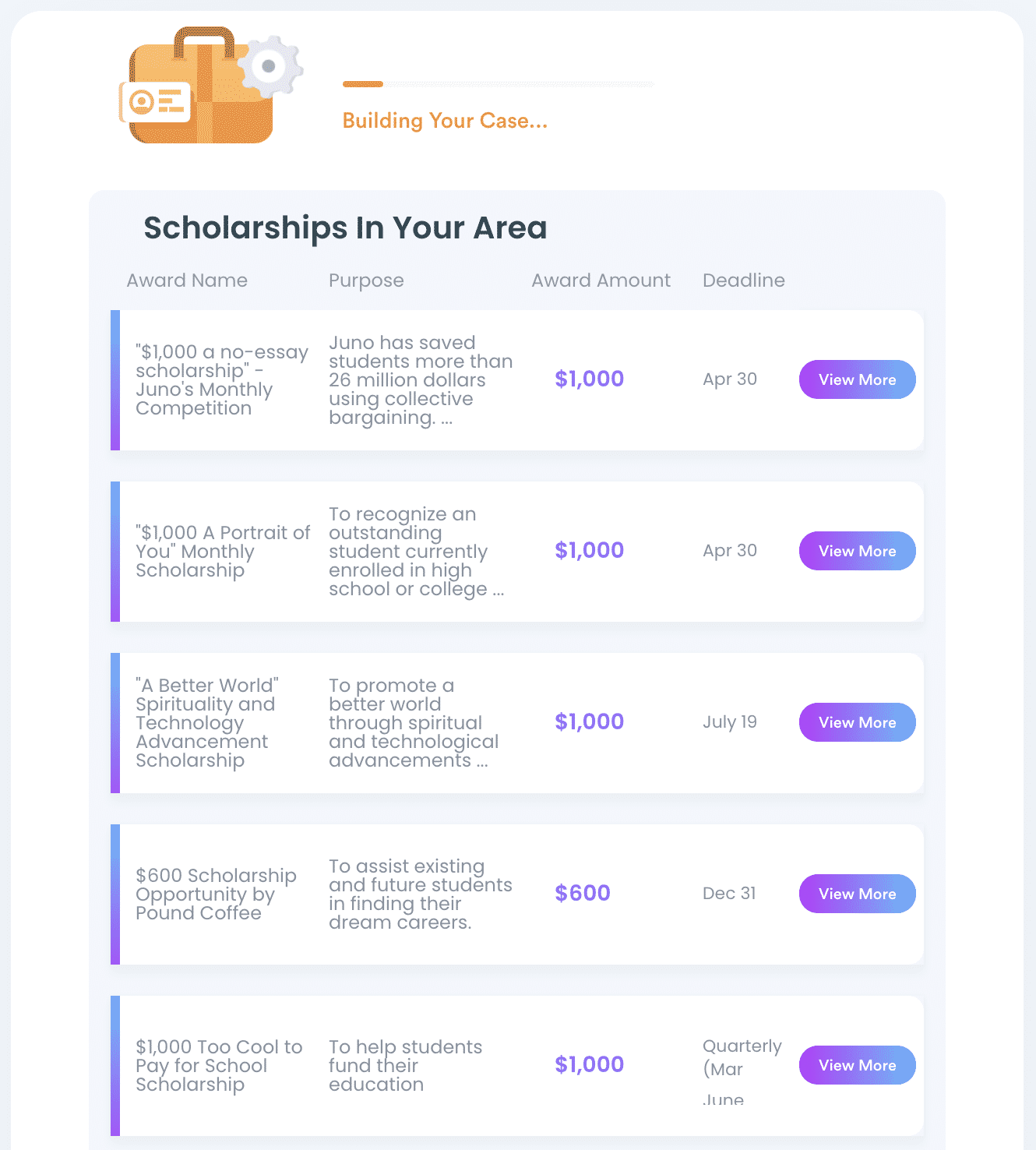 You Can Avoid Completing the Scholarship Application Form With DoNotPay
The process of finding a scholarship can be difficult. When you find one, you need to go through the application process that requires you to answer tons of questions and provide additional paperwork. You can use DoNotPay not only to find all the available scholarships at once but also to apply for no-essay scholarships effortlessly.
All you need to do is the following:
Sign up for DoNotPay via your browser
Choose our Apply for Scholarship product
Answer a few questions from our chatbot regarding your level of study and academic performance
Choose a type of scholarship you're interested in
Our app will give you a personalized list of all scholarships for which you can apply, together with all the necessary information about the program and what it offers. If there's a scholarship that doesn't require an essay, you can instruct DoNotPay to automatically apply on your behalf. This way, you don't have to bother filling out college scholarship application forms.
Administrative Issues? We Don't Know Them!
Forget about getting frustrated and overwhelmed by the administrative tasks waiting for you to complete them! With DoNotPay's numerous tools, you can easily resolve such tasks in a heartbeat! All you need to do is sign up for our app, and you'll be able to:
Use DoNotPay To Protect Yourself at All Times
Are pesky robocalls and email spammers working your last nerve? Don't despair—we are happy to help you get rid of them! In a few clicks, you can also stop text spam and avoid the incessant phone buzzing!
You can use our app to protect your privacy by creating burner phone numbers and virtual credit cards. That way, you don't have to disclose personal info when subscribing to online services.
In case you're looking for a way to keep yourself safe from stalkers or work discrimination, we'll help you report the case and walk you through the entire process!
Protecting your work from copyright violation and asking for violent crime compensation in your stead is also something DoNotPay can do!