All About the Schengen Tourist Visa Requirements
Countries of the Schengen area hide many cultural and natural treasures that attract tourists from all parts of the world. The pleasure of discovering such gems is followed by various administrative tasks you must complete to get permission to visit these destinations. Depending on your nationality, residency, or other parameters, you may need to apply for a Schengen visa to enter this area freely.
Are you having trouble finding updated Schengen tourist visa requirements online? Search no more! This article contains everything you need to request your stay permission without complications. Use DoNotPay and learn how to rock any visa application with zero mistakes and all the necessary paperwork!
What Is the Schengen Area, and What Countries Does It Include?
The Schengen area is a region including 26 European countries and covering the majority of the continent. For many countries, including the USA, traveling to this zone doesn't require visas or checks at their mutual borders. It means that most tourists can move freely from one Schengen country to another without getting additional permissions.
Members of the Schengen zone are:
The entire area adopted a single visa policy, and all the countries form part of the same international travel jurisdiction.
Are There Any U.S. Travelers That Need a Schengen Visa?
Even though U.S. tourists generally don't need a Schengen tourist visa, there may be specific groups of travelers who can be denied entry to Schengen countries without it. Immigration officials at the borders have the right not to let you pass if they believe:
Your intended activities in the Schengen country don't comply with the description of traveling for tourist purposes
You should get a Schengen visa for any other reason
What Are the Tourist Visa Requirements for Schengen Countries?
You can find a full list of the required documents and other criteria you must meet to start the application process in the table below:
Requirements
Details
Passport requirements
You need a passport that:

Was issued in the last ten years
Has:

Minimum remaining validity of three months beyond your stay period in the Schengen area
At least two empty pages

Mandatory documents and requirements for all categories of travelers
Besides a valid passport, you also need to prepare:

Two recent passport-like photos no older than three months
Printed, completed, and signed Schengen visa application form
Proof of return flight reservation or a confirmed itinerary for your upcoming trip—must include travel dates and flight numbers
Travel Health Insurance with the minimum of $30,000 for medical emergencies expenses
Proof of booked accommodation, such as a hotel reservation or rent agreement
Evidence of sufficient financial means, such as a sponsorship letter or a bank statement confirming you have enough funds to cover all the travel expenses

Additional paperwork for specific categories of travelers

Minors

Child travel consent form completed by parents
Document clarifying the relationship between minors and adults, such as birth certificate, divorce decree, or proof of adoption
Copies of both parents' bio-data passport pages

Students

Proof of enrollment at a specific educational institution
No Objection Letter from the educational institution

Employed candidates

Income Tax Return
Employment agreement
Leave permission from the employer

Self-employed candidates

Income Tax Return
Photocopy of business license
Bank statement of the company for the previous six months
How To Apply for a Europe Tourist Visa—A Step-by-Step Explanation
Here's what the entire Schengen visa application process should look like:
Start preparing your documents in advance—You should apply at least 15 days before the planned trip, but it's recommendable to do it around three weeks before traveling. To be on the safe side, you should collect all the necessary paperwork as early as possible
Schedule an appointment with the appropriate visa-issuing authority—This can be the embassy of the chosen Schengen country or one of its consulates nearby. Depending on the institution, you may need to arrange the interview online or in person. If you want to visit multiple Schengen countries, you should book an appointment at the embassy of the country where you will spend the majority of your stay
Attend the interview with the officials—Submit all the gathered documents to the visa consular. You will need to answer some questions about your intended travel and other related issues
Pay the Schengen visa application fee—The price varies depending on your age, and it's non-refundable. You will pay $96 as an adult or $48 for children from six to 12 years of age. Children below six years of age, students, teachers, and researchers don't pay any administration fees
Once you do that, wait for your visa to get approved. The visa-issuing authority in charge usually needs around ten days to process your application.
How Does DoNotPay Help You Make the Most of Your Tourist Visa Application?
There's no room for mistakes when it comes to tourist visa applications. If you fail to present all the requested forms and documents or provide inaccurate info, your request may get rejected. To exclude such issues and ensure you start your trip in peace, give DoNotPay a shot and apply for a visa with zero fuss!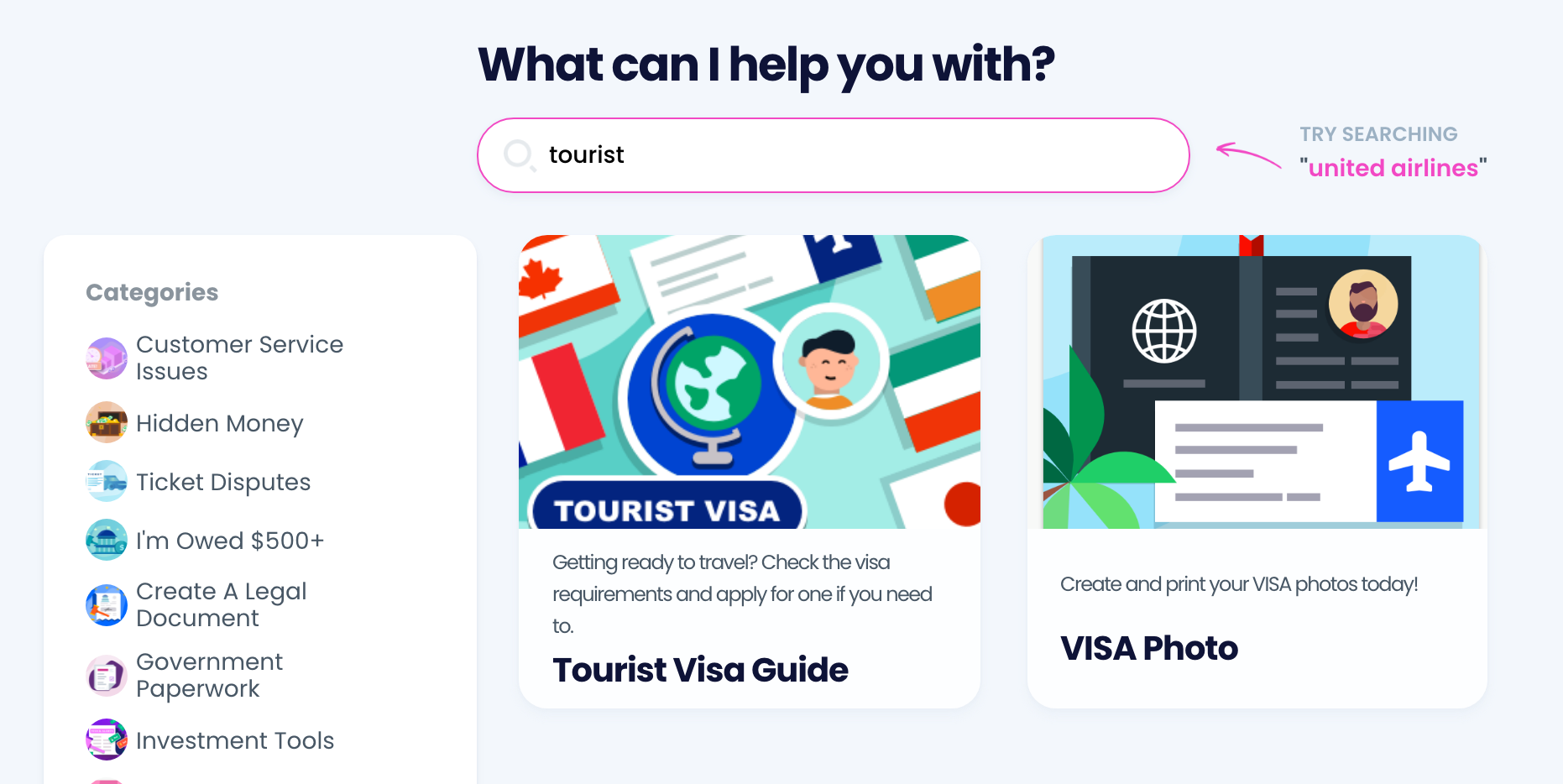 All we need you to do is the following:
Choose Tourist Visa Guide
Select I Am a U.S. Citizen or Own a U.S. Passport
Enter the name of the desired destination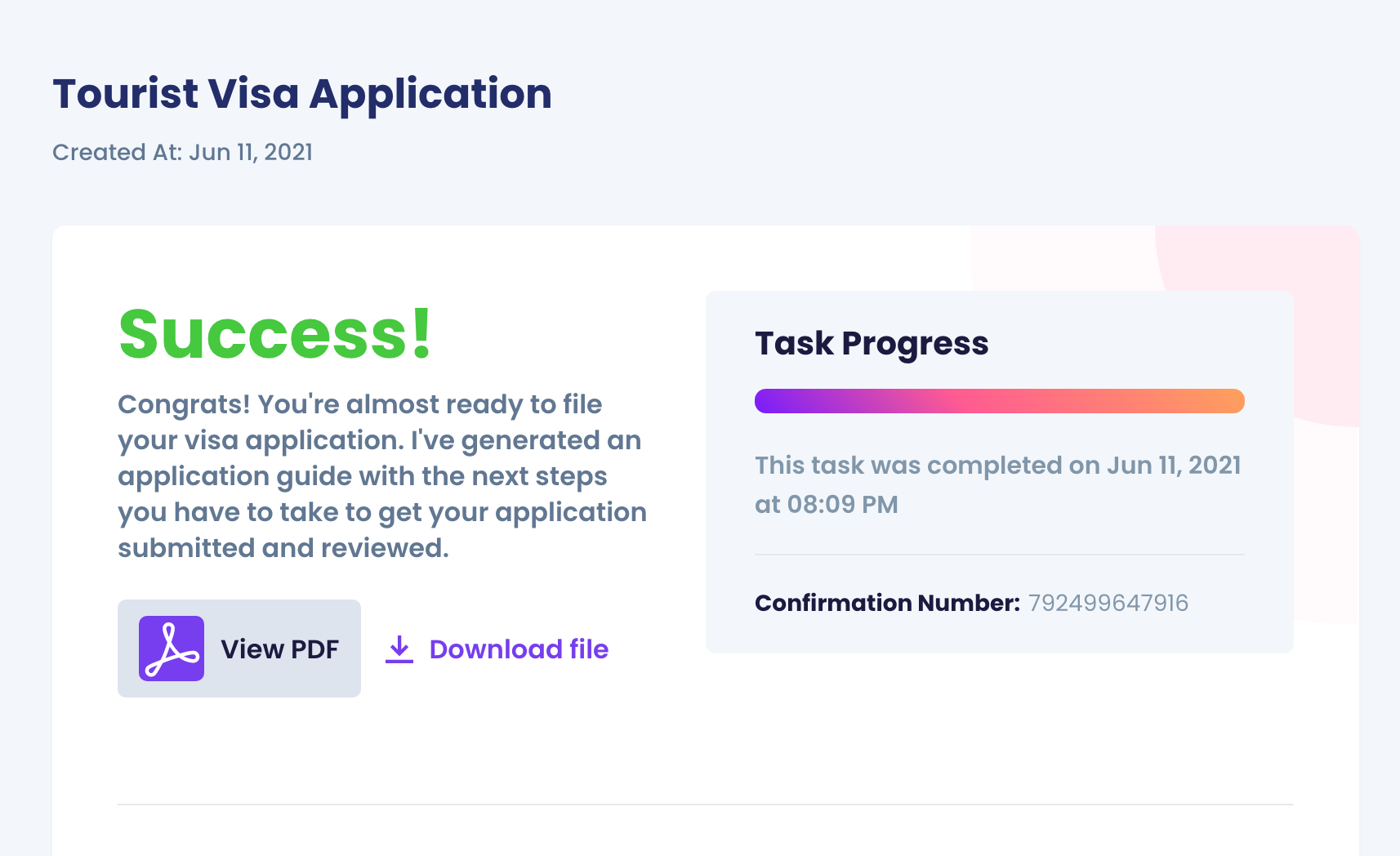 Once you do it, we will provide you with everything you need to file an error-free application, including:
List of all documents you should prepare
Application forms
Information about the availability of email applications at the specified country's embassy or consulate
Choose From a Variety of DoNotPay's Amazing Tools
Did you manage to solve the issue with our app? If the answer is yes, you may also be interested in checking out other interesting features we offer. DoNotPay can help you:
| Get Rid of Spammers By | Deal With Uncooperative Merchants By | Get Help With Your Studies By |
| --- | --- | --- |
| | | |
Let DoNotPay Prepare Important Documents for You
Are you having a hard time drawing up a contract due to insufficient legal expertise? Say goodbye to failed drafts—DoNotPay can generate divorce settlement agreements, powers of attorney, child travel consent forms, and many other legal documents in under five minutes!
We will also help you create anonymous HR complaints and demand letters for your neighbors if you are experiencing any issues with them.