SC Property Tax Exemption for Disabled Veterans
—The Scoop
South Carolina offers various tax relief options to residents who need help with paying property taxes. SC property tax exemption for disabled veterans is one of the choices available in this state. If you want to find out whether you are eligible for this exemption, you can consult DoNotPay!
SC Property Tax Exemption for Disabled Veterans
—Who Is Eligible?
South Carolina offers a property tax exemption to former members of the U.S. Army who have a total and permanent disability that is service-connected. These veterans may qualify for a total exemption, which applies to their homes and up to five acres of land. They need to:
Surviving spouses of veterans are eligible for tax exemptions for the home if they inherit sole ownership from the spouse who passed away. Disabled veterans in South Carolina can also apply for a tax exemption on up to two private passenger vehicles that they own or lease themselves or jointly with a spouse.
Other
South Carolina Military Property Tax Exemptions
South Carolina provides property tax exemptions for other military members, such as:
Medal of Honor recipients

Former prisoners of war (POW) from WWI, WWII, Vietnam War, or the Korean War
These service members can get a property tax exemption for their homes and up to one acre of surrounding land. Take a look at the table below for more details:
Eligible Group

Required Documents

Medal of Honor Recipients

Proof of legal residence

Copy of a recorded deed

VA letter that certifies that they are a Medal of Honor recipient

Former Prisoners of War (POW)

Proof they are a legal resident in South Carolina

Copy of the recorded deed

VA letter that proves that they were a POW
Surviving spouses of these service members qualify for this tax exemption if they inherit the ownership of the property from the spouse.
South Carolina Homestead Property Tax Exemption
The Homestead Exemption in South Carolina is a complete exemption of taxes on the first $50,000 in the Fair Market Value of your property. To qualify for this property tax exemption, you need to hold complete fee simple title to your primary legal residence and be:
Find Out if You Are Eligible for the SC Property Tax Exemptions With DoNotPay
Are you not sure whether you can apply for South Carolina property tax exemptions? DoNotPay can let you know in a few minutes! Our app will provide you with a guide on property tax exemptions available in SC and inform you if you are eligible for any. 
You only need to follow these simple steps:
Sign up for DoNotPay

in your favorite web browser

Find and open the

Property Tax

product

Answer a few questions about yourself

Provide some answers about the property you own
If you qualify for a property tax exemption, you can count on DoNotPay for application tips as well.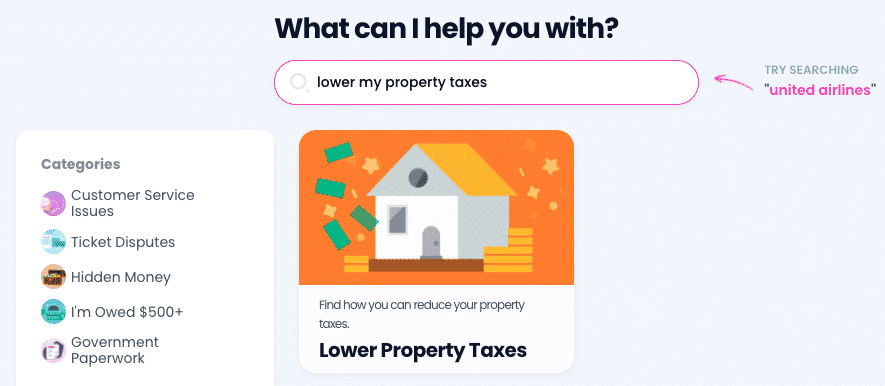 Other Ways To Reduce Property Taxes in South Carolina
In addition to applying for property tax exemptions, you can try a few other methods that can help you lower your tax bill. Other options include:
DoNotPay can help you with the last step!
Appeal Property Tax Assessments in South Carolina With DoNotPay
Get help from DoNotPay and appeal property tax assessments if necessary. You should consider taking this step if you notice a huge difference between this and last year's tax bill. You'll find the instructions for dealing with the property tax assessor in our Lower Property Taxes product.
States With Property Taxes Lower Than in South Carolina
In case you ever thought about moving from South Carolina to another state with more affordable property taxes, you should know what your options are. Here are some examples of states with low property tax rates:
Don't Let Companies Take Your Hard-Earned Money!
People love to subscribe to all sorts of services—especially if there are free trials involved. The problem is that most of them forget that they signed up for anything in the first place. Companies are aware of this, which is why they auto-renew memberships as soon as the free trials expire.
Don't let them get away with it—use DoNotPay to sign up for free trials and cancel subscriptions right before they renew. If you want to save even more money, use our platform to learn how to handle high bills, parking tickets, college application fees, canceled or delayed flights, or faulty services you should get refunded for.
Use DoNotPay To Stop Illegal Activities and Earn off Scammers!
Our AI-powered platform can assist you in dealing with all sorts of scammers. If you got any of the following, the world's first robot lawyer will help you seek justice:
Do you want to protect yourself and your loved ones from stalking and harassment as well? Use DoNotPay to learn how! If the situation with a stalker escalates, our app is going to help you take them to small claims court by preparing all the paperwork and your court statement.
Don't stop there—check out how you can bypass phone number verification, claim any type of warranty, or pass any government test with flying colors!