Everything You Need To Know About
SC FOIA
Requests
South Carolina's Freedom of Information Act was established in 1978. If you live in this state, you have the right to send an SC FOIA request and access certain documents that interest you. You may pick among several options of sending a FOIA request, but you should use DoNotPay if you wish to get the job done fast and without stress.
Use DoNotPay To File a
South Carolina FOIA Request
in a Jiffy
Writing a FOIA request can be a tiring and complicated task. The good news is that you can avoid all the tedious parts of the process if you use DoNotPay. We've simplified the procedure as much as possible, and you'll only need to follow these five steps:
Open DoNotPay in any

web browser

Locate our FOIA service

Pick the state

agency

option

Type in the name of the agency you are dealing with

Tell us if you want additional options, such as fee waivers or expedited processing
With all the info you provide us with, we will compose the FOIA request letter and send it to the agency of your choice.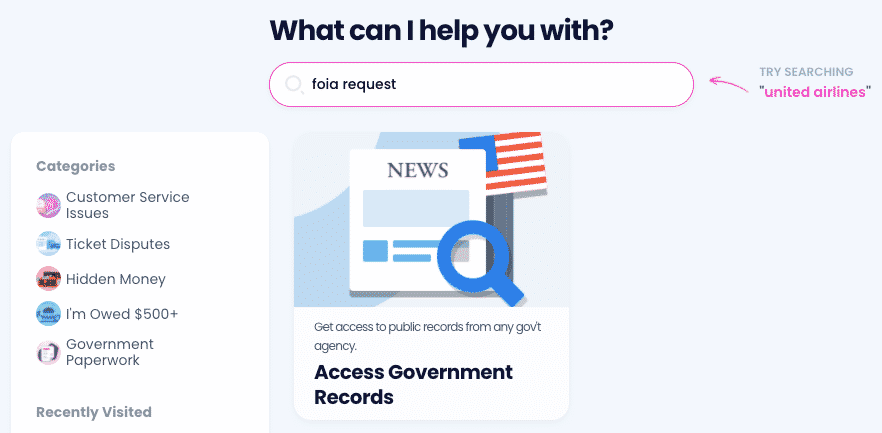 DoNotPay Can Deal With All Your FOIA Requests Easily
DoNotPay's FOIA feature works with local, state, and federal agencies. Here are some examples of institutions we can help you request records from:
We can also give you the details of filing FOIA requests in other states, such as Indiana, Florida, Virginia, California, Massachusetts, or North Carolina. Learn everything about the easiest way of requesting access to the police records as well. 
How To Submit an
SC FOIA Request Form
on Your Own
To submit your FOIA request in South Carolina, you will have to write the letter yourself. The important part is that you have all the required documentation and that the request is in written form. Try to find some FOIA request templates to grasp the important info you should include in a request. You can send it via:
Fax

Mail

Email
Sometimes there is an option of delivering the request to the agency in person, and some agencies might provide you with a FOIA request form. You'll need to find out the specifics from the institution you wish to access the records from. Make sure to include as many details about the information you are looking for to narrow down the search.
If your request gets rejected or you are not satisfied with the results of the research, you can always file an appeal.
FOIA
Exemptions in
South Carolina
You should check whether the information you need is already published before sending your FOIA request. If it is not, make sure to find out whether it falls under one of the FOIA exemptions. In South Carolina, agencies can withhold certain information if they see it necessary. 
Take a look at the table below to check what info can't be shared and what is open to the public:
SC FOIA Exemptions
Records Open to the Public

Information considered highly personal, such as Social Security numbers

Department of Revenue trade secrets of public bodies and tax standards

Legal correspondence that is violating attorney-client privilege

Specific police records that can harm the agency's efforts in a certain case

Contract documents before the contract, such as the sale of property, is finalized

Industrial development offers before the offer is announced and accepted

Names of employees

Staff manuals and instructions

Minutes of meetings

Law enforcement reports on crimes

Info from an account or contract dealing with the receipt or expenditure of public funds

Salaries of public employees who make $50,000 or more
You can also request to access FOIA records on yourself. If you're asking for info on someone else, you'll need to provide their written consent.
How Much Do You Have To Wait for a
FOIA Request in SC
To Be Processed?
Government institutions in South Carolina have to respond to a FOIA request within ten business days in normal circumstances. If the record you wish to access is older than two years, the deadline is prolonged to 20 business days. In case you don't get a response within this time limit, you should get in touch with the agency and see what the issue is.
If everything is well, the agency will process the record within 30 calendar days. For records older than 24 months, the deadline is 35 days.
See if the agency you are requesting info from has a way to check the status of your FOIA request.
SC Freedom of Information Act
Fees
The money you will spend on a FOIA request in South Carolina will depend on the hourly wage of a staff employee who is processing the request. 
You should also count on possible fees for fax, postage, photocopying, and electronic storage devices.
Don't Let Companies Take Your Hard-Earned Money!
People love to subscribe to all sorts of services—especially if there are free trials involved. The problem is that most of them forget that they signed up for anything in the first place. Companies are aware of this, which is why they auto-renew memberships as soon as the free trials expire.
Don't let them get away with it—use DoNotPay to sign up for free trials and cancel subscriptions right before they renew. If you want to save even more money, use our platform to learn how to handle high bills, parking tickets, college application fees, canceled or delayed flights, or faulty services you should get refunded for.
Use DoNotPay To Stop Illegal Activities and Earn off Scammers!
Our AI-powered platform can assist you in dealing with all sorts of scammers. If you got any of the following, the world's first robot lawyer will help you seek justice:
Do you want to protect yourself and your loved ones from stalking and harassment as well? Use DoNotPay to learn how! If the situation with a stalker escalates, our app is going to help you take them to small claims court by preparing all the paperwork and your court statement.
Don't stop there—check out how you can bypass phone number verification, claim any type of warranty, or pass any government test with flying colors!