Everything You Should Know About SBA Small Business Loans
If you lack the funds to keep your operations going, applying for a small business loan is an effective course of action. This type of financial aid is a viable choice for up-and-coming entrepreneurs struggling to cover short- and long-term expenses.
In this article, we break down the most popular SBA small business loans and address:
Who the most prolific SBA lenders are
What the borrower's qualifications should be
We will also explain how to start the application process using DoNotPay—a powerful AI-operated app that can help you organize the required paperwork and generate a flawless loan request letter with speed and efficiency.
What Are SBA Small Business Loans?
The Small Business Administration (SBA) is a government-backed agency that secures funding for small to medium-sized businesses. Instead of the SBA issuing the funds, the federal small business loans are provided by private lenders, such as banks, credit unions, and non-profit organizations. The SBA acts as a mediator and loan guarantee.
You can apply for a wide range of programs that cover specific business-related purposes, such as:
The SBA loans are a popular form of financial aid since the overall terms and conditions are designed to benefit small-scale businesses. Some of the advantages of getting an SBA small business loan include:
Competitive rates—The prime rate is the base for SBA interest rates, with the addition of "spread," i.e., markup rates
Low fees—Apart from the initial guarantee fee and the annual service fee, you won't have to worry about additional costs
Ample loan terms—The repayment window for the SBA loans is incredibly big, with the maximum loan maturity of 25 years
Who Are the Top SBA Lenders?
The SBA collaborates with hundreds of lending institutions throughout the U.S. Currently, some of the most active SBA lenders are:
Live Oak Banking Company
U.S. Bank, National Association
Types of SBA Small Business Loans
Depending on the basis for the loan and the required budget, you can select from a wide range of SBA programs. Here are the most popular loan types:
SBA Loan Program
Maximum Loan Amount
Interest Rates
Loan Purpose
SBA 7(a) loans
$5,000,000
Prime rate + 2.25%–4.25% (loans younger than seven years)

Prime rate + 2.75%–4.25% (loans over seven years)

Working capital (both short-term and long-term)
Refinancing current debt
Business expansions
Renovation
Equipment and furniture

SBA 504 loans
$5.5 million
Fixed-rate from 2.81% to 4%

Maintenance, modernization, or renovation of existing real estate and facilities
Construction of new facilities
Equipment and machinery

SBA Express loans
$500,000
Prime rate + 6.5% (loans under $50,000)

Prime rate + 4.5% (loans over $50,000)

Working capital
Equipment
Real estate purchase
Business expansion

SBA microloans
$50,000
Negotiable
SBA Community Advantage loans
$250,000
Prime rate + 6%
For miscellaneous purposes. It cannot be used for revolving credit
SBA Export Express loans
$500,000
Prime rate plus 6.5% (loans under $50,000)

Prime rate plus 4.5% (loans over $50,000)

Increase in export development
SBA international trade loans
$5 million
Prime rate + 2.25%–4.25% (loans under seven years)

Prime rate + 2.75%–4.25% (loans over seven years)

Expansion of export sales
Modernization
Funding for competing with global marketplace rivals

Small Business Administration disaster loans
$2 million
Fixed rate of 3.75% with a 30-year loan term
Repairment costs after a disaster
Small Business Administration Loan Requirements
You must ensure you are eligible for a small business loan. The specific requirements may differ depending on the lender and loan program, but the basic qualifications include:
Businesses registered in the U.S.
For-profit business
Business maturity (except for startup loans)
Good business credit history (credit score above 650)
Legal and financial documentation:
Balance, profit and loss, and cash flow statement
Income tax return (business and personal)
Active business licenses and leases
Financial projection for the upcoming year
Note that the SBA requires borrowers to provide collateral when applying for government grants for small business loans. Each person who owns 20% of the company must guarantee the loan terms and conditions will be met.
If you are eligible, you can proceed to choose a lender and fill out an application form using the gathered documentation.
Increase the Likelihood of Getting a Loan for Your Small Business With DoNotPay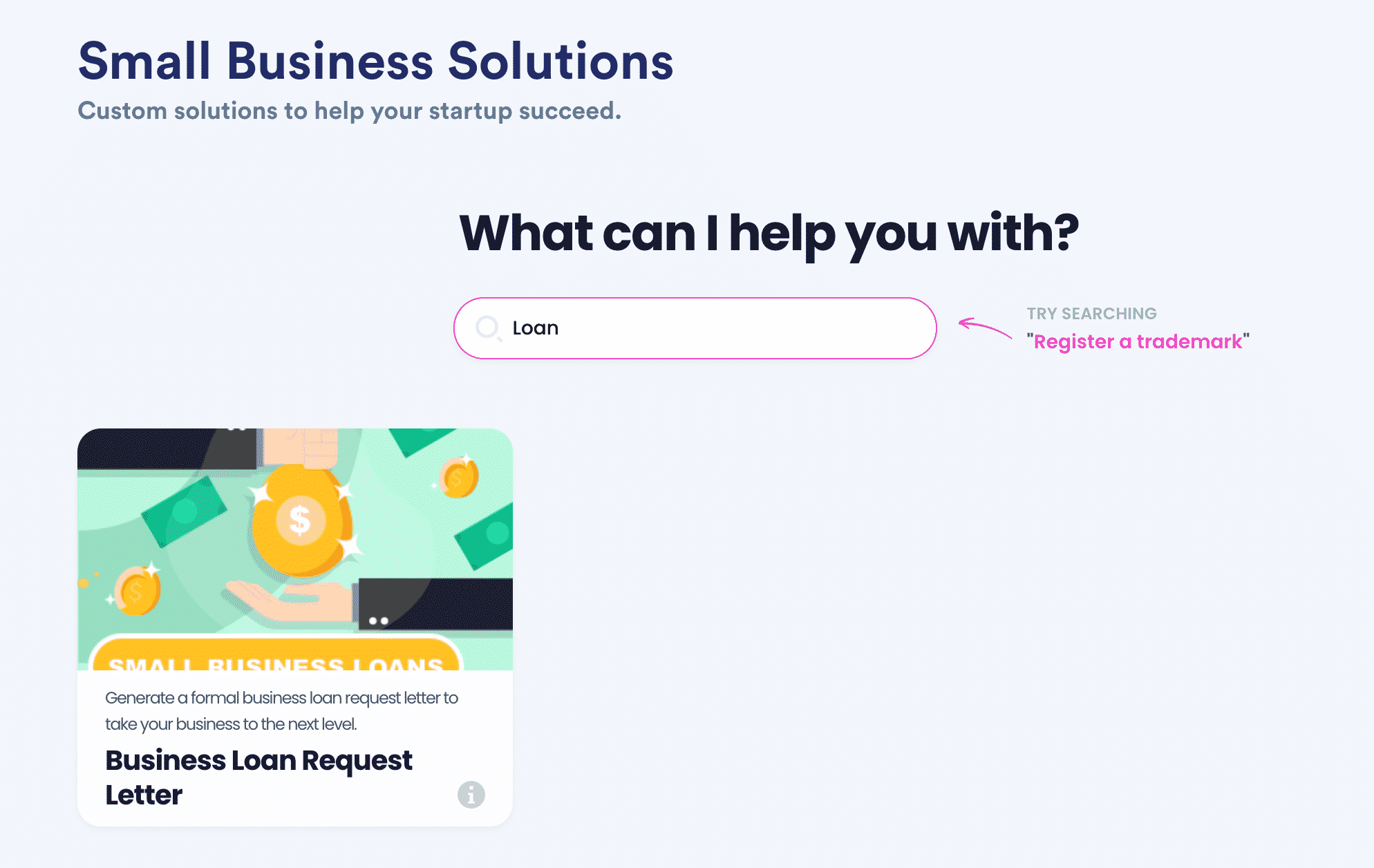 With so many active lenders and loan programs, the application process can quickly become overwhelming. With a DoNotPay subscription, you will be able to complete the mandatory steps and increase the likelihood of getting the desired SBA small business loan and find a suitable lender.
Our Small Business Loan Request Letter product streamlines the administrative procedure and composes a flawless loan request letter.
All you have to do is:
Gather all the paperwork
Access the product by logging in to DoNotPay
Tell us about your small business and provide the necessary details about the loan
Upload the documents
Once you answer the questions from the chatbot, our AI-powered app will generate your application letter using the provided information.
Don't have a lender in mind yet? We will provide you with the top three lenders that fit your needs. You only need to access our integrated Find Online Business Loan Lender product and answer a few questions.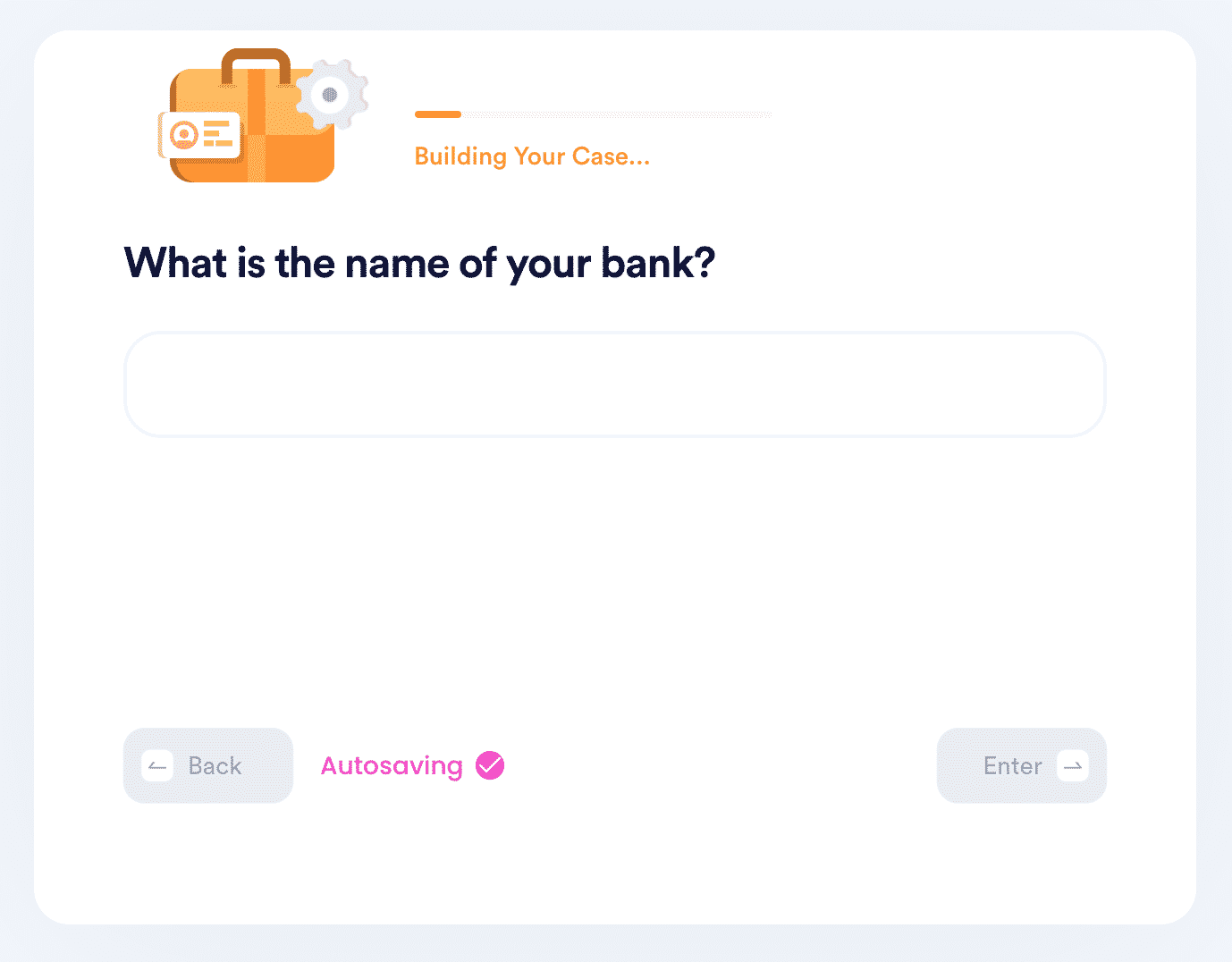 Resolve Various Business Problems With the Help of DoNotPay
Handling annoying administrative issues is the last thing you want to worry about while trying to build a business empire. The good news is that you do not have to! DoNotPay has developed many nifty products that make various pesky tasks easy to complete.
Some of the small-business-related matters we can help you with are:
Taking out business loans
Obtaining an Employer Identification Number (EIN)
Automating the filing of 83(b) election forms
Requesting your money from customers who won't pay
Registering a DMCA agent
DoNotPay can also make communication with your clients or business partners easier as we enable you to fax and mail your letters, forms, and other important documents without leaving your office.
Maintain a Good Business Reputation
It is no secret that building a trusting relationship with clients takes time and effort, so why have all that hard work ruined by negative online reviews that are fake? DoNotPay is here to help you remove illegitimate, fake reviews in a matter of clicks!
Want to dispute unfair chargeback requests but are not sure how to go about it? By using our Fight Chargebacks feature, you can have DoNotPay create a customized chargeback rebuttal document in a few minutes.
With our app, you can also protect your trademark from people trying to use it, file the self-certification request with the Privacy Shield program, and handle many other aspects of your business hassle-free!