File for a Sarpy County Divorce Without a Hitch
Getting a divorce can be a hassle because you need to understand the formal requirements you need to meet, the right paperwork you need to fill out and submit, and the total cost of the procedure.
You can go through a Sarpy County divorce without a headache if you know all the nitty-gritty details. DoNotPay provides the necessary information and a divorce settlement agreement tool to help you get divorced as painlessly as possible.
Meet the Residency Requirements for a Sarpy County Divorce
To file for divorce in Sarpy County, you need to meet the state's residency requirements. This means that you or your spouse should have lived in Nebraska for at least one year before seeking a dissolution of marriage.
You could also file for divorce in case you've:
Lived in Nebraska for less than twelve months
Been married in this state and have lived here since the beginning of your marriage
If this is the case, you should inquire at the Sarpy County court about the best way to file your request.
File the Right Divorce Forms
You need to complete and file an appropriate packet of divorce forms and follow the required steps to start the divorce process in Nebraska.
Here's a list of paperwork you must submit at the Sarpy County court:
Complaint for Dissolution of Marriage
Vital Statistics Certificate
Confidential Employment and Health Insurance Information and Social Security Information forms
Filing fee or a fee waiver
If you no longer live in Sarpy County, you can submit the required forms at the court of the county where you or your spouse reside. You can get all the forms on the following Nebraska Supreme Court webpages:
Keep in mind that you must fill out the necessary documentation accurately to avoid delaying the process and final decree issuance.
How To Have Your Spouse Served With Divorce Papers
Keep in mind that you must get your spouse served with the divorce papers within six months of filing the forms with the court.
As this is one of the requirements you need to meet, here are the options you can pursue to have the documents served properly:
How To Serve the Divorce Papers to Your Spouse
Additional Information
Voluntary appearance
Give your spouse the forms to:

Sign them
Return them to you or the court

Praecipe for summons
Have a sheriff deliver the documents to your spouse
Service by publication
Publish the notice of the divorce in the newspaper
Next Steps in the Sarpy County Divorce Process
Once your spouse receives the divorce papers and signs them, you need to wait for 60 days for the first hearing. In the proceeding, the judge will:
Review the submitted documentation
Hear your and your spouse's testimonies
Decide whether to sign the divorce decree or not
To avoid any problems and delays, you should cooperate with your spouse before the scheduled hearing and agree on the key divorce matters, including:
Child custody and support
Division of property
A friendly and uncontested divorce is the least expensive, complicated, and time-consuming procedure during which you:
Can reach an out-of-court settlement with your soon-to-be ex-spouse
Don't have to hire a lawyer, i.e., you can complete the whole process alone or with the help of a mediator and DoNotPay
to create a rock-solid divorce settlement agreement specifying all the agreed divorce matters for your quick uncontested divorce.
DoNotPay Is the Right Way To Prepare a Reliable Divorce Settlement Agreement
You don't have to spend a lot of money on a divorce. Sit down with your spouse, negotiate and reach an agreement, gather the necessary forms, complete them, and file them. You can do all this alone without paying a hefty sum for services.
DoNotPay can help you prepare your divorce settlement agreement, a document that will help you go through your divorce much easier.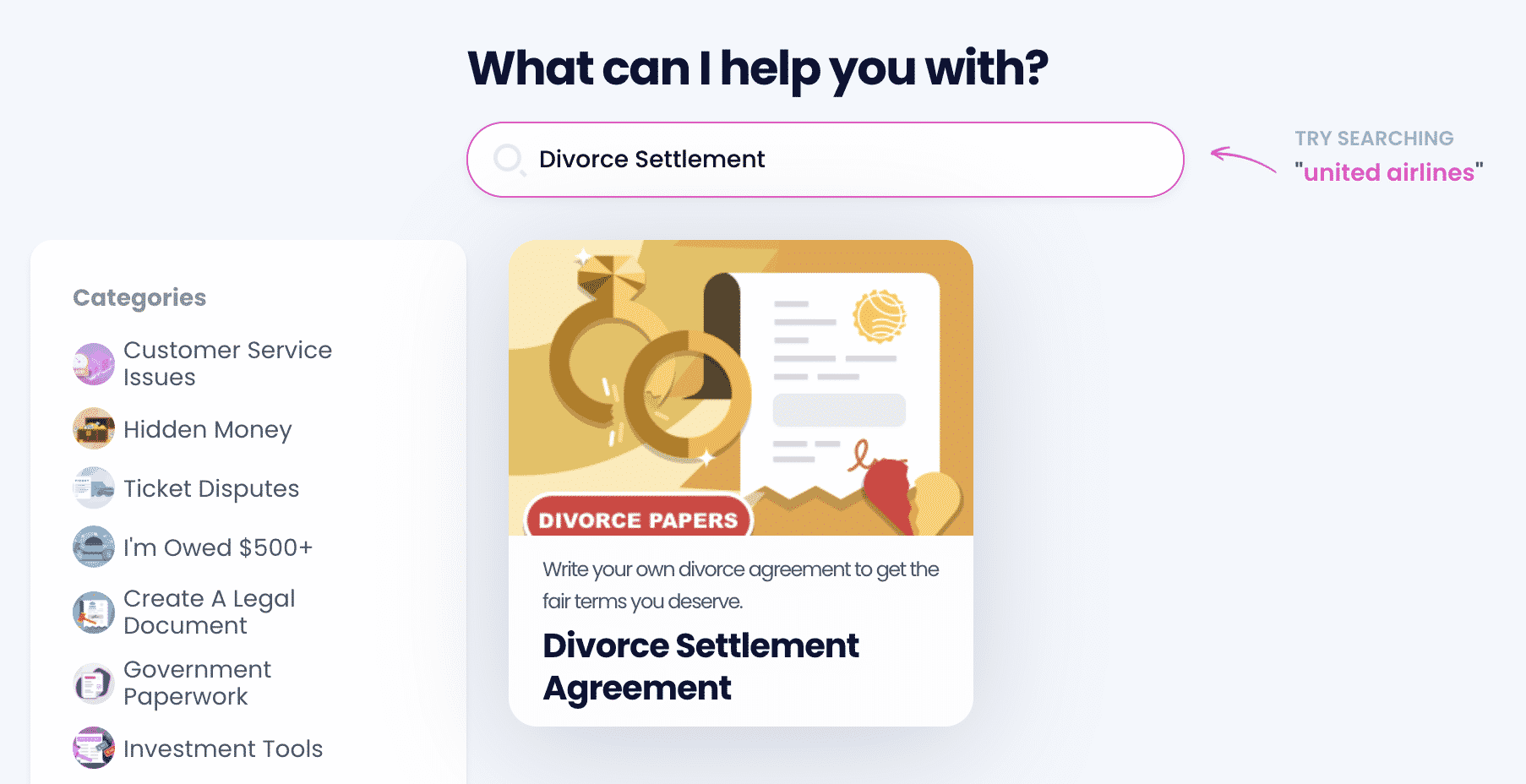 and take the following steps:
Type in Divorce Settlement Agreement in the search box
Provide answers to our chatbot's questions
Enter the information on your income, debts, and assets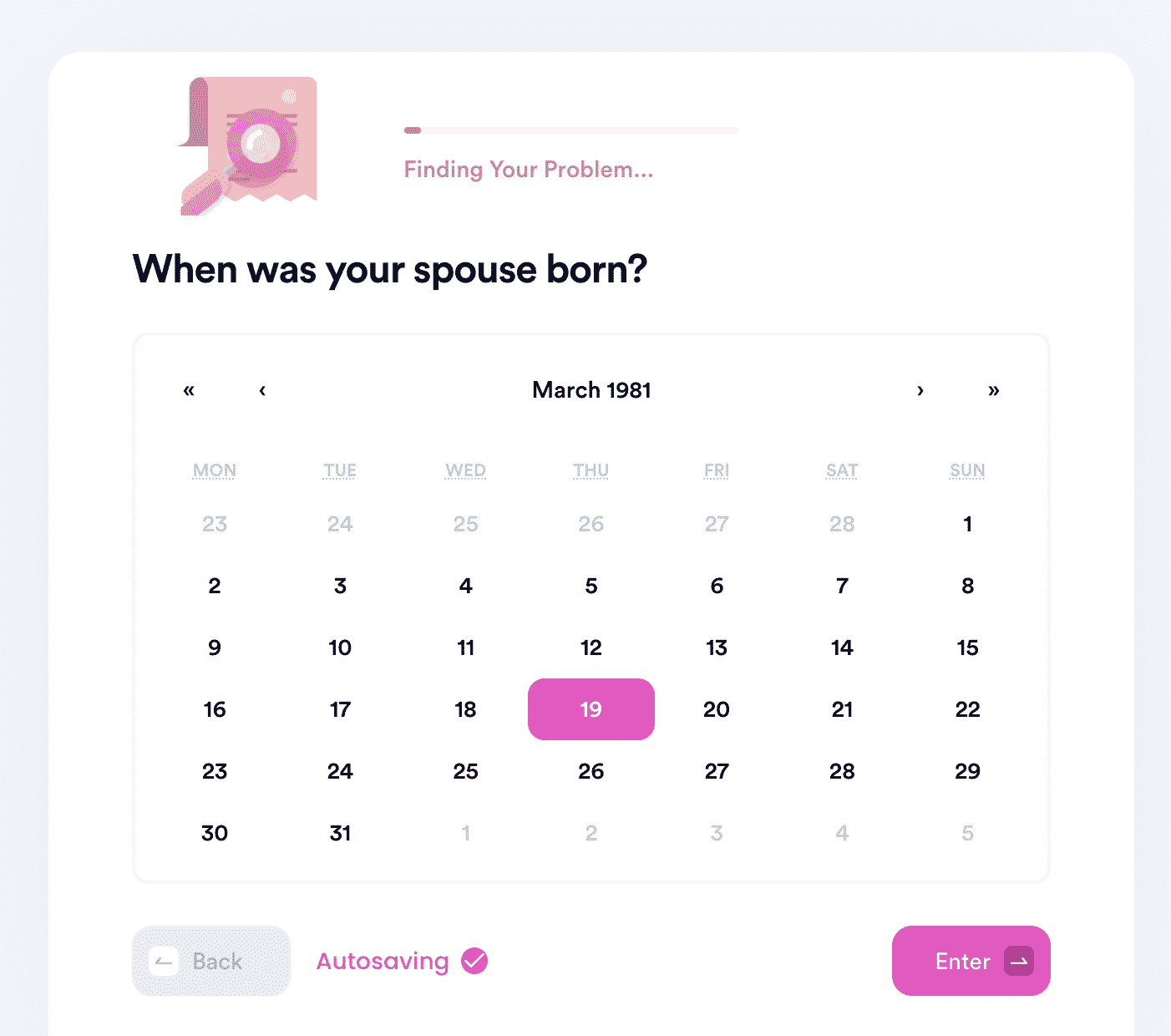 Our AI-powered app scans your state law and requirements and takes them into consideration along with the information you've provided to generate a document tailored to your specific situation.
Do you have to get the agreement notarized before filing it with the court? DoNotPay can connect you with a remote notary public who can provide the service 24/7.
Feel free to browse our learning center if you need further details regarding divorce matters. We publish useful guides to help you deal with lots of doubts, including the following:
Work Smarter, Not Harder!
Although there are certain tasks that are a pain but can't be avoided, such as paying your property taxes, you don't have to do them the hard way. There is always a way to make the overbearing bureaucratic procedures a bit easier. DoNotPay can find a loophole and help you cut through the red tape!
Reducing your property taxes is only one in the sea of tasks our app will make super easy to do! You can also use DoNotPay to:
Explore DoNotPay's Other Neat Features
DoNotPay offers a plethora of useful products to make your day-to-day life easier and enjoyable! Consult the list below to see what you can do using our app: