Can You Challenge Santa Clara Traffic Tickets? — Here's How!
In 2019, there were 195 million licensed drivers in the United States, and 41 million received traffic tickets. This suggests that you have a one-in-five probability of receiving a traffic ticket in any given year. In California, about 5,000,000 tickets are written each year. Only a small percentage of those tickets will be challenged since most individuals are unaware that they can or how to go about doing it.
With the help of DoNotPay, we can help you fight a as well as other locations in the US in just a few easy steps. Additionally, we can help you fight tickets in LA, Las Vegas, New York City, and other locations in the state of California. Let's take a look at how DoNotPay can help you make the best case for your situation and avoid paying your ticket.
Types of Traffic Tickets in Santa Clara County

Here is a list of some of the most common
| | |
| --- | --- |
| Speeding tickets: | tickets issued for exceeding the posted speed limit |
| Red light tickets: | tickets issued for running a red light. |
| Cell phone tickets: | tickets issued for talking or texting on a cell phone |
How to Dispute a Traffic Ticket in Santa Clara County
You can dispute a traffic ticket in Santa Clara County in a few different ways according to the County of Santa Clara website.
One method is called Trial by Declaration, and here is the process:
Trial by Declaration is a written declaration. Instead of going to court to fight your case, you and the officer who issued the citation will give the judge a statement and any evidence in writing.
To qualify, you must meet the following criteria:
 You were given a ticket for infraction violations only;
 The due date to take care of your ticket has not passed; and
 Your courtesy notice does not state that you are required to appear in Court.
If you believe you are not guilty, you can schedule an in-person trial. You can ask for a trial by following the directions on your courtesy notice, or by going to the courthouse listed on your citation. You must pay the full bail amount if you request a trial by mail. The court will hold your money in trust to make sure you come to court on the date of your trial.
If you don't want to pay full bail, you can come to the courthouse and make a court date for arraignment, and then you can ask for a date for trial at that time. You will have to come back to court on another day for your trial. As you can see, the process can be quite lengthy and frustrating. In addition, it can be a scary prospect if you are not familiar with the process. DoNotPay can simplify this process and get your case settled quickly.
Contest Tickets in Santa Clara County in Less Than 120 Seconds
Business Insider reported that DoNotPay has helped 160,000 people with their traffic tickets. We can help with your ticket, too.
Here's how to get started:
Log in to DoNotPay and go to the Ticket Disputes category. Select the correct product based on your traffic ticket.

 

Upload a photo of your citation.

 

Provide us with some details on why you believe the citation issued is a mistake.

 

Select whether or not you want the letter mailed to the traffic ticket issuer on your behalf! 
That's it! You'll receive an appeal letter that contains state vehicle codes to boost your case.

 
It's really that simple. Look out for your traffic ticket issuer's response to discover whether you won.
Should I Hire an Attorney to Contest Traffic Tickets?
You don't need to hire a lawyer if you use DoNotPay.
However, should you feel the need to do so, here are a few things to keep in mind:
It's important to not choose the first lawyer you come across. Do your research and find a reputable lawyer.
You should choose a lawyer that specializes in traffic violations. They are familiar with how the courts work and will have the experience to help win your case.
Lawyers can be costly ranging from $100 to over $1,000. At that price, it may be cheaper to just pay for the ticket.
What Else Can DoNotPay Do?
In addition to helping you with your traffic ticket, DoNotPay can do so much more.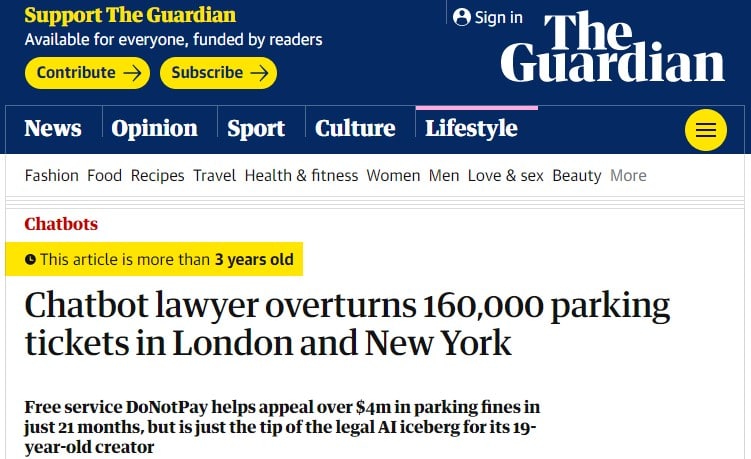 You have rights when it comes to traffic tickets. You don't have to just pay for the ticket to avoid dealing with the courts. DoNotPay can help you make your best case and avoid paying your traffic ticket in a few easy steps.