A
Santa Clara County Property Tax Exemption
Can Save You Hundreds
Santa Clara County, CA, is the sixth most populated county in California and home to Silicon Valley. It is also the most affluent county on the West Coast of the U.S.
The State of California generally has low property tax rates, and Santa Clara follows this trend. The astronomically high property values in the county mean that an average Santa Clara County resident pays over $6,600 a year in property tax.
DoNotPay knows how much bills like this can hurt. We are here to help you find ways to lower your property tax and get whatever discounts are available.
How Does Santa Clara County Work Out Your Property Tax?
Your property tax bill contains two elements that are combined to come up with the figure you have to pay.
The two elements are as follows:
Tax Rate
Tax Rate
Santa Clara County's tax rate combines the funding requirements of each of the agencies or services that need funding and expresses it as a dollar amount per $1,000 of property value.
The tax rate includes funding for:
Cities

County administration

School districts

School capital projects

"Special taxing districts"
The last point is important, as Santa Clara County's government has faced recent criticism for lack of transparency in its tax rate calculations.
Tax rates can be complicated even without a lack of transparency, so it is easier to look at the tax rate as a percentage of property value. In Santa Clara County's case, the tax rate equates to 0.73%, which is very low compared to the U.S. average of 1.07%.
Property Assessment
With such a low tax rate, it would be fair to assume that average property tax bills would remain low. This assumption is killed off by the fact that property prices in Santa Clara County are eye-wateringly high, with a median of $1,380,000.
The county assesses each property annually, and the value is set on January 1 each year. The county assessor uses the sales-value approach to appraise property. This means that your property's value is determined based on the sale prices of similar, recently sold homes in your area.
This approach allows the assessor to value a large number of properties in a short time, but it can be inaccurate as it takes no account of the condition of your property relative to others.
The Santa Clara County average house price is also rising by 11.7% year on year, so you are in danger of being hit by an increased property tax bill as a result. However, the State of California stipulates that your assessment cannot rise by more than 2% each year, which mitigates the worst effects of any property boom.
Multiplying the Santa Clara County tax rate by your property's assessed value gives you your property tax amount. Even for Californian standards, a median property tax bill of over $6,600 is punishingly high.
What Are the Due Dates for Property Tax in Santa Clara County?
You must pay your property tax bill on time, or you risk being declared delinquent, which could result in fines, penalties, or even the loss of your home.
The key dates in the Santa Clara County property tax calendar are:
| | |
| --- | --- |
| Date | Action |
| January 1 | Property assessments are finalized |
| February 1 | Second installment of property tax is due |
| April 10 | Last day for payment of the second installment without penalties |
| October | Property tax bills are mailed |
| November 1 | First installment of property tax is due |
| December 10 | Last day for payment of the first installment without penalties |
How Can You Reduce Your Property Tax Bill in Santa Clara County?
Santa Clara County offers property tax exemptions for selected homeowners that can help reduce the amount of property tax you have to pay in this California county.
The county's exemptions are as follows:
Exemption
Explanation

Homestead exemption

All homeowners using their property as their primary residence are entitled to a $7,000 reduction in the assessed value of their home

Senior citizen exemption

Santa Clara County homeowners over 65 can apply for a

tax credit

to be offset against their property tax bill

Disabled exemption

Disabled homeowners who modify their homes as a result of their disability may be eligible for a

reassessment exclusion

, meaning that the value of the alterations will not be added to their home's assessed value. Disabled persons can also transfer the assessment of their home to a new home of similar value if they need to move

Veterans' exemption

100% disabled veterans may be eligible for an exemption of up to $150,000 off the assessed value of their property

Property tax postponement

Senior citizens and blind or disabled persons in Santa Clara County can apply for a postponement on their property tax as long as they are at least a 40% owner of the property and earn less than $45,000 a year. The postponement only applies to the current year's taxes and cannot be applied for to cover pre-existing delinquency

Agricultural exemption

This exemption allows real estate owners to have their property assessed at a lower rate if they agree to keeping it as agricultural or open space land for at least ten years

Parent/child and grandparent/grandchild property tax exemption

Real property can be transferred to a child or grandchild without the need for a reassessment, meaning that the new owner avoids an increase in the property's value
How Can You Claim a
Santa Clara Property Tax Exemption
?
DoNotPay knows that claiming a property tax exemption can be a complex process, and we are here to help.
On our app, you can get a personalized property guide that helps you through all the ins-and-outs of the property tax system in your area.
The guide deals with two areas of interest, namely:
Property tax exemptions—with information on the exemptions you can claim in your area, the documents your will need, and the location of your local assessor

Property assessments—with advice on how to negotiate with the assessor and where to lodge an appeal
Where Can You Get DoNotPay's Property Guide?
Your one-stop-shop property guide is easy to get by following these steps:
Navigate to DoNotPay in your web browser

Sign up

and look for the

Property Tax

product

Fill in a few details about yourself

Wait for your personalized guide to be created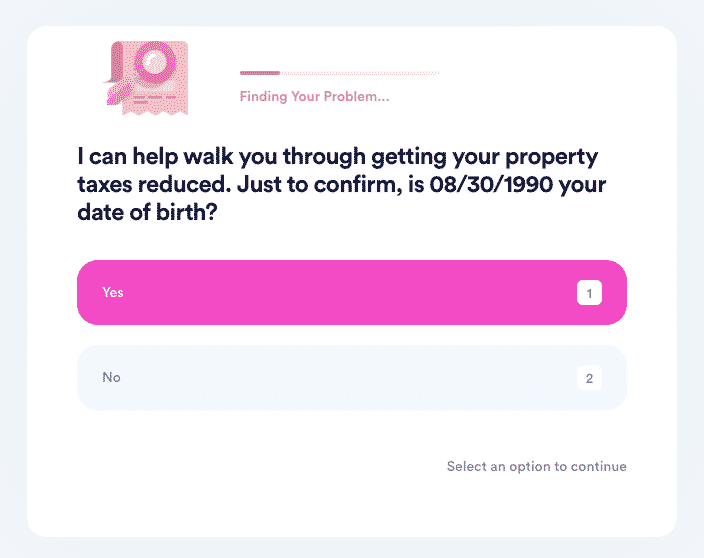 What More Can DoNotPay Do To Reduce Property Tax?
DoNotPay knows that exemptions are not available to everyone. If you have exhausted all your other options, you can still appeal your property tax assessment.
Property assessment appeals in California are complicated, but DoNotPay can help you:
Understand the appeal process

Know what documentation you are likely to need

Find the correct place to lodge your appeal
Can Your Virtual Assistant Do This?
Hey, Siri! Make me ready for my upcoming small claims court appearance. No luck? OK, Google! Prepare a DMCA notice for that website that uses my photos without authorization. Still nothing?
DoNotPay is the virtual assistant that won't back away from issues that require legal expertise. Our lawyer bots work around the clock to get you due date extensions for utility bills, reduce your property taxes, or stop stalking and harassment before it gets ugly.
The world's first robot lawyer will provide assistance even with securing compensation for victims of crime!
DoNotPay Breaks Down Communication Barriers
Communication and new technologies walk hand in hand, and DoNotPay can smooth out any bumps on that road. On our platform, you can find useful tools for avoiding phishing emails and text messages, sending faxes online, stopping annoying robocalls, or signing up for new services without phone verification.
Contacting customer support is no party, but DoNotPay can make the process so much easier, whether you need to request a refund, demand compensation for a canceled flight, or file a warranty claim.
You can even use our platform for locating your loved ones in prison and sending them letters the proper way!