The Ins and Outs of a Santa Clara County Divorce
Getting a divorce can be emotionally and financially draining, especially if you and your spouse can't agree on all the important terms. We can show you how to get a divorce that doesn't involve being dragged through courts and hiring expensive lawyers. The best way to a low-cost and uncomplicated marriage dissolution is filing for an uncontested divorce. DoNotPay will provide all the details you need to start your Santa Clara County divorce process!
Divorce in Santa Clara County—Explained
Before you file for divorce in Santa Clara County, you'll need to know about divorce laws in California:
Grounds for divorce—California is a no-fault state, which means that neither spouse has to prove one of them is responsible for the marriage breaking down. Spouses may cite one of the following grounds for divorce in California:

Irreconcilable differences—You need to prove that you and your spouse can't get along to keep the marriage alive
Incurable insanity—You have to prove that your spouse is suffering from incurable insanity when you file for divorce. A medical professional typically needs to testify that the condition is permanent

Residency requirements—According to California Family Code, Sec. 2320, the couple getting a divorce in Santa Clara County must meet the following residency requirements:

One of the spouses needs to have lived in California for at least six months before filing
One of the spouses must have resided in Santa Clara County for at least three months

Waiting period—After you file for divorce and serve your spouse, you will have to wait a minimum of six months for the divorce to be finalized
Types of Divorce in Santa Clara County
There are two types of divorce in Santa Clara County:
Contested divorce
Uncontested divorce
Find the details of both types of divorce in the table below:
Contested Divorce
Uncontested Divorce
A contested divorce implies that:

You and your spouse can't agree on the terms of your divorce, or one of you doesn't want to get divorced
A contested divorce typically costs more
A contested divorce is more complex in nature since it involves lawyers, numerous court hearings, and a trial

If you and your partner can agree on all terms of your divorce, you can file for an uncontested divorce. With this type of divorce, you:

If you're unable to agree on everything, you can attend mediation. Mediation in California can help you and your spouse set all your differences aside and come up with a perfect plan for your divorce. This way, you'll have a friendly divorce with your partner, which is especially important if you have kids
Santa Clara County Divorce Forms You'll Need
To start your marriage dissolution process in Santa Clara County, you will need the following uncontested divorce forms:
Petition—Marriage/Domestic Partnership
Summons
Proof of Service of Summons
Property Declaration
If you and your spouse have children, you'll need to file these forms as well:
Declaration Under Uniform Child Custody Jurisdiction and Enforcement Act
Child Custody and Visitation Application Attachment
You will also need a divorce settlement agreement. This important legal document should spell out all of the previously set terms of your divorce, including:
File for an Uncontested Divorce in Santa Clara County
To file for divorce in Santa Clara County, consult the list below for step-by-step instructions:
Check whether you meet the residency requirements
Collect all the necessary paperwork
Make at least two copies of all the forms (the original stays with the court)
File the divorce papers with a Family Court of California Superior Court
Pay the filing fee that's around $435 in Santa Clara County (if you can't afford to pay a fee, you can request a fee waiver)
Serve the papers to your spouse (any person who isn't involved in the case and is over 18 can serve the summons via certified mail or in person)
Create a divorce settlement agreement and file it with the rest of the paperwork
Where Can You Find a Divorce Settlement Agreement?
You have a few options for creating a divorce settlement agreement:
Hiring a lawyer—While hiring a lawyer is a reliable option, keep in mind that their services are expensive
Using an online divorce service—Keep in mind that online divorce templates are generic, so they might not be suitable for your particular case
Writing it yourself—Drafting a marital settlement agreement may be risky if you're not familiar with legal terminology
Using DoNotPay—Our platform is by far the most affordable option. If you subscribe to DoNotPay, we will create a rock-solid divorce settlement agreement in minutes
Get the Perfect Divorce Settlement Agreement Without Breaking the Bank—With DoNotPay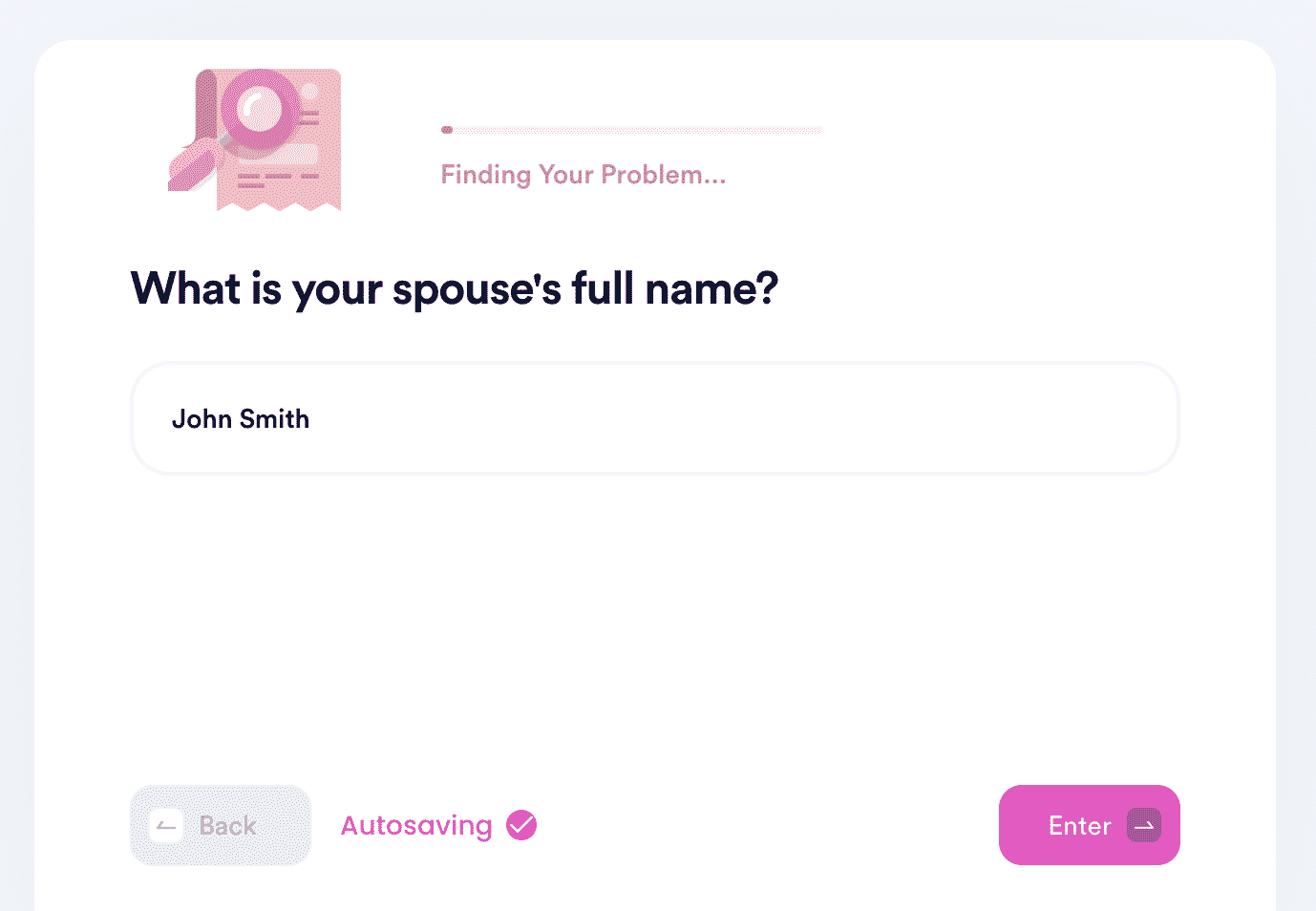 If you want a legally formatted divorce settlement agreement tailored to your needs, go with DoNotPay. We will create an error-free document in under five minutes if you sign up and follow the instructions below:
Open our Divorce Settlement Agreement product
Provide information about your spouse, your children, and similar
Tell us whether you want to get your document notarized with DoNotPay
Once you complete the steps, DoNotPay will generate a professional divorce settlement agreement that complies with state laws.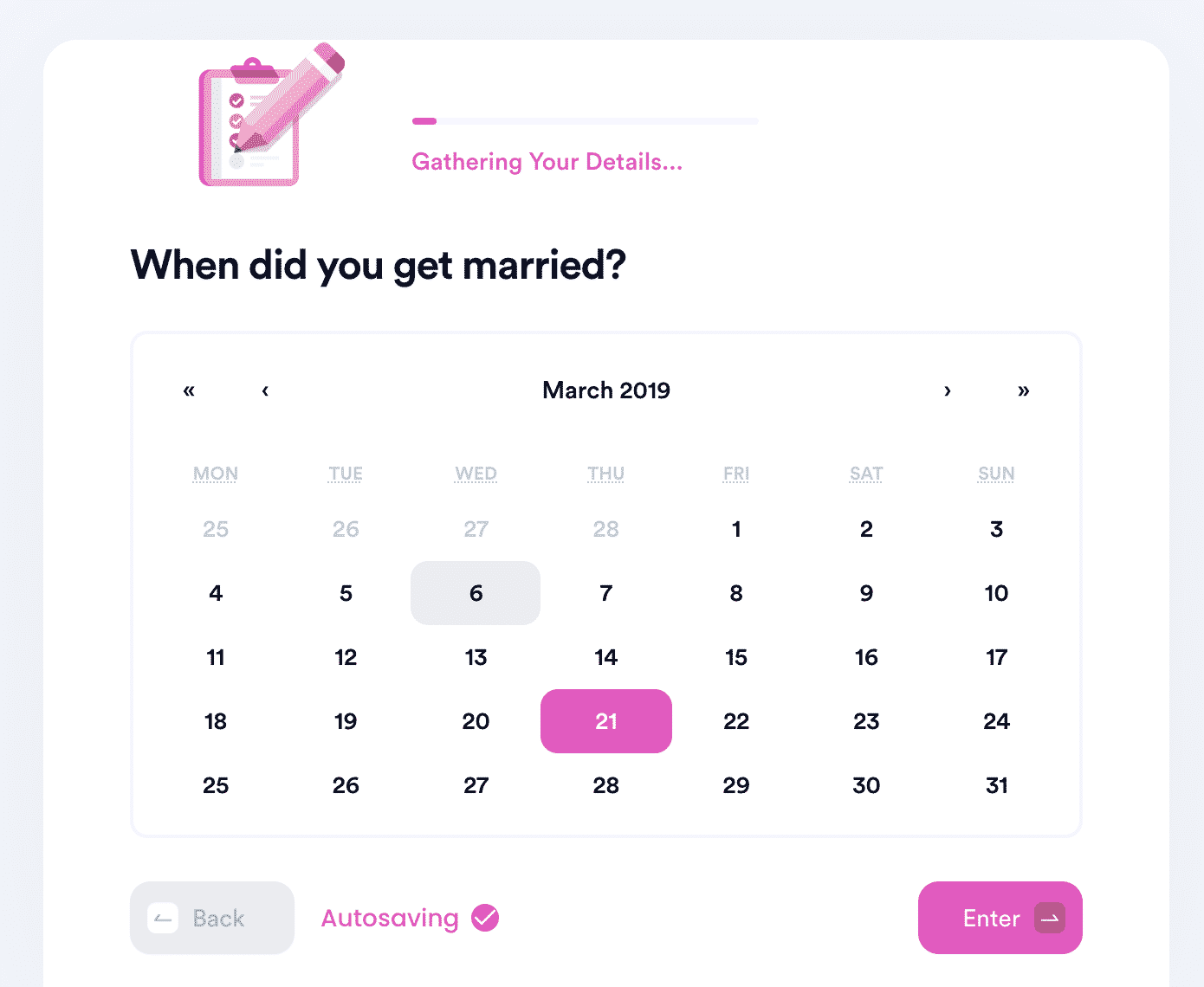 If you need further information regarding divorces, DoNotPay has a comprehensive knowledge base where you can find answers to all your questions, including:
DoNotPay also has information on divorce proceedings in several counties in California, including:
DoNotPay's Vast Collection of Features Keeps Expanding
Determined to simplify bureaucratic procedures and help you with various daunting items on your to-do list, we created DoNotPay—the world's first robot lawyer! With us, you can:
Streamline Different Tasks by Using DoNotPay's Practical Features
Are you looking for an efficient way to gain back your unclaimed money or get a refund from a company? Do it with DoNotPay without lifting a finger! Our app provides excellent money-saving features that will increase your budget and make all unnecessary expenses disappear.
We can assist you in terminating unwanted subscriptions, recovering your unused gift card funds, reducing your bills, and requesting late delivery refunds. You don't even need to hire lawyers to write a financial aid appeal letter, an HR complaint, or a child travel consent form in your stead—our app can do all this!