The Ins and Outs of a San Mateo County Divorce
Getting a divorce can be less stressful and emotionally draining if you know all about the process. To file for divorce in San Mateo County, CA, you'll need to familiarize yourself with the laws and regulations of the state. If you need step-by-step instructions on filing for a divorce in San Mateo, you're in the right place!
In this article, you'll learn all there is to know about the San Mateo County divorce process and a way to get a friendly and low-cost divorce. If you subscribe to DoNotPay, we'll also assist you in creating a marital settlement agreement, which is one of the vital divorce papers.
The Basic Info About Divorce in San Mateo County
To get a divorce in California, San Mateo County, you need to check whether you meet the residency requirements. If you don't fulfill these requirements, the court might dismiss your case. To meet them, you or your spouse:
Must have lived in California for at least six months before starting the process
Need to have been a resident of San Mateo County for three months before filing for divorce
What Are the Grounds for a San Mateo County Divorce?
When filing for divorce in California, you and your spouse need to provide the court with legal grounds for your divorce. California recognizes only no-fault divorces, which means that no one is to blame for the end of the marriage. The court will grant you a divorce if you state:
Irreconcilable differences
Incurable insanity (this needs to be proven by a medical professional)
How Much Does a Divorce in San Mateo County Cost?
The cost of divorce in California can't be predicted since every case is different, but you can expect the initial filing fee to be from $435 to $450.
How much you'll pay for your divorce depends on the type you choose. You can either have a contested divorce or an uncontested one. Check out the differences between these two types of divorce:
Contested divorce—If you and your spouse can't agree on the terms of your divorce, you need to get a contested divorce, and the judge will make decisions on your behalf. Contested divorces cost a lot because they involve lawyers and multiple court hearings. An average contested divorce in California can set you back up to $17,500
Uncontested divorce—In an uncontested divorce, you and your spouse agree on all aspects of your divorce, which means you don't have to engage lawyers and go to court. An uncontested divorce in California is much cheaper than a contested one since you only need to pay the court filing fees
Can You Get an Uncontested Divorce in San Mateo County?
Yes, you can get an uncontested divorce in San Mateo County, but only if you and your spouse can agree on every aspect of your divorce out of court. This includes the following terms:
Which Forms Will You Need for an Uncontested Divorce?
To start your uncontested divorce process, you'll need to gather divorce papers. The basic divorce forms you need are:
Petition—Marriage or Domestic Partnership
Summons
Proof of Service of Summons
Property Declaration
Divorce Settlement Agreement
In addition to the primary uncontested divorce papers, you'll need to collect a few others if you have children:
Declaration Under Uniform Child Custody Jurisdiction and Enforcement Act
Child Custody and Visitation Application Attachment
Keep in mind that your county clerk's office might require you to obtain some additional forms, so you should check what other documents you'll need for your divorce.
Filing for an Uncontested Divorce in San Mateo County
Once you've made sure that you qualify for an uncontested divorce and you've prepared all the required California divorce papers, you are ready to file for divorce. The steps you need to follow are listed below:
Attend divorce mediation (optional)—If you and your spouse settled most of your differences but still can't see eye to eye on some terms of your divorce, you might want to consider mediation in California. It is a process during which you work with a neutral third party on agreeing on each term of your divorce
Create a divorce settlement agreement—Draft this important document by hiring a lawyer, selecting one of the available online divorce services, or using DoNotPay. Before deciding on one of the three options, you should know that hiring a lawyer may cost you an arm and a leg, and online divorce services offer templates that are too generic and might not conform to California divorce laws. DoNotPay is the most affordable and safest way to acquire a marital settlement agreement
Fill out all the forms and file them—After you fill out the forms, file them with the Family Court of Superior Court in your county
Serve your spouse—Serving divorce papers is simple in California—anyone who is over 18 and isn't involved in the case can serve the papers. There's also an option of hiring a professional process server
Get Your Divorce Settlement Agreement With DoNotPay in the Blink of an Eye
You can rely on the world's first robot lawyer to provide you with an airtight marital settlement agreement. We'll follow the California divorce laws and the info you give us to create a professionally written and fully personalized document.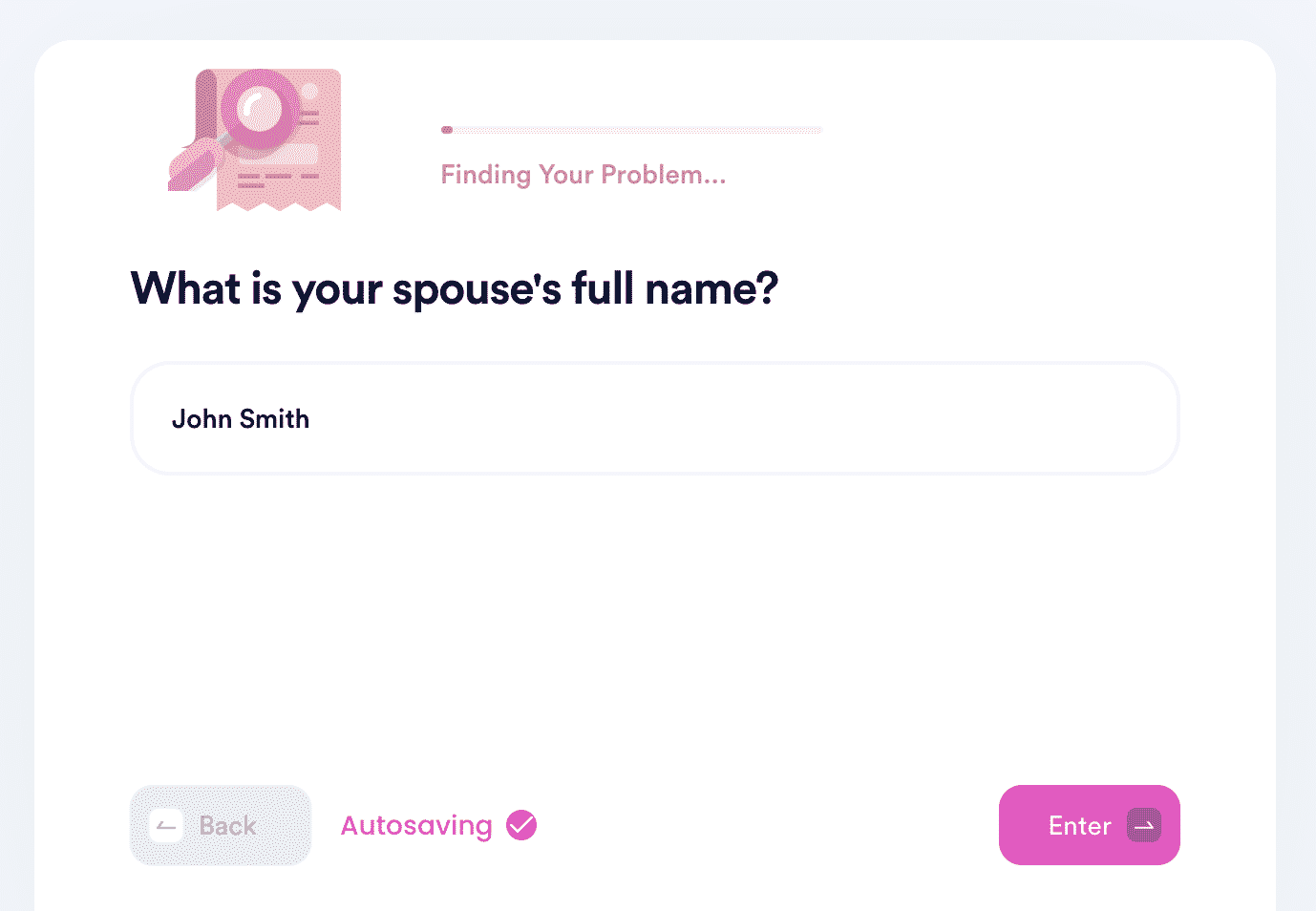 Subscribe to DoNotPay and follow the steps below to create your document fast:
Select our Divorce Settlement Agreement feature
Answer the questionnaire regarding your marriage
Tell us whether you need a notary
DoNotPay will generate your document and send it to you in a jiffy. All that's left to do is for you and your spouse to sign the document. If you've chosen to get it notarized with DoNotPay, we'll book an appointment with an online notary who will witness the signing virtually.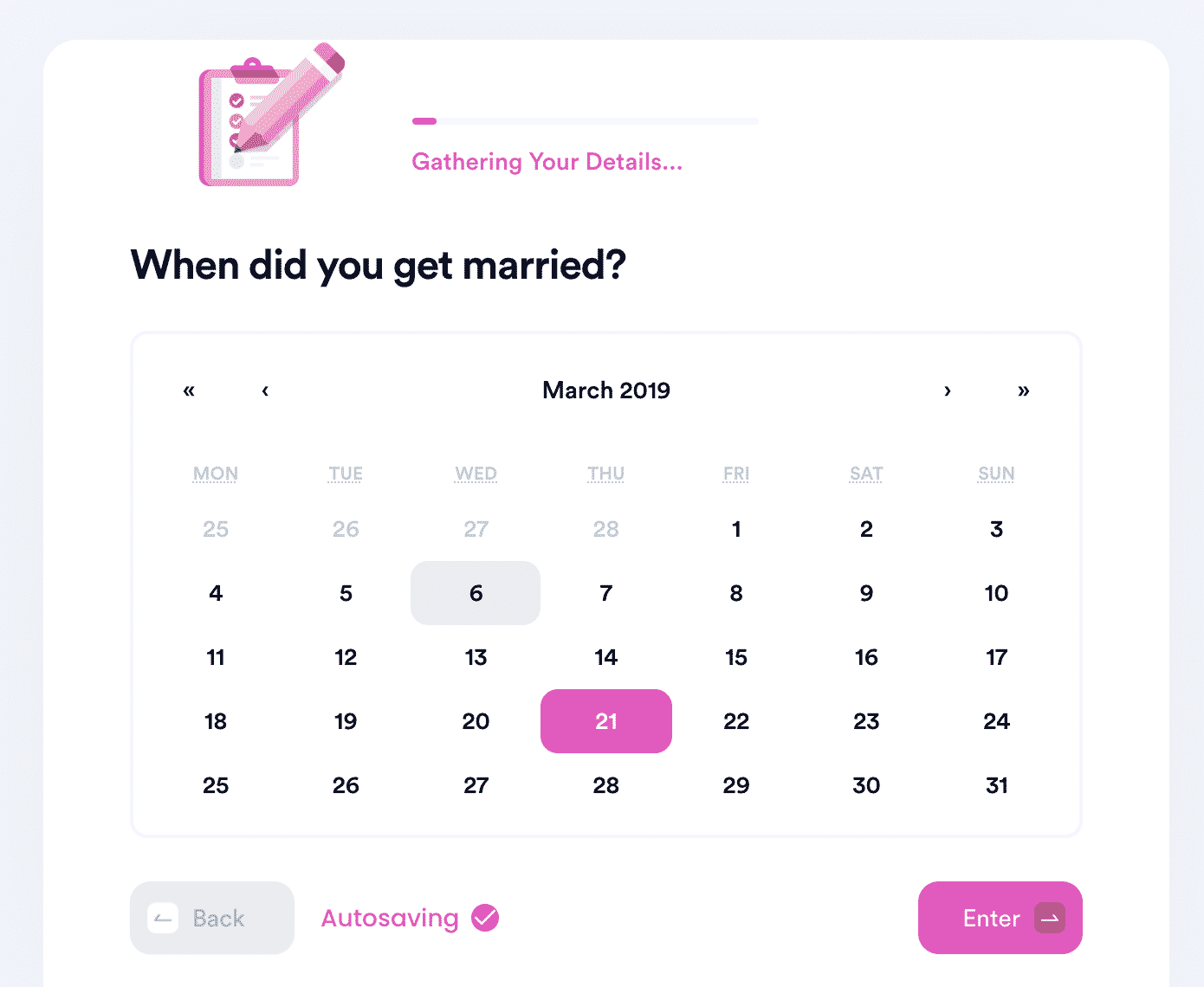 That's not all! DoNotPay has a database of useful guides that you can use for all divorce-related issues. We'll answer any questions you have, including:
Our learning center also has information about various California counties, including:
Use DoNotPay To Deal With a Plethora of Bureaucratic Tasks!
Tired of dealing with bureaucracy? We understand the struggle, and that is why our app makes handling administrative tasks a breeze!
Regardless of whether you need to compose a legal document, such as a power of attorney or a child travel consent form, appeal property taxes or your parking tickets, file a financial aid appeal and a FOIA request, or get a document notarized, DoNotPay has got you covered!
In case you also need to submit anonymous HR complaints, our app will provide you with the easiest way to do so!
Go on a Stress-Free Shopping Spree With DoNotPay
Do you like to shop until you drop? With DoNotPay, you won't have to worry about dropping! We'll make sure you can:
If you need more money to continue your shopping spree, let our app help you find any unclaimed funds under your name and enter numerous giveaways and sweepstakes!