San Joaquin County Divorce Papers for a Quick Divorce
Going through a divorce doesn't need to be a troublesome experience. You can lower the level of stress by getting familiar with your state and county requirements.
We can help you understand the filing process, obligatory waiting periods, court and lawyer fees, and the required paperwork.
Where can you get San Joaquin County divorce papers? This article will provide all the info!
Grounds for a San Joaquin County Divorce
To start a San Joaquin divorce process, a spouse needs to complete a Petition for Divorce and file it with the court. The document needs to state valid grounds for a divorce in California.
Here's a list of reasons you could state in your petition:
Grounds for Divorce
Details
Permanent legal incapacity to make decisions
This ground for divorce:

Is also known as incurable insanity
Has to be proven by psychiatric or medical testimony

Irreconcilable differences
You could explain that these differences have led to the irremediable breakdown of your marriage.

As California is a no-fault state:

This is the most common ground for divorce in this state
No-Fault and Uncontested San Joaquin County Divorce
An uncontested—i.e., friendly—divorce is the least lengthy, complicated, and expensive type of divorce.
Before filing for this divorce, you and your spouse need to sit down and agree on all crucial matters out of court. Among other issues, you'll need to discuss the following:
If you need help working out some problems, you can hire a trained divorce mediator.
Keep in mind that at the end of your negotiations, you must:
List all the agreed aspects in a divorce settlement agreement
Present this agreement to the judge, along with other required paperwork
What San Joaquin County Divorce Papers Do You Need?
Here's a list of court forms you need to gather and complete:
Petition—Marriage/Domestic Partnership
Summons
Proof of Service of Summons
Property Declaration
If you and your spouse have minor children, you'll also need to provide the following documents:
Declaration Under Uniform Child Custody Jurisdiction and Enforcement Act
Child Custody and Visitation Application Attachment
You can download all the above-listed forms from the California Courts website. To check whether San Joaquin County requires additional local forms, you could visit the local court's website or:
Get in touch with the San Joaquin County court clerk's office
Use your local self-help center
Contact San Joaquin County Court
To get in touch with the court clerk's office, you could:
Call the court at (209) 992-5555
Visit the clerk's office at 180 E Weber Ave, Stockton, CA 95202
Keep in mind that the clerk's office working hours are: Monday–Friday, 8 a.m.–5 p.m.
Head to the Local Self-Help Center
San Joaquin County Court Self-Help Center is located at the address of the Stockton Courthouse, 180 E Weber Ave, Stockton, CA 95202.
The working hours are Monday to Friday, 8 a.m. to 4:30 p.m.
You could also visit the center's website by following these steps:
Go to the California Courts Self-Help Centers page
Click on the San Joaquin link
Find the necessary forms and information
Do You Need To Hire a Lawyer for a San Joaquin County Divorce?
While you may consult an attorney about all matters, you could also decrease your divorce costs by going through some or all stages independently.
You may want to visit a law office only for the divorce steps you need help with, e.g.:
You need further clarification of some legal matters, e.g., you'd like to know:
There are complex divorce issues you cannot resolve with your spouse
You need to get a military divorce and would like to get additional information
Can You Prepare San Joaquin County Divorce Papers Yourself?
You can go through uncontested divorce procedures on your own, i.e., you don't need a lawyer to draw up the divorce documentation or represent you in court.
You could use the court forms provided at the court clerk's office or self-help center. There's also an interactive online step-by-step tool that can help you fill out these necessary forms.
If you're not familiar with state laws, you'll probably need assistance with the preparation of one crucial document—a divorce settlement agreement. You don't have to spend your money on an expensive lawyer to create this agreement! Register for DoNotPay to get a watertight divorce settlement agreement in a matter of minutes and finalize your low-cost divorce!
Use Our Robot Lawyer To Create Your Divorce Settlement Agreement
Our AI-powered app provides an efficient yet affordable tool you could use to draw up a divorce settlement agreement for your uncontested divorce.
You don't have to waste time trying to understand state and county legal requirements or money on a lawyer to draft this document for you.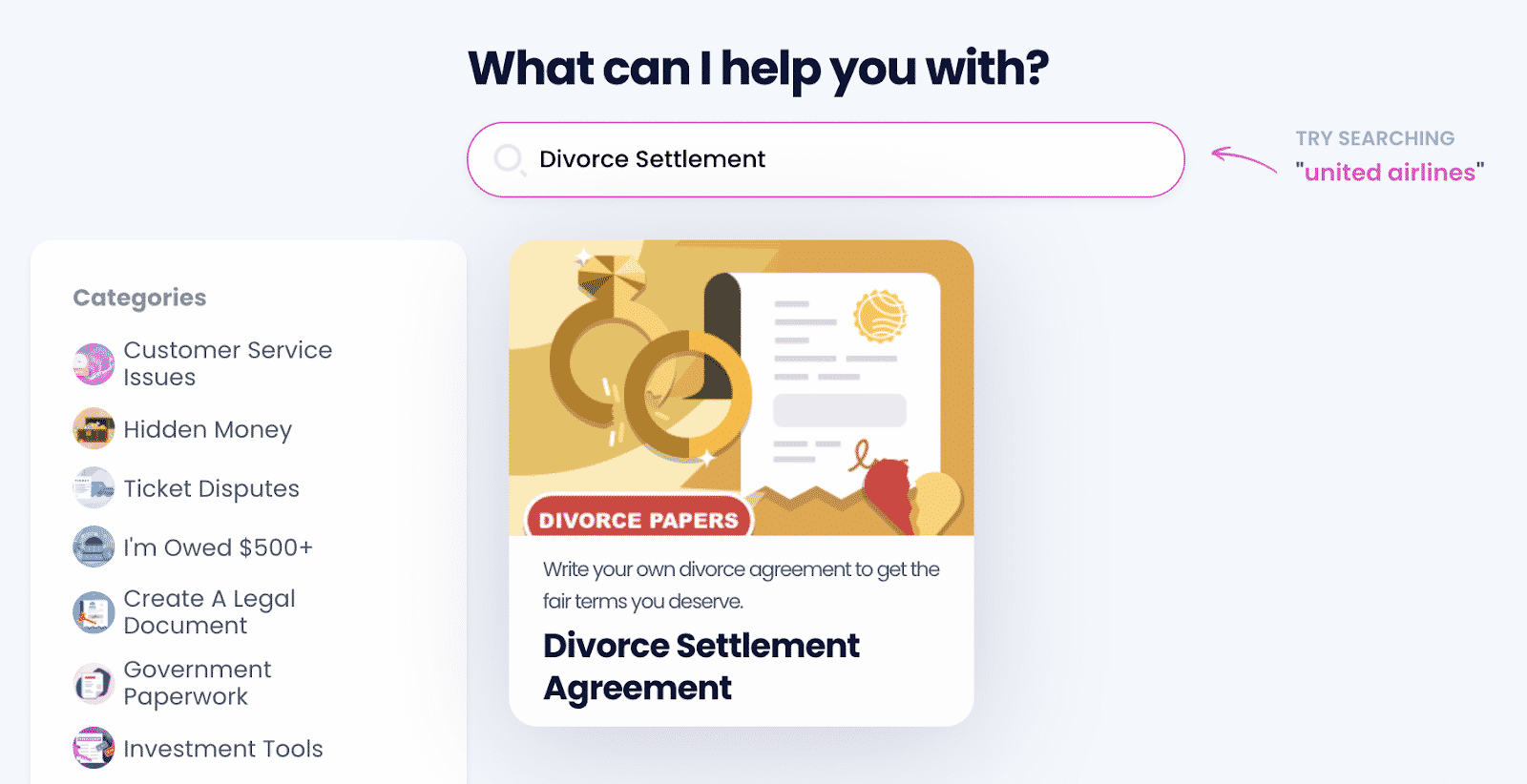 All you need to do is follow these steps:
Access the Divorce Settlement Agreement product
Type in the information you'd like to be included in the agreement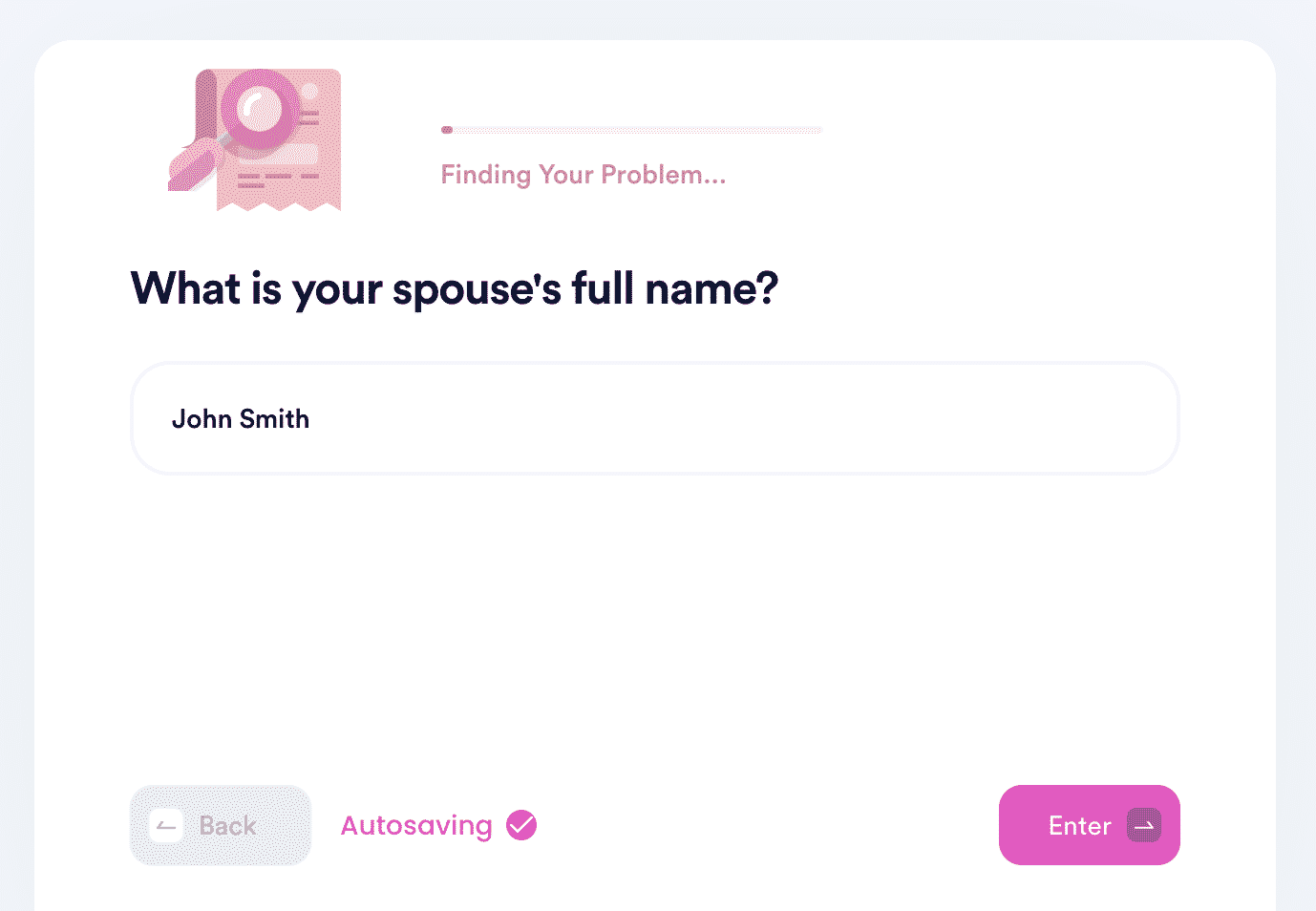 DoNotPay generates a document tailored to state, county, and your specific requirements.
Want to get your divorce papers notarized? We can connect you with an online notary 24/7!
Explore Divorce-Related Matters
To know what to expect during the divorce to protect yourself well, you should gather as much information as possible.
DoNotPay provides lots of practical guides. Check out some of them in the following table:
| General Divorce Questions | California-Related Divorce Guides |
| --- | --- |
| | |
Stuck in a Bureaucratic Mess? DoNotPay Is Here To Help!
Since handling dull administrative tasks is a burden and no one likes doing them, DoNotPay developed a variety of neat features to ease many processes! With our nifty app, you can:
Deal With Companies Like a Pro
We all love shopping, but it's no secret that companies sometimes turn a fun experience into a nightmare, especially when they refuse to cooperate. DoNotPay is here to help you reach customer support without the hour-long wait and sue an uncooperative merchant in small claims court if necessary!
Need a refund? We can show you how to get your money back from any company in a snap!
Should you need to file an insurance or warranty claim and request gift card cash back or an item return, you can count on our app to assist you! DoNotPay can also show you how to discover any unclaimed funds under your name so that you can continue shopping like a pro.