Comprehensive Guide to Foreign Consulates in San Francisco
| | | |
| --- | --- | --- |
| Country | Phone | Address |
| Australia | (415) 644 3620 | 575 Market Street, Suite 1800 |
| Brazil | (415) 981 8170 | 300 Montgomery Street, Suite 300 |
| Canada | (844) 880 6519 | 580 California Street, 14th Floor |
| Chile | (415) 982 7662 | 870 Market Street, Suite 1058 |
| China | (415) 852 5900 | 1450 Laguna Street |
| Colombia | (415) 495 7195 | 595 Market Street, Suite 1190 |
| Czech Republic | (415) 813 4040 | 201 Mission St. #710 |
| Denmark | (916) 448 9688 | 299 California Ave, Suite 200, Palo Alto, CA |
| El Salvador | (415) 771 8524 | 507 Polk Street, Suite 280 |
| Estonia | (415) 229 9120 | 101 Natoma Street |
| France | (650) 285 3223 | 88 Kearny Street, Suite 600 |
| Georgia | (415) 528 3706 | 930 Montgomery Street, Unit 301 |
| Germany | (415) 775 1061 | 1960 Jackson Street |
| Greece | (415) 775 2102 | 2441 Gough Street |
| Guatemala | (415) 563 8319 | 544 Golden Gate Avenue, Suite 100 |
| Honduras | (415) 528 6231 | 1700 California St, Suite 460 |
| Hungary | (650) 573 7351 | 2000 Almeda de las Pulgas #250 |
| Iceland | (415) 433 0444 | 222 Front Street, Fifth Floor |
| India | (415) 668 2073 | 540 Arguello Boulevard |
| Indonesia | (415) 441 4320 | 1111 Columbus Avenue |
| Ireland | (415) 392 4214 | 100 Pine Street, Suite 3350 |
| Israel | (415) 844 7500 | 456 Montgomery Street, Suite 2100 |
| Italy | (415) 931 7205 | 2590 Webster Street |
| Japan | (415) 780 6000 | 275 Battery Street, Suite 2100 |
| Kazakhstan | (628) 236 1030 | 580 California Street, 12th Floor |
| Republic of Korea | (415) 921 2251 | 3500 Clay Street |
| Luxembourg | (415) 788 0816 | 1 Sansome Street, Suite 830 |
| Mexico | (415) 354 1700 | 532 Folsom Street |
| Mongolia | (415) 622 4000 | 465 California Street, Suite 200 |
| Netherlands | (415) 291 2033 | 120 Kearny Street, Suite 3100 |
| Nicaragua | (415) 765 6821 | 870 Market Street, Suite 518 |
| Norway | (415) 882 2000 | 575 Market Street, Suite 3950 |
| Peru | (415) 362 5185 | 870 Market Street, Suite 1075 |
| Philippines | (202) 497 9300 | 447 Sutter Street |
| Portugal | (415) 346 3400 | 3298 Washington Street |
| Singapore | (415) 543 4775 | 595 Market Street, Suite 2450 |
| Spain | (415) 922 2995 | 1405 Sutter Street |
| Sweden | (415) 788 2631 | 505 Sansome Street, Suite 1010 |
| Switzerland | (415) 788 2272 | Pier 17, Suite 600 |
| Tonga | (650) 685 1001 | 1350 Bayshore Highway, Suite 610 |
| Ukraine | (415) 398 0240 | 530 Bush Street, Suite 402 |
| United Kingdom | (415) 617 1300 | 1 Sansome Street, Suite 580 |
| Uruguay | (415) 872 7566 | 351 California Street, Suite 150 |
| Venezuela | (415) 234 5245 | 1700 California Street, Suite 420 |
| Vietnam | (415) 922 1707 | 1700 California Street, Suite 580 |
Contact Any Foreign Consulate in San Francisco with DoNotPay!
DoNotPay is a dependable service that is used to contact embassies and consulates all around the world. If you are struggling to get in touch with a consulate, let DoNotPay do the work for you! All you have to do is follow these four simple steps:
1. Search Contact Embassy on DoNotPay and select the product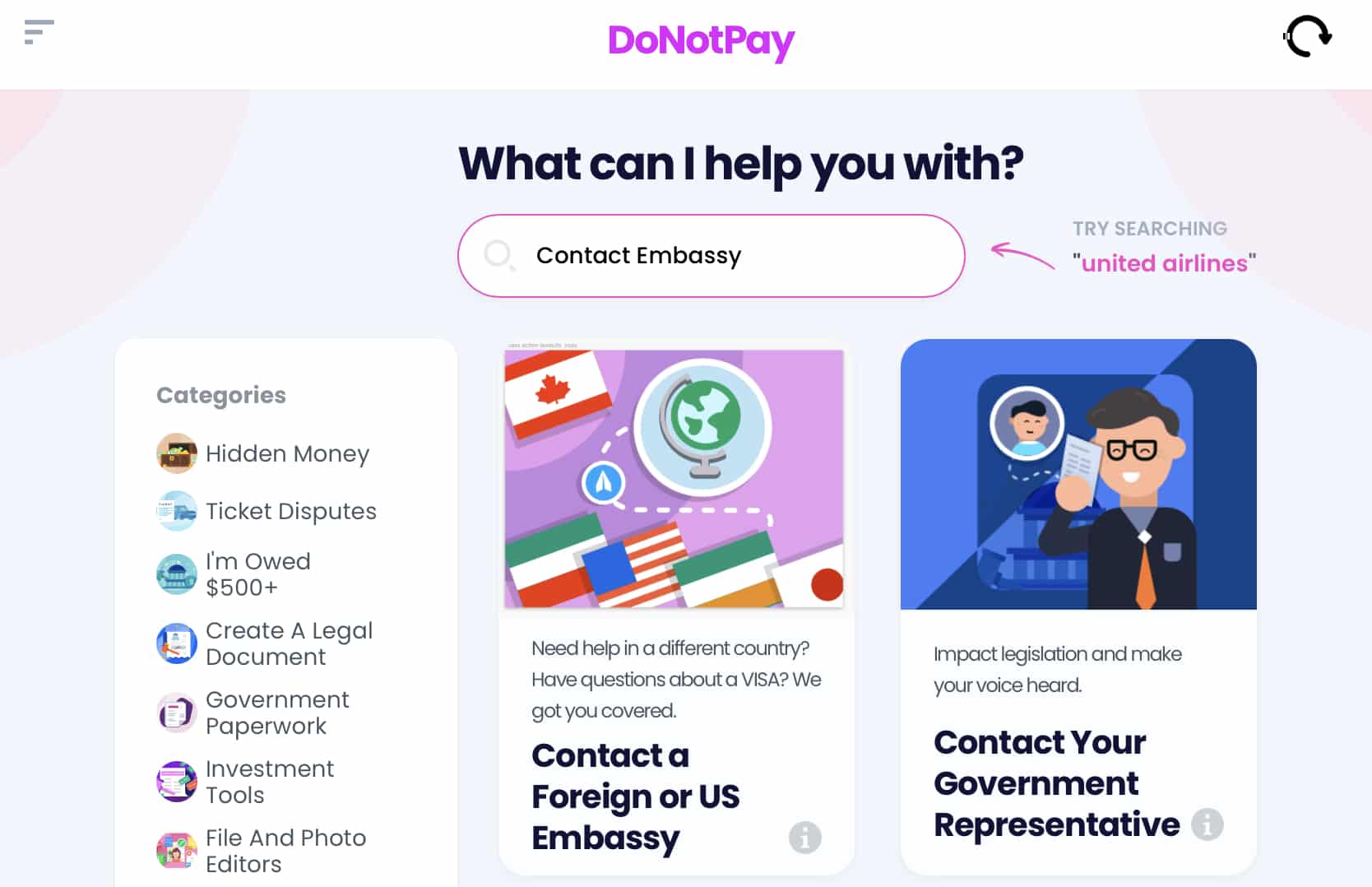 2. Choose the option "Foreign Consulate in the US"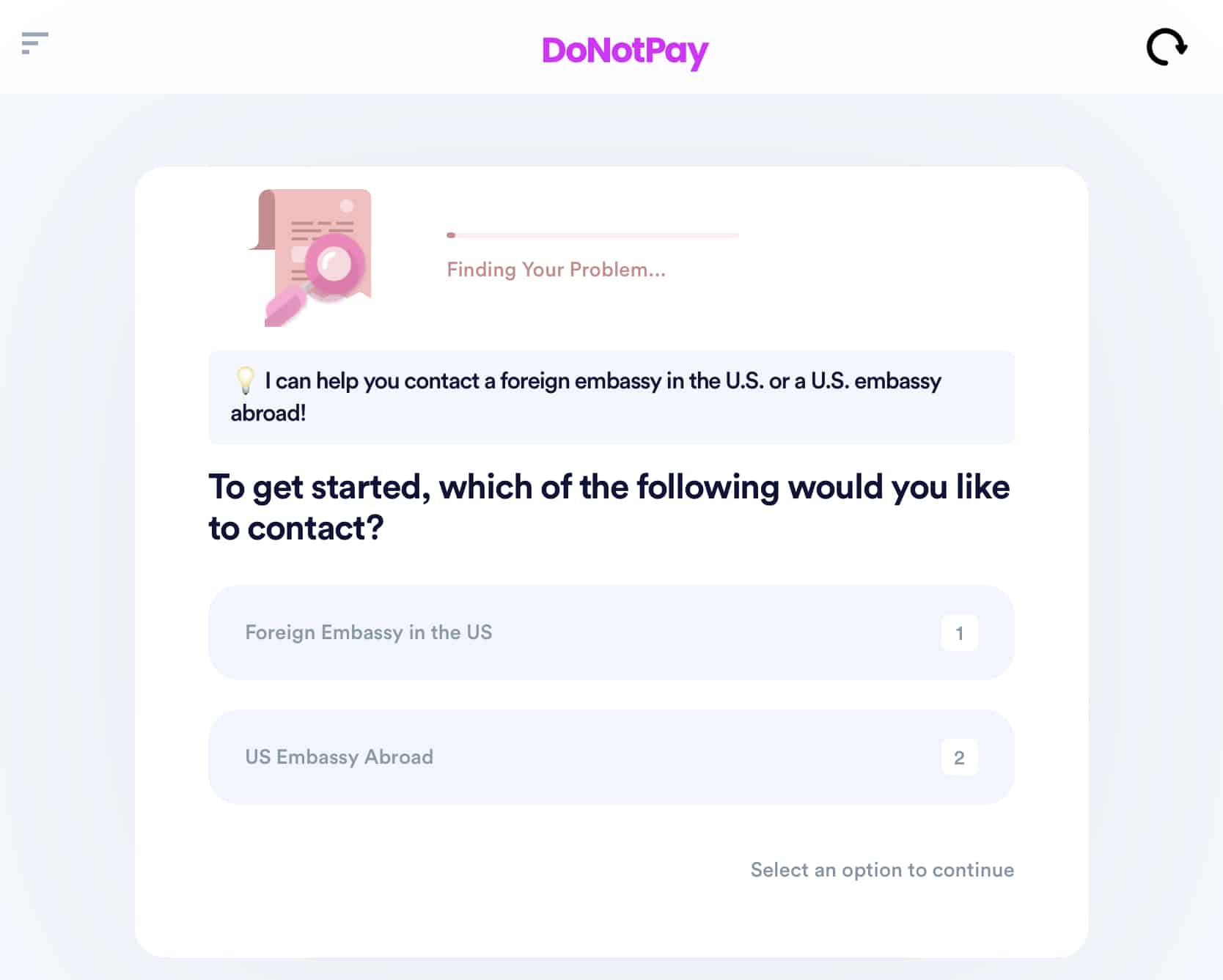 3. Briefly explain your inquiry or issue that you want to resolve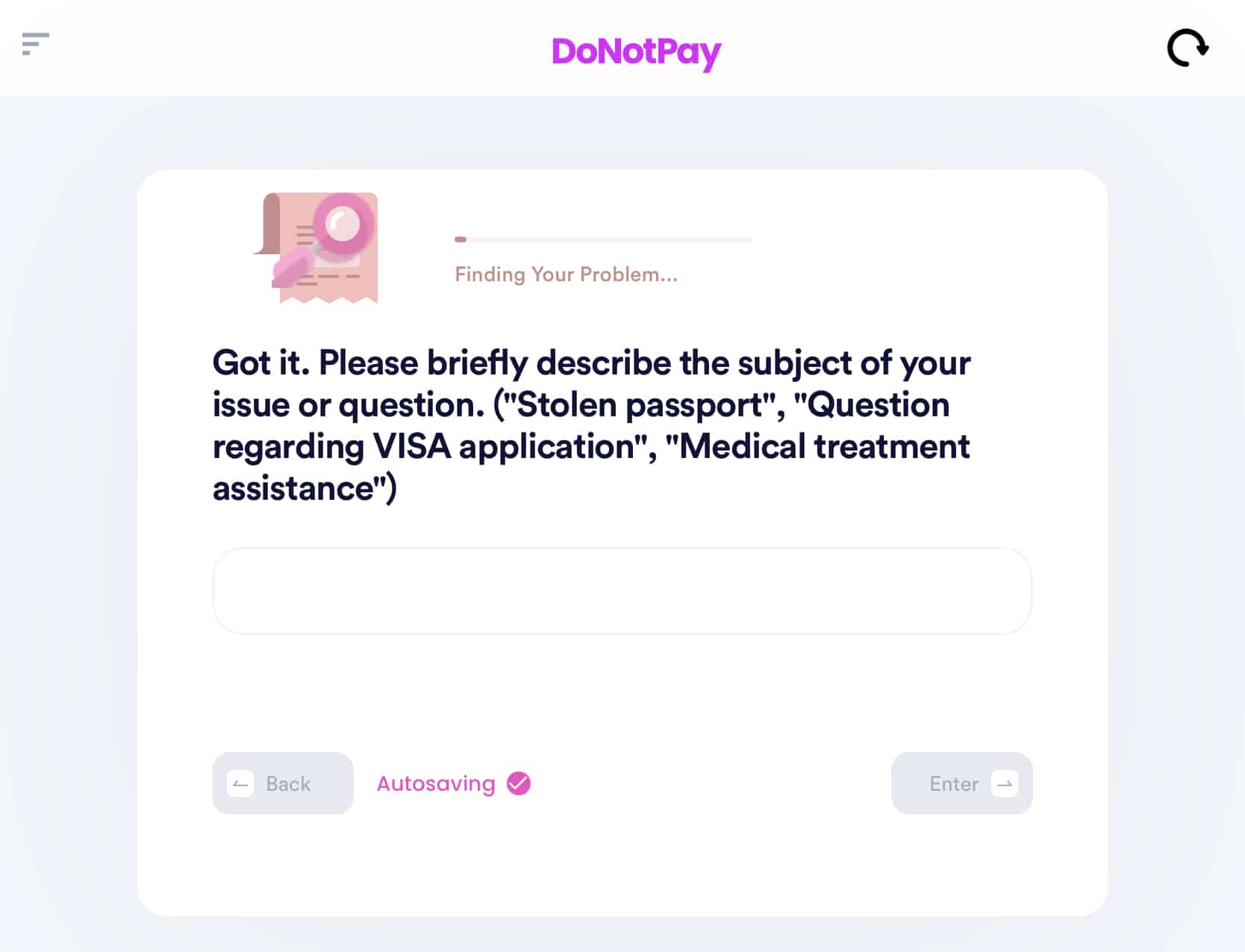 4. Type the City/Country of the consulate you wish to contact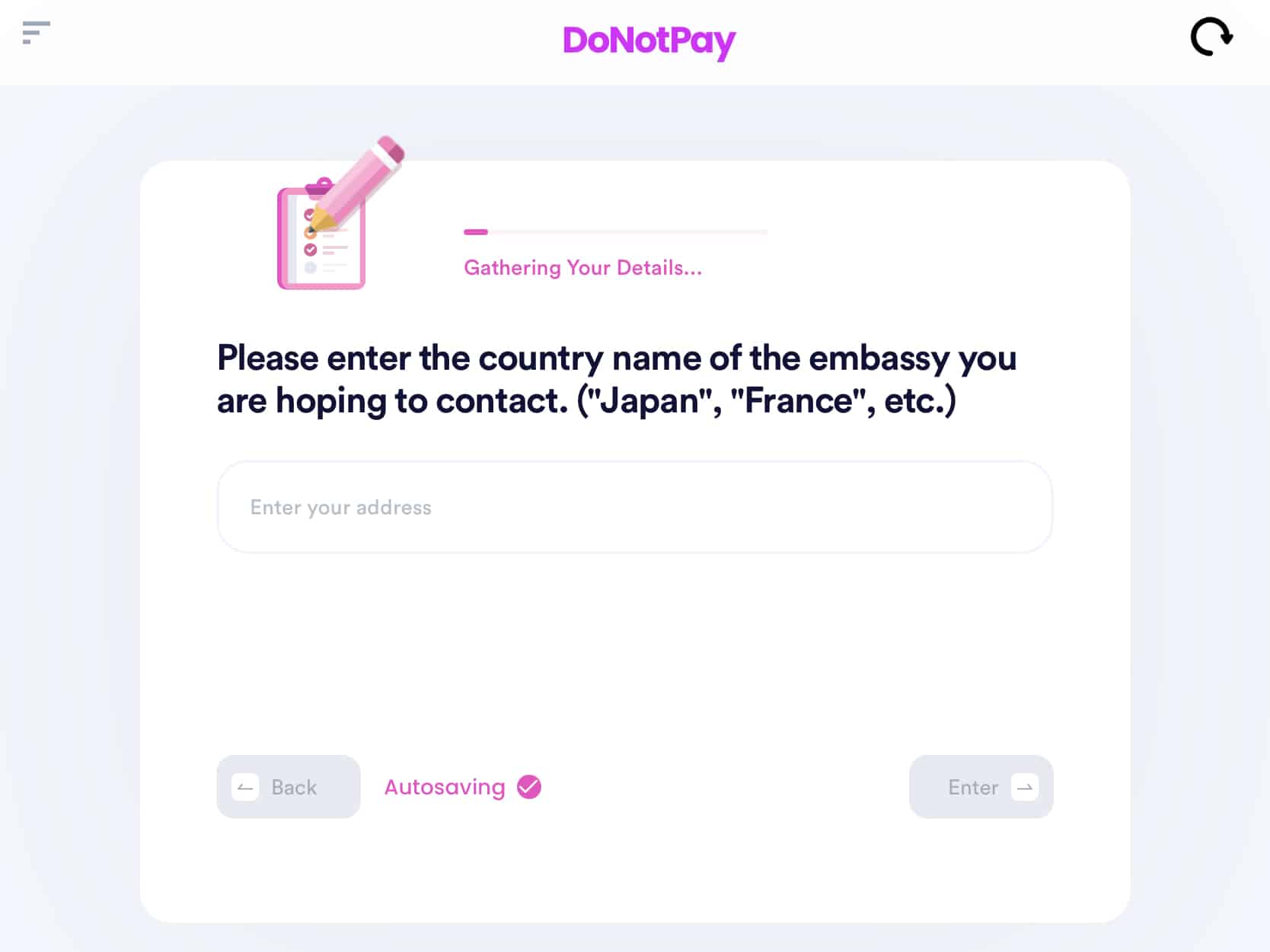 That is it! DoNotPay will contact them on your behalf, and you can expect a direct response from the consulate to your issue by email.
DoNotPay Also Helps You Contact