Divorce on the Move With the Right San Bernardino County Divorce Papers
Filing for divorce in California can be a lengthy and difficult process.
The more you can work together with your spouse, the cheaper, quicker, and more efficiently you will be able to finalize your divorce in San Bernardino County, but you need to start with the right paperwork.
If you follow the process from A to Z and collaborate with your spouse, you should be able to secure an uncontested divorce in San Bernardino County. You may even get away with not going to court or avoid expensive lawyers.
DoNotPay helps you get started on the right foot with our guide to San Bernardino County divorce papers.
Who Can Get Divorced in San Bernardino County?
To file for divorce in San Bernardino County, you must fulfill the following criteria:
You or your partner must have lived in California for at least six months
Either of you must have been a San Bernardino County resident for three months
Any children from your marriage must live in San Bernardino County
California is a no-fault divorce state, meaning that you only have to claim irreconcilable differences between you and your spouse—there is no need to prove any wrongdoing on either side as the grounds for divorce.
You and your spouse don't need to separate before filing for divorce either—you can go ahead and file papers as soon as you want.
What San Bernardino County Divorce Forms Do You Need?
To start your divorce, you need to file the following forms with the San Bernardino Superior Court:
| Required Documents | Explanation |
| --- | --- |
| Petition | This is your official request to the court to dissolve your marriage |
| Uniform Child Custody Jurisdiction and Enforcement Act (UCCJEA) declaration | If children are part of your marriage, you must fill out this declaration and provide their details |
| Declaration of disclosure | The declaration of disclosure affirms that you have declared your finances fully and truthfully |
| Schedule of assets and debts | This form is a list of your joint and individual assets and liabilities |
| Income and expense declaration | You and your spouse use this form to list your joint and individual income and expenses |
| Summons | The summons will be stamped by the clerk of the court and notifies your spouse of your divorce filing |
| Proof of servitude | This form confirms that your spouse has received the divorce papers |
| Response | This is your spouse's opportunity to respond to your petition for divorce or dissolution—their response will determine whether or not the divorce is uncontested |
In San Bernardino County, you can take advantage of the California Turbocourt system and file your divorce papers online or download them for in-person filing.
How Do You File for a San Bernardino County Divorce?
Filing for divorce in San Bernardino County is a three-step process, as follows:
Filing the papers
Serving the papers
Preparing a settlement agreement
Filing the Papers
Once you have obtained the paperwork as detailed above, you need to fill it out and file it with the clerk of the county superior court if you have not already filed online.
Serving the Papers
The summons and your petition for dissolution have to be served on your spouse by a deputy sheriff or a professional process server.
Preparing a Settlement Agreement
Once your papers have been filed, you and your spouse can begin preparing a settlement agreement.
This document is the deciding factor in whether your divorce will be contested or friendly and can have a significant impact on:
What Is a Divorce Settlement Agreement, and Where Can You Get One?
Your divorce settlement agreement sets out what should happen with your joint responsibilities after your divorce has been finalized, including:
Your settlement agreement has to be negotiated and drawn up as a legal document, and the better you and your spouse can cooperate, the easier these steps will be.
To negotiate your settlement agreement, you can use the following resources:
As soon as all the negotiation points have been cleared up, you can go ahead and have your settlement agreement drafted in legal terminology.
While you can use a lawyer to do this, the expense is an unnecessary waste.
You could also consider an online settlement agreement template as an option. Caution is advised, though—although they are cheap, many of these templates are too generic to cover your exact needs, and a judge may consequently reject your agreement.
The answer is DoNotPay's Divorce Settlement Agreement product—we can generate a customized and comprehensive divorce settlement agreement for you in a few clicks!
DoNotPay Gets Your San Bernardino Divorce Process Moving!

DoNotPay is your partner for making your San Bernardino divorce process smooth and painless!
We understand how traumatic divorce can be, so our Divorce Settlement Agreement product is designed to remove at least some of the difficulty. Our feature will give you a tailor-made, watertight agreement that ticks all the boxes required in San Bernardino County. The route to your final divorce judgment is made considerably easier!
All you need to do to set up your settlement agreement is:
Sign up with DoNotPay in your web browser
Search for our Divorce Settlement Agreement feature
Fill in the points you have agreed on with your spouse
Once we have everything we need, we will create your agreement for you in an instant. You and your spouse can sign it and have it notarized.
If you don't know where to find a notary in your area, don't worry—DoNotPay's online notarization service can help you out too!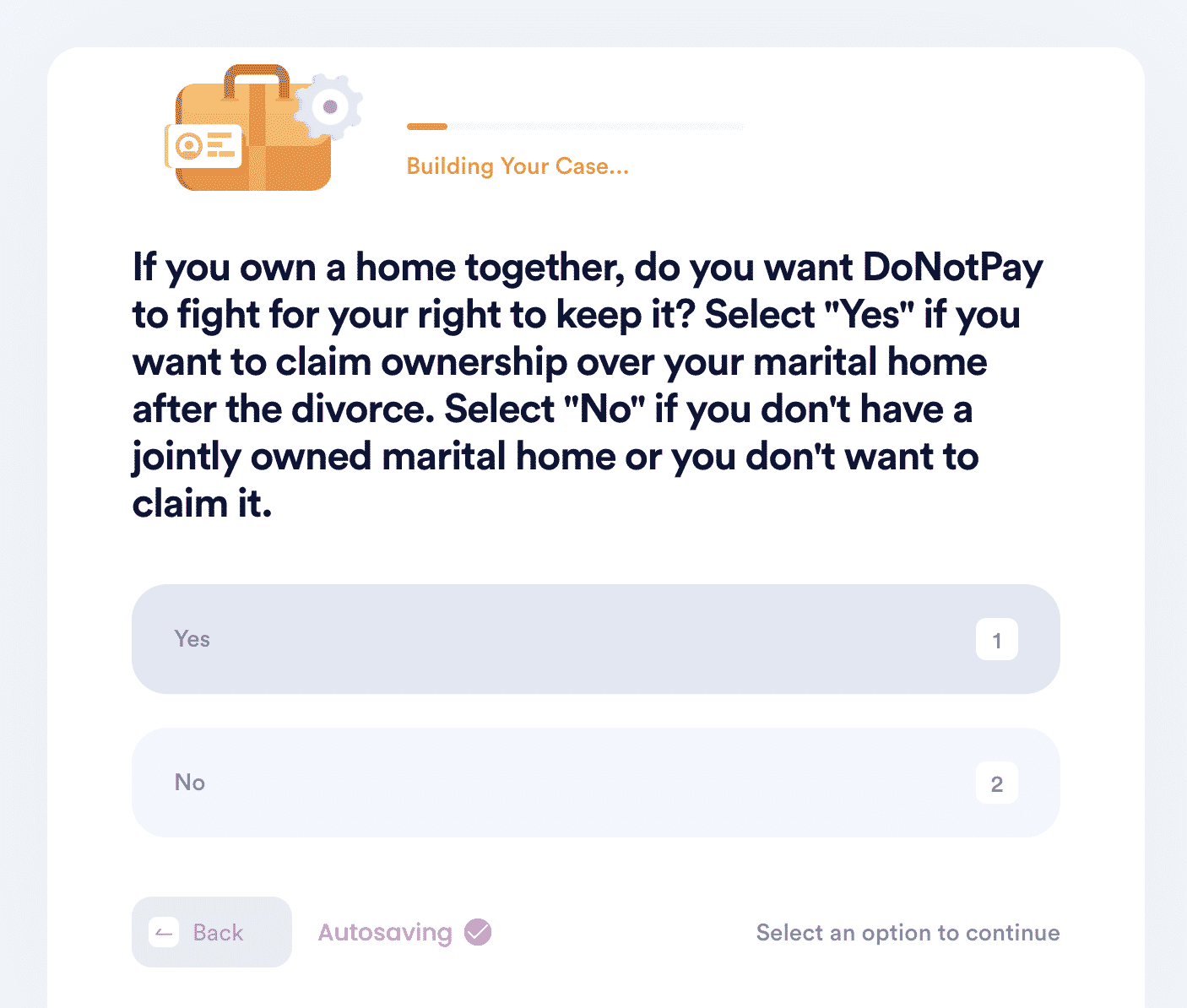 Other California Counties DoNotPay Can Help With
If you need divorce info for other parts of California, here are some examples of what we can offer:
If you are a member of the military stationed in California, we can also help you out with tips on getting a California military divorce.
Our App Solves Your Legal Issues!
Do you really have to set aside astronomical amounts to pay lawyers for drafting legal documents or taking a person or business to small claims court?
The answer is no—all the cash remains in your pocket, thanks to DoNotPay! From now on, you can perform many legal tasks from home with the help of our app. It enables you to create flawless powers of attorney, divorce settlement agreements, and child travel consent forms in a snap.
That's not all—once we generate these documents for you, we also help you have them notarized via a video meeting. No need to waste your time and fuel visiting notary offices.
Check Out Other Perks DoNotPay Offers!
DoNotPay provides a wide selection of services, from creating virtual credit cards and burner phone numbers to getting refunds from companies and canceling subscriptions. Have you received an unfair parking ticket? Appeal it with our app before you know it! Are email spam and robocalls making your life a living hell? No scammer stands a chance against our efficient AI-powered tools and features!
We also work in your favor when it comes to safety. Our app offers perfect ways to prevent copyright infringement, stalking and harassment, work discrimination, sex offenses, and disputes with annoying neighbors.