What Should a
Sample Rent-To-Own Contract for a Mobile Home
Cover?
Have you considered buying a manufactured house, but you don't have enough money to pay the entire purchase price? Why not try to lease or rent it and wait for a better moment? If you found a mobile home of your dreams, don't let it go just because you can't buy it at the moment. You can sign a rent-to-own agreement with the homeowner and lease the property until you are ready to purchase it.
If you decide to write the contract yourself, you may be tempted to choose the easy way and use online samples as an example. Since their quality may be questionable, we can help you find out what a good sample rent-to-own contract for a mobile home should include. This article will also highlight the best way to generate unlimited legal documents without stressing out or searching for online templates.
Rent-To-Own Mobile Home Contracts Explained
A rent-to-own mobile home agreement is a contract that allows the tenant to purchase a manufactured home once the initial rental period ends if they want. The renter signs it with an individual or a specific manufactured home park owner that rents out the property in question. The document defines the rental terms and regulations related to the potential purchase.
Future renters usually opt for this type of agreement when they:
Aren't ready to commit at the moment

Don't have enough money for an upfront payment

Want to get acquainted with the neighborhood before they buy the mobile home

Can't get a

loan

for purchasing the mobile home right away because their credit score is low
Why Should You Sign a Rent-To-Own Mobile Home Agreement?
What is so special about rent-to-own agreements? Here are the lists of the most prominent advantages these contracts offer:
Benefits for tenants

Tenant can buy the mobile home without a huge upfront payment

Landlord can't increase the predetermined price even if the market price goes up

Future buyers can check the neighborhood and decide whether they want to live and own a house at that location

Renters aren't required to qualify for a loan or mortgage—they can wait for a more suitable moment to buy the property

The chances that landlords will allow renters to improve or renovate some parts of the property are bigger with this contract

Benefits for landlords

The contract provides a steady, long-term income

Landlords can set a non-refundable option fee and minimize the risks

Property owners can keep the higher price even if the market price goes down

The agreement helps landlords avoid paying commissions to a broker
What Should a Rent-To-Own Mobile Home Contract Sample Include?
A rent-to-own mobile home contract is usually a combination of two separate agreements:
A typical

lease

or

rental agreement
Both parts must be in writing, and all clauses must be concise and comprehensible. Another plus is a solid structure covering all necessary sections that comply with local laws.
Online samples are usually quite accessible but not always accurate. They may also be incomplete or based on outdated laws, which is why you must pay close attention to the contents of an example you want to use. 
Some recommended elements that a solid rent-to-own mobile home contract sample should contain are listed in the following table:
Part
Sections

Standard lease or rental agreement

Full legal names and addresses of the tenant and the mobile homeowner

Start and end date of the rental period

Property information, including:

Location

Legal and physical description

General condition of the property

Rent details

Monthly amount

Payment schedule

Penalties for late fees

Security deposit info

Utilities

Repairs and maintenance

Potential modifications of the property

Various policies

Sublease

option

Responsibilities of both parties

An option to purchase

Option consideration

Purchase price

Title insurance details

Real estate taxes

Exclusivity of option

Earnest money deposit

Property included in the sale

No equitable ownership clause
How To Get Top-Level Agreements Smoothly With DoNotPay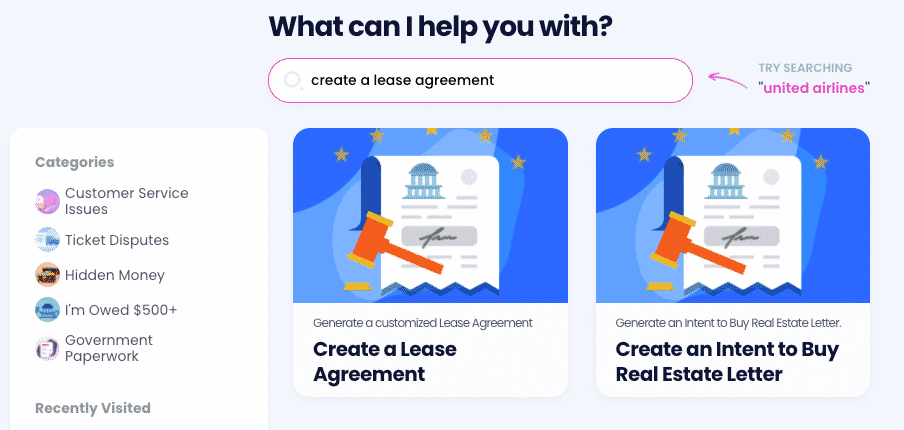 If looking for samples and drafting a contract yourself seems like too much work to you, subscribe to DoNotPay and get a complete personalized agreement in five minutes! Our Standardized Legal Document service can generate numerous contracts in a few simple steps. All you have to do is:
Sign up for DoNotPay

and log in to your account

Look for the desired document in the search box

Add the relevant details you want to include in your contract
Once you download the ready-made agreement, all that remains is to sign it and obtain a notary's stamp and signature if necessary.
DoNotPay also has a vast collection of excellent articles about: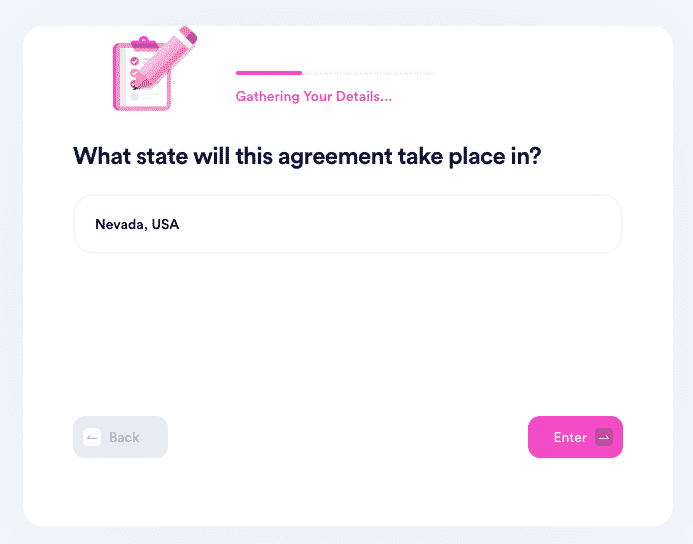 What Standardized Documents Can DoNotPay Generate?
We created our Standardized Legal Documents feature to help you avoid costly professional services. Create an account on DoNotPay and find the safest and most affordable way to draw up the best:
General Affidavit

Intent To Purchase Real Estate

General Business Contract

Child Care Authorization Form

Quitclaim Deed

Promissory Note
Learn About DoNotPay's Awesome Products!
DoNotPay is a multifunctional app that can solve numerous everyday challenges swiftly. 
You can use our app to protect your work from copyright violations, schedule your driving exam or any other appointment with the DMV, reduce your property taxes in a few steps, and similar.
We have created many useful products to help our users take care of their issues through the same app. With us, you can:
DoNotPay Connects You With Your Loved Ones
Sending letters to inmates can be difficult since you have to follow certain rules to a T to avoid having your letter rejected. The situation is even more complicated if you don't know where your incarcerated loved one serves time. DoNotPay's app can help you locate prisoners and correspond with them without worrying whether you're breaking any rules. 
Do you want to send a letter, but you don't feel like heading over to a post office? By using our mailing service, you can mail as many letters as you want from the comfort of your home. With DoNotPay, you can also send online faxes in under five minutes!
Email and text spam is something that everyone experiences at least once in their lives. DoNotPay has a solution for that too. Access your DoNotPay account and count on us to help you block spam and get compensation by reporting pesky robocalls.