How To Appeal Your Assessment—Snatch a Sample Property Tax Appeal Letter Here
If you decided to go through with your property tax appeal, you must have a lot on your plate. Having to sort out an erroneous property tax assessment is no fun and games, but DoNotPay can help you!
Get a sample property tax appeal letter, learn how to protest your tax assessment, and apply for property tax exemptions with minimal effort.
How Does a Property Tax Appeal Work, and Why Do You Need To Write a Letter?
A property tax appeal is an opportunity for any homeowner to protest their home's assessed market value. When a local property tax assessor makes an error while evaluating your property's purchase price, you can spend much more on your property tax bills than you should.
In most cases, to appeal your property's assessment, you need to:
File an appeal with your county's tax board

Pay a fee

Collect the evidence that proves your assessment contains errors

Prove your assessment is incorrect in a court hearing
So, what is a property tax appeal letter, and why do you need to write it?
A property tax appeal letter is a formal request for your local tax board to change your property's appraised market value. When you write the letter, you need to send it to your local property tax appeal office either in person or through the mail.
Some states or counties may require that you submit:
Only a form when appealing your assessment

Only a property tax appeal letter

Both a form and a letter
Appeal Your Property Tax Assessment Using This Sample Letter
Your property tax appeal letter needs to contain the following information:
Contact information of the assessor that appraised your property

The date when you plan to submit the letter

Subject line

Your property's description and parcel number

Reasons for the appeal provided in concrete detail

Your name and signature
Your letter also needs to be formal. Here's a sample letter to help you write your own:
"[The assessor's address
The assessor's name
Your name
Your Address
Your City, State, ZIP Code
Date]
Request to appeal my property's tax assessment
Dear [Assessor's name], 
Please accept this letter as my notice to appeal the assessed value of the property described below for tax year [year]. Here are the reasons why the assessment you made is incorrect:
[List all the discrepancies in your property's assessment in a bulleted or numbered list]
I request for my property's market value to be reduced to [the purchase price you believe is correct]
As you can see from the information I provided in this letter, my property has been wrongly assessed.
I am asking that you change my property tax assessment according to the information I have given you. Please don't hesitate to reach me at [your contact information]
Sincerely,
[Your name and hand-written signature]
When To Appeal Your Property's Tax Assessment
If you're uncertain whether to appeal your property's tax assessment, check out what kind of information may be incorrect in your notice:
Information About

What May Be Incorrect

Your property

Square footage

Number of rooms

Date of construction

Acreage

Type or number of fixtures and installations 

Your assets

Assets you sold or moved to another location

The assets that were under-depreciated by the assessor

Assets that you don't own

The purchase price

The value of your property that is doubled

The number that's not in line with the value of other properties in your neighborhood
DoNotPay Makes Appealing Your Tax Assessment a Piece of Cake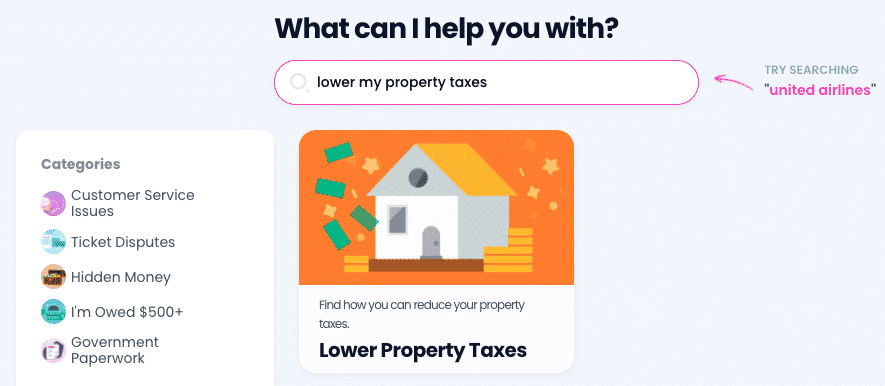 When you decide to appeal the assessment of your property's market value, there are many wrong steps you could take. The information about how to appeal your assessment varies not only from state to state but also from county to county. You usually don't know all the facts, so you may miss an important deadline or submit the wrong form.
It's imperative that you inform yourself on how property tax appeals work in your area, which is what signing up for DoNotPay can help you with.
Our app helps you collect all the information you need in a few short steps. When you access DoNotPay, you only need to:
Go to our

Property Tax

product

Answer a few questions about yourself and your property

Wait for our app to generate a personalized guide on appealing your assessment
Apply for Property Tax Exemptions With DoNotPay!
When you get DoNotPay to help you appeal your property's assessment, you can use our app to further lower your tax bills.
Log in to your DoNotPay account and repeat the short three-step process from above to get help reducing your tax bills by finding out:
What tax exemptions you are eligible for

How to apply for them without wasting your time and energy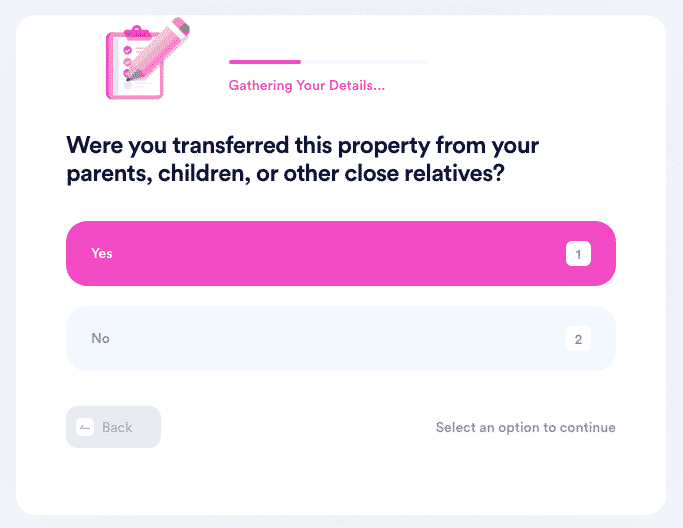 Not many states have low property tax rates, but almost all of them offer the following tax exemptions to citizens:
Outsmart Scammers With DoNotPay
Are you troubled every time you think about subscribing to a service because you fear your personal information will leak and your privacy will become invaded?
There's no need to fret anymore as DoNotPay has come up with a way to shield you from hackers, scammers, and identity thieves alike. 
Check out how you can use DoNotPay and browse the internet care-free:
Open DoNotPay in your web browser

Locate our

Virtual Credit Card

generator

Use the made-up card number to sign up for any

free trial

Move forward to our

Burner Phone

product

Use the temporary phone number to verify any online account

Enjoy the trial without worrying about

canceling it

—the service will do it on its own
Signing up for services with DoNotPay's hacks frees you from ever falling victim to a serious crime, such as identity theft, and liberates you from the bothersome and never-ending spam calls, texts, and emails that you never explicitly agreed to receive.
What Else Is Hot About DoNotPay?
DoNotPay does wonders in protecting your online privacy, but it can do so much more for you! 
With our assistance, you can claim compensation for canceled or delayed flights, request refunds and chargebacks for unsatisfactory purchases, file warranty claims for defective products, and even overturn unjust parking tickets!
Our app can locate unclaimed funds that exist under your name, the best clinical trials for your needs, and public records that you couldn't identify on your own.