Why Look for a
Sample Operating Agreement for a Two-Member LLC
—Use DoNotPay
Why trouble yourself with finding a perfect sample of an operating agreement for a two-member LLC when the alternative option is simpler? You can use DoNotPay to create a two-member LLC operating agreement without issues. Our app can also generate numerous other legal documents for you!
What Is a Two-Member LLC Operating Agreement?
A two-member LLC operating agreement is a document that clarifies the ownership and operational structures of a limited liability company (LLC) that has two owners. The owners of an LLC are called members. 
You don't need to make this agreement in all U.S. states, but it will definitely be helpful to ensure everything runs smoothly. What the operating agreement entails depends on various factors, such as:
Number of members

Management structure

Investment

Tax considerations

Profit-sharing
Both members of an LLC should sign the original of the operating agreement in front of a notary public along with all the copies. At least one original needs to stay at the company's principal address.
Two-Member LLC vs. Single-Member LLC
You would assume that the difference between the two-member and a single-member LLC is clear, but that's not always the case. A single business owner can create a multi-member LLC, and more than one person can form a single-member company.
The first situation is possible if the owner makes their spouse or child a member. The other option happens if business partners own multiple properties as two separate LLCs and opt to form a multiple-member LLC that owns the two separate ones. This action helps them avoid filing separate tax returns.
Why Is a Two-Member LLC Operating Agreement Important?
Creating an operating agreement for a two-member LLC is even more important than the single-member one. When there is more than one owner of the company, disputes and disagreements are more likely to occur. This legal document should ensure the communication between the two parties is clear.
One of the most important parts of an operating agreement for companies with multiple members is the explanation of what happens in case one of the parties is not doing their job properly. If you have all of the rules and consequences written down, you will be able to handle the issues easily if need be.
What Information Should Every Two-Member LLC Operating Agreement Include?
If you want to create a rock-solid two-member LLC operating agreement, you need to know what info it should contain. Take a look at the table below for more details:
Sections

Explanation

Basic information

Names of the members

Name of the company

The nature of the business

Duration of the agreement

Start and end date of the contract

Formation of the agreement

Type of the LLC (single- or multi-member)

The purpose of the LLC

The registered agent of the LLC

Banking and accounting

Who will handle financial matters

What the fiscal year of the company will be

How banking will be dealt with

Rights of the members

Administrative power

Voting rights

Right to enter into contracts on the LLC's behalf

Forbidden activities

Management of the agreement

Meeting schedules

Type of management

Terms of termination

Breach of contract

Mutual end of the agreement

Ways to distribute material and intellectual property

Confidentiality of the agreement

What information is confidential

Who owns the right to intellectual property

Members' signatures

All the members and representatives should sign the document
You can avoid the troubles of adding all of this information to the operating agreement and let DoNotPay handle the difficult part of the task.
Create an LLC Operating Agreement With DoNotPay's Help
If you want to draw up an LLC operating agreement and save some time and energy during the process, you should turn to DoNotPay. Our app will handle the task without trouble. You only need to follow these simple instructions:
Sign up for DoNotPay

in a web browser of your choice

Type in

Operating Agreement

in the search field

Answer some questions about yourself and your business
You will receive a document that is specifically tailored for your needs!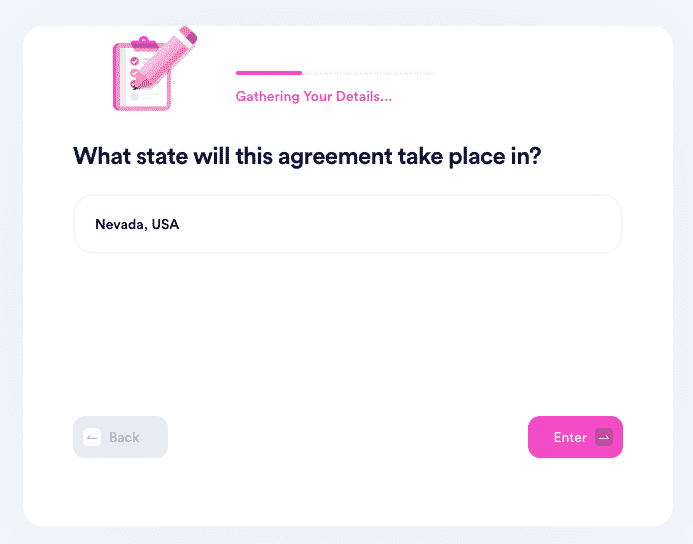 Other Documents You Can Create With DoNotPay
You can use DoNotPay to make other legal documents. Our database keeps on growing, and for now, you can choose from the options listed in the table below:
Real Estate Contracts

Quitclaim Deed

Intent To Purchase Real Estate

Business Agreements

General Business Contract

LLC Operating Agreement

Other Documents

General Affidavit

Promissory Note
DoNotPay has useful guides to many other documents you might need to learn about. Find out more about these contracts and agreements:
Explore DoNotPay's Products and Save Both Time and Money
Are you sick and tired of spending ages on the phone with customer support trying to get more info about how to return a faulty product and get a refund? Maybe you'd like to cancel memberships you don't use but can't find that unsubscribe button anywhere? DoNotPay can help you sort out all of these issues in a jiffy!
Contest parking tickets, claim your car warranty and insurance, schedule a meeting with the DMV, and handle your other problems through the same app on your tablet or smartphone. 
Getting access to public records or drawing up various legal documents with DoNotPay is child's play. 
That's Not All!
The first thing you'll notice when you open DoNotPay is that you can use our app for almost anything. 
Do you wish to enter raffles or sweepstakes? Are you interested in applying for paid clinical trials and earning some cash? Would you like to send mail without going to the post office? You're in the right place!
We will help you feel safe while browsing the Internet by assisting you in blocking and reporting spam emails, suspicious text messages, and pesky robocalls.