Quick Sample Living Trust California
If you live, work, or have assets in California and you're looking to draft a living trust, this article will provide you with everything you need to know. At the end, find out how DoNotPay can help you draft a valid living trust document in seconds.
What Is a Living Trust?
A living trust or grantor trust is a legal document that specifies how your assets will be distributed during and after your lifetime. There are two types of living trusts — revocable living trusts and irrevocable living trusts. Revocable trusts are flexible and can be amended and even revoked. Irrevocable trusts are unchangeable once activated.
All types of living trusts involve a principal also known as the grantor, a trustee or set of trustees, beneficiaries, and custodians (in the event that a beneficiary is a minor).
Revocable Living Trust Template for California
Every state has their own format for drafting trusts. For California, there are 14 different sections in a living trust. Here are the sections below:
Section
Content
1

The name of the trust and

type of trust

2

The declaration of the trust concerning selected estates to be transferred to the trust. The estates are to be addressed as trust property

3

Definition of terminologies in the trust form

4

The nature of the trust in the event of amendment, revocation, and death of the grantor

5

Provision for funeral arrangement, trust expenses, and tax requirements

6

Guidelines for administration of grantor estate by trustee

7

Powers of the trustee and provision for death, unavailability and resignation of the trustee

8

Designation for insurance coverage

9

In the event of the death of a grantor

10

List of beneficiaries and terms of property distribution

11

Grantor's estate trust exemptions and privileges

12

Individual legality of clauses

13

Grantor powers over the trust

14

Notarization section, witness signatory, grantor signatory, and trustee signatory
Benefits of a Revocable Living Trust
A living trust affords you some of the best benefits when compared to a traditional will. With a living trust you get:
Tax savings

With a living trust, you can save big on gift taxes and get significant waivers for

estate taxes

.

Right to privacy

Much unlike will, a trust gives you rights to full privacy on your estate beneficiary arrangement. Only the parties involved will have access to the living trust.

Aversion of probate

With a living trust, you skip the tedious and expensive process of probate which delays the settlement process.

Flexibility 

Having a living trust can give you utmost control of your estate as though they are still your personal possession. You are able to modify, alter, or revoke the trust as you see fit.

Creditor protection

Depending on the type of living trust you choose, you can also enjoy creditor protection for your beneficiaries. In the case where you remain obliged to pay, the responsibility will reside only with you as a grantor and not your beneficiary, unless otherwise stated.
How to Set Up a Living Trust
To set up your living trust, you'll need to:
Start by making a list of beneficiaries.

The FDIC offers insurance cover of $250,000 each for up to five beneficiaries. You may choose to consider this when making your list. 

Choose your trustees.

The state of California permits having multiple trustees and even successive trustees in case one is unable to carry out his or her responsibilities.

Choose which assets to include and exclude.

If you are setting up a revocable trust, remember that you can always make additions and amendments.

Get

a living trust form or draft one yourself.

You can use the guide above or get one from a California attorney.

Notarize the living trust form in a California court.

Notarization is usually done in the state where most of your assets are situated. 

Open a trust checking account, effect asset title changes, and transfer assets to your account. 
Safely keep your trust document.
Create a Revocable Living Trust With DoNotPay
Ready to start your living trust process? Use DoNotPay to avoid exorbitant legal fees and get the process done in minutes. Here's what using DoNotPay will look like:
Log-in to

DoNotPay

and select the Revocable Living Trust service
Enter the state you live in
Assign your trustee(s)
Select your beneficiaries
Choose the assets and properties to be included in the trust
Once you've entered all the information, DoNotPay will create a revocable living trust for you! All you need to do is get it notarized.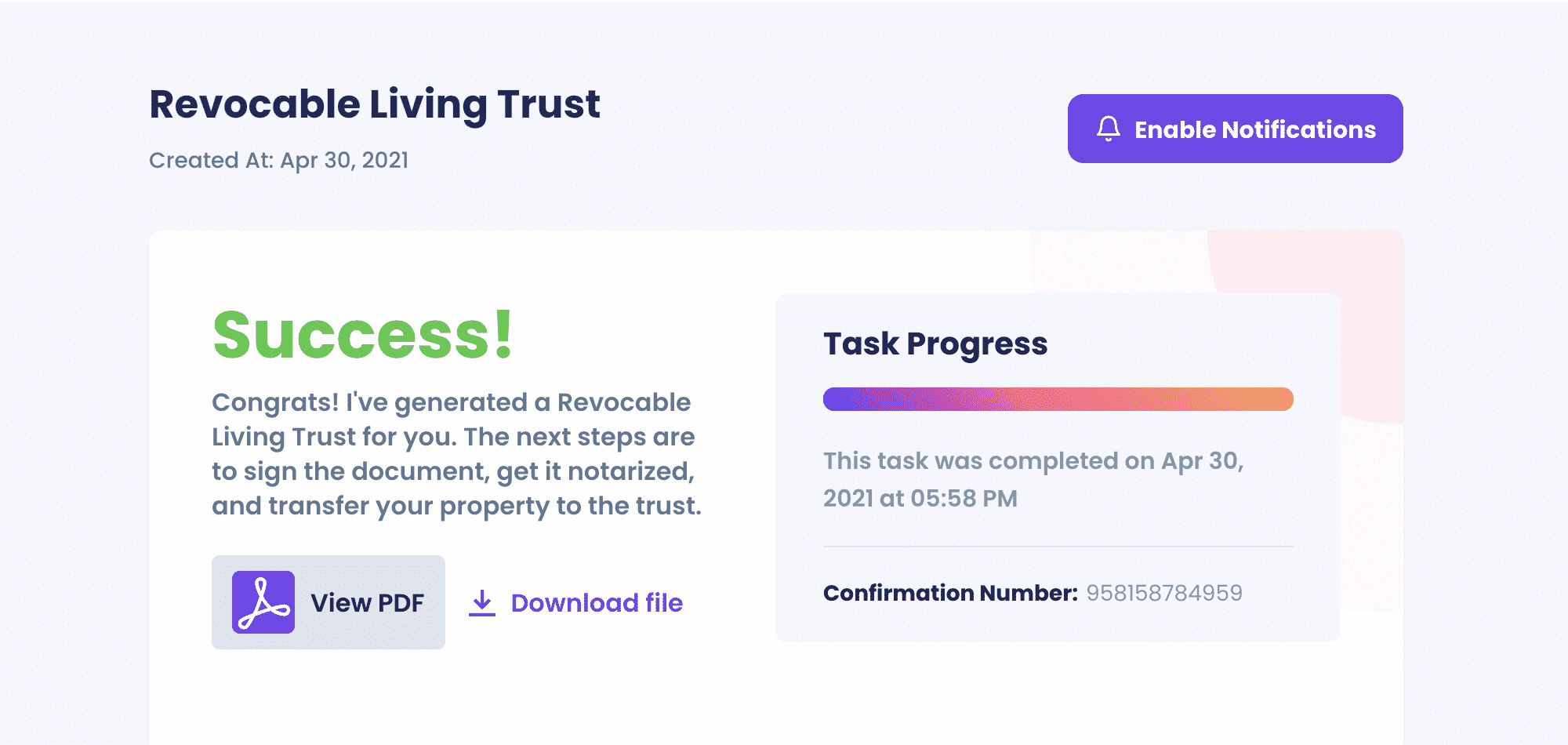 DoNotPay Can Help With More
DoNotPay doesn't stop at helping you draft living trusts. The AI-powered robot lawyer can help you with day-to-day issues such as cancelling subscriptions, creating passport photos, appealing parking tickets, and so much more! Here's what else we offer: