Address Your Concerns With This Sample Letter to a Neighbor About Tree Removal
While trees create fresh air, bring us shade when it's too hot and sunny, and are generally beautiful, rotten and diseased trees are an eyesore. Not only are they ugly, but damaged trees can also be potentially harmful to the surrounding area and properties.
If you don't know how to write it on your own, address your problems and concerns with this sample letter to a neighbor about tree removal.
and let us resolve any other issues your neighbors might have been causing you, including noise, harassment, and loud pets!
Reasons for a Tree Removal
You should complain to your neighbor if their tree is potentially dangerous to your property. You should ask them to remove the tree if it:
Has dead, broken, or hanging branches
Leans to one side and appears at risk of falling
Has strong roots that cause damage to your driveway
Sheds leaves that clutter in your yard
Looks dead or diseased
Is overgrown and resting on your property
Anyone who is a property owner has a legal duty to inspect all trees on their land for any defects that could present risk or end up damaging anyone else's property.
How To Deal With the Neighbor's Hazardous Tree
If you worry about the neighbor's tree destroying your driveway or damaging your fence, there are several options you can try:
Talk it out with your neighbor—When it comes to neighbor disputes, the best way to deal with them is through conversation. You can tell your neighbor what your issue with their tree is and look together at all possibilities. Tell them about the fears you have about the tree falling on your roof, shed, or fence. Even if it's not your obligation, you can tell them you'll split the costs of removal
Send a letter to your neighbor—If you couldn't address your issues properly during the conversation with your neighbor, try writing them a letter. You should include reasons for tree removal, your fears regarding the tree, and potential resolutions, including the tree removal. We prepared a letter sample below to help you with the process
Document the damages that the tree has caused—Most states don't hold property owners accountable if a tree falls and damages another property during a storm. Regardless, you should document all interactions with your neighbor asking them to remove the tree. More importantly, you should document all the damages caused by the tree, whether it's clutter, root damage, or the actual damage after the tree falls down
File a report with your local government—Whether the tree is dangerous for you and your property or keeps you from enjoying your yard, these situations may constitute violations of local codes or ordinances. If your negotiations with the problematic neighbor didn't work, you should inform your town building or planning board. If you're a member of the local homeowners' association, that may help—check the rules about trees and property maintenance and ask the homeowners' association board for help
File a demand letter using DoNotPay—If negotiations with the neighbor were unsuccessful, it's time to take the issue one step further. We will compose a letter telling your neighbor about the legal actions you're going to take if they don't meet your demands
Sample Complaint Letter to a Neighbor About Tree
If you want to send a complaint letter to your neighbor regarding the tree removal, you shouldn't overdo it. You can use the following letter sample as a guide:
[Your name and address]
[Neighbor's name]
[Neighbor's address / 'Delivered by hand']
[Date]
Re: Potentially Dangerous Tree/Hazardous Tree Removal
Dear [Neighbor's name] / [If unknown, just address as 'Dear Neighbor'],
I live at [address]. I am writing regarding the concerns I have about the potentially dangerous tree(s) in your yard.
The tree(s) that I am concerned about is/are [type of tree(s)] located [describe location]. I am especially worried about this/these tree(s) because [insert concerns and why you find it/them dangerous]
The property owners have a legal duty to make sure that their trees do not pose a danger to neighbors or their property. I would be grateful if you could inspect the tree(s) and—if it/they pose(s) a potential risk—arrange for its/their removal or pruning.
I would be grateful if you would consider this matter as soon as possible.
Thank you in advance for your cooperation.
Kind regards,
[Your signature]
[Your name]
When Nice Doesn't Cut It, Use DoNotPay To Demand Your Neighbor To Cut the Tree
You tried the amicable approach, but the tree is still standing or leaning over your house? It's not a big deal—most negotiations with neighbors end like that. That is why DoNotPay created the Neighbor Complaint product! We can help you: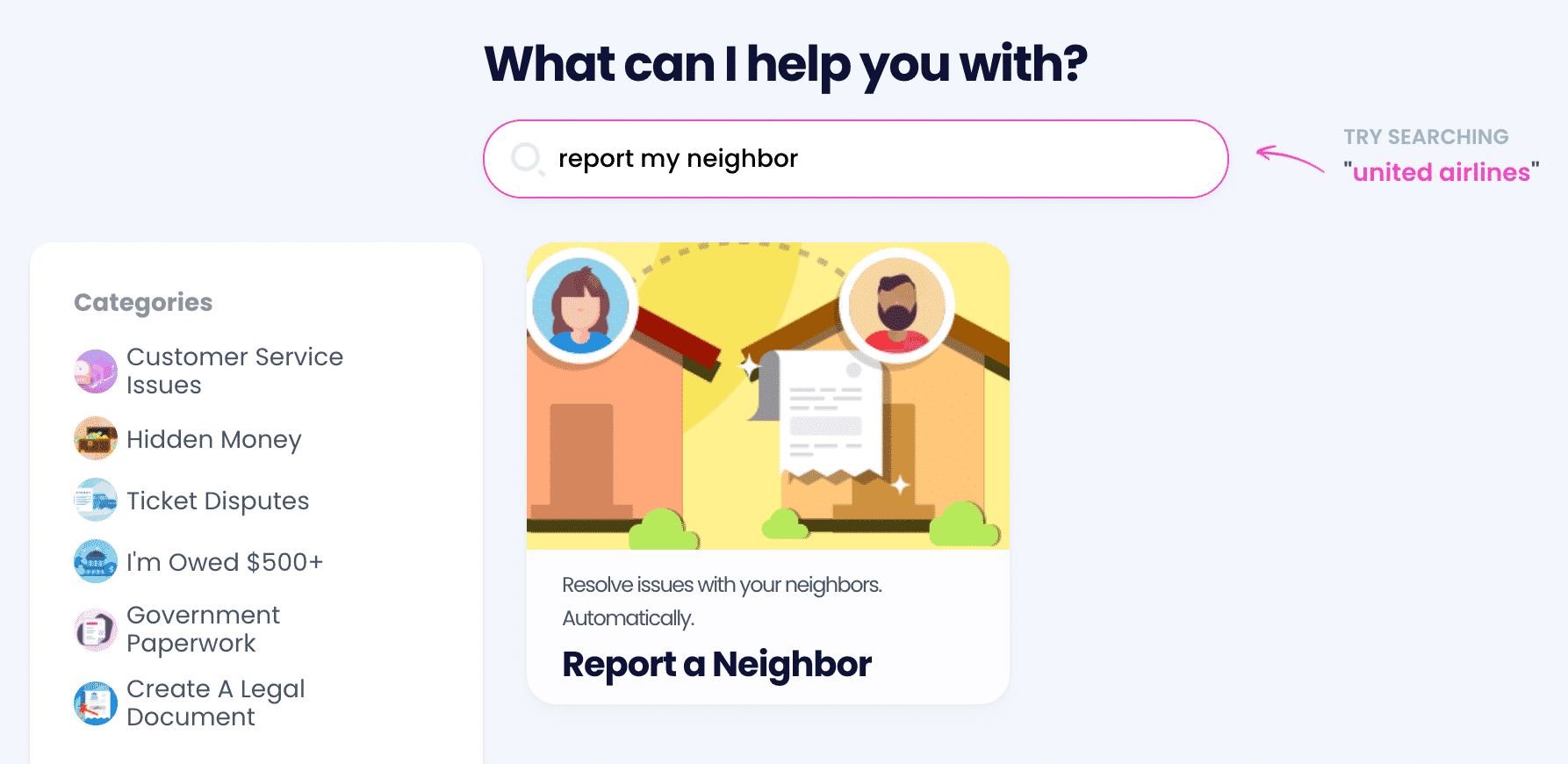 You can get your issues with neighbors resolved in three steps! and do the following:
Locate the Neighbor Complaint service
Tell us about the issue you're having with a neighbor
Provide more information to help us compose the best demand letter
We will insert your complaint, arbitration notice, compensation amount, and the warning about legal actions that will follow should they decide to ignore it.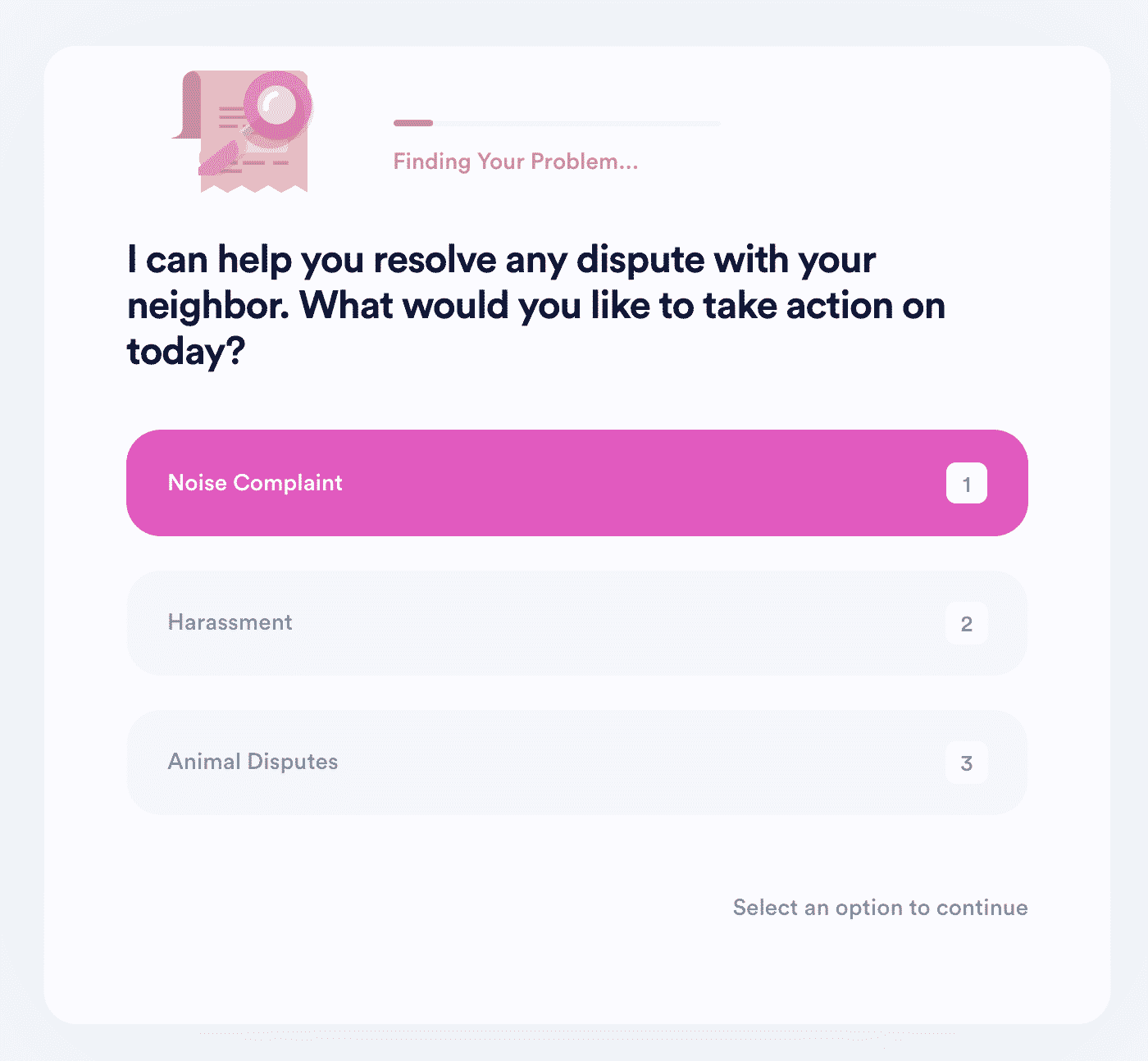 No Lawyer—No Problem! Rely on the World's First Robot Lawyer
When you're in a bind but you can't afford a lawyer, there is still something you can do—sign up for DoNotPay and let our award-winning app give you a hand. With our expertise, the following tasks will be a piece of cake:
Free Yourself From Boring Tasks With DoNotPay's Help
Our AI-driven app comes in handy for numerous bureaucratic or administrative chores that usually take up a lot of time. With DoNotPay's speedy service, even the most tiresome task will be complete in a flash!
You can forget all about waiting in line at the DMV and being on hold with customer service—we will get you to the finish line in a few clicks. Tired of the old snail mail? Use DoNotPay to mail letters fast. Better yet—fax your documents using our app. If your document requires a notary's signature, we can assist you in scheduling a virtual appointment.