Voice Your Concerns With a Sample Letter to a Neighbor About Dog Poop
Dogs are known as man's best friends and can be the most devoted animals ever. Cleaning up their poop is an entirely different matter. It can be disgusting and annoying, especially if the dog does not belong to you.
In case you stepped into your neighbor's dog's poop too many times, it's time to address the issue. A sample letter to a neighbor about dog poop is a good place to start, but offers an easier solution.
How To Deal With a Neighbor's Dog Pooping on Your Property
Preventing a neighbor's dog from soiling your property is a tricky business. Keep in mind that you cannot reason with canines, but you can with their owners. Check potential methods in the following list:
Take preventive action
Have a conversation with your neighbor
Send a demand letter
File a complaint with the local authorities
Take Preventative Action
To prevent your neighbor's furry friend from leaving its poop in your garden, try the following:
Create a barrier to prevent the dog from entering your land
Install lawn sprinklers with motion detectors
Change your lawn fertilizer to throw off the dog's sense of familiarity
Put dog repellents in your fertilizer, such as garlic, olive oil, or almond oil
Spray citrus oil or peels around your yard
Have a Conversation With Your Neighbor
Some people throw dog poop back into their neighbor's lawn as an act of revenge. Don't be that person!
Before storming to their front door outraged, confirm that it is indeed their dog that is pooping in your yard. There are stray dogs in every neighborhood, and it is more likely that a drifter soiled your yard.
To make sure, install a camera on your property. Once you've caught your neighbor's dog pooping on tape, go over to their house to have a conversation. It's important to note that you're going there to have a conversation, not an argument. Here are some talking points you can use:
Talk about the love of animals if you share it with them
Explain politely that their dog is pooping in your yard
Show documented evidence, including photos and videos
Request them to take immediate action, such as training their dog or creating a proper dog litter
Let them know that according to the United States Environmental Protection Agency (EPA), dog poop is an environmental hazard
Send a Demand Letter
If your neighbor plays dead, it's time to escalate the issue and send them a formal warning. A well-drafted demand letter should contain the following:
Documented evidence
Arbitration notice
Requested financial compensation for damages incurred
Potential legal consequences if the neighbor doesn't cooperate
File a Complaint With the Local Authorities
If you've exhausted all your options, lodge a formal complaint with the local authorities or call animal control. Most states have specific rules about keeping pets. Check out your state's animal regulations regarding dog poop.
Sample Letter to a Neighbour About Dog Poop
If you want to send a letter to your neighbor about dog poop, use the following sample letter as a guide:
[Your name and address]
[Neighbor's name and address]
[Date]
Re: Dog Pooping on My Property
Dear [Neighbor's name]
I live at [address]. I am writing regarding the concerns I have about your dog pooping in my yard.
As you probably know, our state law is clear that all dog owners are responsible for training their dogs and cleaning up after them. Your dog has consistently been pooping on my property, creating a mess that I have to clean up.
I am apprehensive because of the harmful effects of dog poop. (State all the personal and environmental damage that dog poop can cause if not cleaned).
Please find attached documented evidence of your dog pooping on my property and note that dog owners have a legal duty to ensure their pets are not a nuisance to other people. I would be grateful if you could address my concerns and find a solution to the problem.
Thank you in advance for your cooperation.
Regards,
[Your name and signature]
Use DoNotPay To Send Demand Letters on Your Behalf
If drafting a demand letter isn't your cup of tea, DoNotPay will do it for you!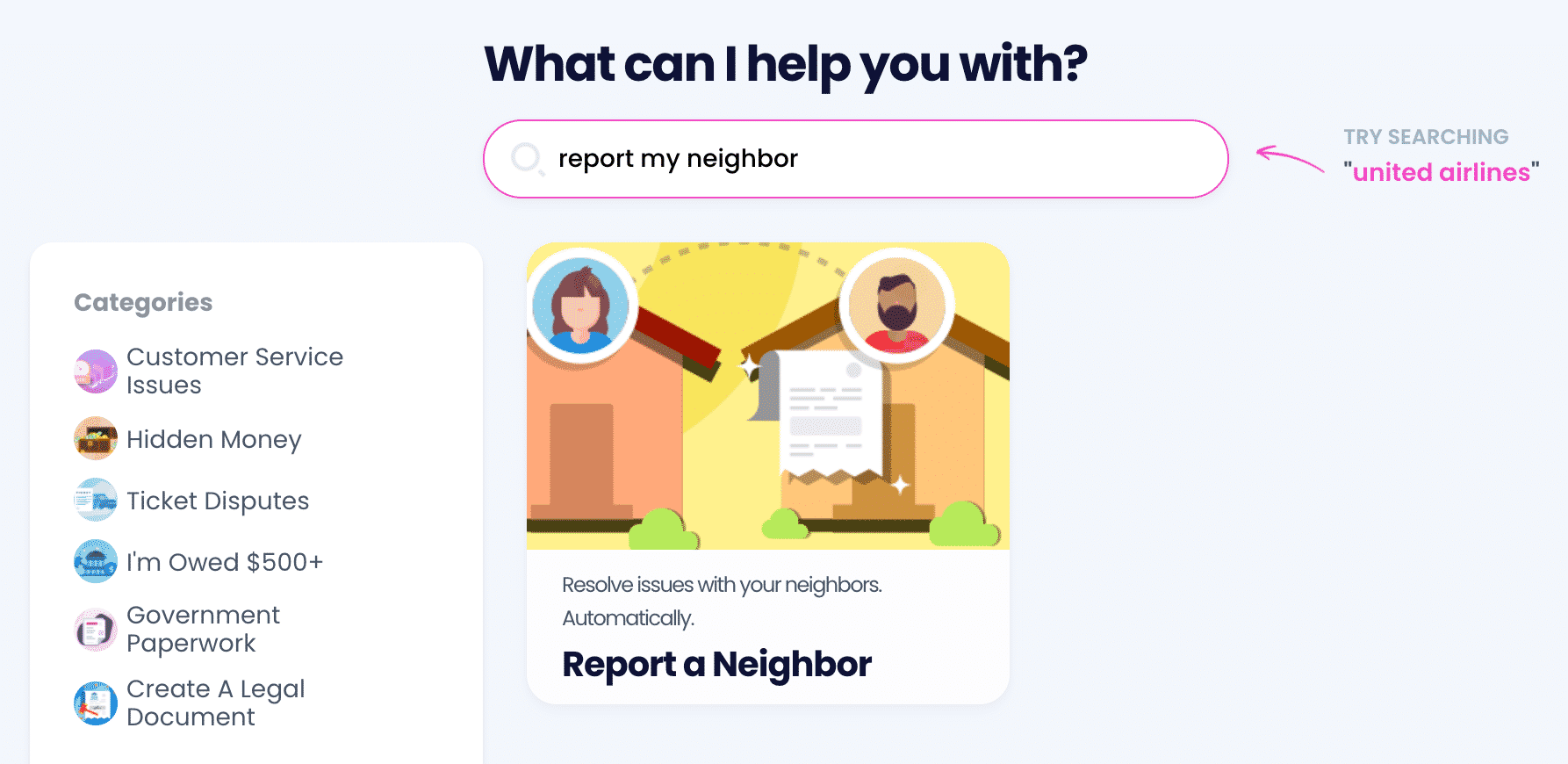 Our Neighbor Complaints service was designed to help you deal with various neighbor problems without breaking a sweat. All you need to do is follow these instructions:
in your web browser
Select the Neighbor Complaints feature
Choose the issue
Add details to help us personalize the document
We will make a professional demand letter and send it in your stead.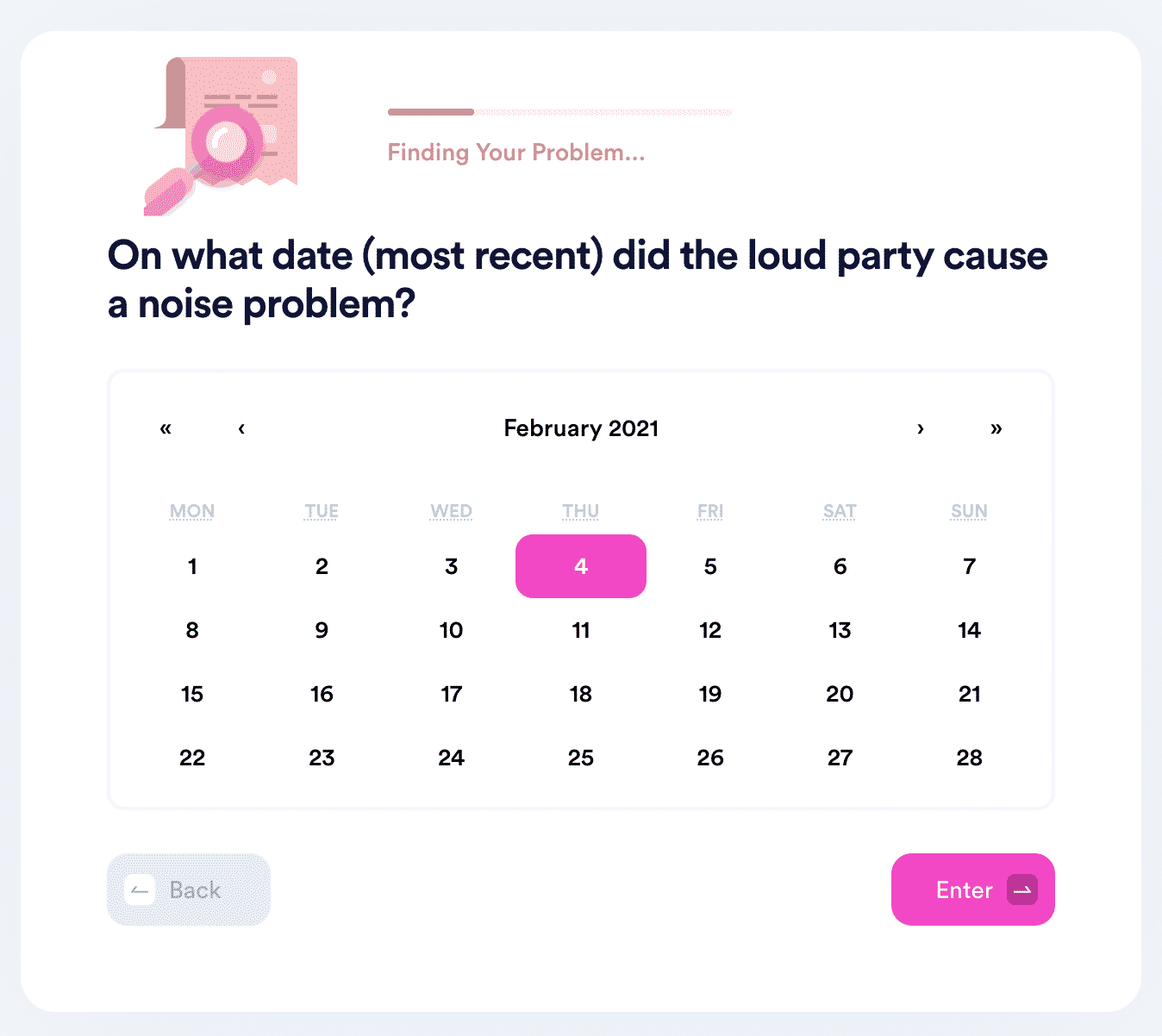 Are there other neighbor-related unpleasantries you have to put up with? Check out our helpful articles and learn how to:
Easy-Breezy Ways To Deal With Not So Breezy Issues
Administrative and similar tasks don't have to be as complicated as we've known them to be. With DoNotPay, dealing with paperwork and companies is done in a few clicks. Let the world's first robot lawyer help you:
Draft various legal documents
Money Troubles? I Don't Know Her!
As our app's name says, DoNotPay's mission is to put a stop to losing money and overpaying. We will help you get your hands on free trials and snatch free raffle tickets. DoNotPay can also provide solutions for you to get help covering bills and reduce your property taxes.
If you want to get some additional funds, use our app to sign up for clinical trials. You may also take our practice tests to ace a government test and land a better-paying job.
It doesn't hurt to check whether you are owed some unclaimed money, and we can help you with the application.