Sample Letter of Termination of Tenancy Agreement by a Tenant—Writing Tips
If you live as a tenant in a house or an apartment, you have to sign a tenancy agreement. According to that legal document, you should write a notice to your landlord once you decide whether you want to renew the agreement or terminate it when the agreed-upon expiration date arrives.
There is a third scenario. You might want to terminate your tenancy agreement early. In that case, you should write a tenant's notice to your landlord. If you're not sure what to include in it or how to write it, don't worry— has you covered! We will show you a sample letter of termination of a tenancy agreement by a tenant.
Termination of Rental Agreement Letter by a Tenant—What To Include
No matter the reason for early termination, you need to notify your landlord in writing about your decision. Most states require that you send the termination letter 30 days in advance, but it would be best if you sent it 60 days in advance.
If it's written by a tenant, the letter of termination is also called a tenant's notice to terminate the tenancy.
In your notice, you have to include:
Personal Information
Additional Information

Full name

Current address

Phone number and email address

Signature

Your landlord's name and address

The address you plan to move to

Date when you are sending the letter

The reason for wanting to terminate the agreement early

Date when you plan to vacate your current residency
You should also underline that you are eligible for a security deposit and that you want to know when the landlord can come to inspect the place. Don't forget that you are obliged to clean the house or the apartment you're moving out of.
A Sample Termination Letter by a Tenant
A tenant's notice to terminate the tenancy should be a short, direct, and semi-formal letter. You can mail it electronically or send it to your landlord's physical address.
Take a look at an example of a termination letter to get a good idea of what yours should look like:
[Your name]
[Your current address]
[Date of sending the letter]
[Your landlord's name]
[Your landlord's address]
Tenancy Termination
Dear, [your landlord's name]
I am writing to tell you that I plan to vacate the premises [your current address] by [the date when you plan to move].
My tenancy agreement started on [date] and ends on [the agreed-upon expiration date]. I regret to inform you that I am unable to reside in the house/apartment until the end of my tenancy agreement. My reason is that [a direct explanation for your decision].
I have respected the terms of our agreement and will clean the premises before I vacate them. I will hand over my keys to you on [date] if this date works for you. You can send my security deposit to my new address [either state the address here or note that you will send the information at a later date].
Feel free to contact me at [any or specified time] by phone or email [your contact information].
Thank you for your understanding, and I am expecting your response.
Sincerely,
[Your name and signature]
What To Watch Out for if You Want To Terminate Your Agreement Early
If you plan to terminate your tenancy agreement early, you should:
Make sure you're abiding by your tenancy agreement terms

Create a copy of your termination letter and keep it

Send your notice before you vacate the house or apartment
Failing to pay an agreed-upon fee for early termination or send your landlord a notice within the set timeframe is considered unlawful behavior. In that case, your landlord can sue you and make you pay up the remaining rent.
What if Your Tenancy Agreement Doesn't Have an Early Termination Clause?
If your tenancy agreement doesn't have an early termination clause, don't despair. You can still send your landlord a request to negotiate the early termination terms.
Take a look at some instances in which it's easy to terminate the agreement before its expiration date without the early termination clause:
Suffering domestic abuse

Getting deployed by the military

Moving into a retirement home

Notifying the landlord of any repairs they need to do and them failing to respond
Even if none of these scenarios apply to you, you can reach a mutual termination agreement with your landlord.
Usually, landlords request several months' rent from the tenants that want to terminate the agreement early.
You may need to relinquish your security deposit or find a new tenant to avoid having to pay the remaining rent for a few months.
Say Goodbye to Expensive Lawyers and Unreliable Contract Templates
Nowadays, you need to review and sign legal documents all too often. This is why we've created a feature that helps you get contracts of all kinds in a flash.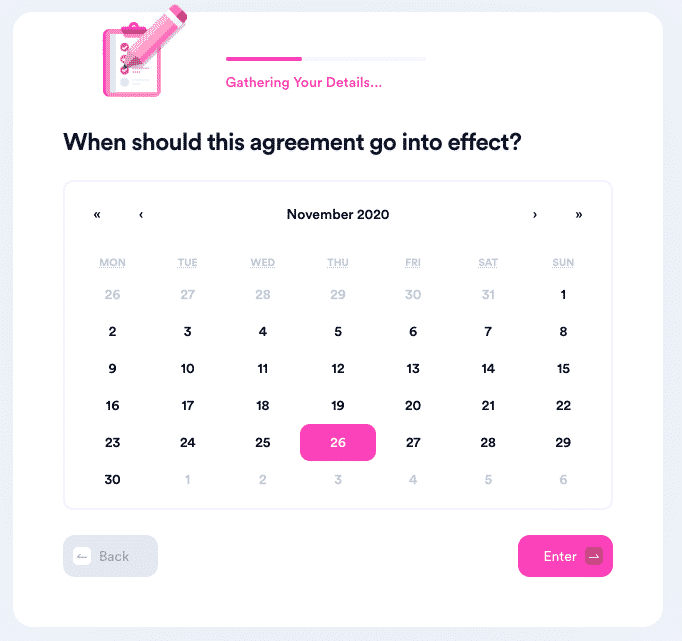 Say goodbye to having to gaze at contract templates for hours or days. You don't have to write contracts on your own anymore!
You can now generate fully personalized legal documents in only three steps:
Make a DoNotPay account using any

Tell us what legal document you need

Provide information that helps our AI-powered tool generate a customized contract for you
DoNotPay helps you get many different contracts in no time, and some of the most common ones are:
Promissory note

General business contract

Child care authorization form

General affidavit

Estoppel certificate

Quitclaim deed

Intent to purchase real estate
Outsmart Scammers With DoNotPay
Are you troubled every time you think about subscribing to a service because you fear your personal information will leak and your privacy will become invaded?
There's no need to fret anymore as DoNotPay has come up with a way to shield you from hackers, scammers, and identity thieves alike.
Check out how you can use DoNotPay and browse the internet care-free:
Open DoNotPay in your web browser

Locate our

Virtual Credit Card

generator

Use the made-up card number to sign up for any

free trial

Move forward to our

Burner Phone

product

Use the temporary phone number to verify any online account

Enjoy the trial without worrying about

canceling it

—the service will do it on its own
Signing up for services with DoNotPay's hacks frees you from ever falling victim to a serious crime, such as identity theft, and liberates you from the bothersome and never-ending spam calls, texts, and emails that you never explicitly agreed to receive.
What Else Is Hot About DoNotPay?
DoNotPay does wonders in protecting your online privacy, but it can do so much more for you!
With our assistance, you can claim compensation for canceled or delayed flights, request refunds and chargebacks for unsatisfactory purchases, file warranty claims for defective products, and even overturn unjust parking tickets!
Our app can locate unclaimed funds that exist under your name, the best clinical trials for your needs, and public records that you couldn't identify on your own.