Sample Letter of Complaint to Employer on Unfair Office Practice
Employees should be treated equally regardless of their "protected characteristics" such as age, gender, race, and more. They must also have access to the same opportunities for promotions, bonuses, and pay raises. 
Unfortunately, employees are sometimes treated unfairly in the workplace. If you feel like you're being treated unequally, you should submit an employee complaint form to Human Resources. Employees can also use DoNotPay to file anonymous HR complaints about unfair treatment. 
What Is Unfair Treatment in the Workplace?
Unfair treatment in the workplace include the following: 
Transferring or demoting an employee without just cause 

Denying an employee the opportunity for training or promotion because of their

race

, sexual orientation, age, nationality, gender, and pregnancy status

Paying women lower salaries than men for the same position

Terminating

older workers to hire younger employees for the same role
If you have experienced any of the scenarios mentioned above, then you have a case of unfair office practice.
What doesn't count as unfair office practices?
Favoritism occurs when preferential treatment is given to one employee over others for reasons other than performance. Favoritism can merely be bad management skills, unless you can prove that the favoritism is discrimination based on your sex, race, etc. 
Sample Unfair Workplace Complaint Letter
Use the example below to draft your own complaint letter on unfair office practice:
Lucy Smith Executive Secretary
May 25, 2021
John Green Human Resources Manager 
Westmount Insurance, Inc. 
Re: Formal Complaint Against Unfair Treatment in the Workplace
Dear Mr. Green,
I am writing to file a formal complaint against my manager, Mrs. Rebecca Hampson. I feel that I am being given unfair treatment because of my race. 
I have been working as an executive secretary at Westmount Insurance for the past 3 years, and I have received nothing but commendations for my work. However, as someone who cares about this company, I feel it is my duty to report unfair treatment towards me that I have received from a fellow employee, named Miss Rebecca Hampson. 
On May 20, 2021, around 2:45 pm, Mrs. Hampson made a comment saying "Lucy will never get promoted because we don't want black people as managers". This statement was also heard by three people namely; Michael Colt (Finance department), Francis Weaver (Finance department), and Samara Wiley (Logistics Department). Mrs. Hampson is directly in charge of promotions in the office and I fear that with her in charge, I will never reach my career goals in this company. 
I request that you look into this issue as soon as you can and investigate it thoroughly as I wouldn't want to be in a work environment that sees my race before my performance. I also ask that promotion processes in the office be made as transparent as possible to prevent any form of unfairness. 
Thank you for your assistance,
Yours sincerely,
Lucy Smith
Executive Assistant
Westmount Insurance Inc.
How to File an Anonymous Complaint Using DoNotPay
Many employees may want to file a formal complaint about unfair treatment but are afraid of the retaliation they might receive. DoNotPay makes it easy for employees to file HR complaints anonymously with just three steps:
1. Go to DoNotPay on your web browser and click the Anonymous HR Complaint product.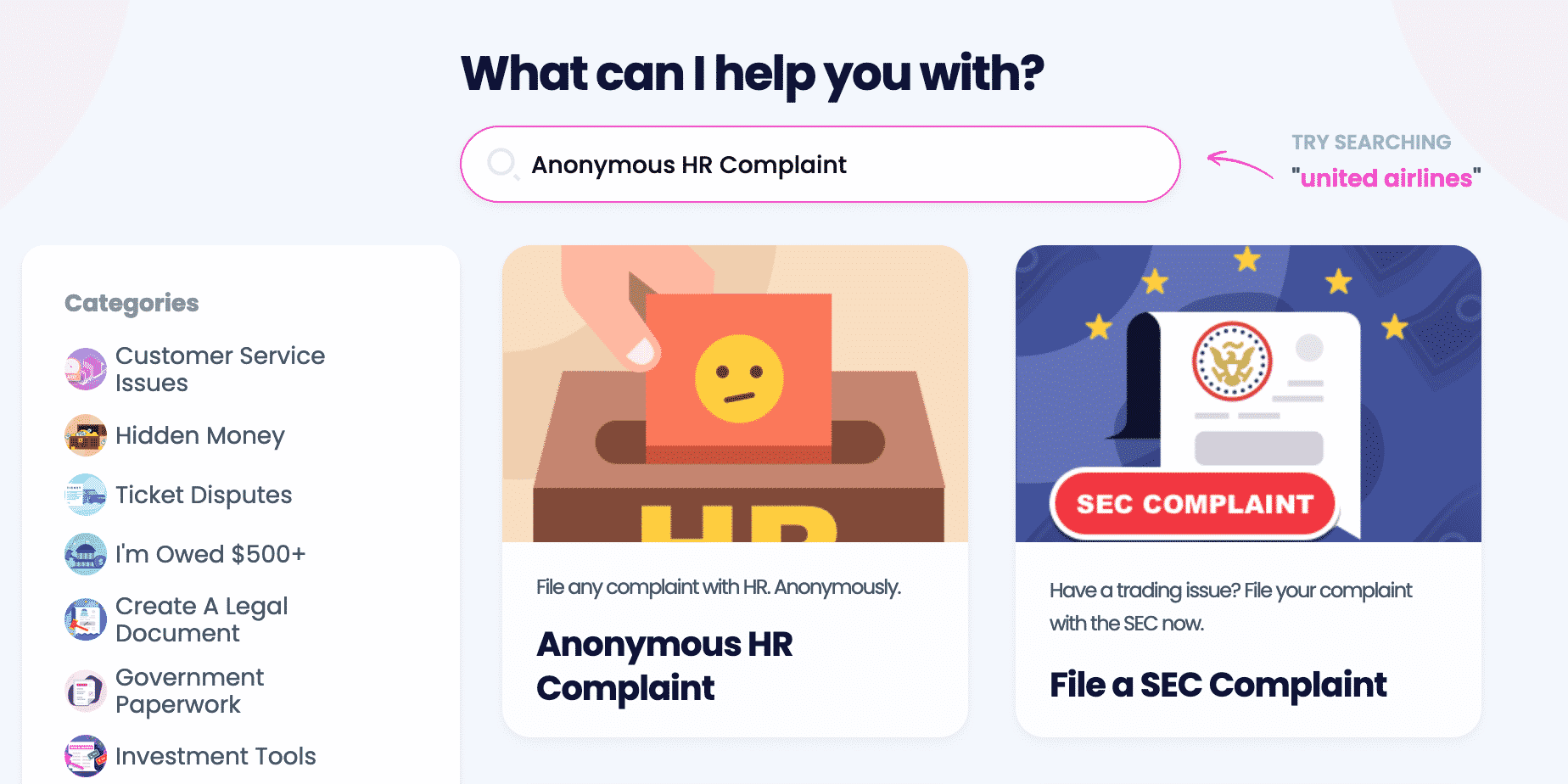 2. Fill in the name of your employer and the HR department's address.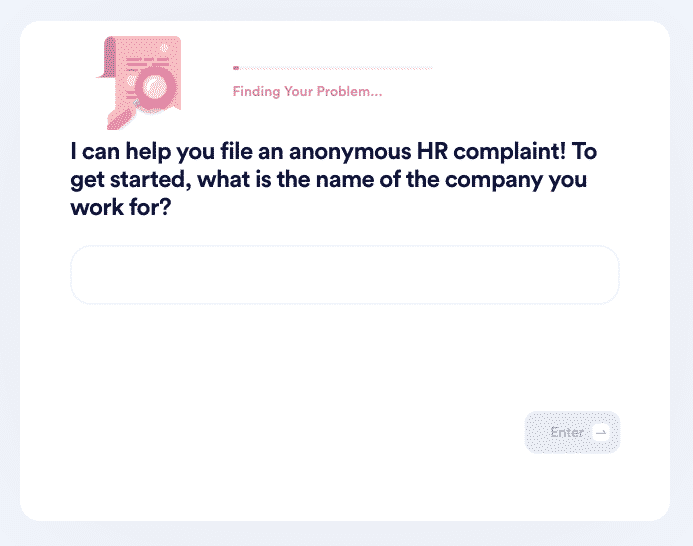 3. Explain your issues in a concise manner and include the resolution you want.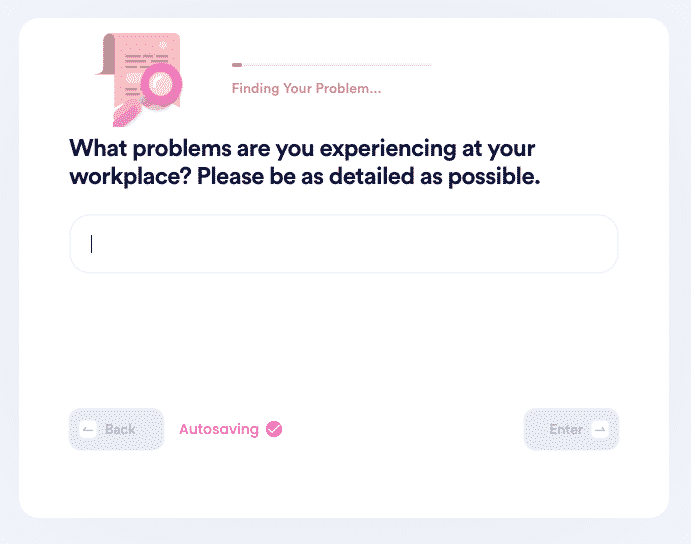 That's it! DoNotPay will immediately file an anonymous formal complaint on your behalf!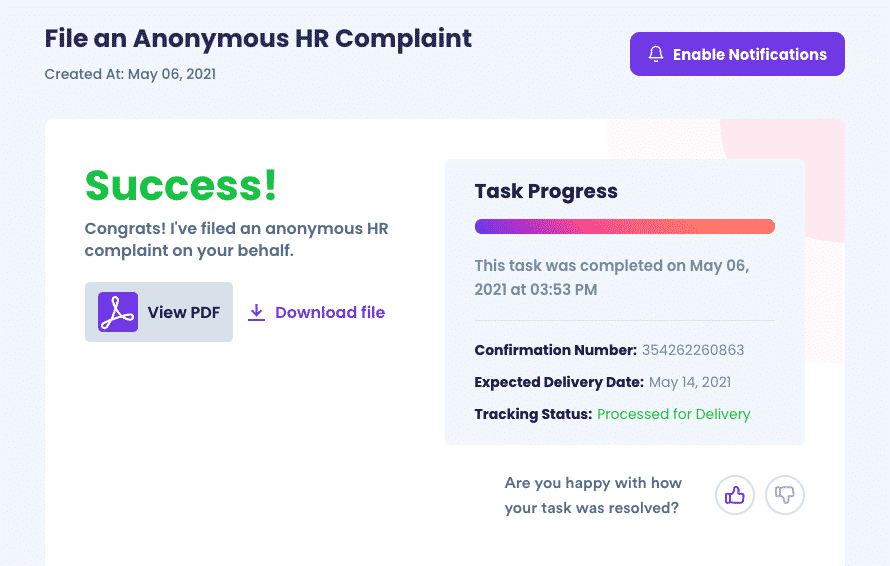 What Else Can DoNotPay Do?
DoNotPay does not stop at just HR complaints. In addition to helping you file an anonymous complaint about unfair office practice in the workplace, DoNotPay can also help you: