Find Sample Interrogatories for Breach of Contract Here
Are you planning to file a lawsuit for a breach of contract? You will need to gather important details of the case, which you can do by using interrogatories. In this article, you will find sample interrogatories for breach of contract that you can use to support your case. Litigation can be expensive, so if you would like to settle the matter out of court, you can send a demand letter before filing a lawsuit. DoNotPay will help you write the perfect breach of contract demand letter quickly and easily.
What Are the Interrogatories for Breach of Contract?
Breach of contract interrogatories are questions that the plaintiff sends to the defendant to discover further information about the case. The defendant must respond to these questions in writing and under oath.
There are two types of interrogatories:
Form interrogatories
Special interrogatories
Form Interrogatories for Breach of Contract
Form interrogatories are questions that are already prepared in a form. This means that the plaintiff only needs to check the boxes next to the questions they want to ask the defendant. In a limited civil case, the plaintiff can ask the defendant only 35 interrogatories. Once that limit is reached, the plaintiff cannot request any admissions or documents.
Here's how to fill out the required interrogatory forms:
Select the proper forms
Fill out the forms by checking the boxes
Make copies
Have your interrogatories served to the responding party
Special Interrogatories for Breach of Contract
Special interrogatories are customized questions that the plaintiff writes for the defendant. Writing these customized letters enables the plaintiff to obtain specific information they need for the lawsuit. Each question should serve to prove a specific point of the case. In both limited and unlimited civil cases, the plaintiff may ask up to 35 questions. Here is how you can send special interrogatories:
Write your questions—you cannot write questions that have multiple parts or ask for more than one piece of information)
Make copies for each contracting party
Serve your interrogatories to the defendant
Sample Interrogatories for Breach of Contract—Plaintiff to Defendant
You can find some examples of interrogatories below:
Did the defendant execute a written contract with the plaintiff?
Identify all agreements or contracts between the plaintiff and defendant
If the defendant contends that the contract is not valid or enforceable, they should describe in detail the factual and legal basis for the contention
Does the defendant contend that they did not enter the contract?
What are the names, addresses, and telephone numbers of all persons involved in negotiations leading to the formation of the contract?
Does the defendant claim that the contract is oral? If yes, they should state what they believe to be the terms and provisions of the contract
Does the defendant contend that there was a breach of contract? If yes, they should describe in detail the factual and legal basis for this contention
Did the defendant inform the plaintiff of a reason why they should not pay the debt?
Note that these examples are for informational purposes only, and they may not comply with your state's laws. If you want to learn more about breach of contract regulations in your state, consult the table below:
Why You Should Send a Demand Letter Before Going to Court
Filing a lawsuit for breach of contract, going through court hearings, and paying court fees can be time-consuming and end up costing more than the breach itself. If your client is in breach of contract, you should send them a formal demand letter to seek remedies and request damages. Sending a demand letter will not only save you money and time, but it might also make the breaching party take you more seriously.
Another benefit of a demand letter is that the court will take the fact that you wanted to resolve the issue out of court as a sign of good faith.
How To Write a Demand Letter
You have a few options for drafting a demand letter—check out the table below for details:
| How To Draft a Demand Letter | Details |
| --- | --- |
| Use a template | If you are unfamiliar with legal terminology, you might be tempted to use demand letter templates. Keep in mind that they are generic and will not cover the specifics of your case |
| Hire an attorney | Hiring an attorney to draft your demand letter might seem like an obvious choice, but you should prepare for sky-high lawyer fees |
| Register for DoNotPay | DoNotPay is a budget-friendly app that helps you create a fully personalized demand letter that complies with your state's laws |
Why Use DoNotPay To Draft Your Demand Letter?
DoNotPay has a comprehensive database of state laws that we use to create formal and legally formatted demand letters. Our app obtains the relevant information about your case and uses it to draw up a demand letter that fully caters to your specific situation.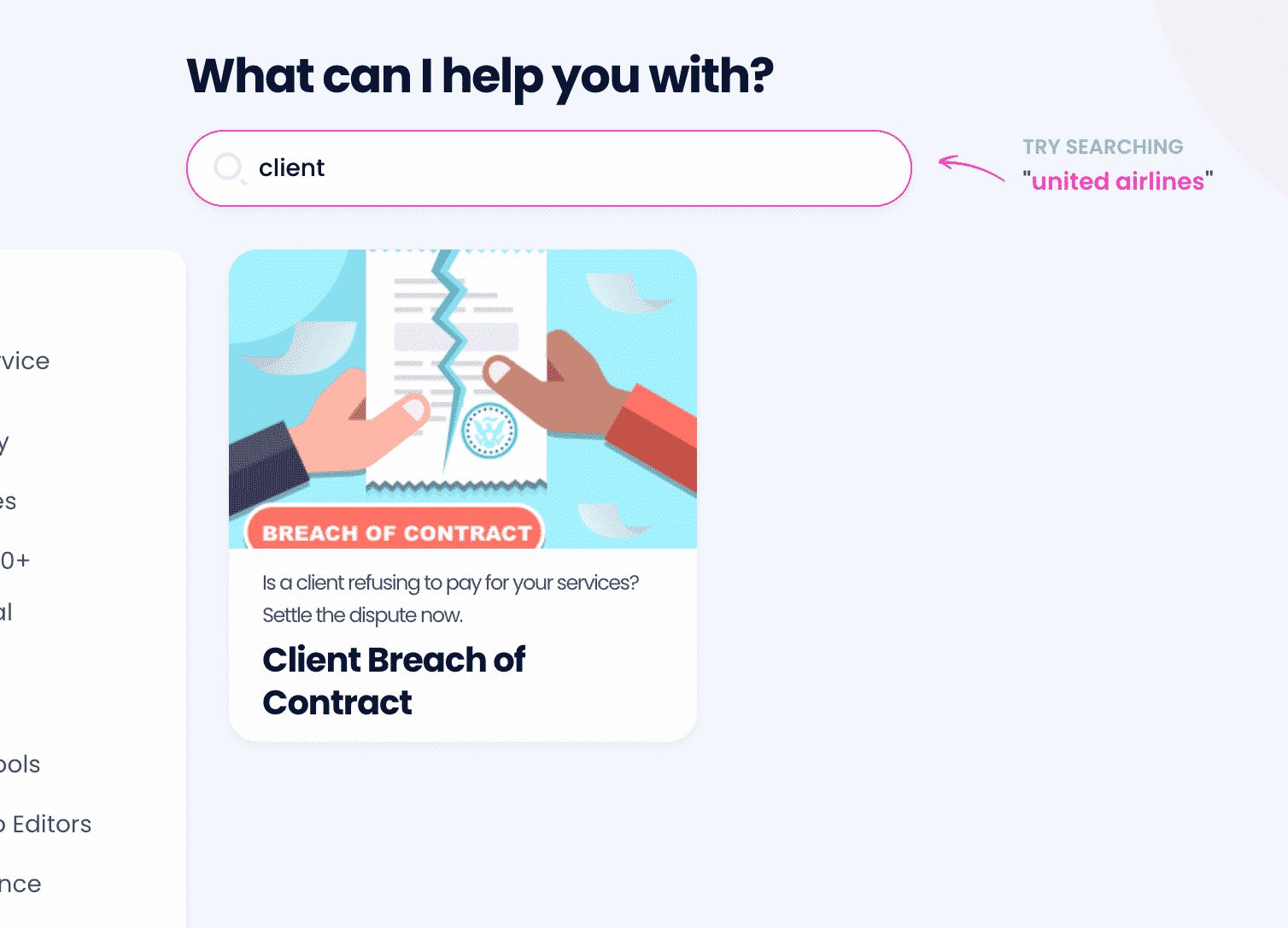 All you need to do is sign up and follow these steps:
Select the Client Breach of Contract tool
Enter all the information about your case
Specify the final due date after which you'll file a lawsuit
Add photo proof (if you have any)
If your client does not respond to your letter, DoNotPay can help you sue them in small claims court. We will:
Help you collect all the necessary court forms
Fill out the forms on your behalf
File your claim
Create a script that you can use at your hearing
To file a claim, you will need to specify the type of breach (e.g., material, anticipatory, fundamental), and your lawsuit must contain all the breach of contract elements. Keep in mind that if you fail to prove some of the elements, the defendant can use it as their defense.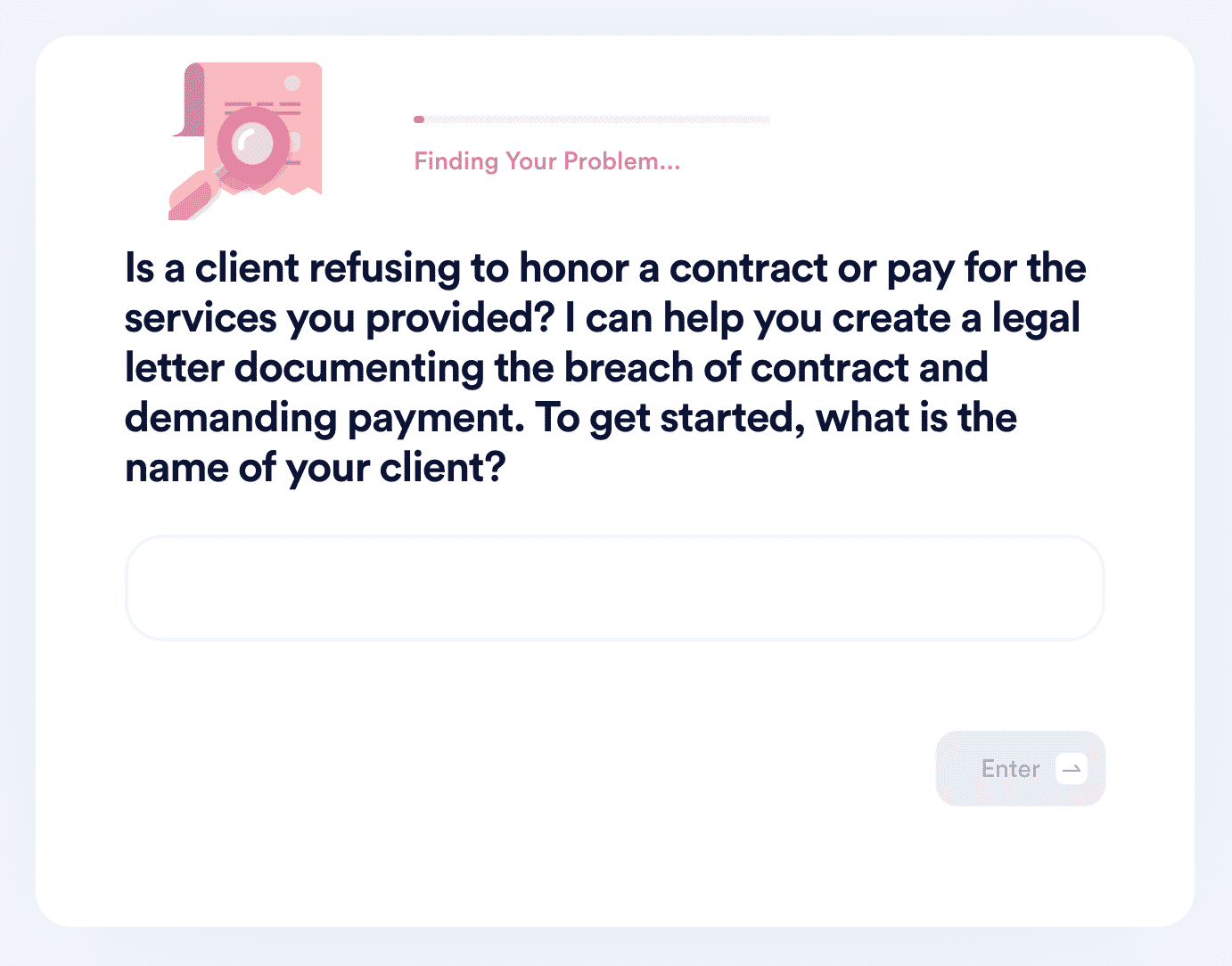 DoNotPay Offers More Help for Your Business
Running a small business is no small feat. When you're drowning in red tape, DoNotPay is here to lend a helping hand. Whether you need to register your trademark or protect it later on, we have got it covered. With our help, you will keep your logo, slogan, and business name safe.
Are you also yet to register for an Employer Identification Number (EIN)? Not to worry—our app can file the IRS SS-4 form in a few clicks. With the world's first robot lawyer at your fingertips, you will also be able to create your 83(b) election forms with ease—ready for your employees to sign them right away.
In case you are struggling financially, we can assist you with a business loan application.
Communication Has Never Been Easier With Our App
Keeping up with clients can be challenging, especially if each has a preferred method of communication. Luckily, our multifunctional app makes it easy to both fax and mail contracts, letters, and documents.
You can also count on our assistance when you need to:
Fight fake negative reviews online
Deal with a client regarding a breach of contract
Dispute fraudulent chargebacks
Thanks to DoNotPay, there is no need for back-and-forth communication. We will handle the necessary demand letters and forward them on your behalf.
We can also help you manage your DMCA agent registration and Privacy Shield program self-certification.