Prepare With Sample Deposition Questions for a Breach of Contract Case
If you have decided to take legal action because of a breach of contract, you should know what to expect from the process ahead of you. You need to face the other party's defenses and provide evidence to support your claim.
One way to prepare for the lawsuit is by examining sample deposition questions for a breach of contract. Knowing what an attorney might ask you gives you an opportunity to remind yourself of the facts and prepare the necessary information.
What Is a Deposition in a Breach of Contract Case?
In a breach of contract case, the deposition is used to:
Collect information and evidence
Determine what contractual parties have or have not done
Discover what contractual parties and witnesses know
Taking a deposition is an important process when one party sues another one for the breach because it offers a lawyer a chance to:
Get access to all contractual parties, witnesses, and facts
Ask a series of questions
Obtain evidence to back up their client's case
Here are the most common deposition stages:
A court reporter records the deposition
A deposed person, i.e., a contractual party or witness:

Is under oath and must tell the truth
Has to answer all questions the plaintiff's and defendant's lawyers ask them
Needs to go through cross-examination if an attorney uses it as a means of interrogation
Keep in mind that you:
Can win or lose your breach of contract case during the deposition process
Should prepare well with your attorney for this important step
Deposition Questions in a Breach of Contract Case
While deposition questions for a breach of contract depend on the case, the initial ones are always related to basic information. The purpose of introductory questions is to:
Put you at ease
Provide background information about the case
A lawyer will ask deposition questions for a breach of contract case to:
Confirm the Deposed Person Understands That They
Determine Whether the Deposed Person

Are under oath
Have sworn to tell the truth
Can ask for clarification of any questions they do not understand
Should inform the attorney if they need a break

Has already been deposed
Understands that their answers have the same force as responses made in a court of law
Is:

Ready and willing to answer the questions
Of sound mind
Deposition Outline for a Breach of Contract—Background Information
After asking the introductory questions, a deposing attorney will move on to the personal and historical background details. This information falls into the following categories:
Identification
Residential history
Martial history
Educational history
Legal history
Once the lawyer obtains the necessary introductory and background info, they will move on to the case-specific questions.
Case-Specific Deposition Questions for a Breach of Contract Case
In this stage of the deposition process, a deposing attorney will ask questions specific to your case, such as:
How the contract was formed
What the contract negotiation process was like
How the agreement has been executed
How all contractual parties have conducted themselves following the:

Execution of the contract
Breach of the contract
For a deposition, you should prepare evidence of breach of contract elements and damages you have suffered due to the breach.
As the deposition process and litigation are usually complex, time-consuming, and expensive, you should try to resolve the issue with the breaching party before taking legal action.
Try Reaching an Out-of-Court Settlement
Before seeking legal remedies in court, you should find ways to motivate the breaching party to perform their contractual obligations. One of the most effective options is preparing a breach of contract demand letter to:
Inform them about the breach—While they are probably aware of it, you should remind them in writing since a well-drafted demand letter could:

Show them you know your rights
Serve as evidence in court if you end up suing them for damages

Outline the facts—A demand letter is a good opportunity for you to refresh your memory of all actions and events related to the contract and its breach
Propose a solution—To settle the matter fast, you could, for instance, suggest a new deadline for the delivery of services or goods
If you are not sure how to draft it on your own, sign up for DoNotPay to get a convincing demand letter in a matter of minutes.
Turn to DoNotPay for an Airtight Demand Letter
You should not waste time and energy searching for and adjusting online demand letter templates to suit your case. There is also no need to hire a pricey lawyer to draw up a demand letter for you.
DoNotPay knows all relevant legal requirements and practices and can help you create a demand letter in a matter of minutes.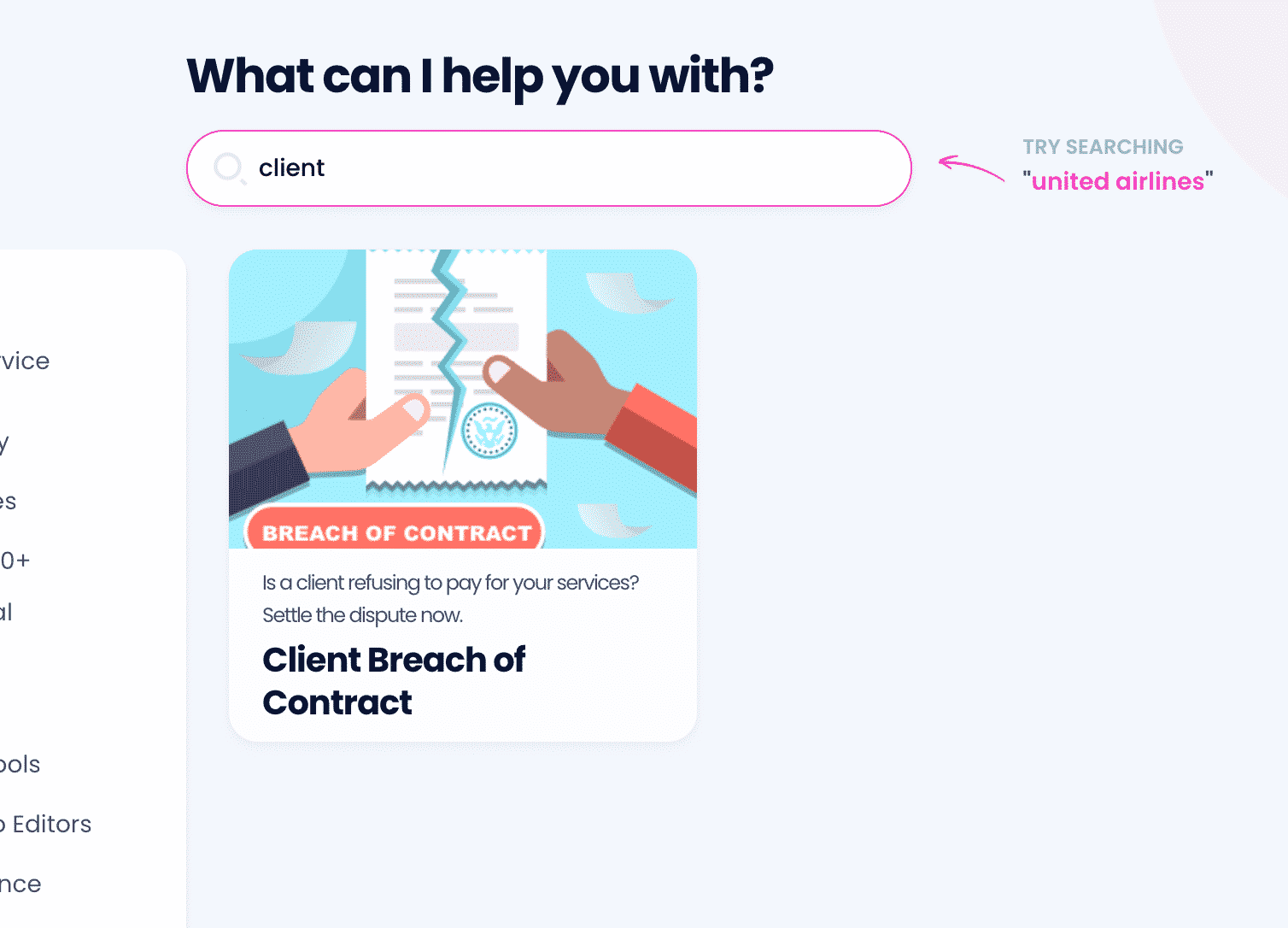 Type in Client Breach of Contract
Answer some questions to provide more info about the contract and breaching party
Choose the final date for the other party to perform their obligations
Upload photographic proof to back up your claim, if possible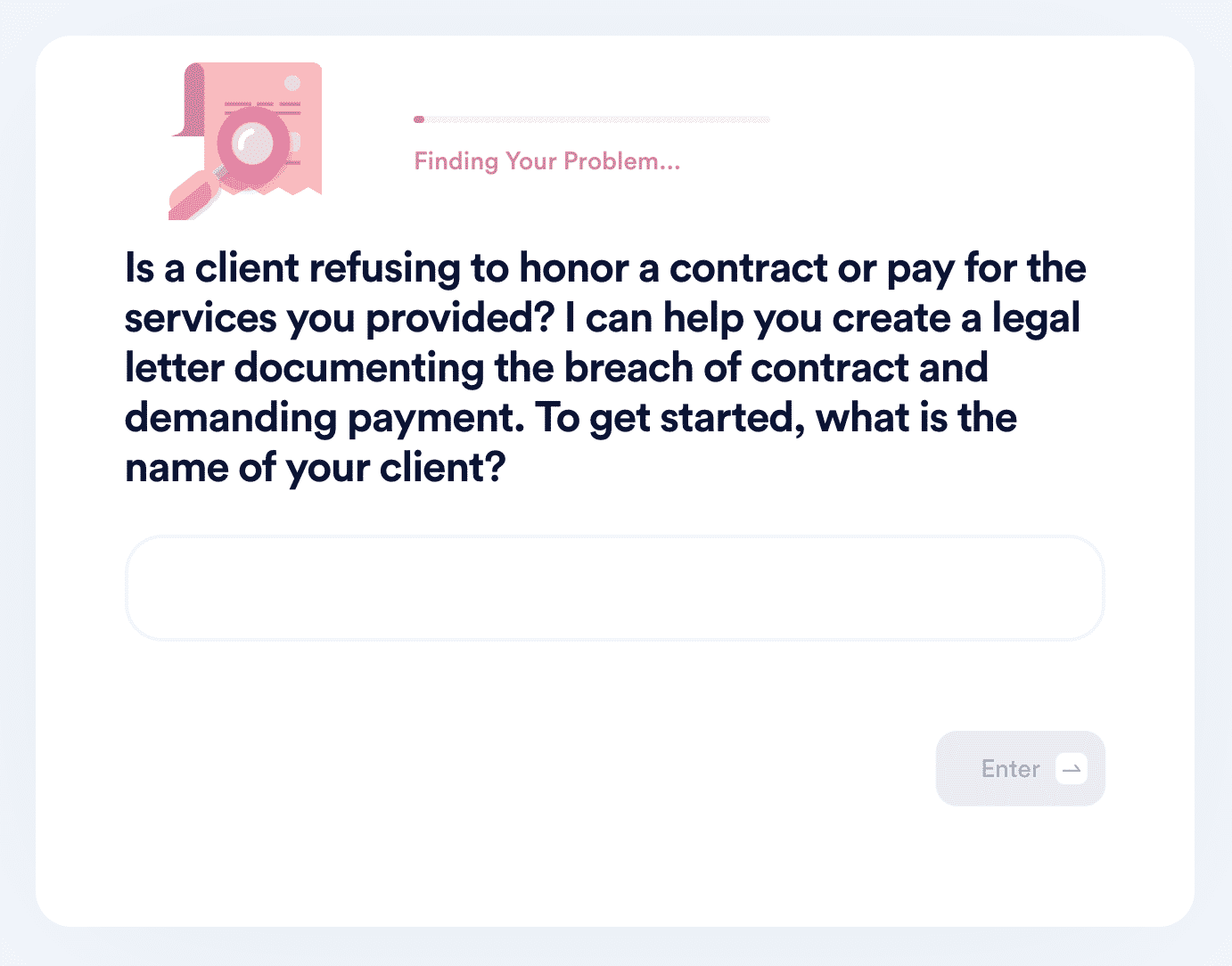 As soon as you have entered the necessary information, our AI-powered app generates a demand letter customized to your needs (regardless of whether it is a material, anticipatory, or any other type of breach).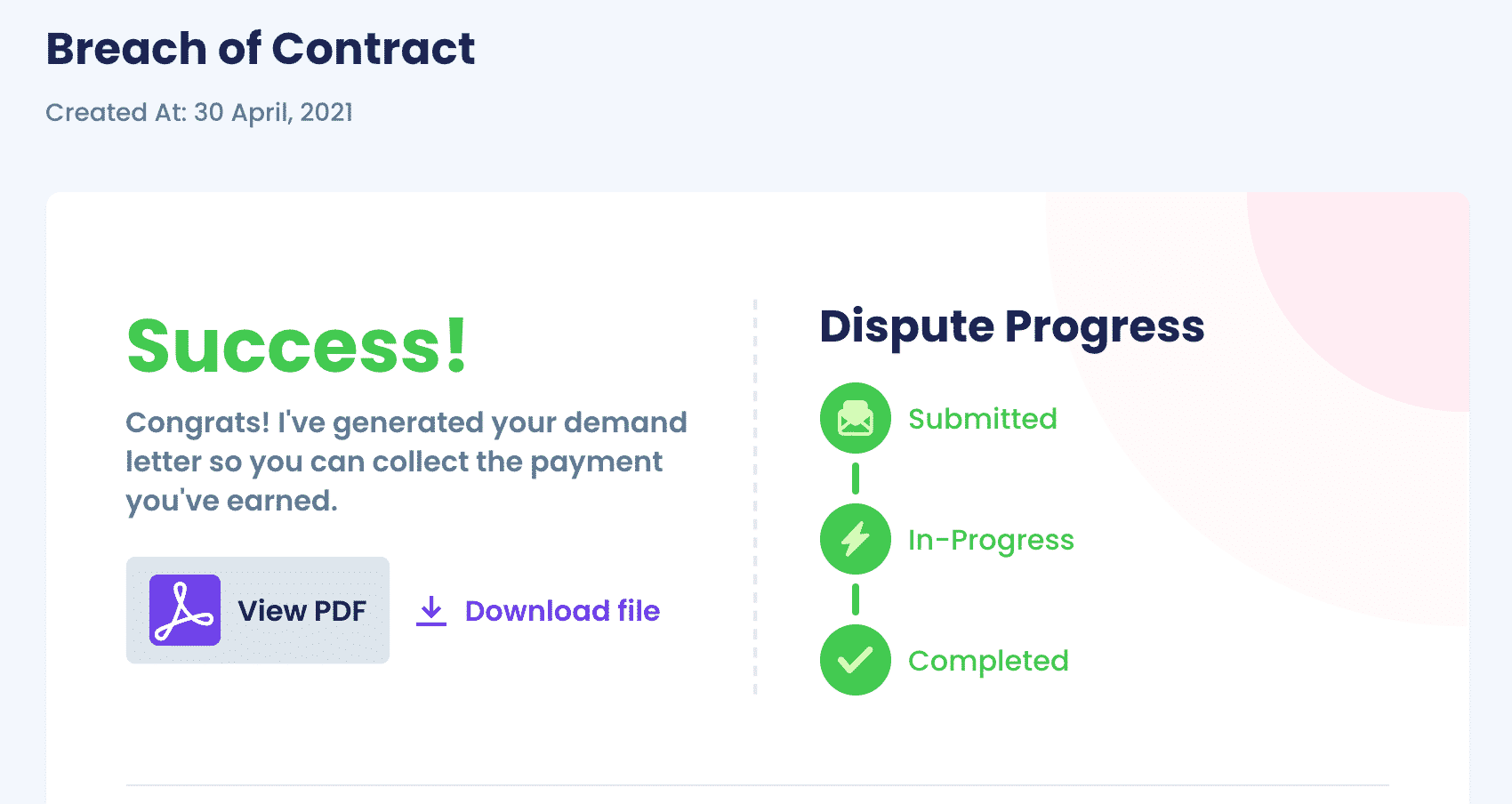 In case you do not receive a response from the other party by the set deadline, DoNotPay can help you sue them in small claims court.
If you would like to get state-specific information on this subject, you might find the following table useful:
Get the Upper Hand With DoNotPay
The business world is extremely competitive—that is why it is always good to have some extra capital set aside when you need to invest in your company. You can leave the bureaucratic task to us—DoNotPay will draw up business loan request letters in your stead.
If your finances are taking a hit, rely on our app. With our assistance, you will be able to:
Fight fraudulent chargebacks
Remove fake negative reviews online
Register and protect your trademark
Send mail and faxes at no additional cost
Handle clients breaching contracts and get what you are owed
Whatever the task at hand, our AI-powered app will see it through successfully.
DoNotPay—The Assistant Every Business Needs
You cannot escape bureaucracy in business. What you can do is let DoNotPay deal with it. Whether you need to register a DMCA agent or complete an Employer Identification Number (EIN) registration, our app will lead the way.
Using DoNotPay, you will also not have to worry about 83(b) election forms or Privacy Shield self-certification. From generating to filing important documents and from dealing with employees to handling clients on your behalf, our AI-driven app is your go-to solution.
Grow and protect your business with the world's first robot lawyer!